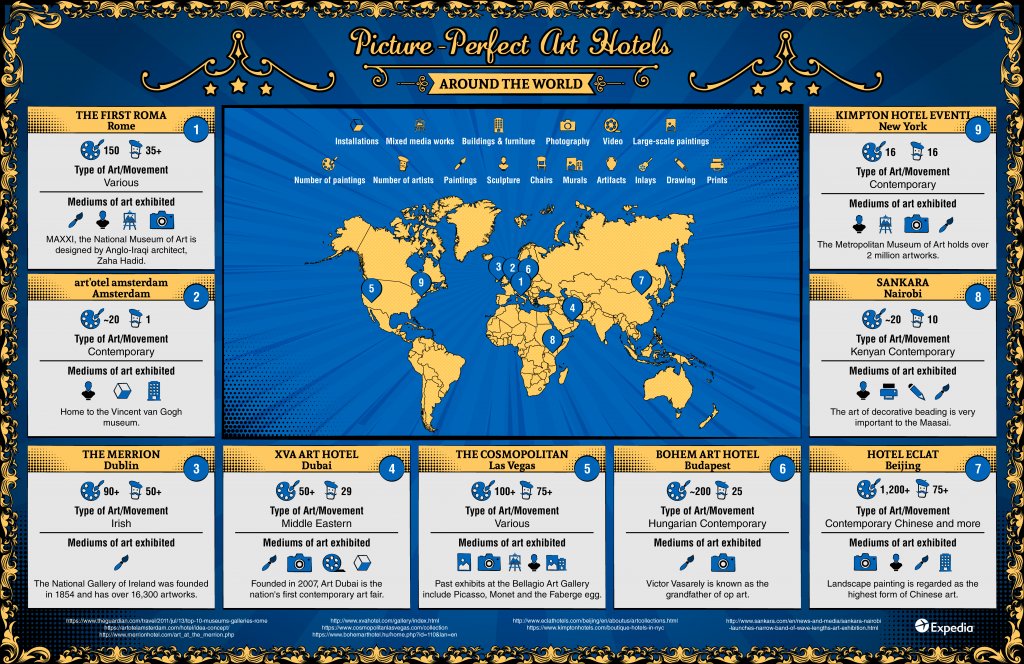 Here are 9 of the world's leading art-infused hotels 'Ã"î contemporary spaces that combine fantastic architecture with art-inspired interiors.
There are so many beautiful hotels in Rome to choose from that you'll struggle to choose your favourite, but for an exceptional artistic experience, The First Roma should be your top pick. This inspiring hotel has a collection of 150 artworks from more than 35 artists. When in Rome, be sure to pay a visit to Maxxi, the National Museum of Art, designed by Anglo-Iraqi architect Zaha Hadid.
One of the most interesting hotels in Amsterdam is the art'otel, home to some of the best contemporary art in the world. Fusing art and life in the heart of iconic Amsterdam, this impressive collection focuses on the beauty of life, death and everything in between. Remember that no stay in Amsterdam is complete without a trip to the Vincent Van Gogh Museum.
Of all of Dublin's hotels, The Merrion is one of the most luxurious and features a private collection of more than 90 19th and 20th Century paintings by some of the most significant Irish painters including William Scott, Jack B. Yeats and Sir John Lavery. Continue your artistic exploration of Dublin with a trip to the National Gallery of Ireland, home to an impressive 16,300 artworks.
There are hundreds of hotel deals in Dubai to choose from, but the XVA Art Hotel in Dubai is not to be missed. With a collection of more than 50 works of art, the hotel is a homage to Middle Eastern art and helps artists to bridge borders by giving them a channel to express their cultural identities. Plan your trip around the annual Art Dubai; the nation's first contemporary art fair that has been running since 2007.
You're never short of unique and impressive hotels in Las Vegas, but The Cosmopolitan should be top of any art lover's list. With more than 100 artworks from vintage photos and large-scale paintings to graffiti murals and thought-provoking wallscapes, the collections here speak to the colourful vibrancy of the city. Be sure to check out what's going on at the Bellagio Art Gallery 'Ã"î past exhibits include Picasso, Monet and the Faberge egg!
Live the romantic bohemian lifestyle in one of the quirkiest Budapest hotels: the Bohem Art Hotel. Filled with approximately 200 pieces of Hungarian contemporary artwork from 25 artists, you can choose a room to suit your mood. Keep your eyes peeled for some optical art (or Op art as it is more commonly known) 'Ã"î Hungarian-French artist Victor Vasarely is known as the grandfather of the movement.
The Hotel Eclat must be one of the most culture-filled hotels in Beijing, with over 100 original sculptures and paintings, including original works from the likes of world-famous artists including Salvador Dali, Andy Warhol and Fan Xiaoyan. Look out for examples of landscape painting, which is regarded as the highest form of Chinese art.
There's always something new to see at the Sankara, one of the top luxury hotels in Nairobi, thanks to its revolving display of exhibitions that are displayed in the hotel's atrium. The exhibits are typically part of the Kenyan contemporary art movement so visitors are treated to an authentic experience.
As you can imagine, there are many art hotels in New York to choose from, however our top pick is the Kimpton Hotel Eventi, which features 16 unique contemporary artworks, including sculptures, paintings and photographs. New York is bursting with art galleries; make sure you pay a visit to the Metropolitan Museum of Art which holds over two million artworks!
Feeling inspired? It's time to plan an exquisite art-themed holiday...