By Expedia Team, on November 28, 2019
9 Reasons to Visit Vilnius at Christmas
"Think of a Christmas city break destination beginning with V and it probably won't be Vilnius. While the city may not be as famous for its festivities as Vienna or Venice, it's got just as much to offer. Need convincing? Here are nine reasons to visit the Lithuanian capital this festive season.
Browse the Traditional Christmas Markets
—————————————-
There are several spin-off Christmas markets in Vilnius, but the main traditional one is in Cathedral Square. Between the end of November and early January, vendors set up almost 50 wooden huts in the square to sell traditional Christmas ornaments and festive sweets and gift-worthy bath products and beeswax candles. Alongside the gift stalls, you'll also find stands laden with mulled wine, sugary churros and sticky stollen.
Pick Up Artisan Gifts at the Alternative Christmas Market
———————————————————
Every year, the Last-Minute Market takes place at the Art Factory LOFTAS the weekend before Christmas. The 100-plus stalls are run by independent designers and artists from across Lithuania. You can pick up boutique brand clothing and handmade jewellery or bespoke bow ties and locally brewed beers – the selection is impressive. Fairy lights illuminate the market and stalls selling hot wine, artisan donuts and freshly baked chimney cakes make for perfect pit stops.
View the Christmas Tree from the Cathedral Belfry
————————————————-
Between the end of November and the start of January, a towering Christmas tree becomes the centrepiece of Cathedral Square. The lighting design is different every year, but each time up to 50,000 bulbs in kaleidoscopic colours illuminate it. For the best views, pay €4.50 to climb the cathedral's bell tower, a few steps from the tree. It's open until 7pm every day except Sunday.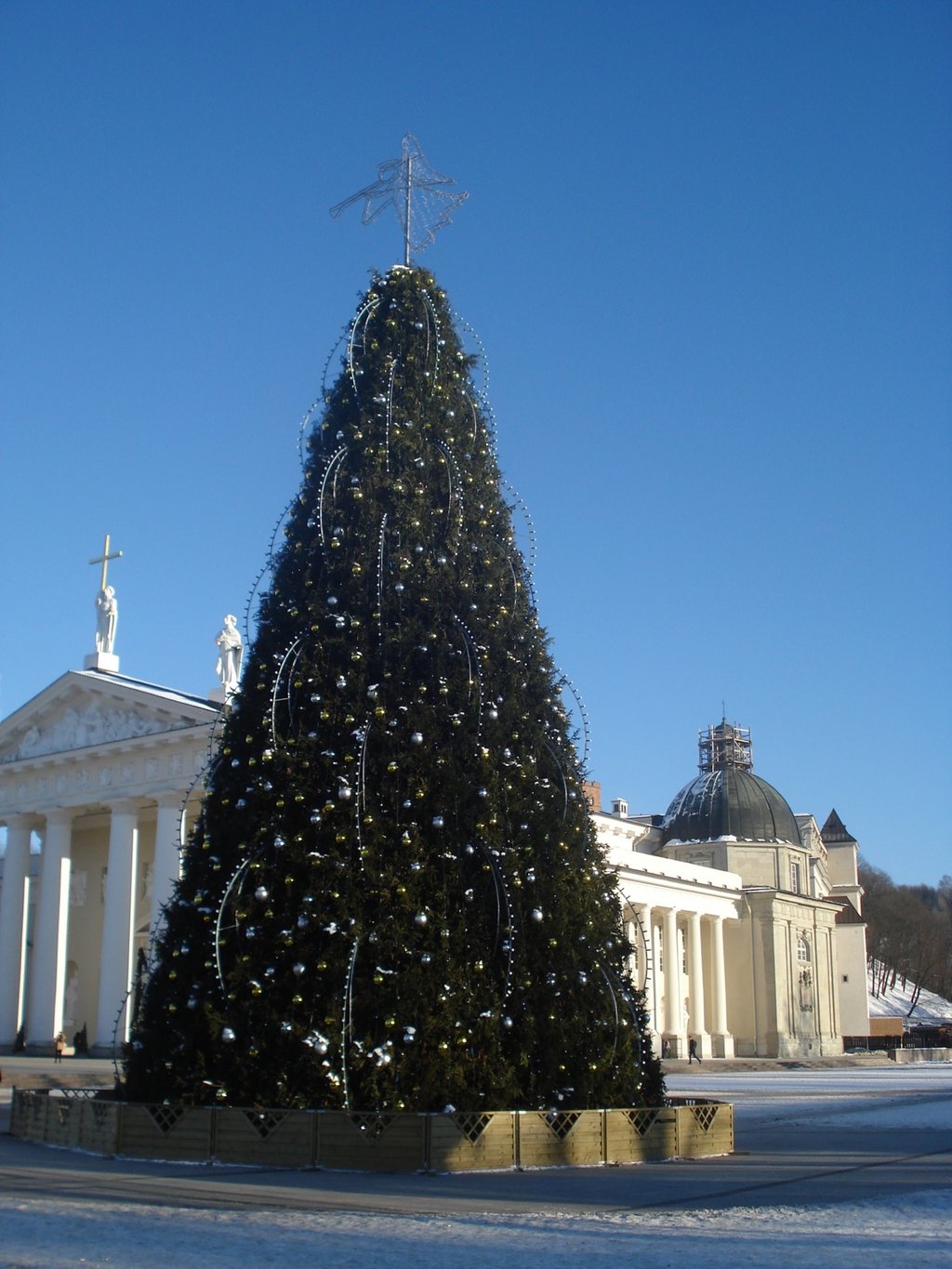 _By Alma Pater – Own work, CC BY-SA 3.0, https://commons.wikimedia.org/w/index.php?curid=5031977_Practice Your Triple Salchow on the Christmas Rink
————————————————–
Vilnius's Christmas ice-skating rink opens every day from the start of December in Lukiškės Square. The open-air rink is almost football-pitch big and, in the evenings, snowflake-shaped spots light up the ice. Both adult and children's skates are available to hire. A single session costs €**3 with skate hire and** €2 without.
Take a City Tour on the Christmas Train
—————————————
Hop on the trolley train with a wreath on its front grate and fairy lights on its funnel and carriages for a round-trip tour of Vilnius. The journey begins at Cathedral Square and takes you through the often-snow-caked streets to see sights such as Lukiškės Square, the Nevis River and the town hall. The train runs 11am-8:40pm throughout December.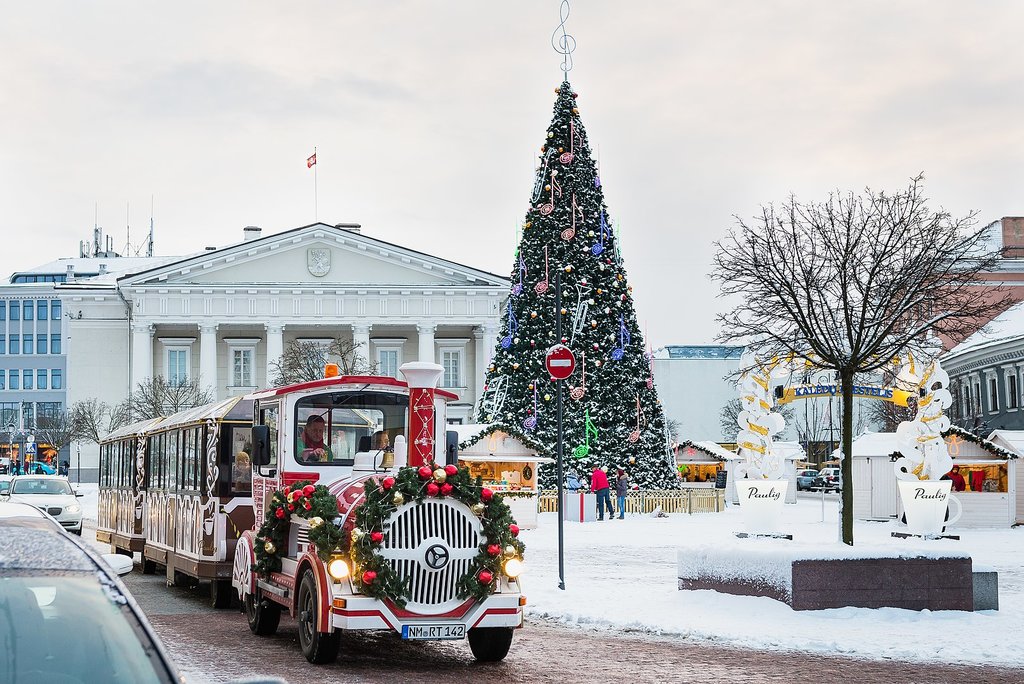 _By Pavel Pavel – https://www.flickr.com/photos/130643042@N07/15653395033/, CC BY 2.0, https://commons.wikimedia.org/w/index.php?curid=39236387_Try Hot Wine with a Lithuanian Twist
————————————
Check out the annual floor-to-ceiling Christmas tree in the Grand Kempinski lobby. The decorations differ every year, but one thing remains the same: the hotel serving mulled wine and hot chocolate to customers in the lounge that overlooks the tree. The mulled wine has a Lithuanian twist – it's made with Lithuanian berries and served with a local pastry. And you don't even have to be a guest at the hotel to enjoy the experience.
Sample KūčIukai with Poppy Milk
——————————-
Kūčiukai are the Lithuanian Christmas equivalent of British mince pies. They're mini pastries that look a little like dough balls, and they're only eaten during the festive season. But you won't necessarily find them served in cafés. The locals buy them in bags from the supermarket and take them home to drench in poppy milk and eat from a bowl. Some Vilnius food tours tailor their itinerarires to visit a local restaurant to make and try this festive speciality.
Catch a Christmas Concert at the National Philharmonic Hall
———————————————————–
Music is an integral part of Lithuanian culture, so come Christmas, there's a generous list of festive musical events across the city. Some of the hottest tickets are to events at the National Philharmonic Society. Christmas concerts of carols – both Lithuanian and international – line up alongside festive jazz performances and shows by soloists inside this grand columned building.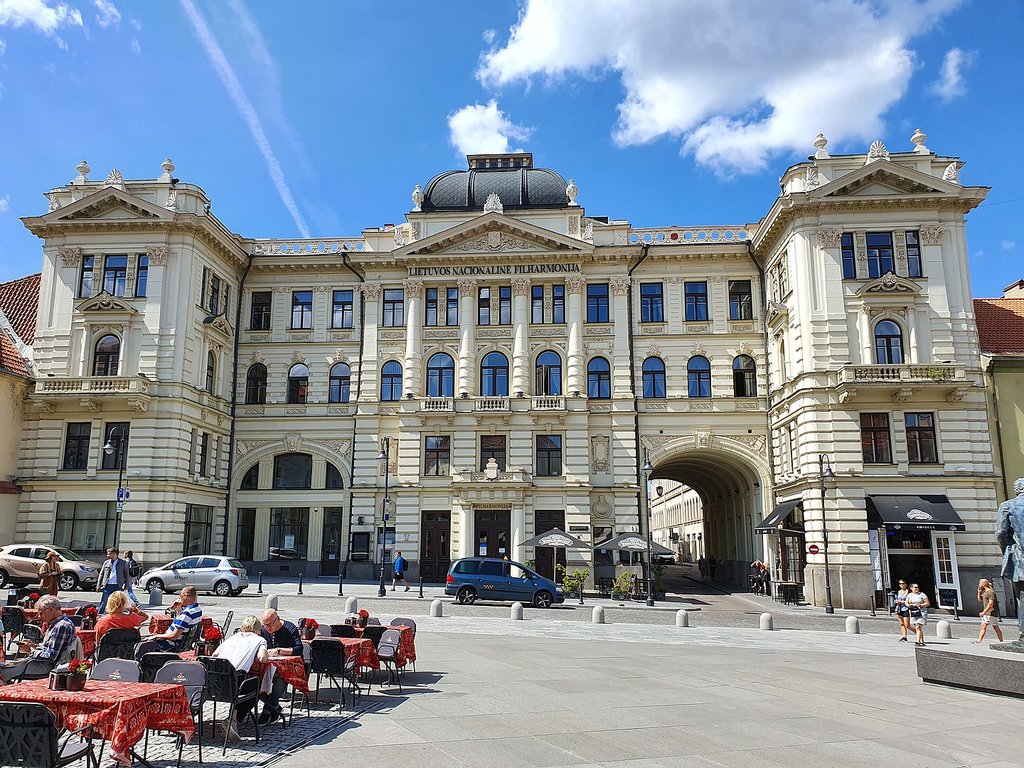 _Lithuanian National Philharmonic Society in Vilnius, Lithuania – By Pofka – Own work, CC BY-SA 4.0, https://commons.wikimedia.org/w/index.php?curid=80428748_Watch the Free 3D Festive Show
——————————
If you're planning on staying in Vilnius over Christmas, make sure you see the city's annual 3D show. Every year, a story, fable or fairytale becomes a 3D show projected on to the walls of the cathedral. There are four 15-minute shows every day, 25-29 December, at 5:05pm, 6:10pm, 8:05pm and 8:45pm.
Planning a festive break to Vilnius? Find a place to stay with our pick of hotels in Vilnius, Lithuania.
#### Photo Credit
Cover pic: Vilnius Cathedral Square during the winter season – By Pavel Pavel – https://www.flickr.com/photos/130643042@N07/16085741438/, CC BY 2.0, https://commons.wikimedia.org/w/index.php?curid=39236430"
More Articles With Christmas