By Expedia Team, on January 10, 2020
9 of the Best Dog-Friendly Beaches in Devon
"Known for its sandy beaches, fossil cliffs and medieval towns, Devon is a popular destination for a seaside holiday. If you're bringing your dog, you'll be happy to know that Devon has long stretches of dog-friendly beaches where you can bring your pup to play in the sand and water. Check out the 9 best Devon dog-friendly beaches and plan your trip.
1. Croyde
———
The small bay beach of Croyde is an adventure playground for dogs, thanks to its dunes and soft sand. Dogs are not permitted from May to September, but there's plenty to do in the off-season. The dunes are great for playing fetch or running and exploring, and you can take your dog to the nearby Baggy Point to see stunning views of the coastline. The beach has shower facilities, nearby parking, restaurants, shops and seasonal lifeguards.
2. South Milton Sands
———————
South Milton Sands is a large, popular beach with sandy spaces and grassy dunes. Dog walkers bring dogs to the beach all year, and you'll find a nearby nature reserve as well as climbing rocks and rock pools that are exposed during low tide. Once you're done on the beach, you can hike to Thurlestone Rock to see the views of Bigbury Bay. The beach has a cafe, a car park and toilet facilities.
3. Putsborough Sands
——————–
Located near Croyde and Woolacombe, Putsborough Sands is a picturesque beach on the North Devon coast that's great for families, surfers and pets. Half of the beach allows dogs to run and play all year, while the other half restricts dogs from April 1 to October 31. The beach has many amenities as well, such as seasonal lifeguards, shower facilities, nearby parking and a range of eateries and shops.
4. Beesands Beach
—————–
Beesands Beach is in South Devon near Kingsbridge. The shingle beach is a popular spot to sunbathe and watch the boats go by, and it also allows dogs all year round. The long beach is backed by lush fields as well, so there's plenty of space for dogs to run around. There are showers, parking areas and nearby shops and restaurants.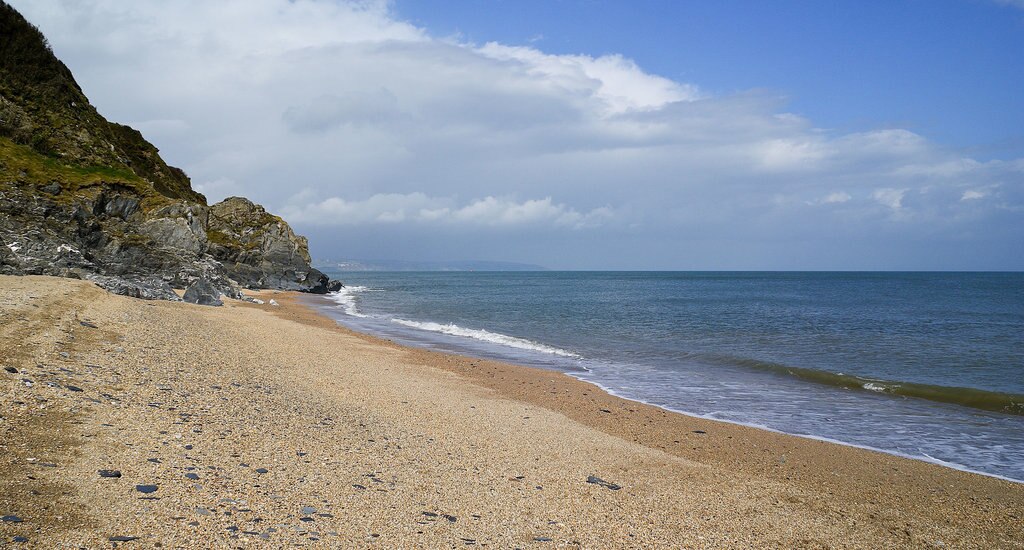 _Looking north up Start Bay from Beesands, Devon, UK – By Herbythyme – Own work, CC BY-SA 4.0, https://commons.wikimedia.org/w/index.php?curid=9867860_5. Ness Cove Beach
——————
Near the base of Ness Headland, Ness Cove Beach can be reached through the Smugglers tunnel. The shingle beach has a gentle slope to the water and is usually free from crowds, making it a good choice for dogs to have the freedom to play and run. Dogs are allowed all year, and the beach has shower facilities, nearby parking and an array of shops and cafes.
6. Soar Mill Cove
—————–
Located along a stretch of sand near Salcombe, Soar Mill Cove is a scenic beach with soft sand, caves and rock pools for your dog to play. The beach is accessible from the South West Coast Path or from the nearby car park. The sheltered beach is great for families and pets, especially with the stream that runs into the ocean. Dogs are welcome all year round, and there's plenty of parking close by.
7. Woolacombe Beach
——————-
Woolacombe Beach is one of the most popular beaches in the UK, thanks to its Blue Flag status and long stretches of golden sand. The sand is soft and offers plenty of space for dogs to run, and there are also rock pools accessible at low tide for wading in the water. During the warm months, from Good Friday or April 1 to the first Monday in November, dogs aren't permitted between the north end of the beach and the stream. During those same dates, dogs must be on a lead in the area that stretches from the stream to Mill Rock, but they are free to run loose beyond that point.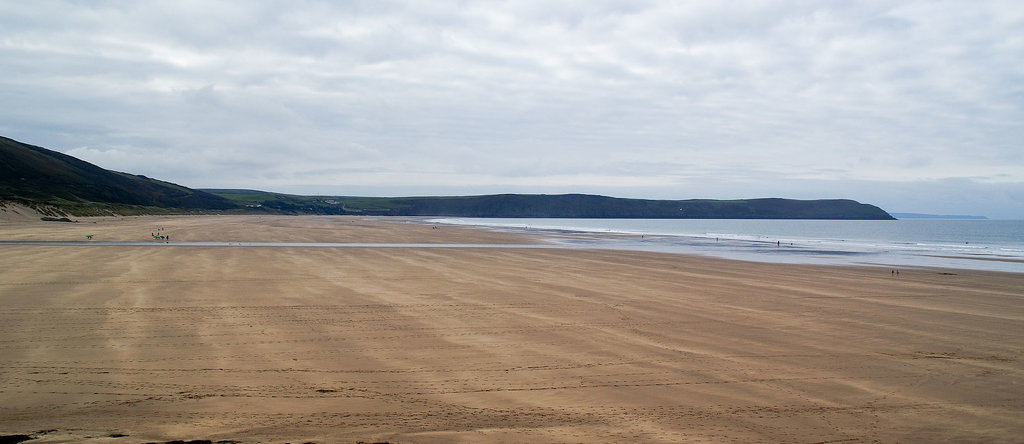 Woolacombe beach in North Devon coast, UK. The beach is a little over 3 km wide to give a sense of scale – By Herbythyme – Own work, CC BY-SA 4.0, https://commons.wikimedia.org/w/index.php?curid=9005213
8. Salcombe North Sands Beach
—————————–
The Salcombe North Sands Beach is located between 2 headlands in an Area of Outstanding Natural Beauty. You can visit the beach with your family at low tide and enjoy the shallow waters, or you can take the dog on the South West Coast Path and stop at the beach for some fun in the water. Dogs are allowed all year, but the beach is submerged at high tide. You'll find a lot to do nearby, such as restaurants and seaside shops.
9. Blackpool Sands Beach
————————
Located on the southern coast, Blackpool Sands Beach is a Blue Flag family beach that's known for its stunning blue water and clean conditions. During the warm months, from March 1 to the end of autumn, the beach doesn't allow pets, but dogs are free to visit the rest of the year. This beach is particularly popular with dog owners since it's quiet and offers plenty of caverns and crannies to explore. The beach has nearby shower facilities, parking areas, shops, restaurants and seasonal lifeguards.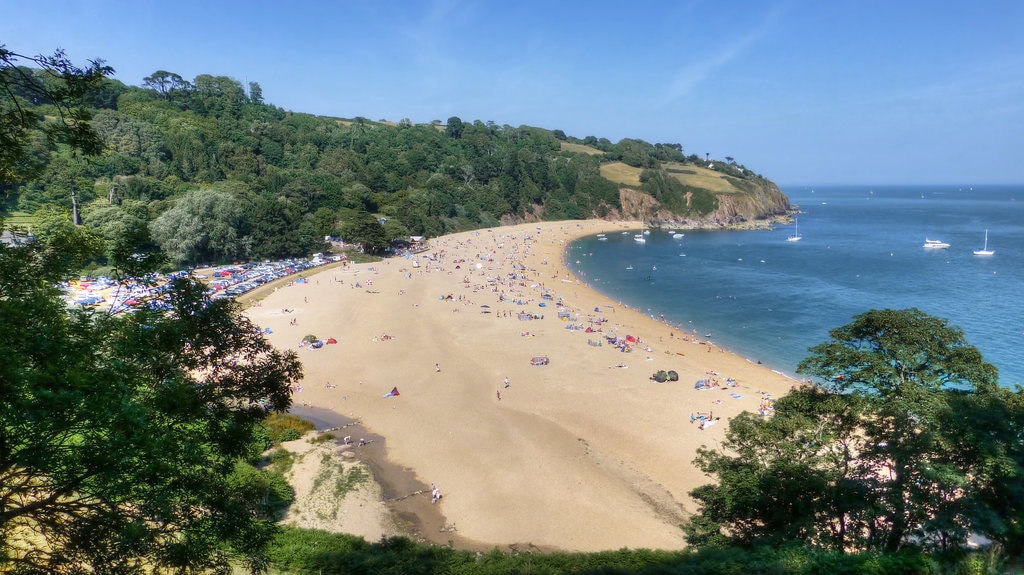 _Blackpool Sands Beach, Devon by Matthew Hartley – CC BY-SA 2.0 (https://creativecommons.org/licenses/by-sa/2.0/) – https://www.flickr.com/photos/matthewhartley369/9356120623_Plan your dog-friendly holiday
——————————
If you're searching for a fun seaside destination to enjoy with your dog, Devon has numerous beaches with fun running and playing areas for your dog. When it comes time to plan your trip, take a look at deals on dog-friendly Devon hotels on Expedia and learn more about the beaches in Devon!
#### Photo Credits
Cover pic: Croyde beach – By Mark A Coleman, CC BY 3.0, https://commons.wikimedia.org/w/index.php?curid=54854130"