Ibiza, one of the most famous of the Balearic Islands, is known for its nightlife, resorts and beautiful beaches on the Mediterranean Sea. With so many beaches, there's something for everyone, from families and solo travellers looking for quiet to singles and couples looking to party. Take a look at the best beaches in Ibiza for a fun-filled island retreat.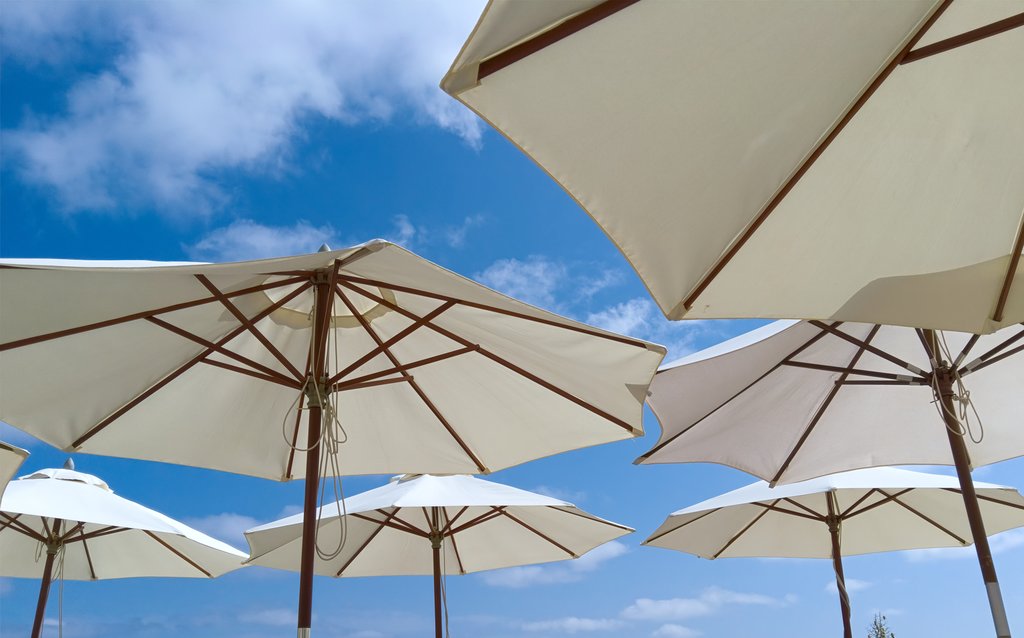 Cala Carbo
If you're looking to spend the day relaxing in the sun by the water, Cala Carbo is the best beach. The inlet beach is tranquil and borders crystal-clear, calm water. It's a great beach to grab a book and read on a beach chair all day with a cocktail in hand. If you have the kids, the gentle surf and array of coloured pebbles are great for little ones to explore, play and swim.
Sol d'en Serra
If you want a day at the beach that seamlessly transforms into a night out, Sol d'en Serra is a rare gem. The secluded, quiet cove beach is calm and beautiful during the day, but once the night falls, you can venture into town to enjoy charming restaurants and cocktails in restaurants and bars that overlook the sea.
Benirras
Benirras is a quiet beach that often draws people looking for a laid-back beach experience. On Sundays, the beach has a tribal drumming session at sunset with fires, which is perfect for a night of relaxation and contemplation. Local musicians also flock to the beach for all-day performances.
Las Salinas
If you came to Ibiza to party, there are plenty of beaches to choose from. Las Salinas is a popular beach that attracts young crowds and loud music for all-day parties. At night, the crowds head to the nearby beach bars to enjoy cocktails, music and dancing with views of the beach and sea. If you party all night on the beach, you can have a hearty breakfast at the Jockey Club before retreating to your hotel.
Platja de Comte
Many of Ibiza's beaches are small, so Platja de Comte offers a change in the form of sprawling sandy shoreline that overlooks a picturesque grouping of islands. The beach is separated into sections with flat sand, more rugged areas and a nudist area. There are several beach bars behind the beach, many of which have delicious seafood and stunning waterfront views to see the sunset over the sea.
Talamanca
Talamanca beach is a long, curved beach against clear, calm turquoise waters outside of town. Though the beach can attract crowds during the peak season, it's also a favourite local spot for sunbathing, dining and nightlife. There are numerous beach bars near the edge of the sand, ranging from casual to upscale, all of which have a selection of food and drinks.
Cala Jondal
It's well known that many celebrities holiday in Ibiza, so if you're hoping to spot a celebrity enjoying rest and relaxation, Cala Jondal is just the place. The stunning cove beach features the upscale Blue Marlin beach club and white-leather lounge beds with cocktail service, which is a great way to enjoy the sunshine and wait for a celebrity to cross your path.
Cala Olivera
Cala Olivera is one of the island's least-crowded beaches. It's a bit of hike, but when you get there, you're greeted by a secluded golden sand beach against emerald surf. In addition to being free from the crowds of some of the resort beaches, Cala Olivera has numerous rocks that are perfect for lounging in the sun.
Cala Xarraca
If you want to have outdoor fun, Cala Xarraca is the best beach in Ibiza for underwater adventures. The sheltered bay beach has a wild pine forest backdrop and nature trails, as well as clear blue water with colourful sea life. You could spend hours exploring the wilderness or plunging beneath the surface to see the vibrant marine animals in the clear water. Hidden on the side of the beach are natural mud baths, which are the perfect way to end your day of exploring.
Sa Caleta
Sheltered by dramatic red cliffs, Sa Caleta is a remote beach just outside of Ibiza Town that provides an intimate, quiet beach experience. If you're with the family, this calm beach is perfect for little ones to play or wade in the water. The cliffs also give the beach an intimate feel that's nice for couples or a solo beach day with a book. There's plenty of shade as well, so you can escape the sun and relax in the cool air.
Plan your holiday
Whether you're heading to Ibiza to enjoy the nightlife or relax on the sand, Ibiza has plenty of beaches and things to do for you to choose from. Take a look at Ibiza holidays on Expedia to save on your trip and get ready for a fun island retreat!