Ibiza may be best-known as a party destination, but there's plenty more to discover about the most westerly of the Balearic Islands. Connections to DJs, dance music and nightlife will forever follow this sun-drenched Mediterranean paradise around, but don't use that as an excuse to overlook its fantastic scenery or cultural and historical heritage. From inspiring old town architecture to World Heritage reserves, these are the attractions in Ibiza we recommend checking out.
D'Alt Vila
Looking out across Ibiza Town from an elevated perch, D'Alt Vila is a maze of narrow streets and alleyways lined with cute whitewashed buildings. This uphill UNESCO World Heritage district, which winds its way to altitude from the shore, is the capital's historic old town and cultural heart. Inside the towering ramparts you'll find the 14th-century Santa Maria de les Neus cathedral - a Catalan Gothic masterpiece - along with galleries, museums, shops, bars and restaurants. Take in the views then find your way to a peaceful square to relax with a glass of wine and tapas.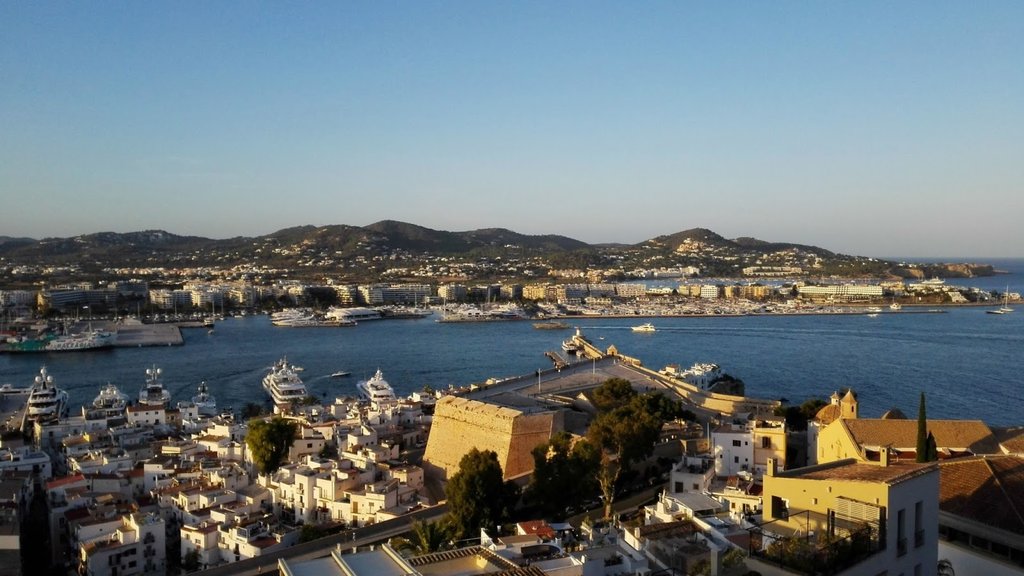 La muralla renacentista de la Vila d'Eivissa desde Dalt Vila (la ciudad alta) - By Nnogue - Own work, CC BY-SA 4.0, https://commons.wikimedia.org/w/index.php?curid=51206880
Puig des Molins Necropolis
Just outside Ibiza Town lies Puig des Molins ­- the 'hill of windmills - a vast, ancient necropolis where an estimated 3,000 tombs are cut into the hillside. This fascinating partially excavated Carthaginian burial site dates from the 7th century BCE and is the best-preserved of its kind in the Mediterranean.
As a visitor, you can see hundreds of tombs from the surface and even venture inside one at the Archaeological Museum of Ibiza and Formentera on Via Romana.
Opening hours: 10am-2pm and 6:30pm-9pm,Tuesday-Saturday; 10am-2pm, Sunday (all hours summer only)
Sa-Penya Quarter
Sa-Penya Quarter - the old fisherman's district - is one of the quirkiest and most attractive parts of Ibiza Town. At the foot of the imposing Santa Llucia fortification sits the original port and marina, where you can spend hours browsing in the hippy markets and water's edge boutiques. The twisting, pedestrianised streets rear up sharply against the cliffs, surrounding the fort with a jumble of white cube houses.
As you'd expect in an old sailor's district, there's some fantastic nightlife here, with plenty of restaurants, bars and clubs fanning out from the main Carrer de la Mare de Deu thoroughfare.
Cap Blanc Aquarium
Ever been to an aquarium in a cave before? Fear not; you can right this wrong at the bizarre Cap Blanc Aquarium. A wide range of fish and other sea creatures, including rays and octopuses, occupy this one-time smugglers' den, just to the north of busy San Antonio. 'The Lobster Cave', as it is often referred to, was previously used as a lobster nursery, but has since been converted to a marine zoo where you can view sea creatures in something close to their natural environment.
Opening hours: 9:30am-10pm, May-October; 10am-2pm, November-April
Parc Natural de Ses Salines
Parc Natural de Ses Salines, which encompasses the south-east of the island and stretches across the water to neighbouring Formentera, is a beautiful and varied nature reserve. The World Heritage-listed park has sandy beaches, salt pans, marshes and rugged cliffs, providing a range of habitats for wildlife, including the migrating flamingos that arrive in the early autumn.
One of the reserve's highlights is the marble-white Platja de Ses Salines, which numbers among Ibiza's prettiest beaches. Crystal-blue waters are flanked by attractive pine woods and sandy dunes, to provide an idyllic setting for sunbathing and gentle relaxation.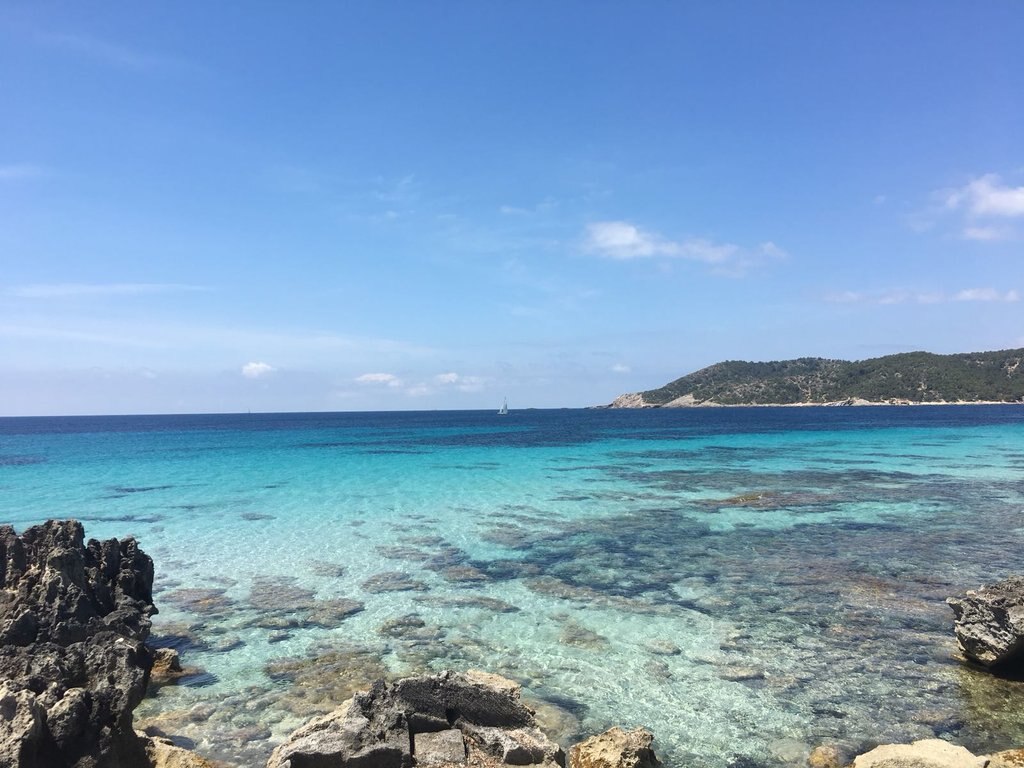 _By Ana Humbert-Droz - Own work, CC BY-SA 4.0, https://commons.wikimedia.org/w/index.php?curid=69502993_San Antonio Beach
Of course, we can't completely ignore the party scene. Any self-respecting 80s or 90s raver will already know their way around San Antonio, Ibiza's beachfront nightlife capital, while there's enough intrigue attached to encourage other visitors to take a curious look. The party just keeps going on this notorious stretch of coastline, which has been a magnet for the world's top DJs and dance music fans for several decades.
This 500m stretch of coast isn't the first place to go if you're after a quiet sunbathe, but the sparkling Mediterranean sunsets are a treat, whatever your tastes. Plus the shallow warm waters are ideal for bathing and water sports.
Formentera
A stone's throw (if you've got a good arm) from the southern tip of Ibiza lies tranquil Formentera, the smallest and most easily overlooked of the main Balearic Islands. With its lengthy beaches, clear waters and relative lack of crowds, Ibiza's little sister makes for a perfect day-trip destination.
Jump on the ferry at Port d'Eivissa to take the short 35-minute sea journey south from Ibiza Town. With around 90 crossings per day you shouldn't have to wait too long at the port. Hiring a bike is a great way to get around on Formentera, particularly as the island is well-navigated by cycle routes and the gradients are generally not too steep.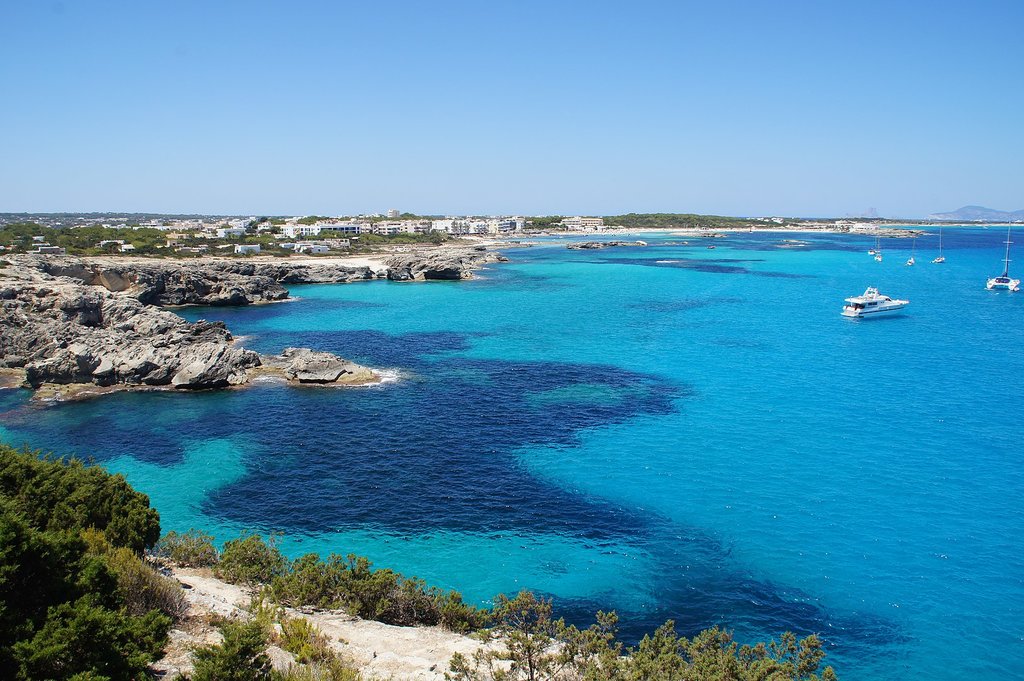 By Emanuela Meme Giudic..., CC BY 3.0, https://commons.wikimedia.org/w/index.php?curid=55803683