Angie Silver is the blogger behind SilverSpoon London, a luxury travel and lifestyle blog. As a luxury hotel and gastronomy expert, Angie is ideally placed to give us the lowdown on these amazing hotels which feature their very own vineyards. So, pour yourself a glass, get cosy and read all about some of the best places to stay for a wine-inspired break.
---
Delaire Graff Estate, Cape Town, South Africa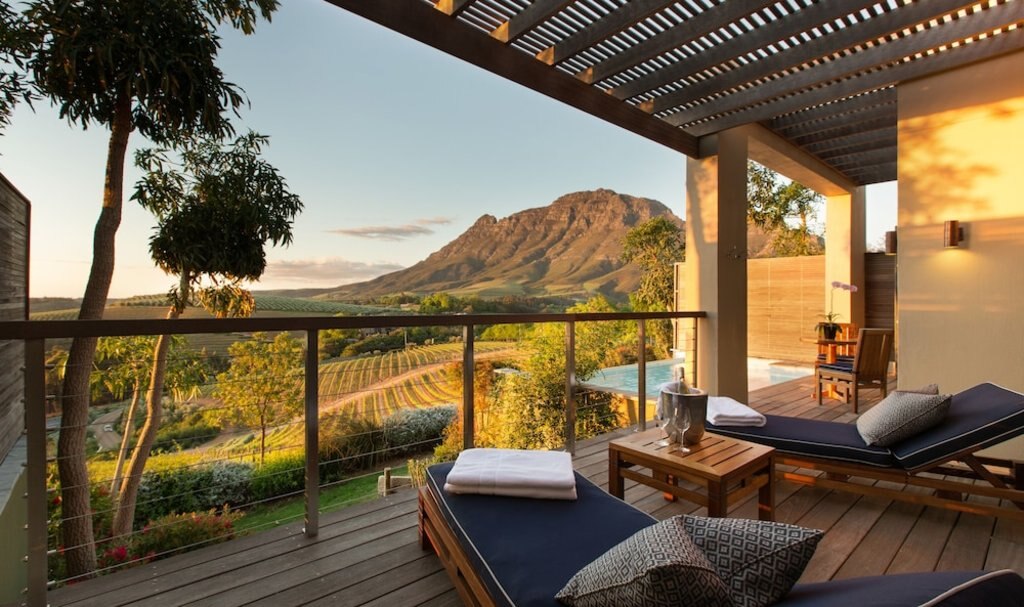 Set against a stunning mountain backdrop and the vineyards of Stellenbosch, Delaire Graff Estate has an utterly magnificent location in the Winelands of South Africa. Encompassing a hotel, two spectacular restaurants, a state-of-the-art spa and a winery, the estate is sheer indulgent luxury. The spectacular view is the perfect accompaniment to dinner and drinks at one of the restaurants or a tasting with one of the resident wine tutors.
The wine produced at the estate is award-winning and derives its rich, fruity taste from the unique terroir and cooling Atlantic sea breeze that touches the steep sloping hills. Delaire Graff wines are characterised by outstanding clarets, fresh whites, delicious rosé and sparkling bruts too.
Have a look at our hotels in Cape Town page for more options.
---
Hotel Marqués de Riscal, Elciego, Spain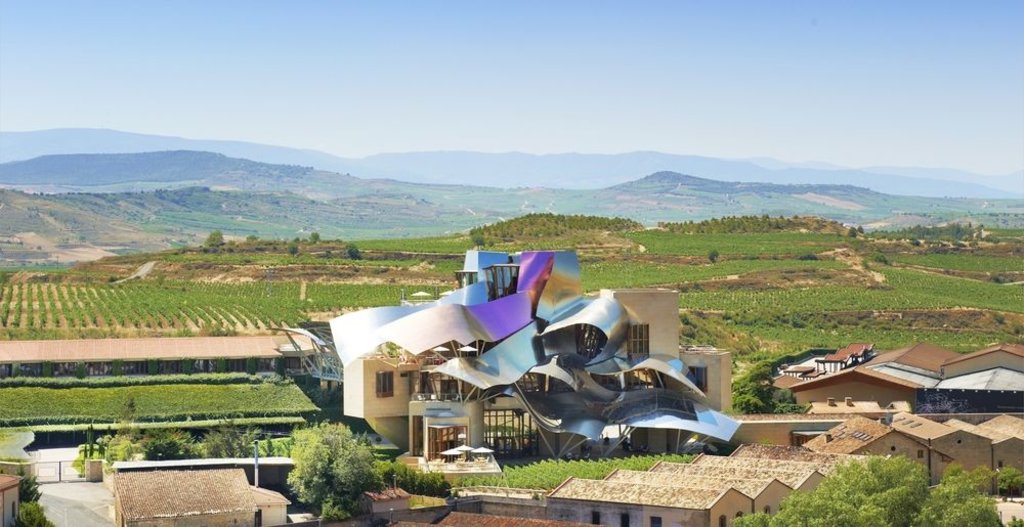 The most striking aspect of this hotel is its unique architecture, which was designed by renowned architect Frank Gehry. Made from undulating folds of titanium, coloured to imitate the burgundy tones of wine, Hotel'Ã"ØMarqués de Riscal is a magnificentight to behold.
The hotel is part of the City of Wine complex, which also incorporates one of the oldest La Rioja wineries, Herederos del Marqués de Riscal, and is located near some of other most famous bodegas in the region.
Not only can guests indulge in delicious wines made locally, but the hotel also has two restaurants - one of which has a Michelin star - and an amazing spa - the Vinothérapie® SPA Caudalie Marqués de Riscal to give it its full name - where treatments are inspired by the grape.
Have a look at our hotels in Elciego page for more options.
---
Calistoga Ranch, Calistoga, USA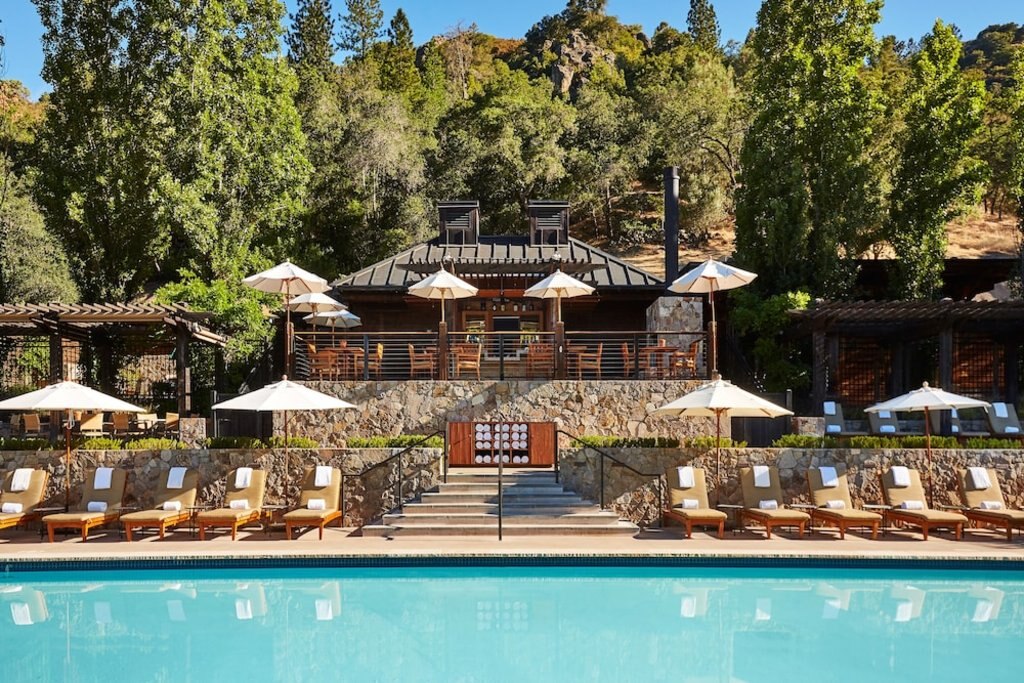 Calistoga Ranch, one of the most luxurious resorts in Napa Valley, California, is made up of 50 standalone luxury lodges set among 157 acres of land including forests, hills and lakes.
As soon as you arrived, a glass of wine from the hotel's on-site vineyard is pressed into your hand and, from then, all there is to do is enjoy the beautiful surroundings, savour fine dining at The Lakehouse restaurant and relax in the spa. The hotel will organise a driver so that you can visit a number of nearby vineyards and the exquisite restaurants on offer in Napa Valley.
Have a look at our hotels in Calistoga page for more options.
---
Rosewood Castiglion del Bosco, Montalcino, Italy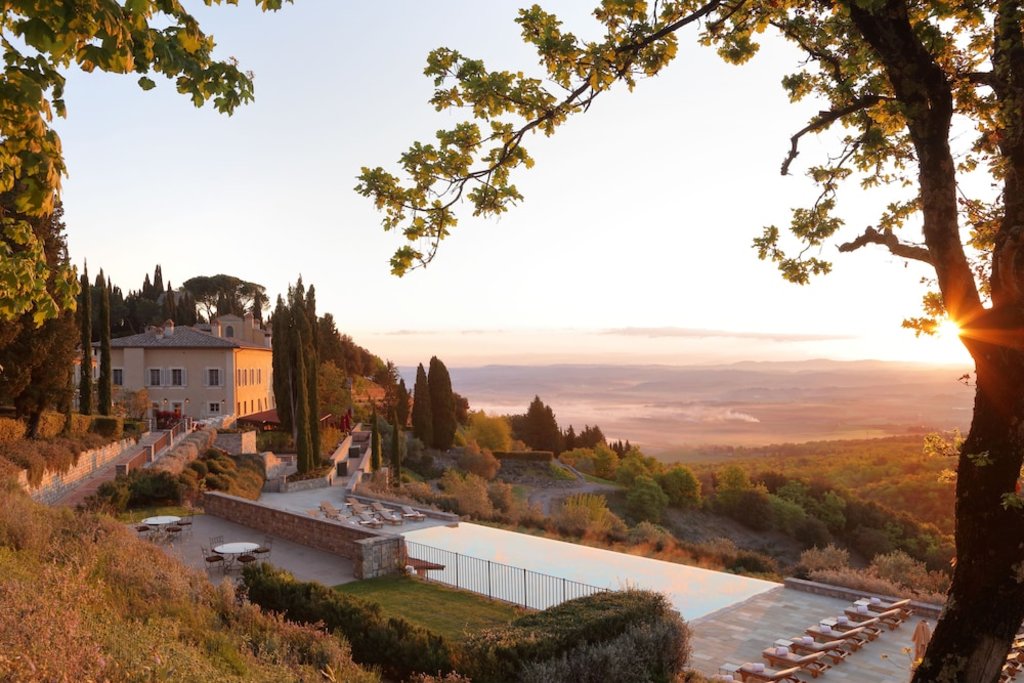 Located in Montalcino, Tuscany, Rosewood Castiglion del Bosco is both a working wine estate and luxury hotel made up of 23 suites and 11 luxurious villas. The 800-year-old Tuscan estate sprawls over 5,000 acres, which also includes ancient castle ruins, a church and a historic village.
The hotel can organise wine tours that will lead you on a journey from the grape to the barrel with a tasting of Castiglion del Bosco wines, or you can learn about pairing Italian cheeses with wines. In between wine tastings, you can enjoy one of two restaurants, La Canonica Cooking School, truffle hunting or the luxurious spa.
Have a look at our hotels in Montalcino page for more options.
---
Les Sources de Caudalie, Bordeaux, France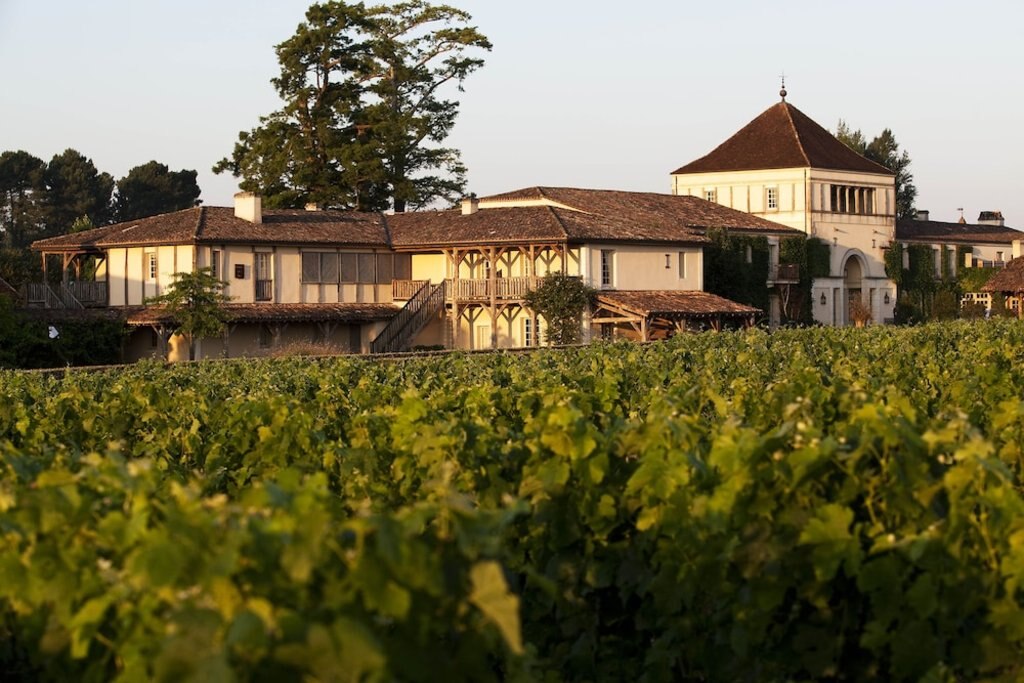 Nestled in the vines of Ch√¢teau Smith Haut Lafitte, Les Sources de Caudalie has been a destination hotel in Bordeaux since 1999. The vineyards themselves are some of the oldest in the region and, running along the Garonne River between Sauternes and the Médoc, they produce excellent red and white wines. Guided tours are on offer, which can also be themed around your interests.
The hotel itself has the appearance of a country village and is characterised by rustic buildings that have been assembled from reclaimed material from local farms. For a remarkable fine dining experience, head to the two Michelin-starred restaurant, La Grand'Vigne. For something more laid-back, head to the remaining two restaurants, which have more of a casual vibe. If you want to take your Vinotherapie a different way, check out the famous spa.
Have a look at our hotels in Bordeaux page for more options.