By Expedia Team, on March 19, 2020
The Ultimate Guide to Shopping in Birmingham
"Birmingham has no shortage of famous attractions, but its shopping is high on the list for many travellers. From independent arcades and art galleries to massive department stores and luxury brands, there's nothing you can't find in the city. Take a look at the ultimate guide to shopping in Birmingham to get ready for the trip.
Find it all under one roof in Bullring & Grand Central
————————————————————-
Bullring & Grand Central is one of the UK's most-visited shopping centres. Located in the heart of the city, the shopping centre boasts over 200 shops from thousands of leading brands, including names like River Island, Zara, GAP and Cath Kidston. Bullring & Grand Central is also home to major department stores like John Lewis, Debenhams and Selfridges, so you can find just about anything you need.
Shop for luxury goods at the Mailbox
——————————————-
If you're looking for the latest designer goods, the Mailbox is the ultimate shopping destination. The Mailbox is home to major fashion brands like Hugo Boss, Emporio Armani and Harvey Nichols, as well as an array of high-end independent retailers. You can also find a collection of homeware shops and showrooms for brands like Calligaris and BoConcept. To turn your day out into an experience, you can visit the upscale spa or catch a movie at the cinema onsite.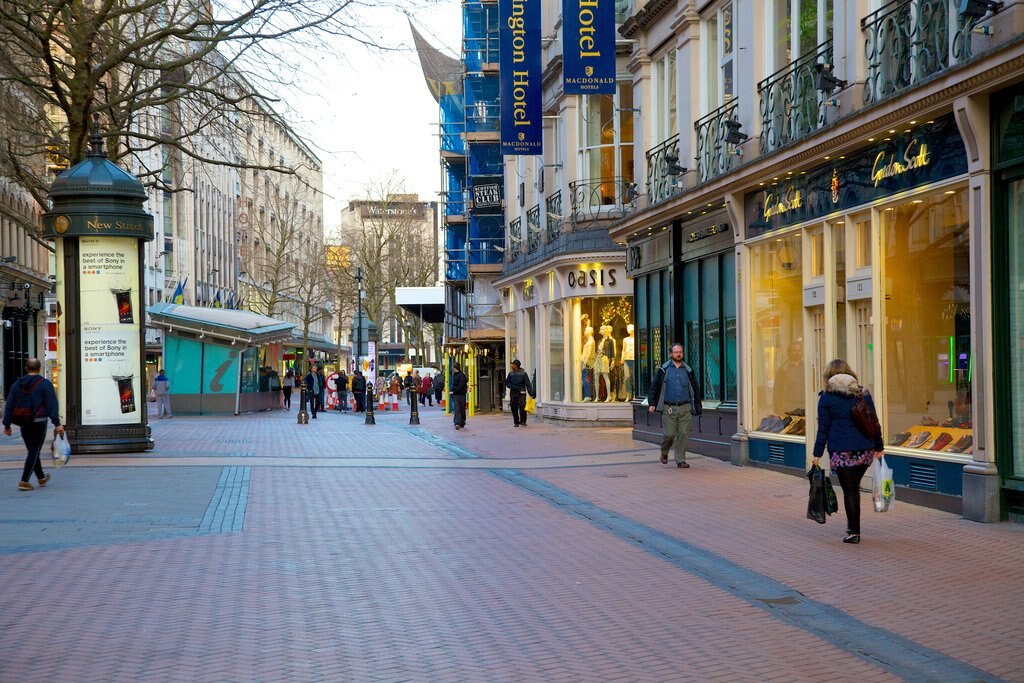 Storefronts on HighnStreet
Shop for hidden gems on shopping streets
———————————————–
Birmingham has numerous shopping streets with a range of shops and boutiques. Strolling along streets like Corporation Street, High Street and New Street, you can find high-street brands like Primark, H&M, Lush spa, Muji and Apple. On High Street, you'll find a Waterstones with floors and floors of books. Connecting to High Street, Corporation Street has British department stores, essentials and well-known brands. No matter what you're looking for, you can find it on one of Birmingham's shopping streets.
Discover a rare or unique gift at arcades
————————————————
In addition to the extensive brand-name shopping, Birmingham has a growing independent shopping scene and stunning arcades with beautiful architecture and exciting indie boutiques. Arcades like the Great Western Arcade offer Victorian charm and award-winning boutiques, while Piccadilly Arcade in the city centre offers everything from beauty salons to fashion boutiques and jewellers. Some other arcades in the city include City Arcade, North Western Arcade and Burlington Arcade, which add a range of sweet treats, wine, vintage goods, accessories and more to the mix.
Discover history and beauty in the Jewellery Quarter
———————————————————–
The Jewellery Quarter is the heart of the British jewellery scene in the city, as well as a thriving scene for arts, dining and nightlife. The quarter is home to over 100 independent retailers and craftspeople with workshops to create bespoke timepieces or necklaces, bracelets and rings with precious gems. Whether you want luxurious accessories for yourself or a customised gift for a loved one, the Jewellery Quarter is the perfect place. The quarter is also a historic conservation area with over 200 listed buildings, historic cemeteries and the dramatic Chamberlain clock.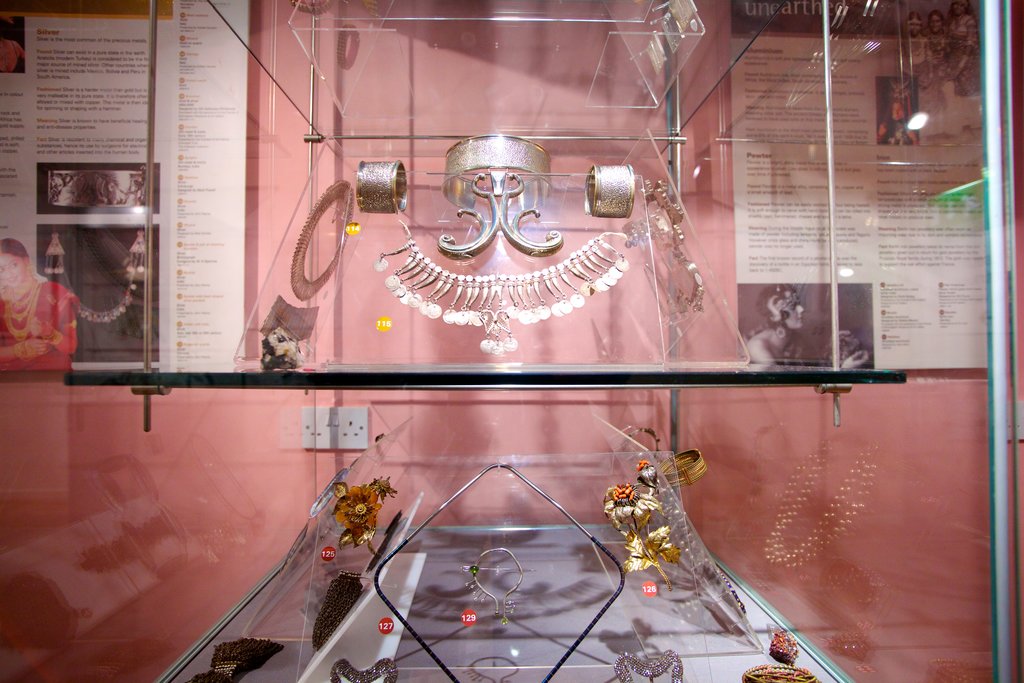 Museum of thenJewellery Quarter
Browse creative gifts in Digbeth
—————————————
Located near Bullring & Grand Central, Digbeth is the creative soul of Birmingham and home to an array of independent shops, arts venues, cinemas, cafes and eateries. Hidden among the bustling eateries and galleries, you can find vintage shops filled with decades-old gems for a unique look. Each week, the district hosts a food and drink festival, the Digbeth Dining Club, where you can shop among stalls selling local produce and artisan treats and condiments. The festival also has music and entertainment to enjoy while you shop.
Whether you want to splurge on designer clothes and accessories or you prefer to find some local, vintage flavour, Birmingham offers a diverse mix of shopping opportunities to explore. If you're planning a trip, take a look at some other things to do in Birmingham and discover Birmingham hotels to make the most of the experience!"