By Expedia Team, on April 23, 2019
Itinerary tips for 3, 5 and 7 days in the Lake District
" Find out what to do and see on your next trip to the Lake District in England with expedia.co.uk/explore. Check out our itineraries for 3, 5 and 7 days!
Let's head to the Northwest of England for a holiday in the Lake District. It's a popular destination for walking holidays and for exploring British literary history. Composed of many enchanting hamlets and towns, the Lake District is an up-and-coming food and brewery destination, too. Whether you can get away for the next bank holiday weekend or you've carved out a weeklong retreat, follow our Lake District itinerary and let the adventure begin.
–
3-Day Itinerary
Day 1: Carlisle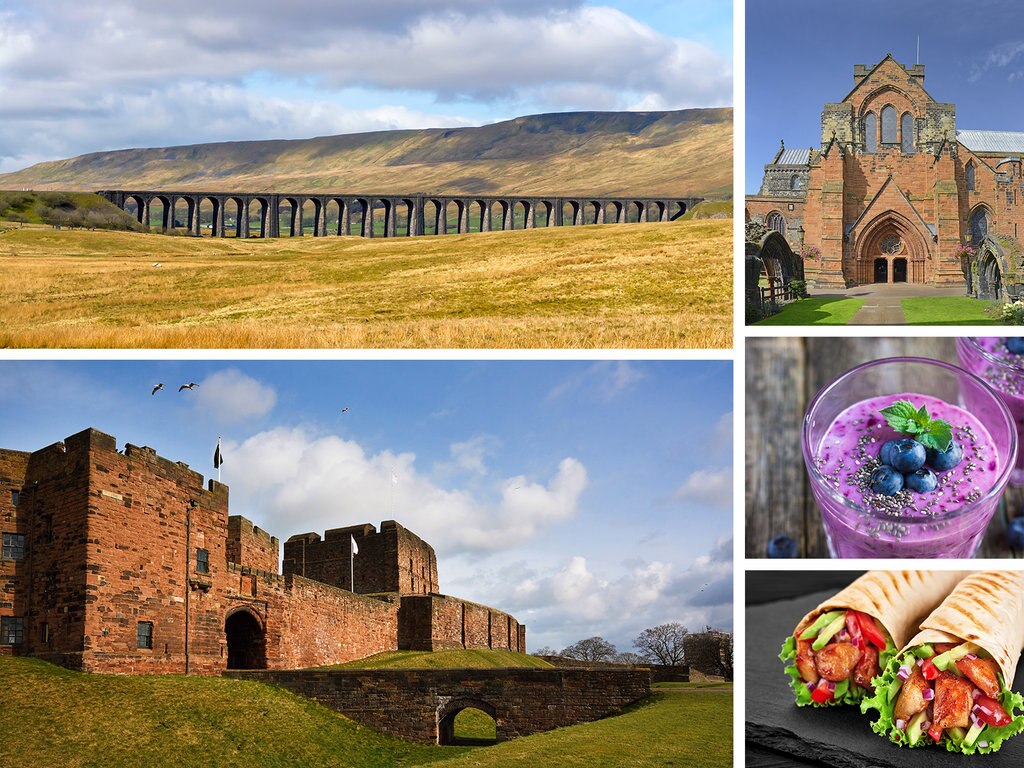 Photo: Kev Gregory /Shutterstock.com (top left), stocksolutions /Shutterstock.com (bottom left), Pecold /Shutterstock.com (top right), Anna Shepulova /Shutterstock.com (middle right), vitals/Shutterstock.com (bottom right)
If you're unfamiliar with the north of England, Carlisle is a brilliant place to orientate yourself. Though it's technically outside of the Lake District region, it's a lovely place to start your adventures. When it's time to venture into the Lake District, Carlisle is an easy 56-km drive to Keswick or up to a 75-minute transport ride.
Step back in time at Carlisle Castle. The current stone fortress was renovated in the 12th century and is still in use today. It's open seven days a week, and concessions and family passes are available.
Carlisle Cathedral is more than 900 years old, and houses many ancient and medieval artefacts, including two Scandinavian inscriptions from the 12th century and a spectacular painted ceiling.
The Shabby Scholar is great for lunch, shakes, and tapas, and Amato's serves Sicilian food with lunchtime happy hour.
–
Day 2: Keswick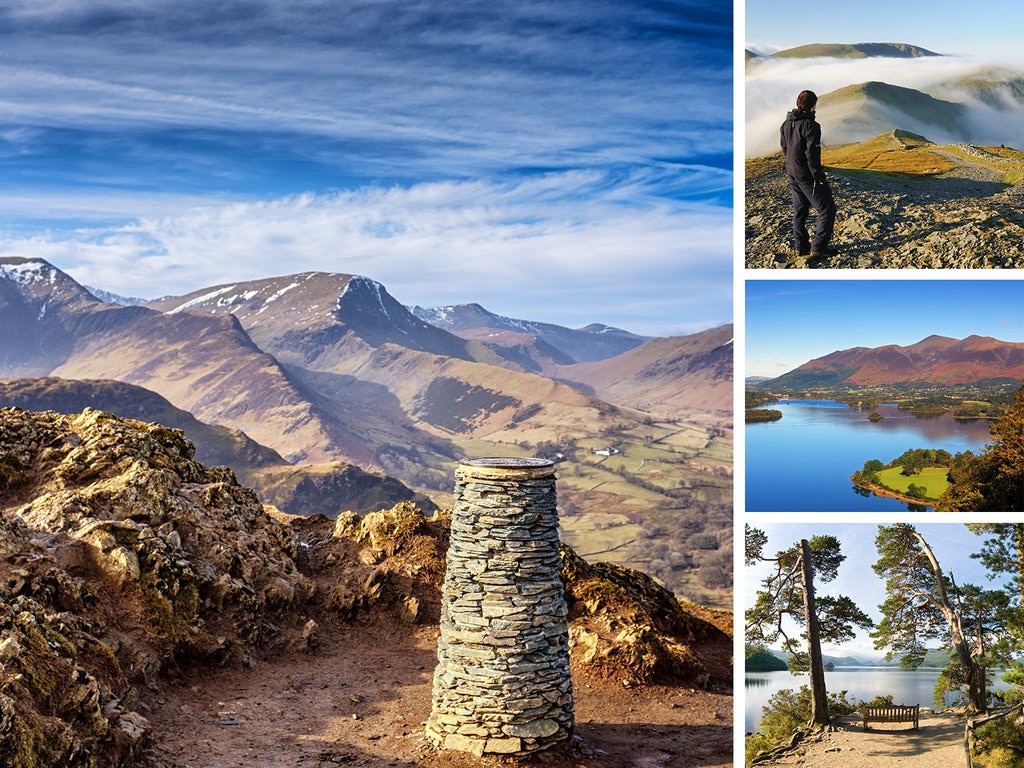 Photo: Shaun Barr /Shutterstock.com (left), Stewart Smith Photography/Shutterstock.com (top right), ATGImages /Shutterstock.com (middle right), Jeremy Cottingham /Shutterstock.com (bottom right)
Keswick is considered one of the best towns in the Lake District, because of countless walking trails and its central location around Derwent Water. Here are trail options for different experience levels:
Friars Crag is an easy and wheelchair-accessible walk with stunning views of the lake and nearby mountains, as well as a car park and toilet facilities. This is also a great place for stargazing.
Located fewer than 10 km from Keswick, the Catbells trail takes only two hours to complete, and it's a perfect option for beginner to intermediate hikers.
If you're quite serious about walking, try Grisedale Pike-an intermediate walk that can take up to four hours to complete. It offers stunning views of Derwent and famous Skiddaw.
–
Day 3: Ambleside
Photo: Kevin Eaves/Shutterstock.com (top), Jorge Franganillo/Flickr (bottom left), Giovanni G /Shutterstock.com (bottom center), ImageFlow /Shutterstock.com (bottom right)
If you spent Day 2 walking, Ambleside is the perfect opportunity to spend some quiet time learning about the region's history. While you're here, visit Beatrix Potter's farmhouse and many historical landmarks.
Beatrix Potter's farmhouse Hill Top is preserved along with its lovely garden. Ms. Potter grew up in the Lake District and was one of the leaders in preserving its natural beauty.
Armitt Museum and Library was founded by writers and artists to celebrate the area's rich cultural history. Pore over rare Ruskin manuscripts, contemporary art, and seasonal exhibitions.
Considered a "17th-century survivor," the small stone Bridge House over Stock Beck is an icon of British resilience and receives thousands of visitors each year.
–
5-Day Itinerary
Day 4: Windermere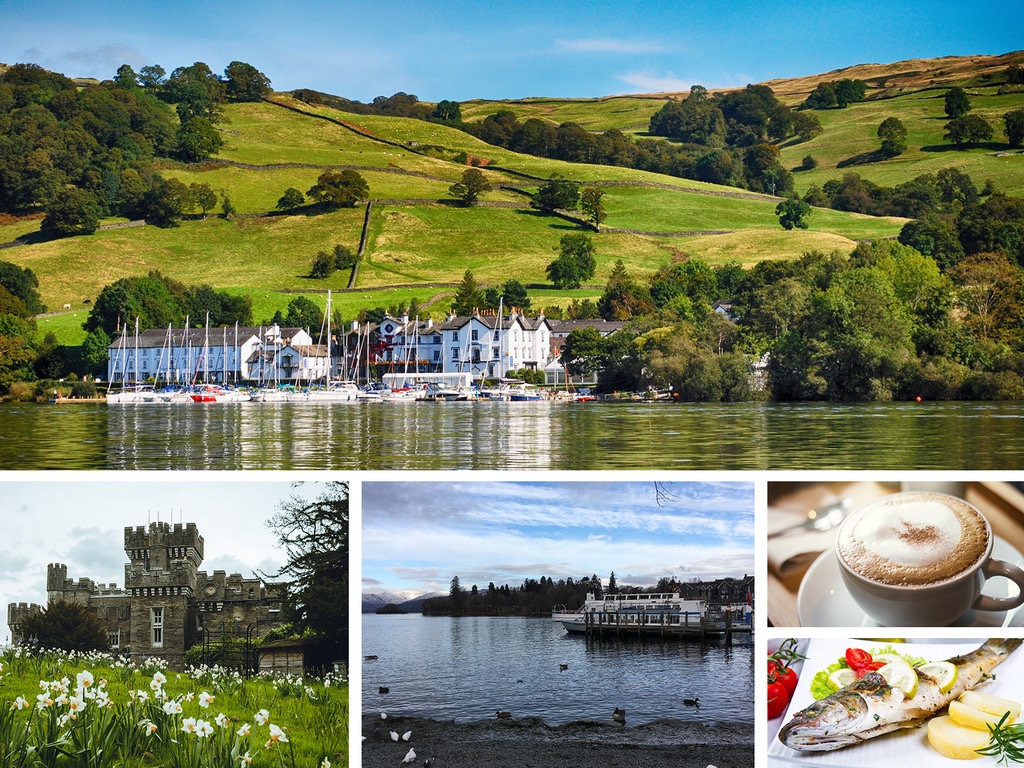 Photo: Mr Nai /Shutterstock.com (top), Holidays/Flickr (bottom left), Sarah Weldon/Shutterstock.com (bottom center), Rakopton TanyakamLPN/Shutterstock.com (bottom up right), Luca Santilli /Shutterstock.com (bottom down right)
Situated in the southern region of the area, Windermere is another charming walking town and it's one of the best areas in the Lake District for kids. Visit a fairy-tale castle and take the whole family for a stroll around Windermere Lake.
Built in 1840, gothic-inspired Wray Castle is especially kid-friendly. It looks like the setting of your favourite storybook and has many activities for young visitors.
Walk Windermere's Western Shore. The route starts from Ferry House near the water and follows the shore northward, then you turn back… after a picnic lunch. It's an easy path for beginners, though not all areas are wheelchair accessible.
Start the day with locally sourced brunch at Homeground Coffee + Kitchen and enjoy the catch of the day at Hooked.
–
Day 5: Coniston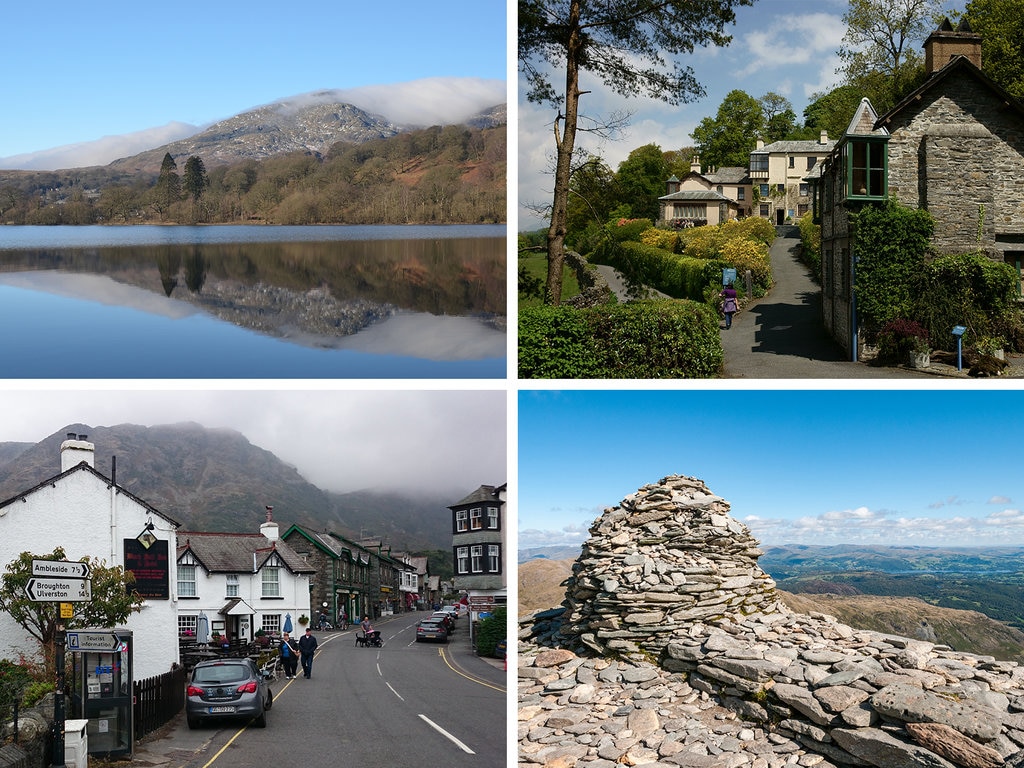 Photo: Alljengi/Flickr (top left), Jeremy Wood/Flickr (bottom left), Peter Trimming/Flickr (top right), Corine van Kapel /Shutterstock.com (bottom right)
Heading farther west, visit Coniston. The water here is a favourite for water sports and, of course, walking. If this is the last day of your trip to the Lake District, go out with a splash – literally.
The Old Man of Coniston is not really an aged person. It's a mountain with 800-year-old slate mine ruins. Walk to the misty lookout, which can be reached via well-marked trails.
Browse the collection of local history and curiosities at Ruskin Museum. It was founded to honour John Ruskin – Coniston's own literary hero.
Borrow a kayak, motor boat, or paddle board from a local boat hire, and spend some time on Coniston Water.
–
7-Day Itinerary
Day 6: Ravenglass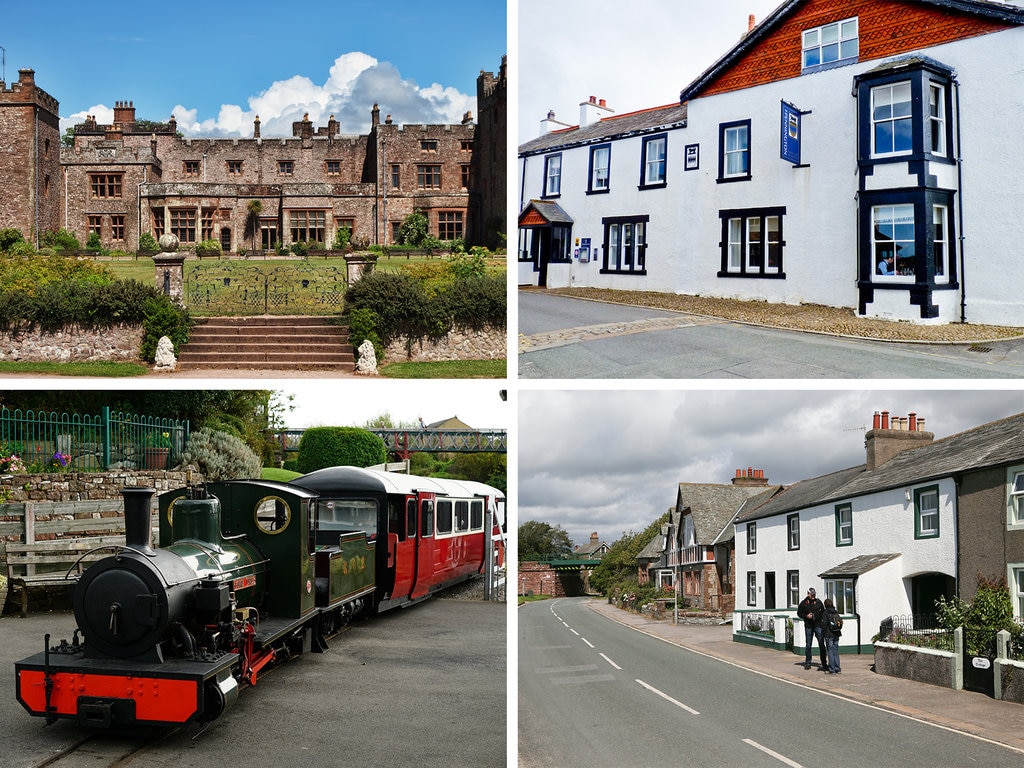 Photo: Kevin Eaves /Shutterstock.com (top left), Nicola Pulham /Shutterstock.com (bottom left), Peter Daniel/Flickr (top right), Dave Collier/Flickr (bottom right)
Ravenglass is the only coastal community in the Lake District. Stand at the quiet natural harbour and take in views of the Irish Sea. And don't forget to romp through a haunted castle.
Muncaster Castle sits on 77 acres with pretty gardens and mysterious woods, and rumour has it these halls are haunted. Since 1208, Muncaster Castle has been home to the Pennington family.
See more of the Cumbria Coast on the historical Ravenglass and Eskdale Railway. The themed train is dog-friendly, kid-friendly, and accessible, so bring your friends and family.
Dine just steps from Ravenglass Harbour at The Pennington Hotel. The dining room offers a peaceful respite from a whirlwind holiday and the chef serves elegant British cuisine.
–
Day 7: Bassenthwaite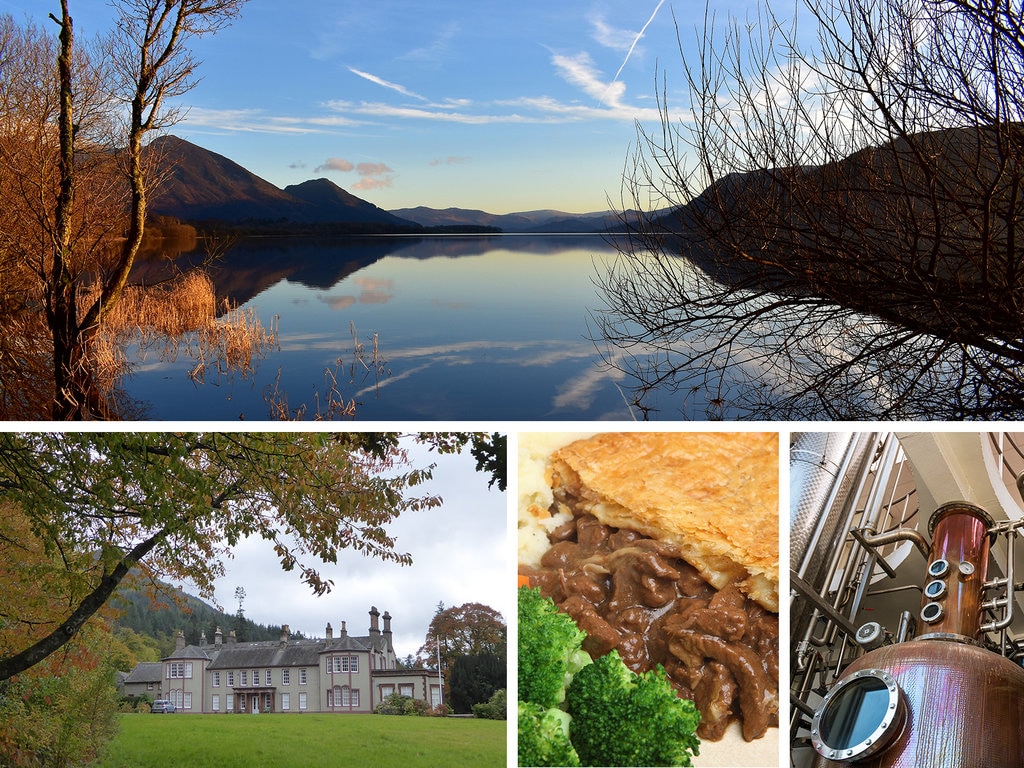 Photo: Helen 123/Shutterstock.com (top), Andrew Bowden/Flickr (bottom left), Joe Gough /Shutterstock.com (bottom center), Lance Bellers /Shutterstock.com (bottom right)
Before you say goodbye to the Lake District attractions, toast to a splendid holiday with the local libations in Bassenthwaite, another lovely village.
Located near Bassenthwaite Lake, Mirehouse & Gardens was built in 1666. It's open to the public starting in April each year, and The Old Sawmill Tearoom is the best place to relish an afternoon on the patio.
Sip award-winning spirits at The Lakes Distillery in nearby Setmurthy. We recommend booking a tasting tour for a fuller experience.
Herbivores and omnivores will find delicious options at The Sun Inn**, a historical pub that serves classics like steak pie as well as Mediterranean vegetable lasagne.**
You could spend a month exploring the Lake District in England without running out of beautiful sights and delicious bites. But if you have to choose just three, five or seven days to take it all in, you'll know what to do: Book your flights to the Lake District, find fabulous Lakes accommodation!"