By Expedia Team, on April 25, 2017
An Insider's Guide to Vienna
"Editor's note: Traveller Notes aims to uncover the spots that local residents love, providing you with an insider's guide to cities around the world. Our Traveller Notes guide to Vienna is written by Michelle Hrvat of American in Vienna. For practical information and a basic Vienna itinerary, check out Expedia's 72-hour guide to Vienna, also written by Michelle. We hope you enjoy this insider guide to Vienna! -Brenna
Vienna, Austria is an exciting city, rich with history, music, and cultural beauty. Yet behind those famous Viennese coffee houses, high fashion boutiques and opera shows are the special places that the locals like to visit. I'm talking about a special rooftop bar, a family-owned wine tavern, a city view that'll take your breath away, a restaurant that serves the best Neapolitan pizza, and many more. From this, I am happy to present to you my traveller's notes – some of the best spots a visitor interested in the local experience should check out.
### restaurants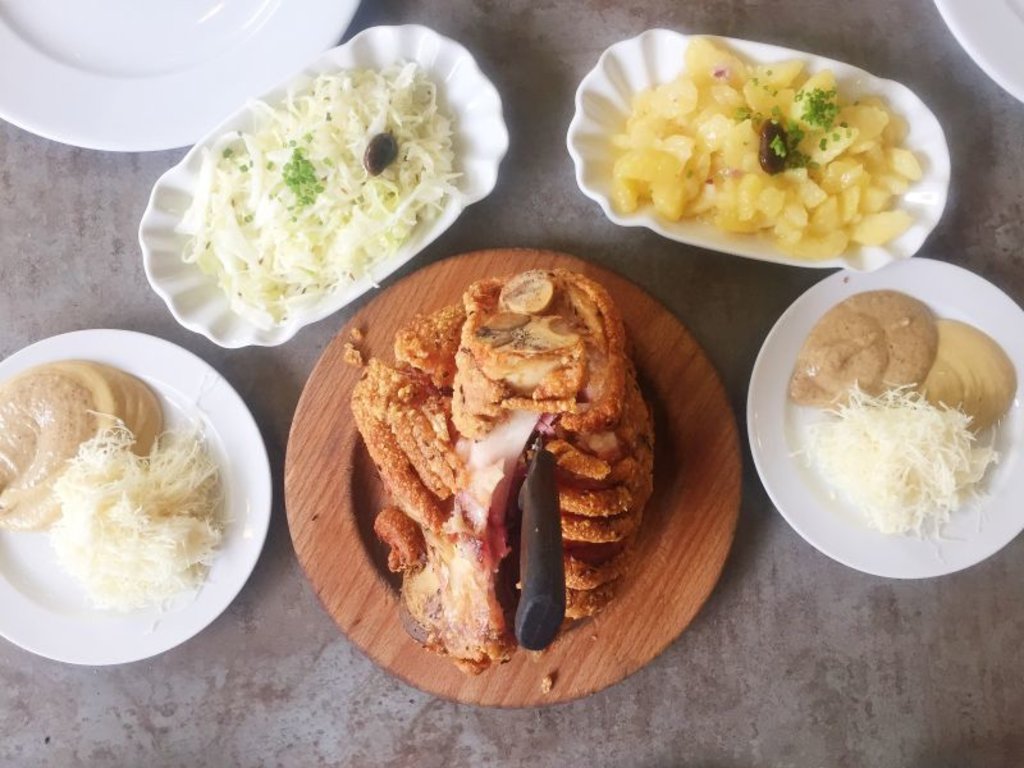 Eating at the Schweizerhaus (Prater 116, 1020) is an enjoyable cultural experience. Located in Prater's Amusement Park, I'd suggest eating in the garden (open March to October) where you're surrounded by lush trees and can hear the sounds of clinking beer glasses and hearty laughs. For those able to eat pork, you cannot leave the Schweizerhaus without eating their Stelze – that's like visiting Paris and not seeing the Eiffel tower! The Stelze is a pork knuckle marinated in caraway seed and garlic brine, roasted until the skin is crisp. The recommended sides are mustard and horseradish to dip your forkful of pork into. Oh, and having your Stelze with an Austrian dark beer is the icing on the cake.
If you plan to eat at the Schweizerhaus, make a reservation through their website, and if you cannot get a seat there, head on over to Luftburg (Prater 128, 1020) which serves the same food and has more seats available.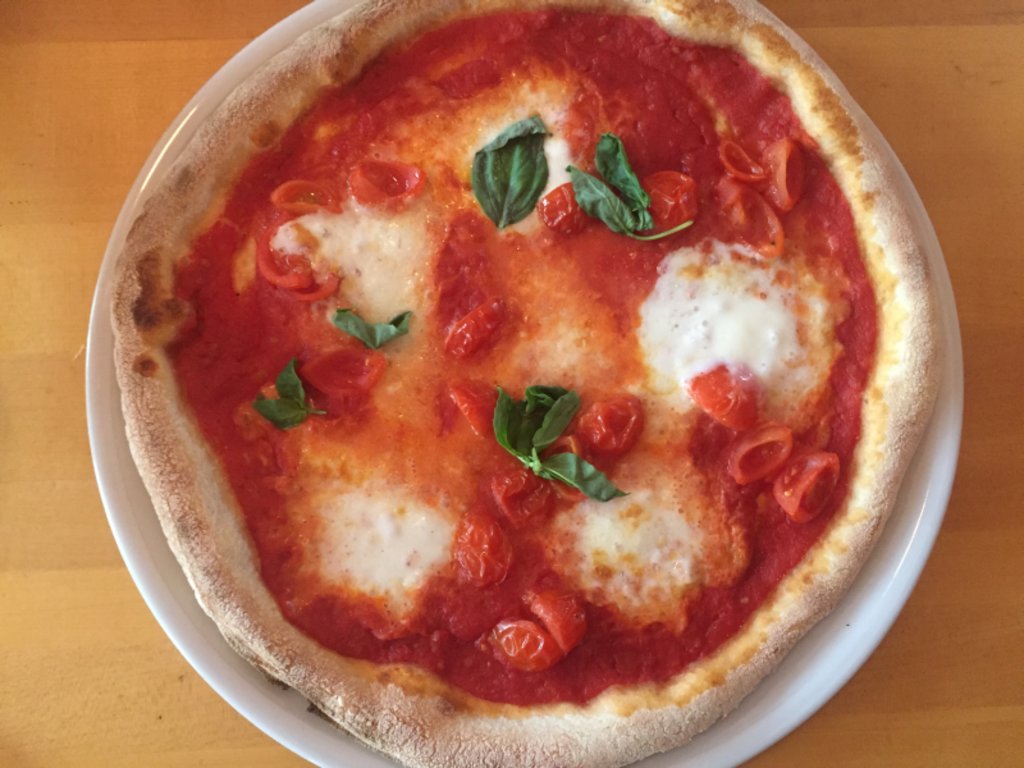 It's no secret to my family and friends that Il Sestante (Piaristengasse 50,1080) is hands down my favorite authentic Italian restaurant in Vienna. This restaurant won the Marchio Ospitalità Italiana Award for its Italian food, hospitality, and for using the highest quality of Italian products, so it's no wonder that this place is simply outstanding.
The pizza is made from the hand of Italians, put into a wood-fired oven and then topped with fresh tomato sauce and toppings. I like to get their Primavera pizza, made with buffalo mozzarella, but if you're not into pizza, Il Sestante has a large menu with antipasti, salads, soups, pastas, fish and meat. The Zuppa di Pomodoro con Basilico (tomato soup with basil) and Gnocchi di Patate alla Sorrentina con Mozzarella di Bufala (a soft dumpling-like potato pasta topped with tomato sauce, mozzarella and basil) are both enticing meal choices I like to get too. If you visit during the warmer months, eat outside in front of the Maria Treu Church to make the experience more special.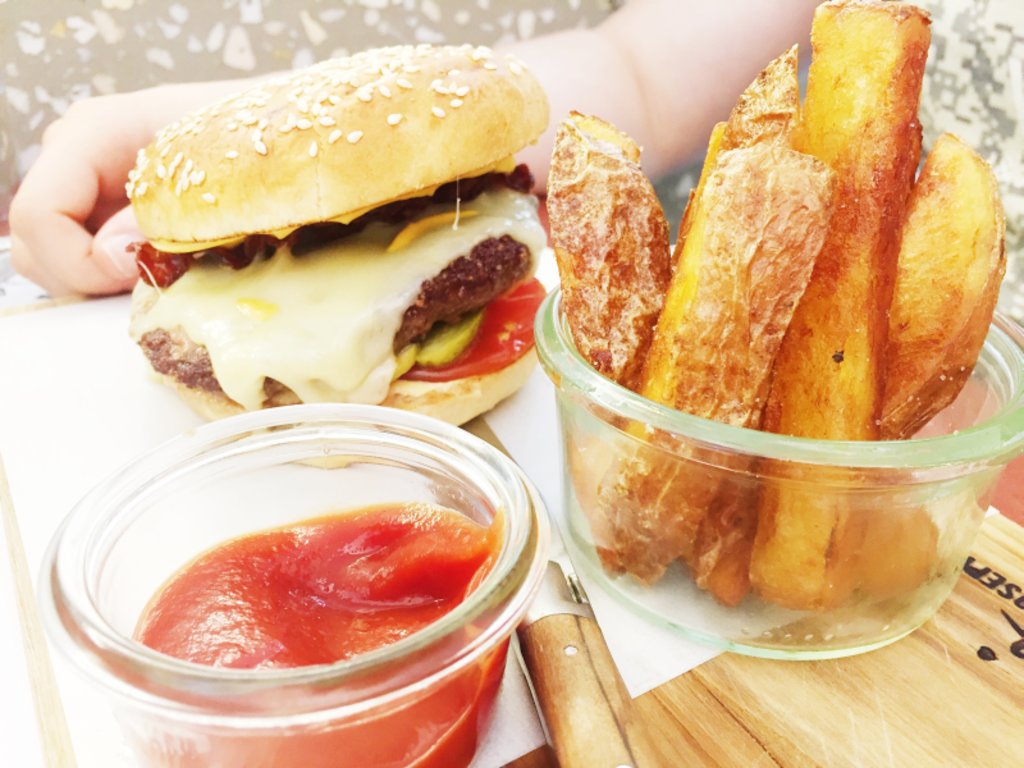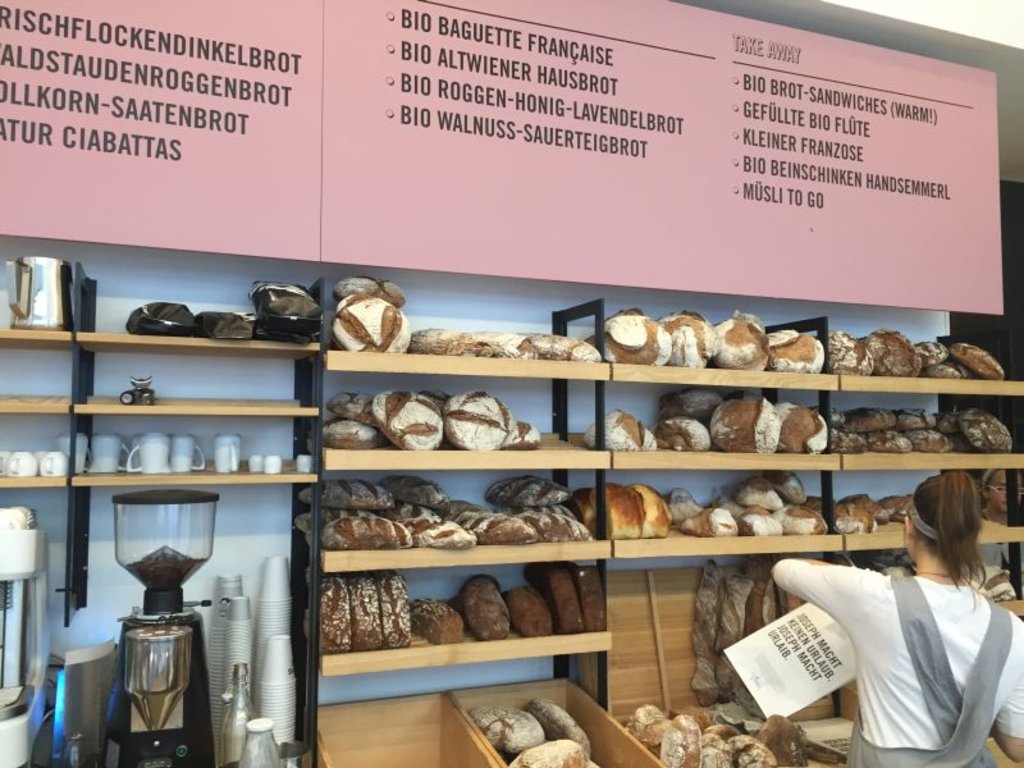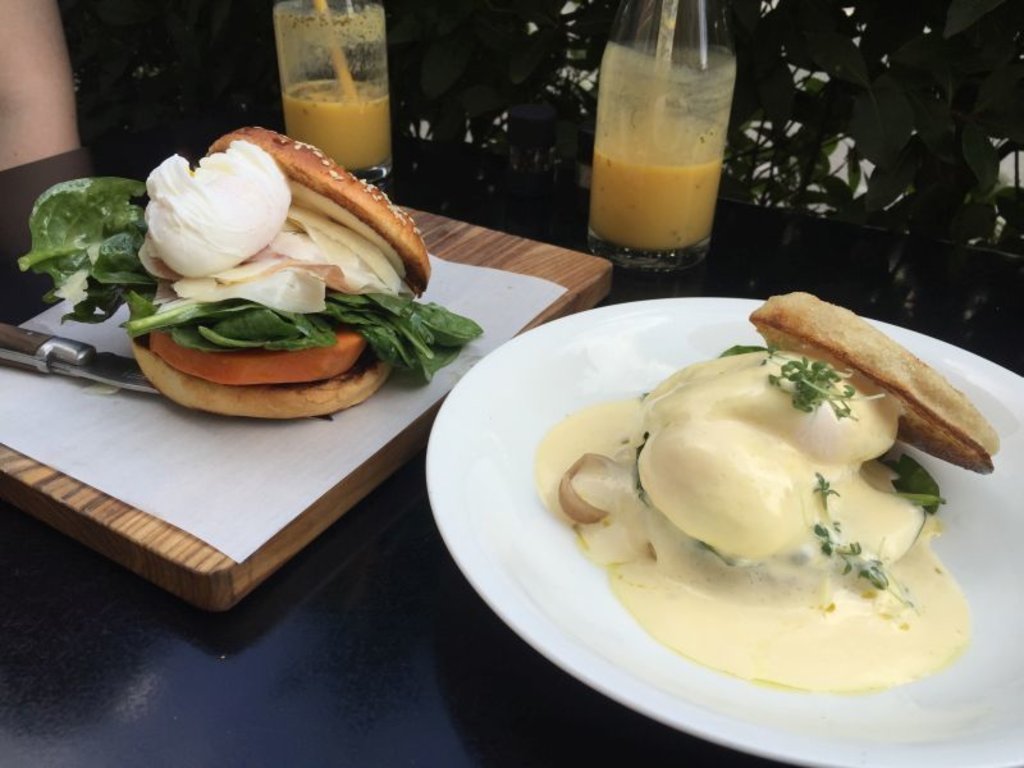 Joseph's Bäckerei (Naglergasse 9, 1010) is best known for their traditional hand-kneaded bread, using an old recipe that is baked a certain way to produce a unique crust. This bakery is in two locations within Vienna, but if you are interested in dining in or having a lunch to go, check out Joseph's Bistro (Landstraßer Hauptstraße 4, 1030), where all ingredients from their photogenic food are organic, clean and come from suppliers and farms in Austria. The bistro and bakery offer breakfast (like sweet Ricotta pancakes), a seasonal lunch and dinner menu as well as other homemade products and cakes.
Both places are very popular amongst the locals and unfortunately Joseph doesn't take reservations, but that shouldn't deter you from waiting to grab a seat at this great place! If you're into burgers, Joseph's Dry Aged Gruyère Cheese Burger is fantastic, with dry aged beef, Gruyère cheese, bacon, pickles, tomato and a smoked paprika aioli sauce.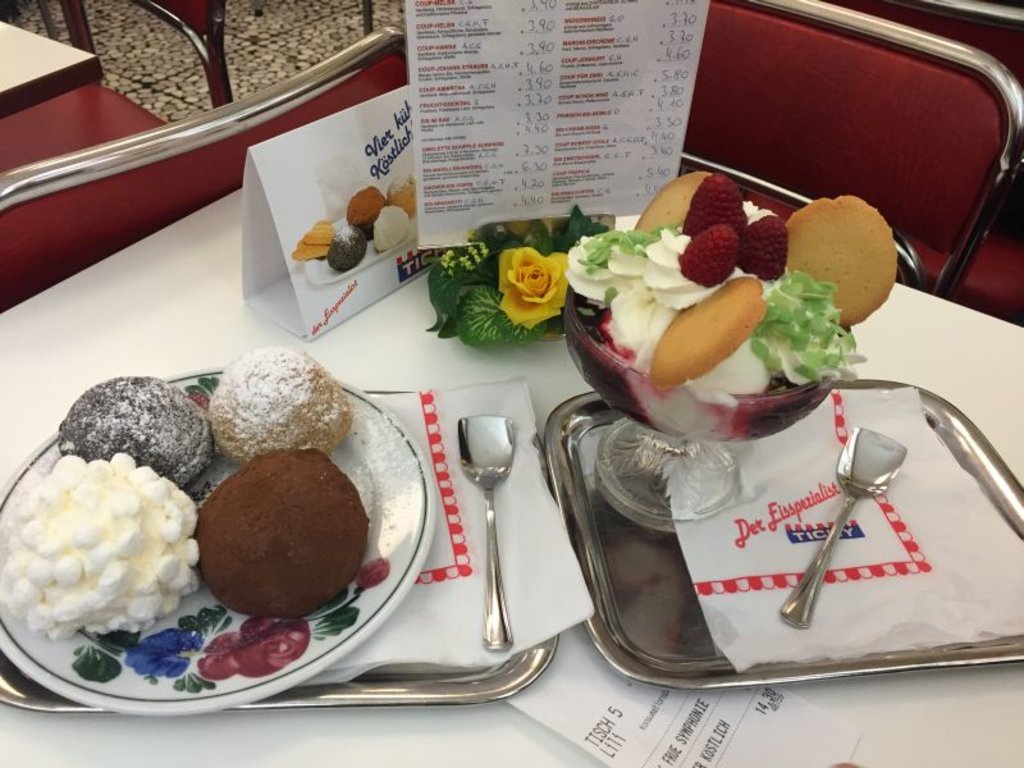 Tichy (Reumannplatz 13, 1100) is a family-owned legendary ice-cream salon that is very dear to the locals. Why? Not only because of their ice cream sundaes and cakes (which are very good) but because this is the place where the one-of-a-kind Eis Marillenknödel was created. This invention from the Tichy family is basically a vanilla ice cream ball coated with grated roasted hazelnuts with an apricot jam center. For some reason, Tichy is not typically shared in other Vienna travel guides, so if you have time, make sure you make it to this special place and try their ice-cream delicacy.
### bars and cafés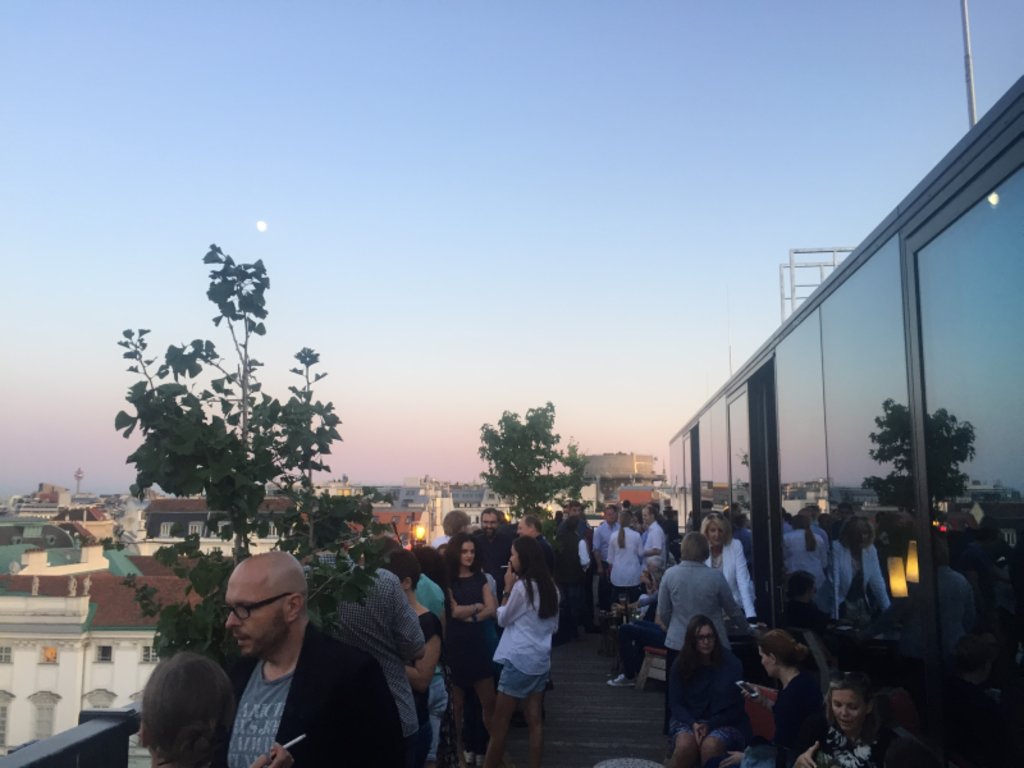 Dachboden (Lerchenfelder Strasse 1-3, 1070) is a popular, trendy bar that locals love to attend. Located at the top of 25 Hours Hotel, this bar provides guests a fun variety of drinks and snacks with an amazing view of the city. The ambiance inside the bar is cozy with a bit of funk, where the décor is from a circus in the early 20th century. Drink a Weisser Spritzer – white wine and sparkling water – while you snack on their seasoned focaccia bread and relax. The views on the terrace are not to be missed – the sunsets are gorgeous and at night the buildings, like St. Stephan's Cathedral and the City Hall, light up with a soft glow, making Vienna look even more beautiful. Just make sure to get here before 8pm if you don't want to queue!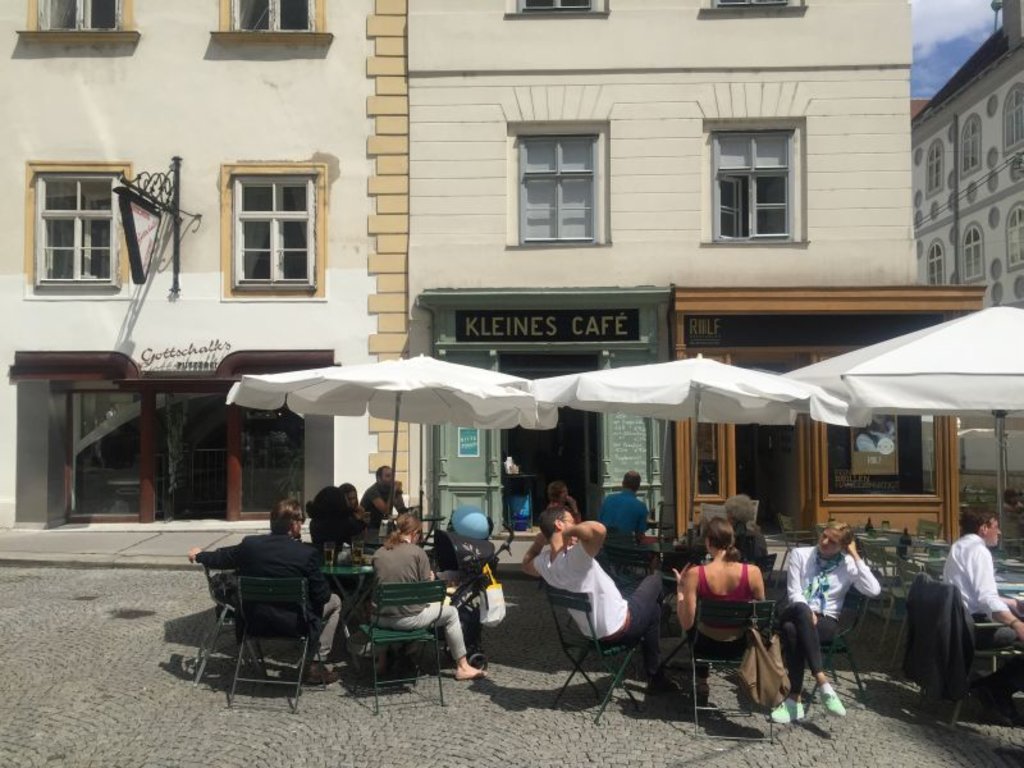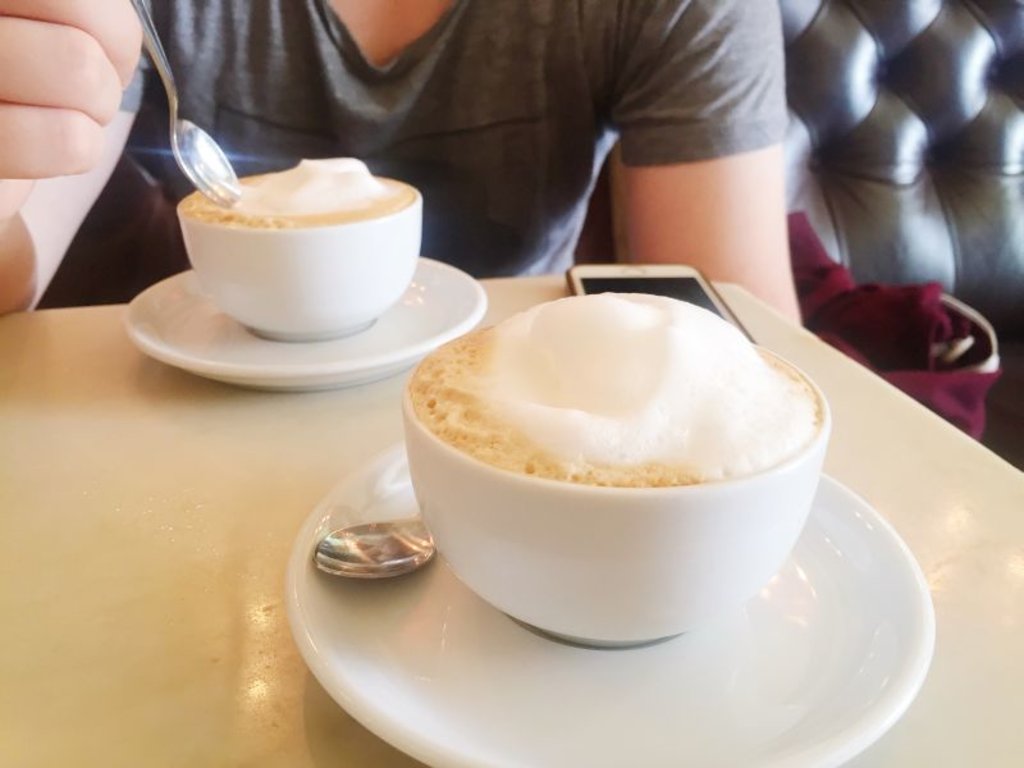 Right in the heart of Vienna and sitting on the cobble-stoned Franziskanerplatz square, is one of the most loved coffee houses by the Viennese: Kleines Cafe (Franziskanerplatz 3, 1010). This quaint and charming cafe from the 1970's serves Viennese coffee and snacks like bread with chive spread. Once you come in it's typical to see old men with the newspaper drinking their coffee and chatting with fellow locals. With limited tables and seats, only the lucky ones are able to find a spot under the arched ceilings in this parlor. However, do not worry: During the warmer months more tables and chairs are provided outside. So if you want to feel like a local and want to grab a coffee, this is the place to come to. Make sure to try the Melange – an espresso shot served in a large coffee cup topped with steamed milk and milk foam.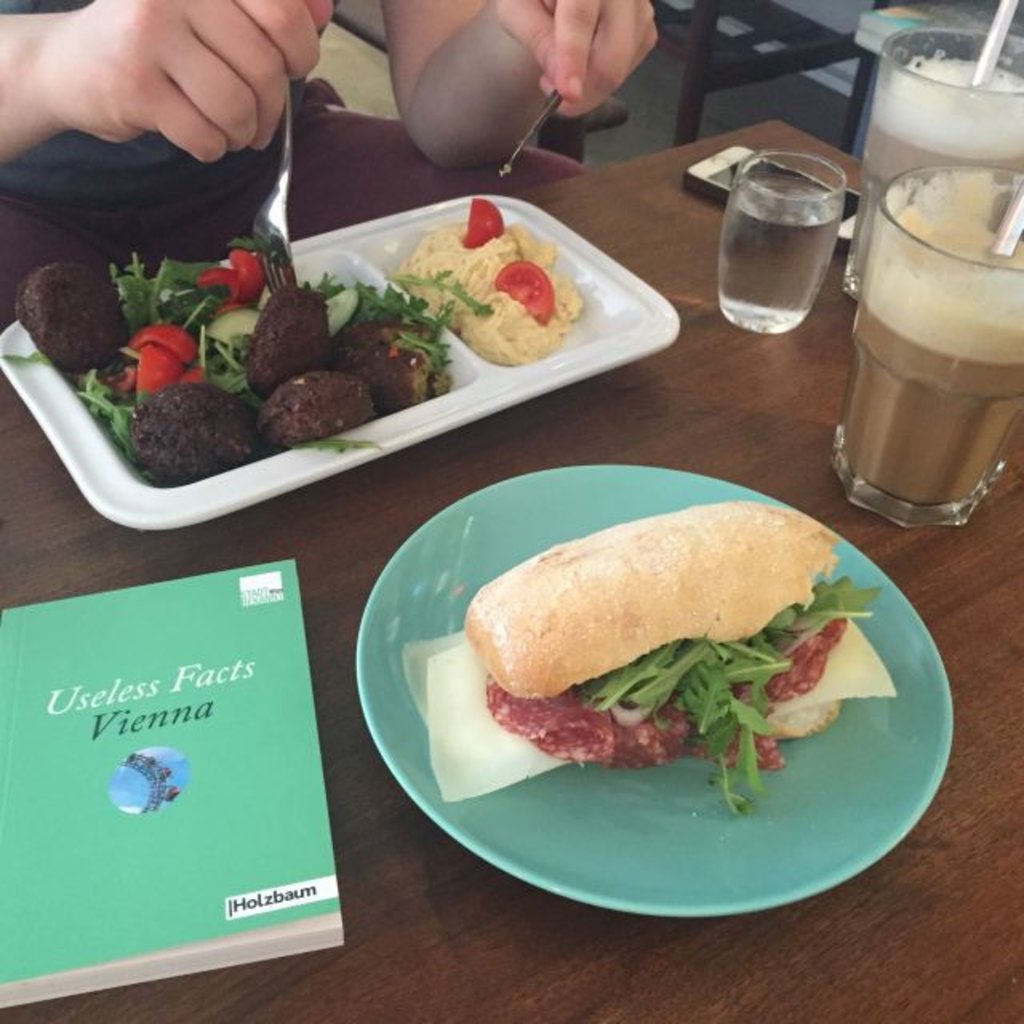 Combine a bookstore and a cafe and you get Phil (Gumpendorfer Straße 10-12, 1060) the ever-so-retro and cozy hangout spot that students and local artists like to frequent. Consider trying out one of their double espresso's or homemade Lemonades while you use their free WiFi on your mobile device. Not to mention, you can have breakfast late in the afternoon from a creative and versatile menu. Phil sometimes provides special performances from musical artists, Djs and poetry readers, which can be quite a treat as you sit back and relax on their couches.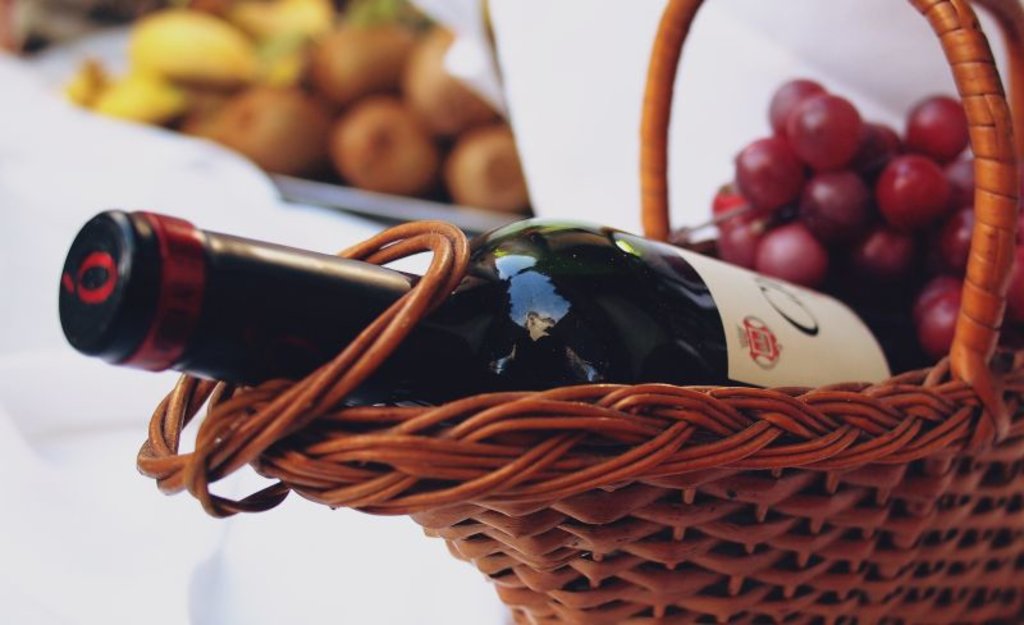 Set in Grinzing, the wine village area of Vienna, lays Müller's Heuriger (Cobenzlgasse 38, 1190), which provides top quality wine and food. This tavern is run by third-generation owners, proud not only of their award-winning wines and six vineyards, but of their homemade Austrian products and sweets. One of their goals is to offer wine at affordable prices, which is always good for visitors with a certain budget. I like to order the "Mixed Satz DAC," the so-called "Ambassador" of wines in Vienna that smells like fruit and citrus and has a dry, crisp apple note and spicy melting to taste.
### things to do
Kahlenberg (Am Kahlenberg, 1190) is a mountain near Vienna that lies on the northeastern foothills of the Eastern Alps. It is a popular destination for an excursion outside the city, and is easily reachable for visitors through public transportation. One can even take a four-hour hike through the Vienna woods and wine taverns to get up to the mountain. Most importantly though, the views from Kahlenberg's panorama terrace are incredible – on a clear day you can see the city, Schönbrunn Palace and other mountains (like Schneeberg, the mountain Vienna gets its tap water from) in the distance. There is even a restaurant and take-a-way cafe with Viennese snacks and coffee for your dining pleasure. If it's hot out, grab one of their iced coffees!
After Kahlenberg, take a stroll through the pretty wine tavern village of Grinzing. One can easily get there from the 38A bus.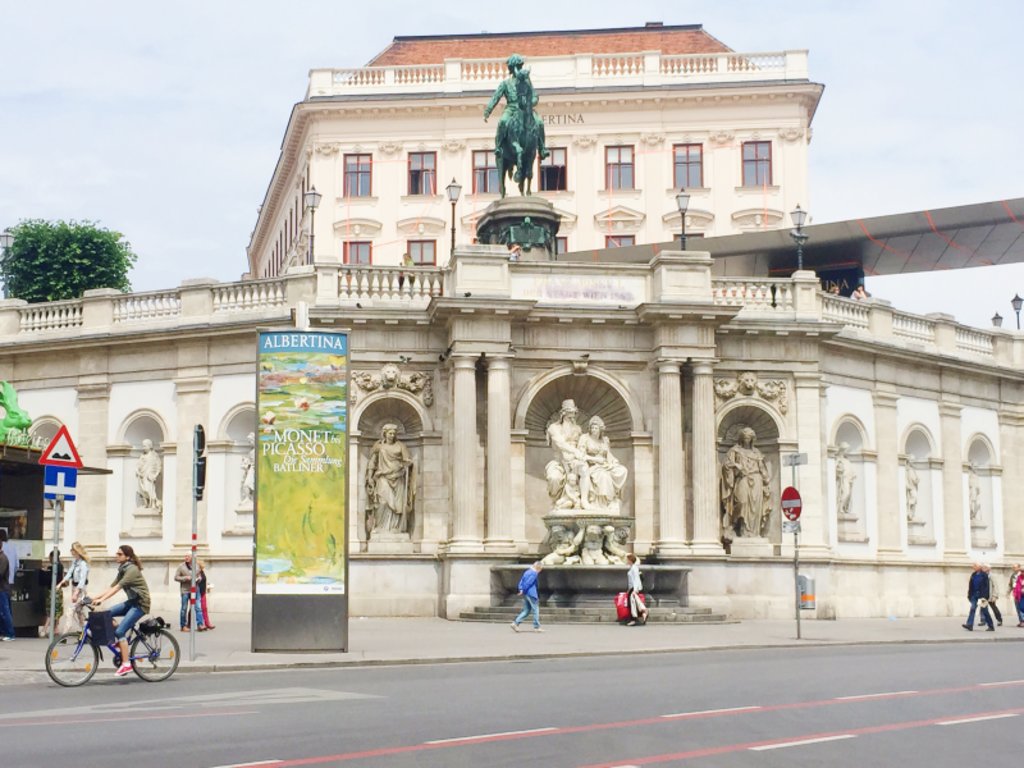 The Albertina Museum (Albertinaplatz 1, 1010) is the largest Habsburg residential palace and is known for hosting the most valuable graphical collections in the world. Such collections are famous paintings (like the Study for the Last Supper by Leonardo da Vinci) master prints, photographs and architectural drawings. One of the permanent exhibits in the Albertina Museum include the Habsburg staterooms, which are an exquisite sight in itself: Partly furnished with original royal furniture, romanesque statues and parquet floors, walking through the elegant staterooms is an enchanting experience. On current display until 2017 are Modernism paintings by Monet and Picasso from the Batliner collection.
For delicious Austrian gourmet food, dine at Do&Co, or experience Austrian sausage culture by walking downstairs to the legendary sausage stand, Bitzingers Würstelstand and grab a Käsekrainer – a sausage stuffed with cheese.
From the 17th century, what used to be hunting grounds turned into Augarten – the oldest Baroque garden in Vienna. Designed in French Baroque style with grand flower gardens and remarkable venues of chestnut and maple trees, this park is host to the Vienna Boys' Choir (held in Palais Augarten) and the Porcelain Factory to name a few. However, one of the main features that is most prominently displayed in Augarten are the two high flak towers from World War II. These towers were constructed with the purpose of coordinating air defense, defending air raids and providing shelter for thousands of people during the war. All in all, Augarten is the perfect place to have a leisurely stroll on a warm afternoon. Also make sure to grab a drink or a light lunch at Bunkerei (Obere Augartenstraße 1a, 1020), a cozy casual restaurant next to a flak tower (bunker) and enjoy the view.
The Danube Island (Donauinsel, 1220) is a long island that sits in between the Danube and New Danube River. This island is known for being a family-friendly recreational area that provides activities such as swimming, trampolining, boat renting, cycling, volleyball, and picnicking. There are also many trails to go hiking and jogging or skating, plus there is a free water park for children. Along the river are some cool restaurants and bars, many of which have live music at night. Then every summer is the Donauinselfest, a large open air festival. It's a fantastic place to spend a day!
And if you're feeling romantic, stop by La Crêperie (Oberen Alten Donau 6, 1210) at the Old Danube River for a moonlight picnic. You can rent a boat and order a picnic basket with a French meal and champagne… you can't get much better than that.
For more on the perfect city break to Vienna, click here!"
More Articles With Best of