By Expedia Team, on October 30, 2019
A Quiet Moment: 9 Perfect Places to Relax in Glasgow
"Once you've seen everything there is to see in Glasgow, toured around and shopped till you dropped, it's time to put your feet up and escape the hustle and bustle. And, happily, there are countless places to relax in Scotland's largest city. From sprawling parks to quietly inspiring museums to architecturally stunning libraries, here is our top pick of the best places to relax in Glasgow.
Kelvingrove Art Gallery and Museum
———————————-
One of Scotland's top free attractions, Kelvingrove Art Gallery and Museum has 22 galleries to explore, exhibiting everything from ancient Egyptian objects to Salvador Dali masterpieces. The museum opened in 1901 and is home to 8,000 objects. There are free tours, but once you've finished with your cultural fix, recharge your batteries at the museum's very own cafe, which serves traditional Scottish dishes with a cosy atmosphere. You can also find a quiet spot to relax in the pretty neighbouring Kelvingrove Park.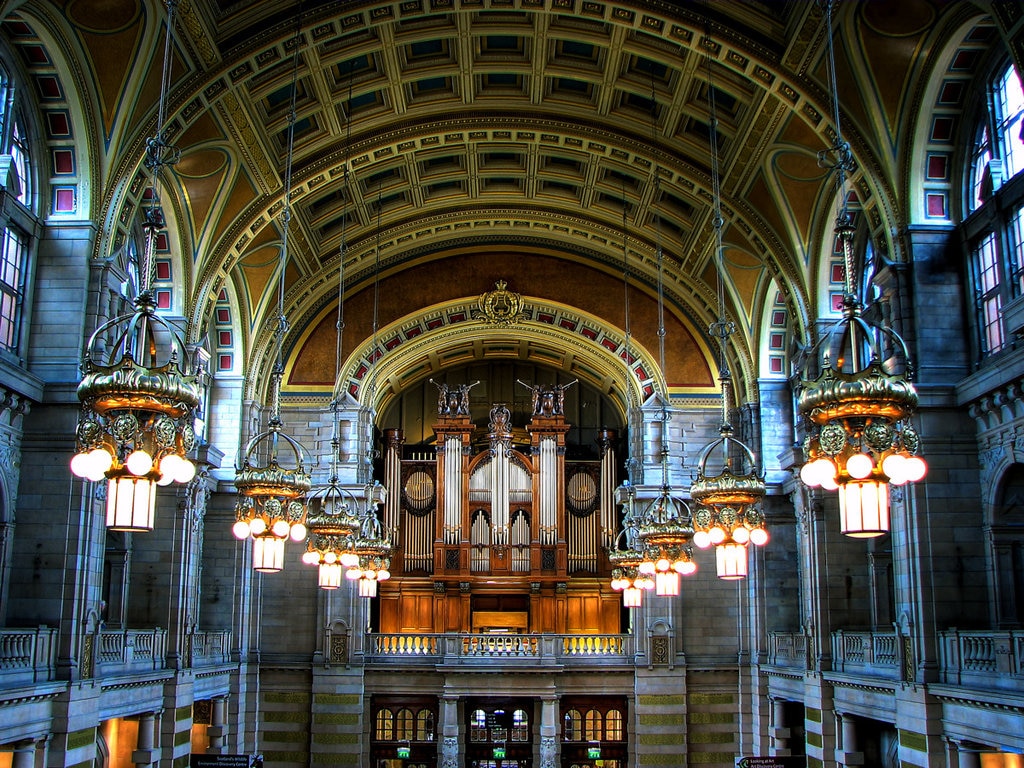 Main Hall at Kelvingrove Art Gallery & Museum, Glasgow Plenty of details (lamps, organ, ceiling, etc) – By innoxiuss – Lighting the Museum, CC BY 2.0, https://commons.wikimedia.org/w/index.php?curid=2454196
The Mitchell Library
——————–
Whether you're a student looking for a quiet place to revise, a freelancer looking for a space to work, or simply someone looking for lovely surroundings read a book in, you can't beat the impressive Mitchell Library. Spread across five floors, it's crammed with enough works to satisfy any bookworm, with plenty of reading space within the library – there's no better place for a quiet moment in Glasgow.
Glasgow Botanic Gardens
———————–
When the pace of a city gets too much, all you need is some greenery, and you'll find an abundance of it in Glasgow Botanic Gardens. Founded in 1817, the gardens are in the West End of the city, beside the River Kelvin. For a quiet stroll you can take a walk around the gardens' Heritage Trail, which has 30 points of interest along the way. There's also a Minibeasts, Birds and Trees of the Botanics trail aimed at younger visitors. When you've had enough of strolling, enjoy a sumptuous afternoon tea at the Botanic Gardens Tearooms.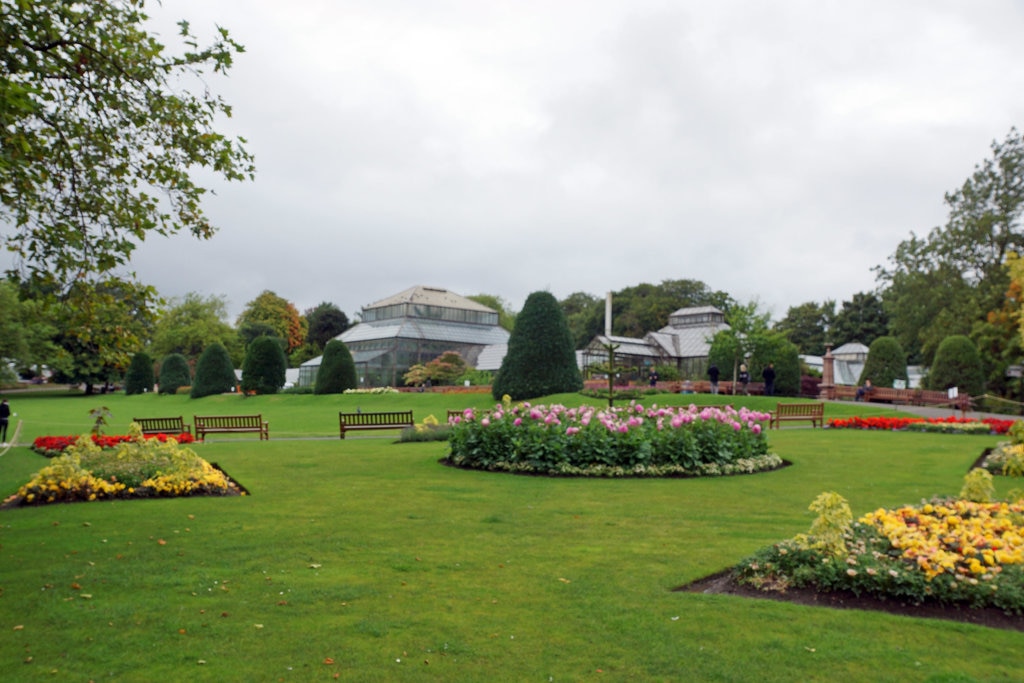 2017-08-26 09-09 Schottland 938 Glasgow, Botanic Gardens by_ Allie_Caulfield – CC BY 2.0 (https://creativecommons.org/licenses/by/2.0/) – https://www.flickr.com/photos/wm\_archiv/37609123596_Mugdock Country Park
——————–
Just 10 miles north of Glasgow, Mugdock Country Park is a sprawling green space covering 260 hectares. Take a leisurely walk around the stunning ruins of Mugdock Castle -inspiring with its centuries of history, the castle is one of the most atmospheric places around Glasgow and perfect for some quiet reflection. The park is equally ideal for a walk in the rugged Scottish outdoors, and there's a visitor centre with a cafe for when you want to warm your hands on a hot chocolate after a day of fresh air.
The Curler's Rest
=================
What could be more relaxing than a leisurely Sunday session in a good old-fashioned cosy boozer? Before you come back with a smart aleck reply, just trust us – there are few better spots in Glasgow for a relaxing afternoon than the Curler's Rest on Byres Road. In the heart of Glasgow's West End, itself home to plenty of laidback hangout spots, this pub is known for its Sunday roasts and is perfect for a lazy lunch or a quiet drink.
Glasgow Film Theatre
———————
One of Scotland's top independent cinemas, the Glasgow Film Theatre is always something fantastic, from arthouse pieces and experimental work to classic movies and specialist titles. That makes it perfect for just taking your chances and trusting in whatever's on. Because while a trip to a blockbuster comes with a certain amount of excitement and anticipation, there's something especially relaxing about a laidback visit to the cinema with no agenda and no expectations
The Royal Conservatoire of Scotland
————————————
One of Scotland's busiest performing arts venues, creative people won't be able to stay away from the Royal Conservatoire of Scotland, which puts on over 500 performances a year across the arts, including dance, drama, opera, ballet and music. With a wide programme of events and performances, all you need to do is book your next visit, sink into a comfy seat and enjoy the show.
Gallery of Modern Art
———————-
There's nothing like an esteemed art gallery when you need somewhere to reflect with some peace and quiet. Glasgow's Gallery of Modern Art is just the place to do so. In the heart of Glasgow, the museum is home to four galleries, each exhibiting very different but intriguing collections of modern and contemporary art. You can also collect your thoughts in the library with free internet access and a cosy cafe.
![1205px-Gallery_of_Modern_ArtGlasgow__angled_view__2018-06-27.jpg?1576684143](https://commons.wikimedia.org/w/index.php?curid=70332702_"