By Expedia Team, on January 10, 2020
11 of the Best Dog-Friendly Beaches in Cornwall
"Boasting spectacular waves, a rugged landscape and Arthurian lore, it's no wonder that Cornwall is such a popular place for seaside holidays. The area not only offers plenty of beaches and seaside amenities, but many of the beaches are dog-friendly. Take a look at 11 of the best dog-friendly Cornwall beach options to plan your adventure.
1. Fistral Beach
—————-
With long stretches of sand, quiet cliffs and sand dunes, Fistral Beach is a popular beach for families and pet owners. Though the waters can get rough enough for spectacular surfing, the area near the beach is perfect for dogs to play in the shallows and get some exercise. The beach has an array of amenities as well, such as parking, restaurants, shops, surf shops and surf schools.
2. Mawgan Porth
—————
Mawgan Porth is a sheltered beach near Newquay that offers a quiet atmosphere and plenty of facilities. Dogs will love the stream, rock pools and seaside caves to explore, and there are 2 car parks near the beach to make your visit convenient.
3. Summerleaze Beach
——————–
Located near the Bude town centre, Summerleaze Beach is a popular beach for families and pet owners. Dogs have plenty of space to run and play on the wide beach, and they're allowed year-round, though owners are required to have dogs on a lead from the end of May to the end of September.
4. Sandymouth Beach
——————-
Sandymouth Beach is a beautiful beach owned by the National Trust. It stretches just over a mile, with stone and shingle at high tide, though low tide opens up wide stretches of sand for running and playing. The other beaches near Bude connect to Sandymouth at low tide as well, giving you even more space to play.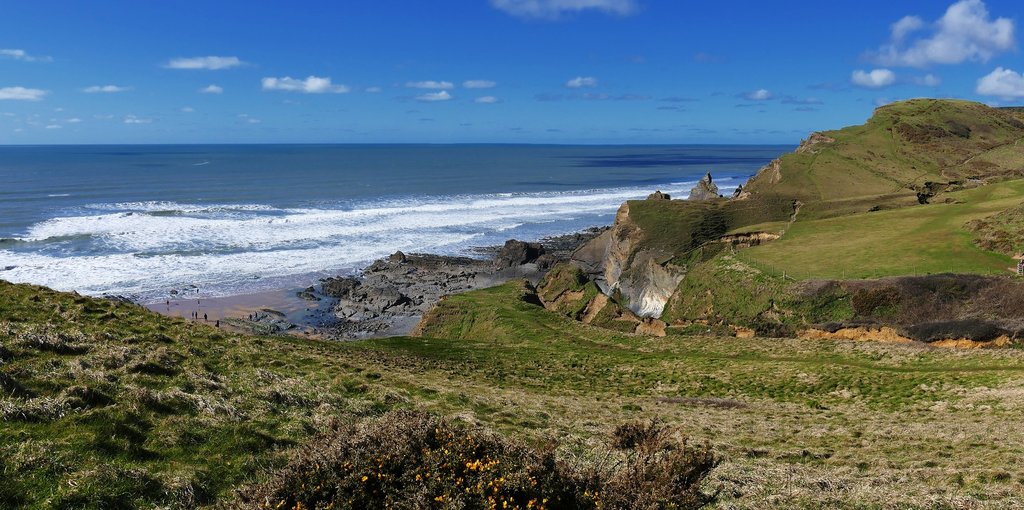 5. Holywell Bay Beach
———————
Located near Newquay, Holywell Bay Beach is a long stretch of golden sands with tranquil countryside and sand dunes. Though it can get busy in the summer with families with kids as wells as dog owners bringing their pets, there's plenty of space on the beach's wide expanse for everyone to enjoy their time.
6. Crantock Beach
—————–
Located near Newquay, Crantock Beach is a quiet beach that allows dogs year-round. The beach is known as a great family beach for its sheltered sands and calm waters, which makes it great for letting dogs play in the shallows. There's also a nearby car park, parking at Pentire Head and a shop near the beach.
7. Bedruthan Steps Beach
————————
Bedruthan Steps Beach is one of the most picturesque of all Cornwall's beaches. The long beach opens up at low tide to reveal seemingly endless stretches of sand, perfect for dogs that like to run free. You'll also find rocks and caverns to explore, as well as shallow waters for wading. The Carnewas Cliffs are nearby, which have a cafe, parking area and toilet facilities.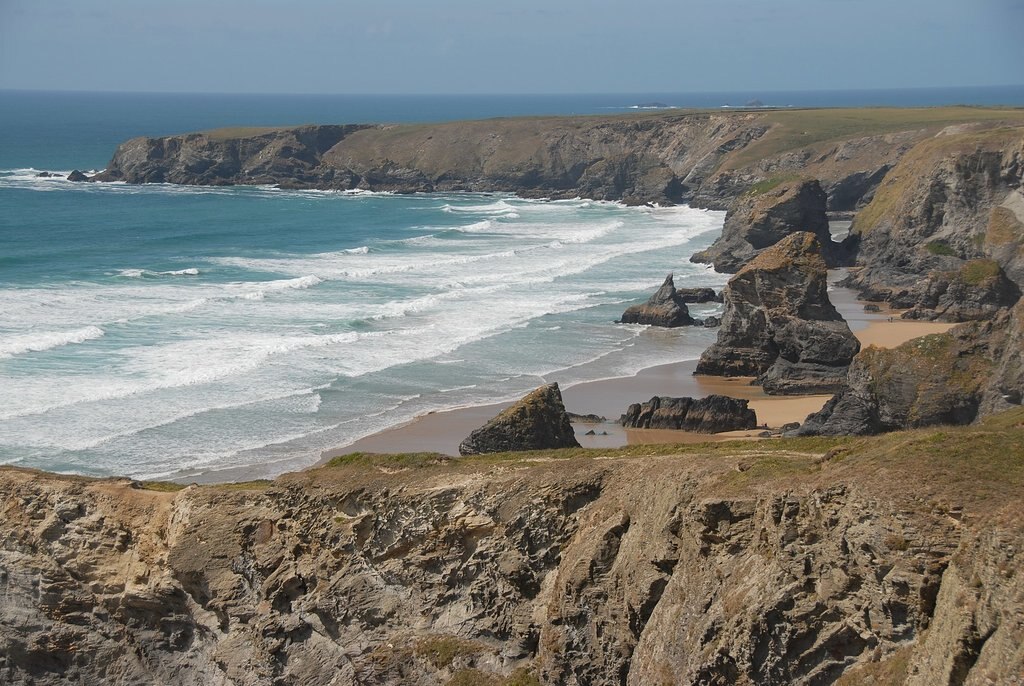 Di Ericoides – Opera propria, CC BY-SA 3.0, https://commons.wikimedia.org/w/index.php?curid=15326246
8. Watergate Bay
—————-
With its golden sands and dramatic, rocky cliffs, Watergate Bay is a big draw for water sport enthusiasts, but there are numerous amenities for families and pet owners. The beach has a cafe, restaurant, shop and toilet facilities, as well as 2 car parks. Dogs are allowed all year and have an abundance of open space to play.
9. Port Isaac Beach
——————-
Port Isaac beach is a small, sheltered beach in a historic harbour. The area offers a lot of things to see and do with a dog, such as playing in a small stream that crosses the beach and exploring the stretch of sand near the twin piers. Dogs are allowed at Port Isaac Beach all year long, and it's close to the amenities of town.
10. Whipsiderry Beach
———————
Whipsiderry Beach is a serene, sheltered beach with cliff surrounds and rock 'stairs' leading to the water. When the tide is low, the beach has expansive space for dogs to run and play, and dogs are allowed all year round. One of the best features of the beach is its wild, untamed atmosphere, though there are amenities at the nearby Porth Beach.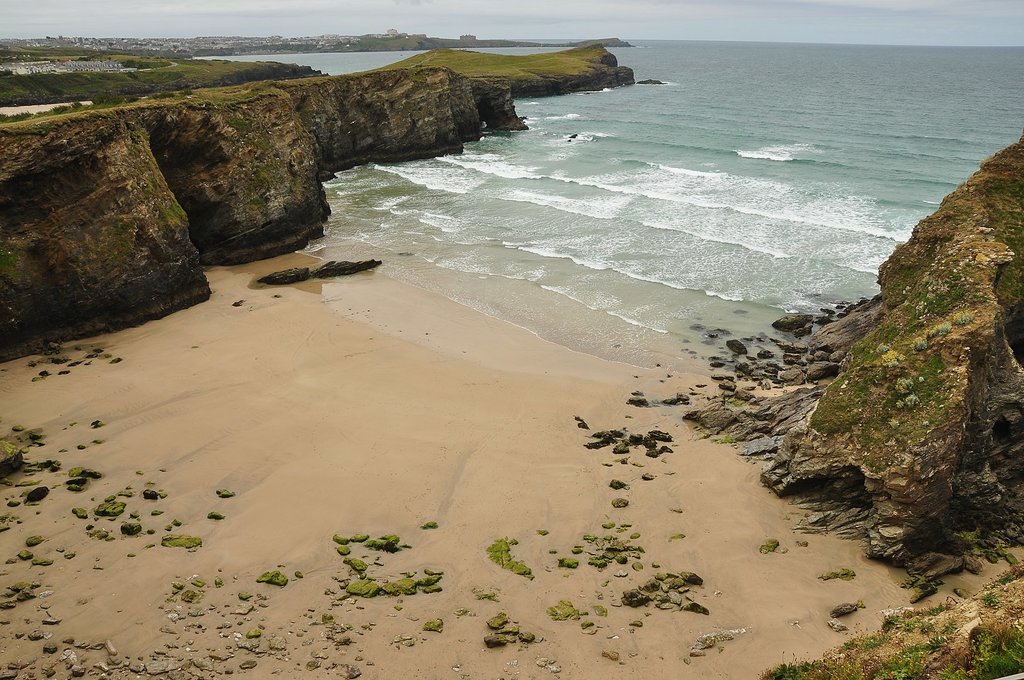 Whipsiderry Beach – By Nilfanion – Wikimedia UK, CC BY-SA 4.0, https://commons.wikimedia.org/w/index.php?curid=47664897
11. Seaton Beach
—————-
Seaton Beach is a family beach in the quieter area of Cornwall. The large beach has sand and small pebbles, as well as shallow waters for wading, so it's great for a day out with the dog. Nearby, you'll find a large cafe, shop and toilet facilities. Dogs are allowed year-round.
Ready to plan your trip?
————————
Cornwall has no shortage of things to do and see, especially if you're planning a beach trip with your dog. In addition to these beaches, there are plenty of restaurants and pubs that allow pets as well, giving you even more options for your trip. Take a look at deals on dog-friendly Cornwall hotels to plan your trip and check out more things to do in Cornwall.
#### Photo Credits
Cover pic: By a.froese – originally posted to Flickr as Fistral Beach, CC BY-SA 2.0, https://commons.wikimedia.org/w/index.php?curid=11323843"