Spain's capital city of Madrid is filled with stunning parks, baroque architecture and rich repositories of European art. Whether you're looking for dining and nightlife or art and culture, discover the best areas to stay in Madrid so you can enjoy all the attractions and experiences you want.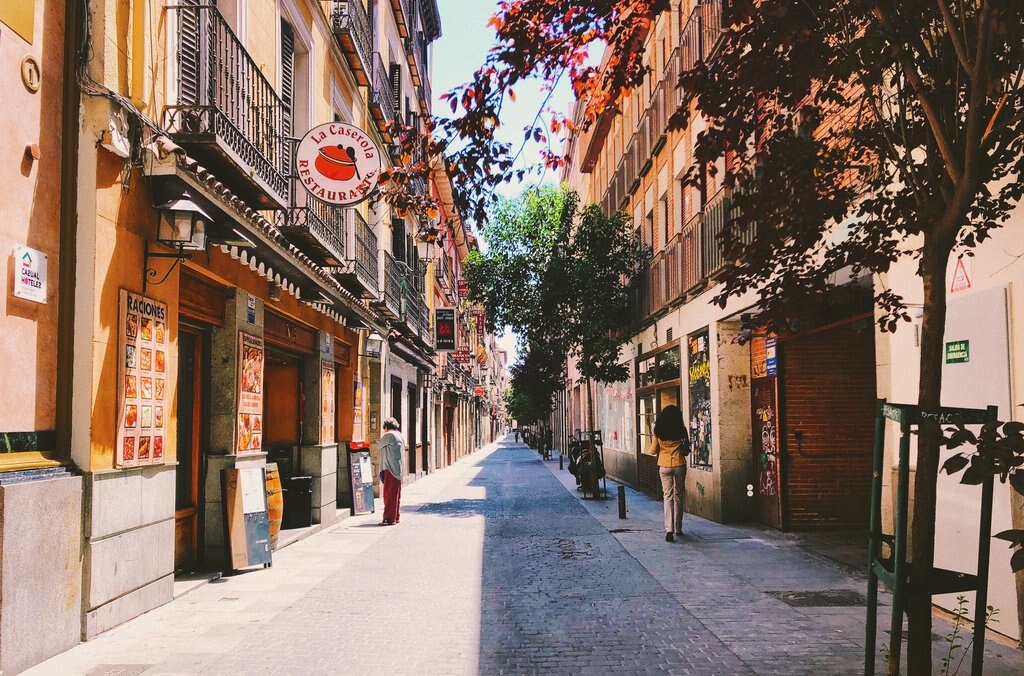 Chueca
Known for its strong LGBT community, Chueca is a top spot for singles, young couples and partygoers. You'll find numerous bars, shops and businesses that cater to the LGBT community, as well as famous gay pride festivals and events. There's plenty of nightlife in Chueca, especially near Plaza de Chueca. Another highlight of the neighbourhood is Mercado de San Antón, a market with stalls selling fresh fish, meat and produce that's home to a bar with a tranquil terrace and an art gallery.
Malasaña
Malasaña is one of Madrid's trendier neighbourhoods. It was the hub of the 'La Movida' counterculture movement and has experienced many changes in recent years, such as the arrival of hip restaurants and chic boutiques sandwiched between the traditional bars and restaurants. If you're looking for nightlife, Malasaña is a central location that gives you access to not only the neighbourhood bars in Plaza del Dos de Mayo but also other nearby bars and clubs. You'll also find a park for families with kids or pets, and there are plenty of new bars and restaurants to try. Art lovers will also like Malasaña for its graffiti, which showcases the best of the street-art culture in the city.
Chamberí
Chamberí is a traditional neighbourhood that offers a quieter vibe than the tourist areas near the city centre. It's undergone many transformations over the years and now features fine-dining restaurants, tapas bars and traditional taverns, giving you endless options for how to spend your night. The architecture is beautiful in Chamberí as well, and many of its notable buildings include cinemas, theatres and art museums. If you're looking for a combination of hip and trendy with authentic and old world, Chamberí is the best place.
Puerta del Sol
Puerta del Sol is a great neighbourhood for first-time visitors to Madrid. It's not only the 'true' city centre and a hub for all the motorways in Spain, but it also draws a mixture of locals and visitors. With easy access to transport links, Puerta del Sol is a good option for a first-time visit, as you can easily reach all the attractions and landmarks. You'll also find plenty of shopping in the area, including Gran Via and its array of well-known brands, and historic landmarks like Casa de Correos and Oso y el Madroño, a statue that's a symbol of the city. If you enjoy art, Puerta del Sol is home to Círculo de Bellas Artes, a vital part of the city's art scene with a theatre, concert hall and lecture hall for classes, exhibitions, showcases and a ball during carnival.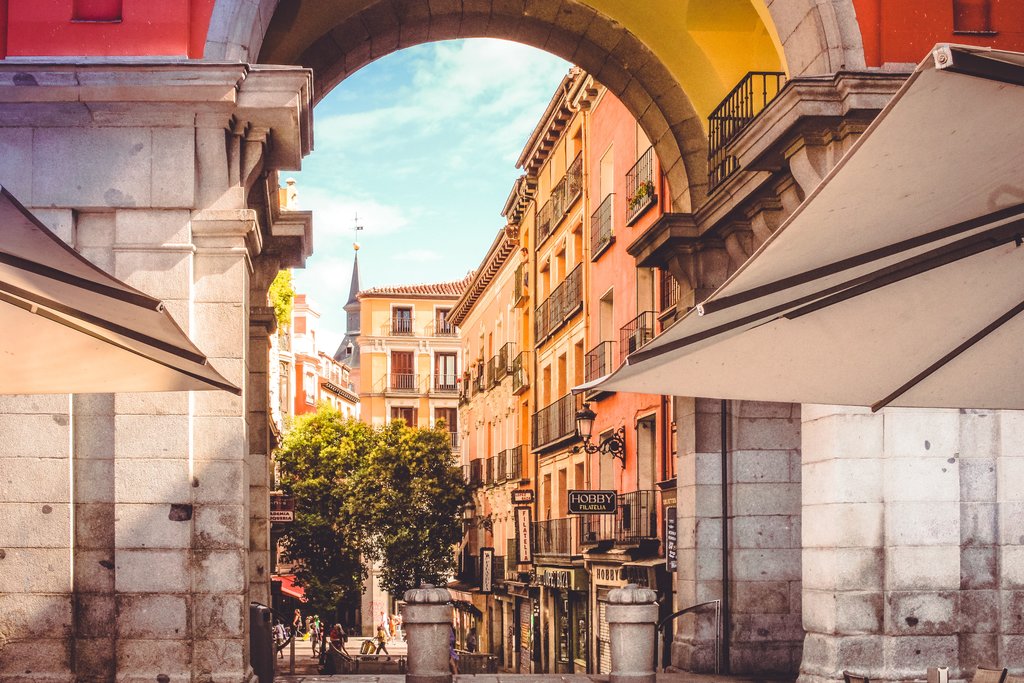 La Latina
Foodies and partygoers will enjoy La Latina, the best neighbourhood in Madrid for drinks and tapas. It's packed with bars and restaurants that come alive on weekends, as well as vibrant town squares for families. You could visit Mercado de la Cebada or El Rastro market to shop for local goods and produce, or you could stroll the narrow streets to marvel at stunning basilicas and churches. One of the highlights of La Latina is Basilica de San Francisco el Grande, a massive multi-tiered church near Palacio Real. The neoclassical church was built on the site of a monastery and features a spectacular dome and frescoes from notable artists.
Barrio de las Letras
Much of Madrid attracts art and culture lovers, but book lovers will find a home in Barrio de las Letras. The neighbourhood has strong literary ties to authors like Quevedo and Cervantes, who once lived there. Walking the streets, you'll see quotes inscribed in the pavement and quaint bars and taverns where you can have a drink. Barrio de las Letras is also home to the Museo Thyssen-Bornemisza, a member of the Golden Triangle of Art that showcases contemporary works from European artists in an 18th-century ducal palace.
Salamanca
If high-end shopping is part of your Madrid itinerary, look no further than Salamanca. The elegant neighbourhood was designed by the Marquis of Salamanca in the 19th century as a backdrop to his newly constructed mansion, and it still maintains that highbrow feel. Some of the city's most luxurious hotels are located in Salamanca, along with Michelin-starred restaurants and swanky rooftop bars.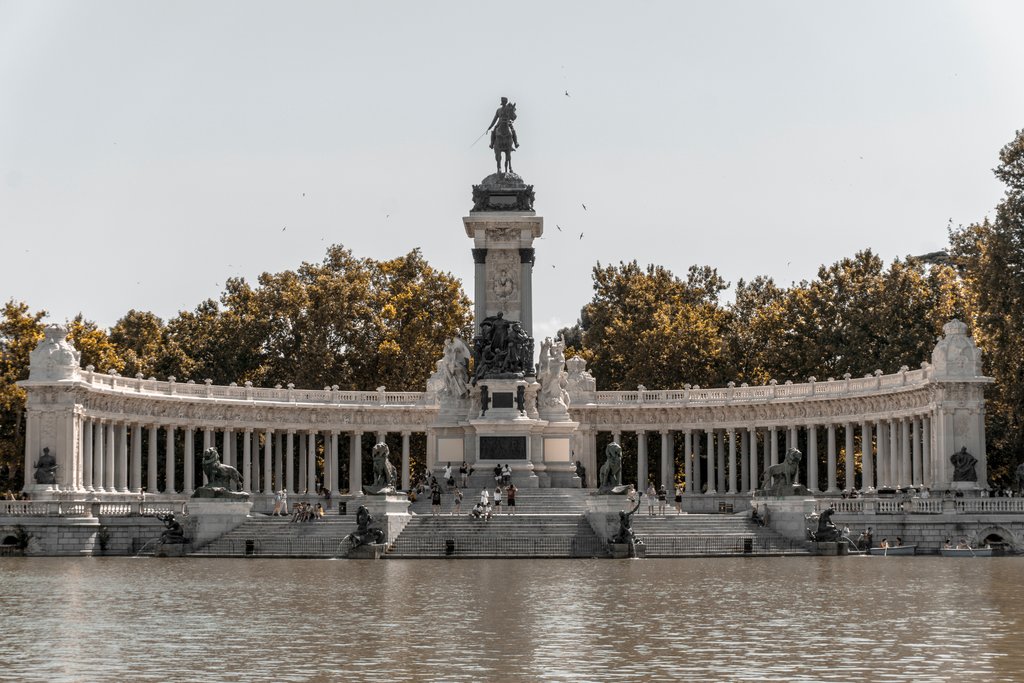 Lavapiés
Lavapiés is a multicultural neighbourhood that reflects the diverse cultural influences that shaped modern Madrid. It's a quiet neighbourhood with ethnic restaurants, traditional Madrid taverns and apartments that open into interior, old-world courtyards. Many events and festivities take place in Lavapiés, including the San Lorenzo festival. Another highlight of Lavapiés is the Reina Sofía Museum, an excellent contemporary art museum with a spectacular facade and glass and steel buildings that house masterpieces by artists like Picasso.
Ready to plan your trip?
Now that you know the best places to stay in Madrid, you can discover more things to do in Madrid and plan your trip. Take a look at deals on Madrid holidays from Expedia so you can have an unforgettable holiday!