Lyon is a dream destination for sport lovers. Joggers fill the parks and pound the banks of the Rhône and Saône rivers, which flow through the city. Cyclists pedal along broad bike paths and through pockets of greenery, while hundreds of bike-sharing stations make it easy to join them.
It's also a hub for spectators, who pack out the OL Stadium to watch home football team, Olympique Lyonnais.
Perhaps all this sportiness is, at least partly, a way to counteract Lyon's other big draw: the food. Often described as the culinary capital of France, the city sparkles with Michelin stars and tucked-away gems. Then there's the wine, with the vine-striped regions of Beaujolais and Côtes du Rhône just outside the city.
Discover the best things to do and see, plus where to eat and drink, while visiting Lyon to watch a football match.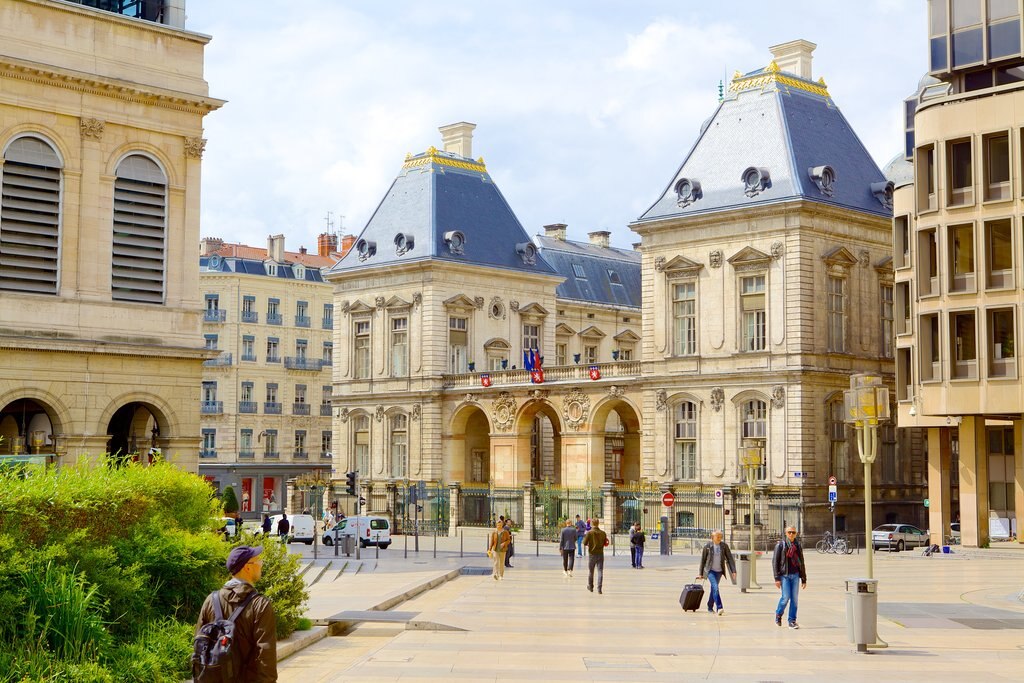 Image Credit: Tourism Media
Meet the team: Olympique Lyonnais
Olympique Lyonnais was founded in 1950, and has consistently competed in France's top division since eing promoted that same decade. The club is usually referred to as Lyon, OL or its nickname 'Les Gones' ('The Kids').
One of the most revered players to don the white, red and blue kit is Moussa Dembélé, with former players Sidney Govou, Alexandre Lacazette, Bernard Lacombe and Michael Essien still firm fan favourites.
Olympique Lyonnais stormed into the new millennium, winning seven consecutive league titles between 2002 and 2008. But national rival Paris Saint-Germain has dominated more recently and, though Olympique Lyonnais has reached the UEFA Champions League Final 16 several times, it's yet to lift the cup.
FUN FACT
The club's history stretches back far further than its official date of founding, beginning as Lyon Olympique Universitaire in 1899.
Visiting Lyon's football stadium: OL Stadium
OL Stadium - Décines-Charpieu district
The club's shiny modern stadium was completed just in time for Euro 2016, for which Lyon was a host city. OL Stadium, often referred to as Parc Olympique Lyonnais or Grand Stade OL, has 59,186 seats including several hospitality areas and boxes.
Regular guided tours take you through the players' tunnel, press room and dugouts. They only run around 10 days a month, though, so check the website for details. The museum, open several days a week, is decorated in the strip colours and filled with well-presented memorabilia, photographs and signed players' shirts.
A unique touch is the escape game where, in groups of three to six, you have to solve clues to exit a chamber in the heart of the stadium.
Few hours to kill before the match? The stadium's fan zones, dotted around the ground, include areas geared towards families and outdoor lounges with live music and 'beer pong' tables.
Getting there:
The OL Stadium is around 10km east of Lyon's city centre, easy to reach via motorway. Hire a car at Lyon-Saint Exupéry Airport as it's only a 15 minute drive (and half an hour from the city centre). Or catch the tram - line 3 runs from Gare Part-Dieu in the city centre and stops at Décines Grand Large, which is a 10-minute walk to the stadium. On match days, a special line drops you in front of the ground.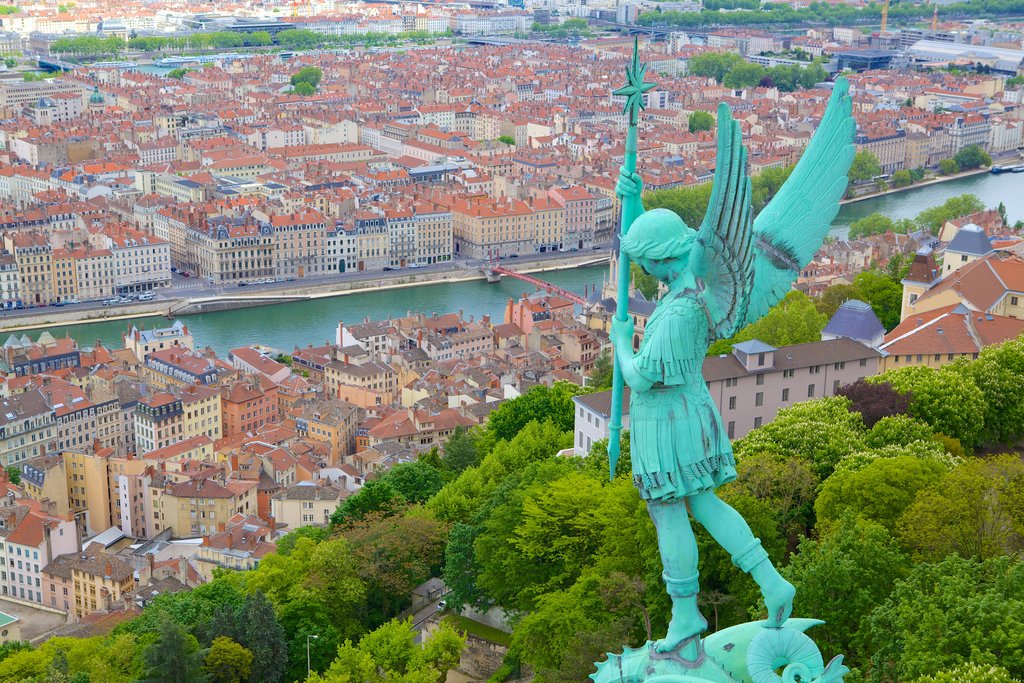 Image Credit: Tourism Media
Where to eat and what to do in Décines-Charpieu
Décines-Charpieu, a suburb to the east of the city, is a mostly residential and agricultural area, so there's a limited choice when it comes to places to eat or drink. The stadium's onsite restaurant, Brewery of Lights, is open for lunch on match days, and there are packages available including match tickets, parking and a post-match dinner.
For lunch on the run, there's a good choice of cafés, bars and food kiosks throughout the stadium. Got a bit more time? There are a few nice restaurants just north of the stadium, each within around 10-15 minutes' walk. Le Couëron serves classic French cuisine in a chic yet chilled-out setting, which makes it a good choice for a pre-match meal. Au Grand Large offers a buffet with French, Syrian and Italian dishes, plus gelato. Its lakeside setting is particularly lovely.
There are a few Lyon hotels in the area, too, though you'll find more options in town, which might be more convenient if you're planning to explore before and after the match.
If you're arriving by car, it's worth spending a few hours at Grand Parc Miribel Jonage, around 15 minutes' drive away. This huge park and nature reserve is popular with hikers and mountain bikers. In summer it fills up with people picnicking and sunbathing by the beach-lined lake.
Le Couëron, 409 Avenue Jean Jaurès, 69150 Décines; Au Grand Large, 60 Rue Francisco Ferrer, 69150 Décines-Charpieu
Grand Parc Miribel Jonage, Chemin de la Bletta, 69120 Vaulx-en-Velin
Partying in Lyon after the match
Celebrating after the match
There are a handful of cafés and bars within walking distance of the stadium, but there are many more options in the city centre. Missed out on a stadium ticket? There are lots of pubs that screen matches, including The Albion, Wallace and Boston Café. TechNoir, styled like a retro diner, serves up burgers and craft beers while showing most sporting events on its big screen.
The Albion, 12 Rue Sainte-Catherine, 69001 Lyon; Wallace, 2 Rue Octavio Mey, 69005 Lyon; Boston Café, 8 Place des Terreaux, 69001 Lyon; TechNoir, 118 Montée de la Grande-Côte, 69001 Lyon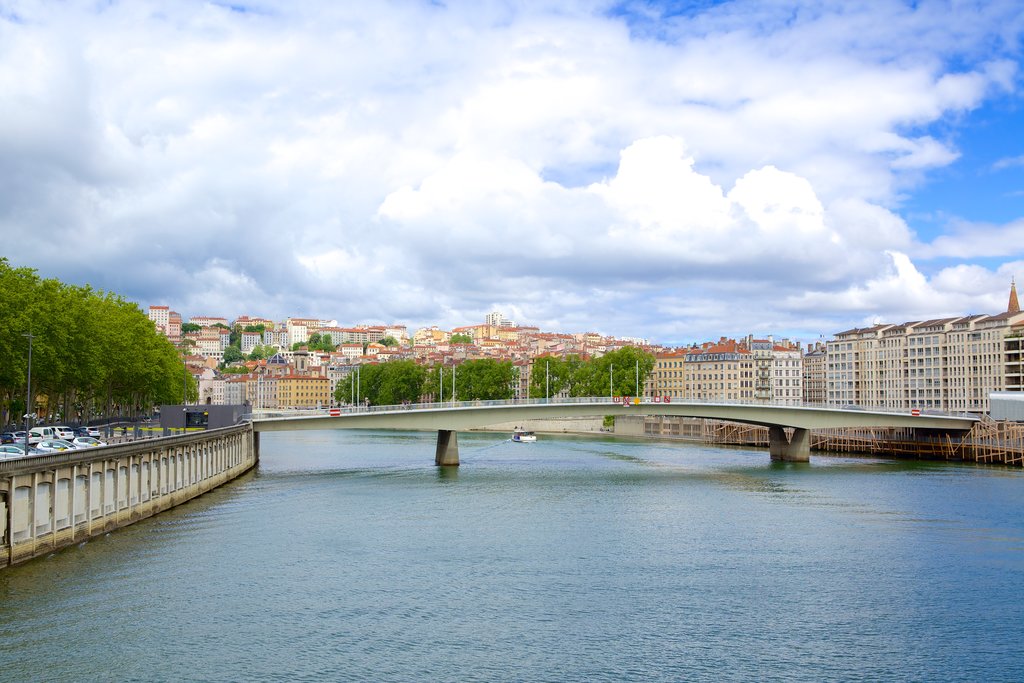 Image Credit: Tourism Media
Going out in Lyon
The old town, Vieux Lyon, is the prettiest part of the city. Covered passageways or traboules run between Renaissance-era buildings, connecting the cobbled streets and steep hills. You'll find bouchons, bistro-style restaurants, tucked along pretty much every stretch. After dinner, weave between traditional wine bars and newer cocktail spots, where mixologists serve twists on classic tipples. Staying out late? Trendy Brotteaux district, in the 6th arrondissement, overflows with places to drink and dance.
The Grand Hôtel-Dieu, a new development in a former hospital on the banks of the Rhône, is another nightlife hub with modern bars and restaurants. While, east of the city, La Commune has become one of the hippest hangouts. This indoor/outdoor spot has cocktail bars and pop-up restaurants.
Grand Hôtel-Dieu, 1 Place de l'Hôpital, 69002 Lyon; La Commune, 3 Rue Pré-Gaudry, 69007 Lyon
Getting to Lyon
You can fly to Lyon from several UK airports. It takes an hour and 40 minutes from London, two hours from Manchester or Belfast, and two hours and 25 minutes from Edinburgh. Discover traditional Lyonnais fare in one of Lyon's many hotels - ideal after a long day of stadium tours!
Feeling sporty? Lyon's beguiling blend of history, urban greenery and athletic prowess makes it a perfect place to enjoy a football match before exploring the city.
Want to learn even more about travelling in France? Here are some of the best wine tours in France, and make sure to check out the beautiful Maurienne Valley.