Lively, cultured and very friendly, Newcastle upon Tyne - to give its full name - has everything you could possibly want from a classic city break. But that's not all. Thanks to its location, the iconic city is something of a gateway to other northern gems that are within easy reach, such as the Northumberland National Park and Durham.
A particular highlight, of course, is the nearby rugged, charming and scenic coastline. If that's piqued your interest, check out our pick of the best beaches near Newcastle. Don't forget your bucket and spade.
Longsands Beach, Tynemouth
Longsands Beach is well-named. A golden stretch of sand that is a short Metro ride from the centre of Newcastle city centre, here you can safely surf, kayak, swim and paddle under the watchful eyes of lifeguards from May to October.
If it starts to rain, take cover in the Blue Reef Aquarium or browse in the nearby boutiques. Longsands has plenty of restaurants, bars and cafés to choose from, but if you're visiting during school holidays it's better to book in advance. This beach is extremely popular with families.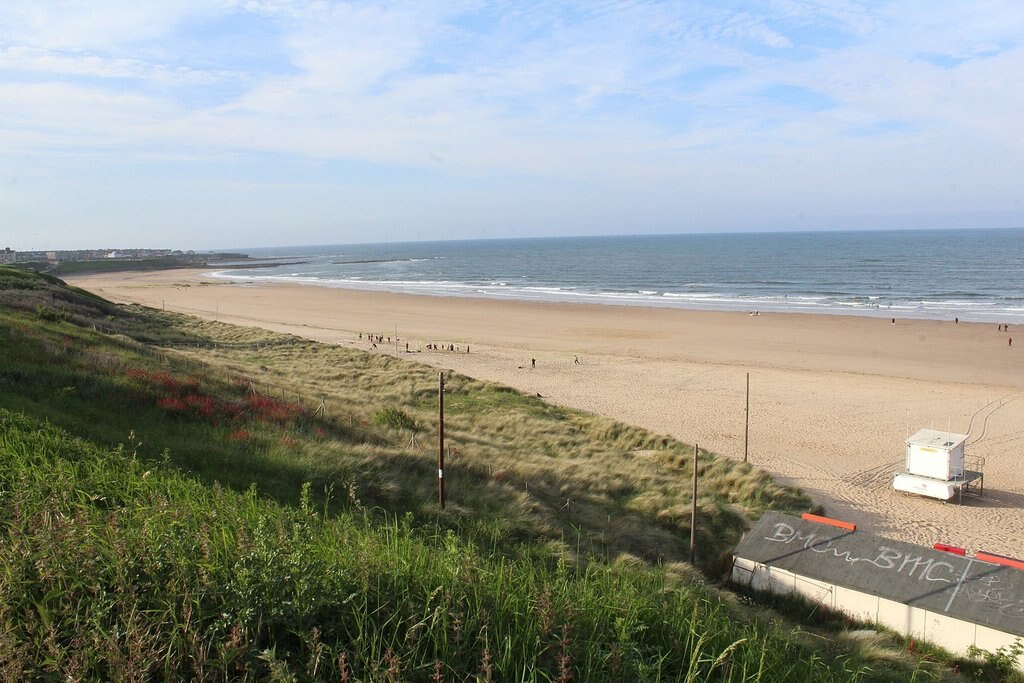 Longsands, Tynemouth, North Tyneside - By Chabe01 - Own work, CC BY-SA 4.0, https://commons.wikimedia.org/w/index.php?curid=69783733
King Edward's Bay, Tynemouth
The Blue Flag King Edward's Bay is a short walk from Longsands Beach. Sheltered by imposing cliffs on each side and overlooked by a 13th century castle and priory, it's photogenic in the extreme.
The bay's sandy shore is perfect for romantic picnics or sunbathing and the sea is safe for bathing - except on the choppiest of days. If the weather takes a turn for the worse wrap up warm and take a walk around the nearby battlements instead.
Sandhaven Beach, South Shields
The long, sandy shore of Sandhaven Beach gives South Shields the look of a real holiday resort, especially during the sunny summer holiday months.
Play beach volleyball or build sandcastles on the wide sands and walk along the Victorian promenade to take in the view with an ice cream. South Shields also has an amusement park, so, if you're feeling brave, why not take a ride on the ghost train?
Cullercoats Bay, Tynemouth
A five minute drive from Tynemouth will get you to quiet Cullercoats Bay. Flanked either side by piers that give it the feeling of a calm, enclosed cove, Cullercoats Bay is a safe, family-friendly beach.
It's also packed with interesting geological features, so take a good look at the cliffs and you might spot a fossil or two. Planning a relaxing seaside break? Take a look at our hotels in Cullercoats.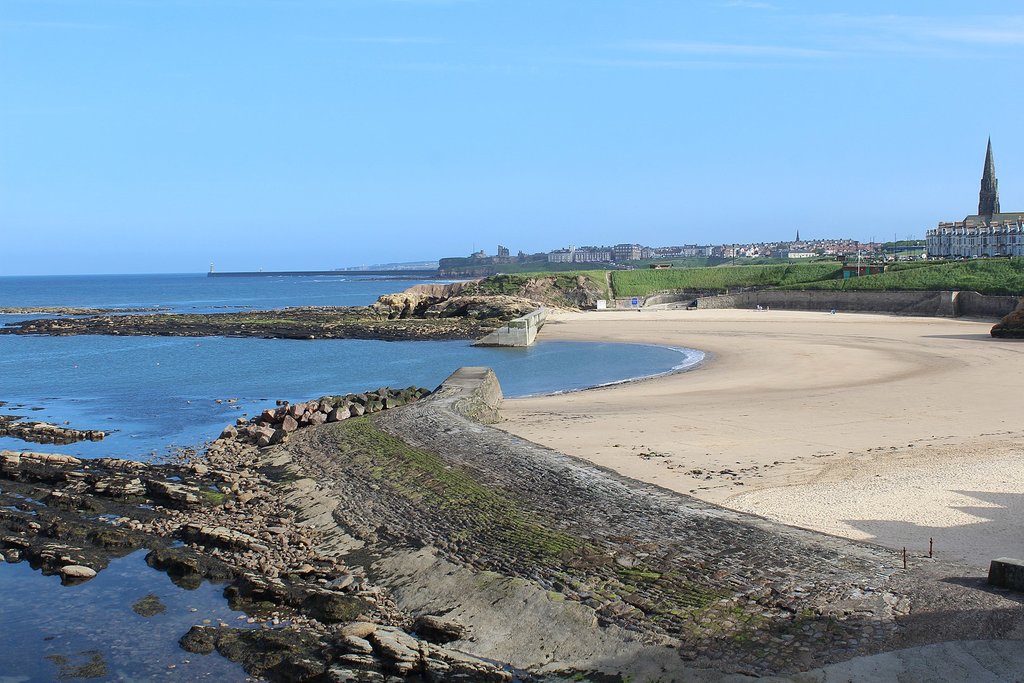 Baie de Cullercoats, North Tyneside - By Chabe01 - Own work, CC BY-SA 4.0, https://commons.wikimedia.org/w/index.php?curid=69781801
Seaburn Beach, Sunderland
Half an hour from Newcastle is Seaburn Beach, a Blue Flag beach with golden sands that's ideal for children. Enjoy a paddle or a swim with your kids - lifeguards are on duty throughout the summer season to keep everybody safe.
It's a very traditional with plenty of Victorian features, so it's only right to round off your day with fish and chips and a stroll down the prom.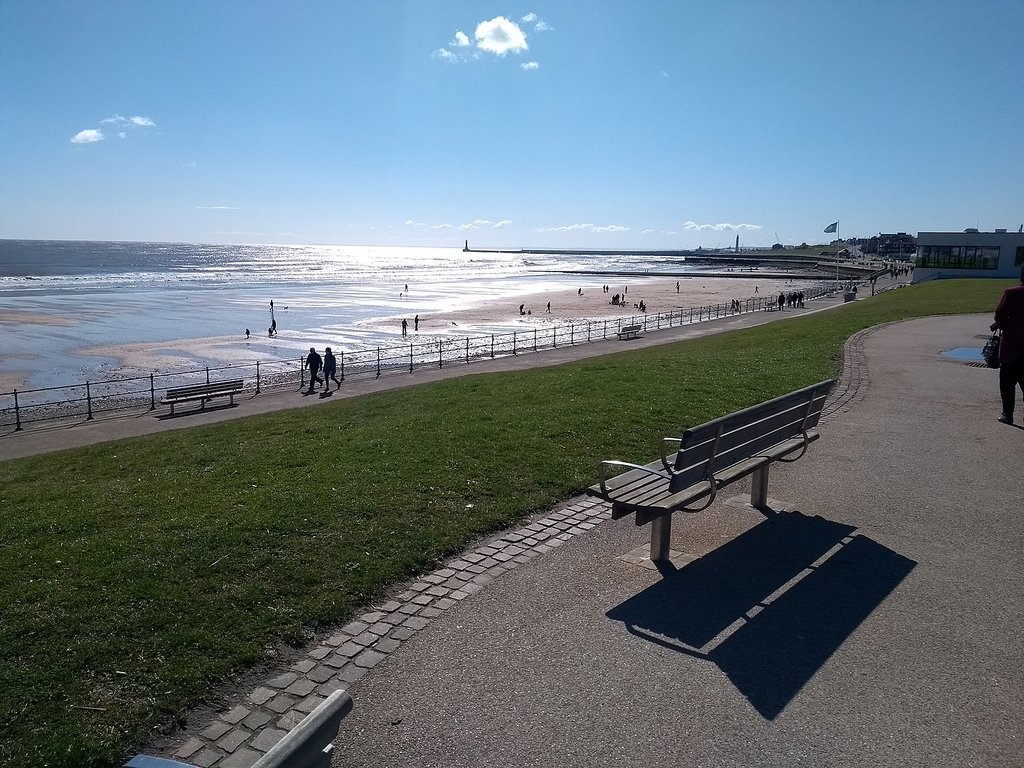 Seaburn beach - By Spacemartin - Own work, CC BY-SA 4.0, https://en.wikipedia.org/w/index.php?curid=57042232 Roker Beach, Sunderland
Roker Beach and its golden sands has been a tourist destination for more than 100 years. Walk down its restored Victorian pier and tour Roker lighthouse, a feat of engineering might and an excellent lookout point to view the Sunderland coastline.
For a change of scenery, take a detour to Roker Park and visit its boating lake, model railway and landscaped gardens. Visit during late July to see Sunderland International Airshow, which Roker hosts each year.
The Quayside Seaside, Newcastle upon Tyne
Not got the time to travel outside of the city? The Quayside Seaside artificial beach is right next to the Millennium Bridge, so you can experience all the fun of the seaside without having to leave town (usually between the months of May and September).
It even has beach huts, a fish and chip shop and palm trees. Find it via an easy walk through town. If you're travelling in, the nearest metro station is Central Station.
Eager to enjoy some beachfront sunshine? Take a look at our hotels in Newcastle upon Tyne to start planning your trip.
Photo Credits
Cover pic: Longsands, Tynemouth, North Tyneside - By Chabe01 - Own work, CC BY-SA 4.0, https://commons.wikimedia.org/w/index.php?curid=69783730