A visit to the seaside just isn't the same without fish and chips. Luckily, Weymouth has a wonderful beach - and chip shops to match. Wander past grand Georgian houses on The Esplanade and enjoy the British beachside charm with a Punch and Judy show on the sands before tucking into fresh seafood and a mountain of chips. Here's where to get fish and chips in Weymouth.
1. Fish 'n' Fritz
Fish 'n' Fritz ranked in The National Fish and Chip Awards 2020 top 20 for its more-than generous portions and secret-recipe crispy golden batter. Set just back from the harbour, it's perfect for grabbing a portion of takeaway scampi and chips to join you on your wander past the colourful houses along The Esplanade. From cod to plaice, all the classics are on the menu, and Thai fish cakes bring a bit of extra flavour.
Address: Fish 'n' Fritz, 9 Market Street, Weymouth
2. Marlboro
Just one street back from Custom House Quay, this family chippy has been serving seaside staples since 1974. Now run by the third generation of the Johnson family, it's a local favourite. Order a must-try mackerel bap and, if you eat in, wash it down with Piddle Fish and Chip Ale, brewed locally by Piddle Brewery or take it away as a snack while you look out for the dolphins in Weymouth Bay.
Address: 46 St Thomas Street, Weymouth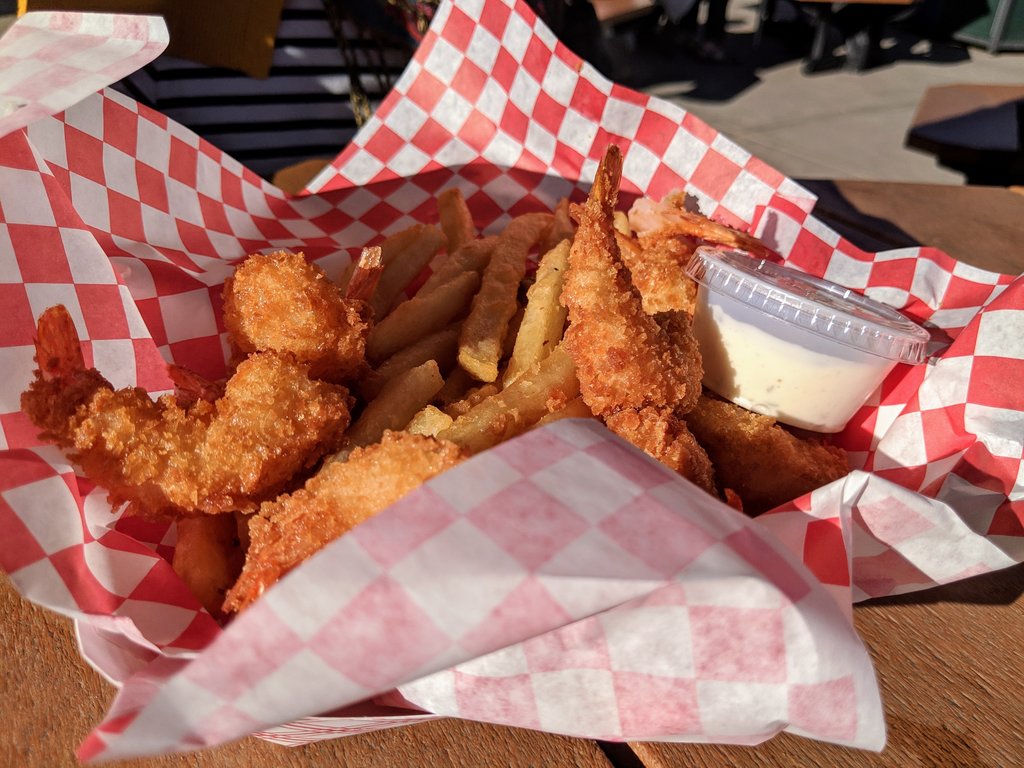 3. King Edwards Fish & Chips
Tuck into cod fish cakes at this traditional chip shop with a view of the sea. It's one of the oldest in Weymouth, and it's right opposite the beach on The Esplanade. The menu has the classics, and kids can go for the fun 'dinner in a bucket'. Staff are renowned for their friendliness, adding to the typical seaside charm.
Address: King Edwards, The Esplanade, Weymouth
4. Bennett's Fish & Chips
Ever fancied a deep-fried Twix? You can get one at Bennett's. This harbour-front chip shop opened in 1989 and it's well and truly on the list of local favourites. It prides itself on using only sustainable seafood supplier SeaPure and making its own chips fresh every day. Sit in the cosy restaurant, given nautical charm with lots of wood, rope and pictures of the harbour. As well as locally rod-caught mackerel, you can try cod, spinach and cheese fish cakes made with West Country cheddar and Ringwood Ale, brewed and bottled in Dorset.
Address: 14 Trinity road, Weymouth
5. The Old Harbour Fish & Chips
Get your fill of fish and chips at this eat-in or take-away restaurant open Monday to Sunday. It's just a short walk from the old town if you're exploring Weymouth's history. Plus, the menu has all of the classics made with gluten-free batter, too.
Address: 16 St Edmunds Street, Weymouth
6. Restaurant Les Enfants Terribles
Chef Eric Tavernier - once private chef to Rupert Murdoch - opened Les Enfants Terribles with his wife, Joanna, in 2016, bringing a French influence to Weymouth Harbour. Head to this bistro for a sit-down dinner with views of the boats bobbing in the water. As well as a refined version of fish and chips, you can order dishes such as Moule a la Mariniere (mussels in white wine and cream) and sweet prawn and clam linguini. For an exciting twist to your experience, join Tavernier for a cooking lesson.
Address: 19 Custom House Quay, Weymouth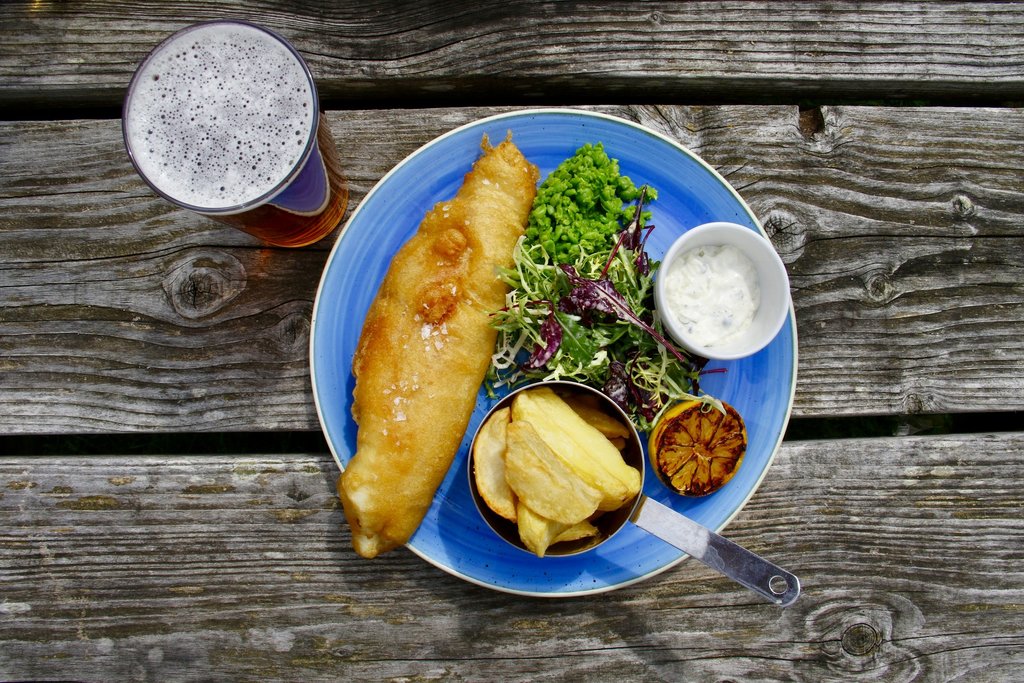 7. The Ship Inn
For fish and chips in a traditional quayside pub, head to The Ship Inn. A log fire, big armchairs and waterfront views create a cosy atmosphere, and it's dog friendly, so you can bring your pooch, too. The Forum Lager battered fish is golden and crispy, and it's served with a mountain of chunky chips and mushy peas. If you want something lighter, try the crayfish open sandwich.
Address: The Ship Inn, Custom House Quay, Weymouth
8. Rockfish Weymouth
Watch the waves creep up the sand from the terrace at this chippy by the beach. The Rockfish prides itself on sustainability, buying its seafood daily at markets in Plymouth and Brixham and even catching some itself on the Rockfish boat. Dishes such as crispy hake bites with Singapore sauce bring a modern touch to the menu, but you can still get classic line-caught haddock, too.
Address: 48-49 The Esplanade, Weymouth
Plan your Trip to Weymouth
Can't wait to find a new fish and chip shop? Book your seaside break and find Weymouth hotels with Expedia.