Half an hour's drive north of the Eiffel Tower, Montmartre is a district of cobbled streets with a grand 19th-century basilica at their centre. A heartland for artists visiting Paris - think Picasso and Dali - it's still the number-one spot for getting your portrait painted or picking up something for your wall back home. Cafes are in abundance, too, so enjoy a coffee and spot of people watching before checking out these top things to do.
Climb the Sacré-Coeur's Dome
You can either take the funicular or tackle the 222 steps to the top of Montmartre Hill to visit the Sacré-Coeur basilica with its beehive domes and white stone walls. At the top, you'll be rewarded by panoramic views of Paris. Entrance to the basilica is free and, inside, one of the main highlights is its gold-encrusted ceiling mosaic. For even loftier views of Paris, climb an extra 300 steps to the top of one of the basilica's domes.
Opening hours are 6am-10:30pm every day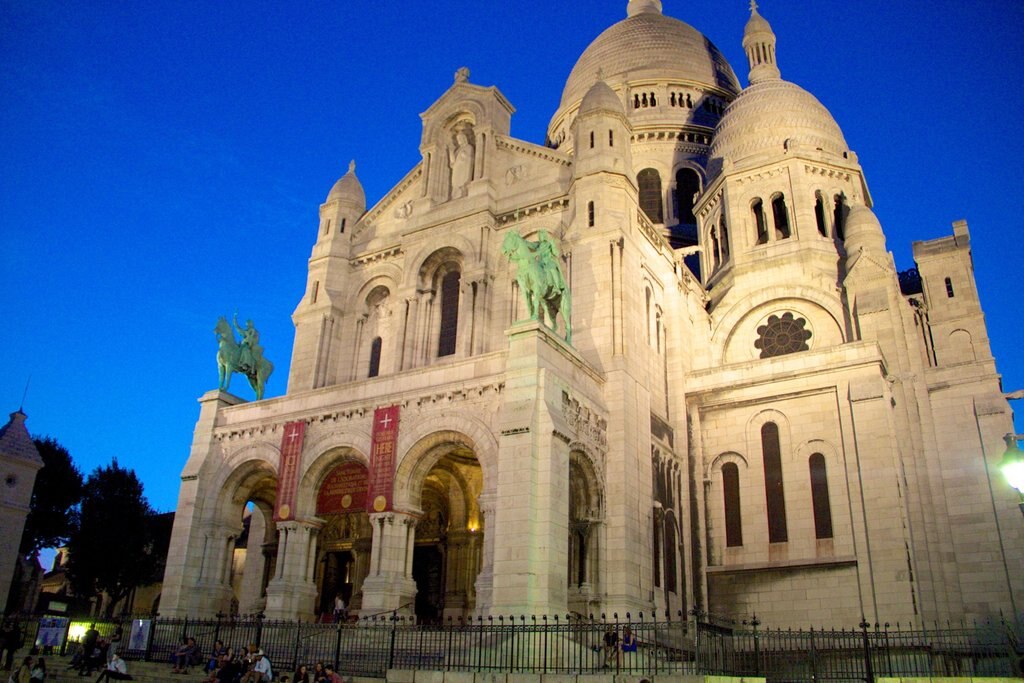 Sacred Heart Basilica - Credit: Imagebox/TM
Eat with the Locals at Le Petit Moulin Montmartre
Join the locals of Montmartre for a glass of wine and a bite to eat at Le Petit Moulin, on the cobbled corner where Rue Tholozé meets Rue Durantin. You can't really miss this bistro thanks to the bright murals of flamingos, rubber ducks and toucans painted on its exterior walls. The menu here celebrates local, seasonal fare, so every day is different. However, you'll always find cheese and meat platters served with a basket of fresh crusty bread.
Learn the History of the Cancan at Museum Montmartre
The 17th-century building that now houses the Museum Montmartre was once home to Impressionist-painter Renoir, and its gardens now remember his life and the masterpieces he completed while in residence. Inside, the permanent exhibitions offer an insight into the history of Montmartre and its culture of cabaret and creativity. An entire room is dedicated to the French cancan, for example. Adult tickets start at €9.50 and include an audio guide.
Opening hours are 10am-6pm every day
Have Your Portrait Painted in the Place du Tertre
The Place du Tertre is alive with activity of artists working at their easels. Some paint, some sketch, some create caricatures and others will snip your silhouette out of paper. The best way to take it all in is to find a table at one of the square's cafés and watch the artists, mimes and musicians over a coffee.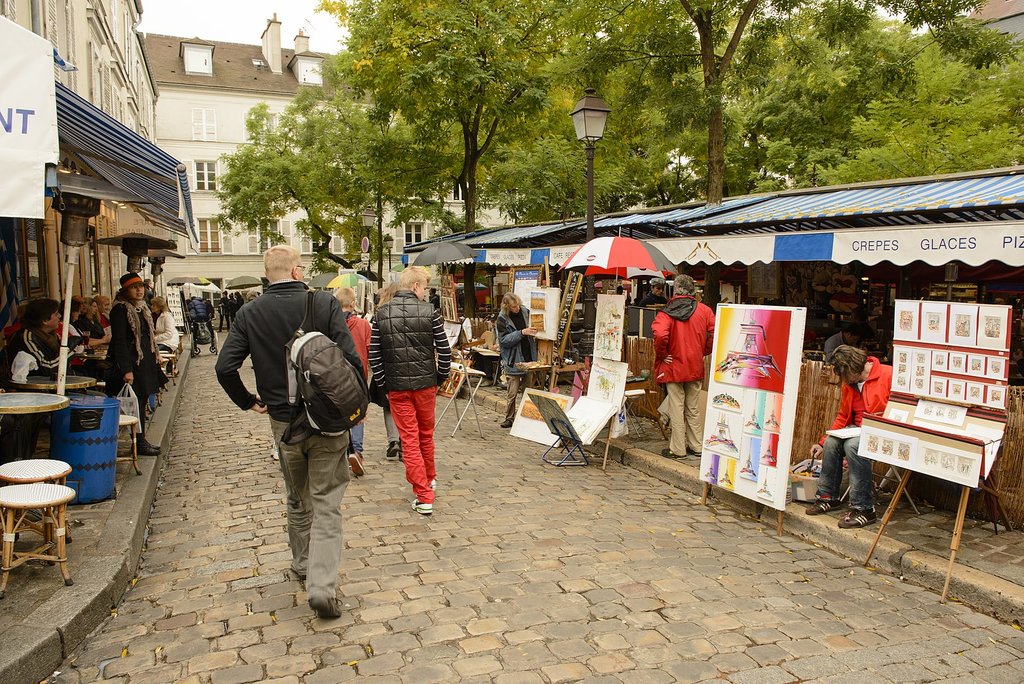 _By Son of Groucho from Scotland - Place du Tertre 1 - Uploaded by paris 17, CC BY 2.0, https://commons.wikimedia.org/w/index.php?curid=2332126_3 Watch the Cabaret at Au Lapin Agile
Lipstick pink walls, traditional window shutters, a ramshackle green picket fence and a mural of a rabbit jumping out of a saucepan introduce Au Lapin Agile to visitors. This venue has been hosting cabaret since the 19th century when regular visitors included Picasso, who used it as inspiration for one of his paintings.
There's a show every day except Monday, 9pm-1am, and the acts are all talented local singers. The songs are in French, but the quality of the voices and music make it enjoyable for non-French speaking guests. Just so you know, the place only accepts cash.
Seek Out Moulin Radet and Moulin Blute Fin
In the 17th and 18th centuries, there were more than 10 windmills on the hill of Montmartre. Some ground wheat, and others pressed grapes. The Moulin Radet and Moulin Blute Fin are the only two that have weathered the years. You can't go inside either of them, but you can take photos of them from the street. The best views of Moulin Radet are from the Moulin de Galette restaurant.
Pose for a Photo at Le Mur Des Je T'Aime
The name of this 40-metre art installation translates to The I Love You Wall. It's made from 612 tiles of petrol-blue enamelled lava, and the phrase 'I love you' is written on it 311 times in 250 languages. It's on one of the walls of the Place des Abbesses and makes for a great Instagram shot.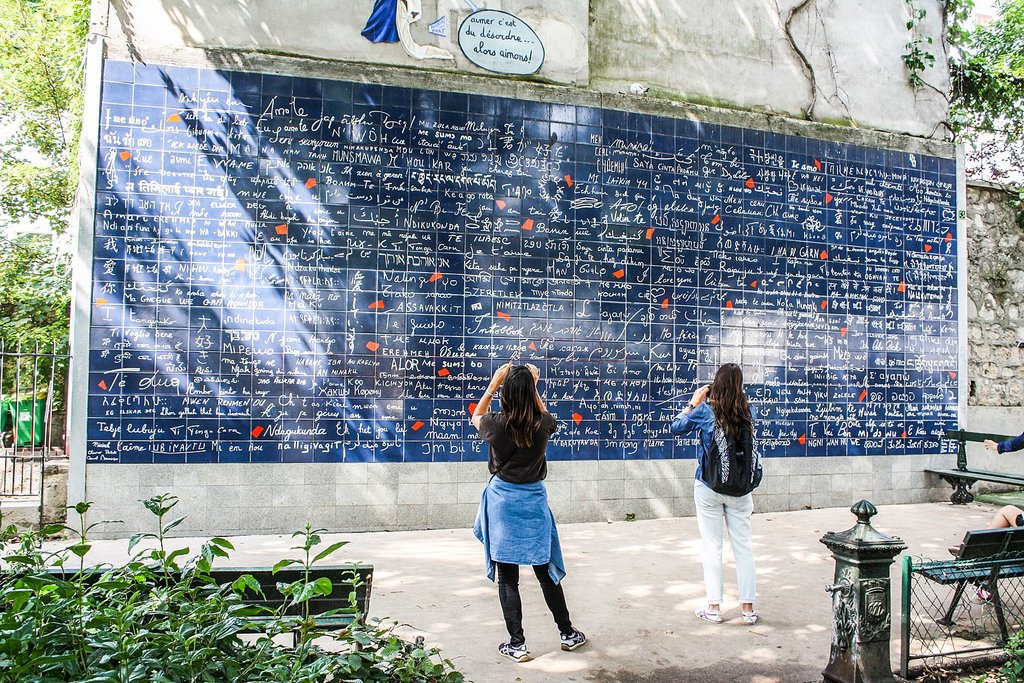 See the Melting Clocks at Espace Dalí
There are more than 300 items in the permanent collection at Espace Dalí, including the artist's famous melting clock sculptures and other surreal artworks like The Snail and The Angel - a model of a green and gold snail with wings. The museum is in Montmartre because the Spanish artist lived here in 1929. The museum also hosts temporary exhibitions by international artists.
Opening hours are 10am-6:30pm every day
Planning a trip to Paris? Find a place to stay with our pick of hotels near Montmartre.