With over 400 miles of coastline and a knack for pulling consistent, quality waves, Cornwall's reputation as a surfing mecca is well earned. So, whether you're an eager first-timer or a seasoned pro, here are the best surf beaches in Cornwall.
Fistral Beach, Newquay
Less than a mile away from Newquay, Fistral Beach is one of the best-known surfing beaches in Britain. Its location, centred between two headlands, has earned it a reputation for high waves - swells can easily hit eight feet - and some of the biggest surf competitions in the UK take place here as a result.
Despite its professional credentials, Fistral is a great beach for novices and experts alike. If you're the former, there are plenty of schools spread between the beach and nearby Newquay.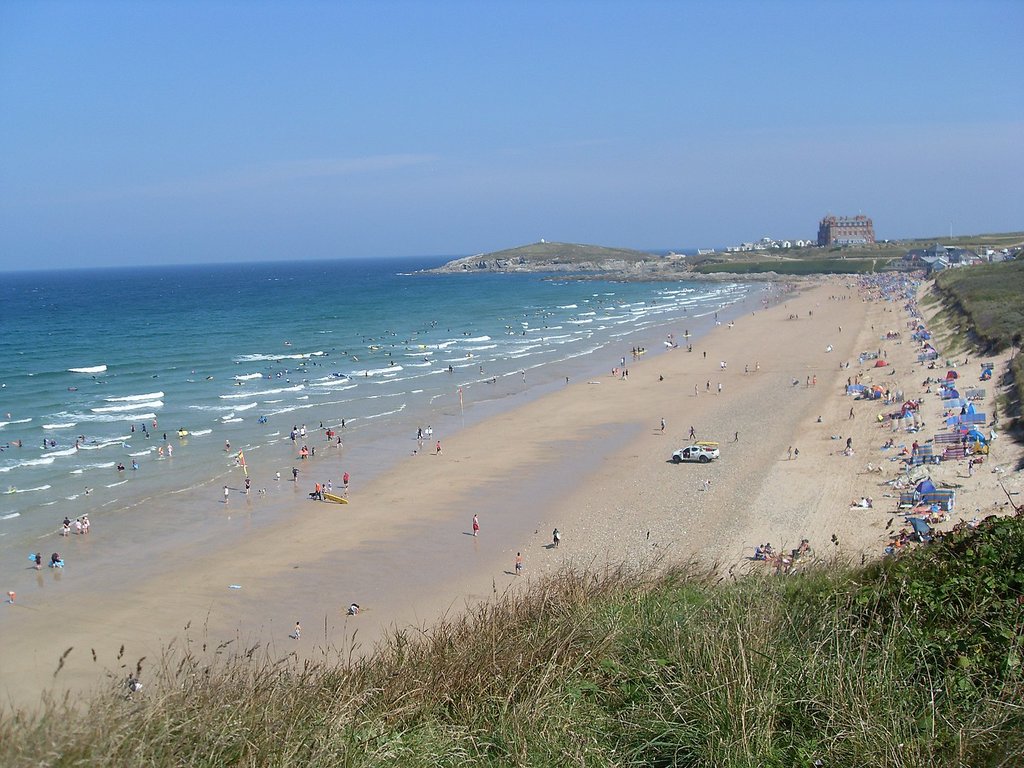 By a.froese - originally posted to Flickr as Fistral Beach, CC BY-SA 2.0, https://commons.wikimedia.org/w/index.php?curid=11323843
Watergate Bay, Newquay
Another popular beach close to Newquay, Watergate Bay's consistent waves make it a good destination for any type of surfer. That said, the waves here can reach impressive heights, which might be too difficult for beginners, so be sure to check the forecast.
A two-mile stretch of cliff-backed sand, it's likely to draw the crowds during summer. A handful of cafes and restaurants, plus a few surf shops, are dotted around the beach. If you're driving, there are a couple of car parks close by.
Duckpool, Bude
This small, remote beach sits at the foot of a row of rocky cliffs, four miles from Bude in north Cornwall. With an exposed break and potentially hazardous rocky shallows, it's only suitable for seasoned surfers.
What's more, while Duckpool has been blessed with wild beauty, its swells are inconsistent, so check the forecast carefully before you make the trek. You'll find a small National Trust car park but other than that, facilities are extremely limited. Pack a picnic if you're after a full day of surfing.
Sennen Cove Beach, Penzance
Famed for its consistency and lauded for its scenic beauty, Sennen Cove, down on the county's south west, is widely considered one of the best surf spots in Britain, never mind Cornwall. While all levels can tackle this beach, novices should stick to its sheltered south end, where the waves are less powerful.
For experienced surfers, the cove's north end gets swells that can top six feet. Beginners can take a lesson with the Sennen Surfing Centre or Smart Surf School. There's a tiny fishing village attached to the beach, with a few places to eat. You'll also find a small car park.
Porthleven, Helston
One for the experienced only, Porthleven is a beach of strong breaks and stronger undercurrents. Its tough conditions mean there's not much competition for waves along this three-mile length of sandy shingle.
Be particularly wary of submerged rocks. The adjoining town, complete with historic harbour, has a decent range of shops, pubs and eating options - seafood legend Rick Stein has a place nearby. Find the beach on the western shore of the Lizard Peninsula. Parking is limited, especially during summer.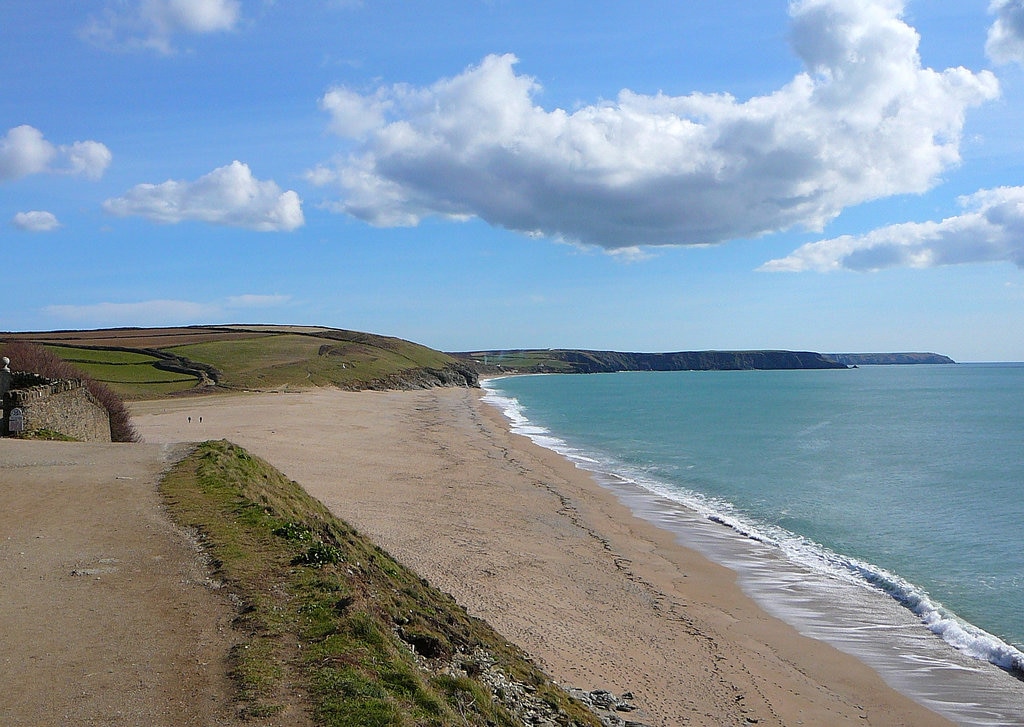 Loe Bar Porthleven, Cornwall - CC BY 2.0 - https://creativecommons.org/licenses/by/2.0/ - https://www.flickr.com/photos/atoach/2403196823/Porthmeor Beach, St Ives
For surf served with a side of culture, head to Porthmeor Beach, a pale ark of sand overlooked by the iconic Tate St Ives. Sheltered with moderate-sized waves, it's a popular one for learners over summer, but you'll find bigger rollers during the winter months.
Porthmeor Beach is a good option for those who fancy a few lessons tacked onto their Cornish beach break. The beach is just five minutes' walk from St Ives town centre, so while facilities aren't an issue, parking can be a nightmare during summer.
Polzeath Beach, Padstow
Rows of white-washed cottages overlook this pretty gold-sand beach on Cornwall's northern coast. Polzeath consistently gets long, slow waves, while the gentle shelving of the sand makes it very safe. As such, it's a great one for beginners.
Due to the quality of the waves, you'll find plenty of pros out on the water, too. In the small village of the same name you'll find pubs, cafes and shops. There are a few car parks dotted around the area, including a small one right on the beach.
Sandymouth Bay Beach, Bude
Backed by a sheer wall of crumbling cliffs, Sandymouth Beach has drama by the bucket - and it's not a bad spot for surfing, either. The beach gets a lot of swell and the best time to surf is low to mid tide.
This National Trust beach is just three miles north of popular surf town Bude, but rarely attracts big crowds because it's only accessible when the tide is out. The National Trust runs a small café, where you'll also find a car park. Alternatively, buses run from Bude.
Porthtowan, Truro
Because of its Atlantic swells, the waves at Porthtowan are known for being big, powerful and hollow. For that reason, it's probably better suited to vets seeking a challenge as opposed to beginners looking to learn.
You'll find the beach not far from St Agnes around a 10-minute drive), but the nearby village has plenty of cafes and pubs to keep you fuelled.
_By Nilfanion - Opera propria, CC BY-SA 3.0, https://commons.wikimedia.org/w/index.php?curid=24829785_Find somewhere to stay by checking out our hotels in Cornwall.
Photo Credits
Cover pic: Photograph of Watergate Bay near Newquay in Cornwall, UK, taken on 23 July 2012 - By Proper Handsome - Own work, CC BY-SA 3.0, https://commons.wikimedia.org/w/index.php?curid=20626374