London is a densely-populated capital city with plenty of urban running routes, but there are plenty of off-the-beaten-track trails here too. If you like to mix up your running styles, or you're in town for a short break and want to see more of the scenery on foot while you rack up some miles, take a look at our guide to running trails around London. Achieving your personal best has never been so picturesque.
The Parkland Walk, West London
The Parkland Walk is a true hidden gem in the heart of London. Originally a railway line that served Alexandra Palace, Highgate and Finsbury Park, the line is now a public space and an ideal running trail if you're in the neighbourhood.
Planted trees and wild shrubbery have taken hold up the embankments giving homes to squirrels, foxes and birds, and blanketing the sound of the traffic above. There's a lot of nature to experience here right under the city's nose. Run its entire length from Finsbury Park to Alexandra Palace and back again and that's 8km - not bad for a quick morning leg-stretcher.
Epping Forest
Epping Forest is a beautiful ancient woodland spanning some 19km from Essex to Greater London. Here you'll find hundreds - and we mean hundreds - of running trails winding through the forest, on a range of paths from well-maintained gravel to get-your-feet-wet bogland.
Explore the 4,800-acre forest and find your own way, or head to the Epping Forest website for some ideas and maps before you set off. It's easy to get to Epping Forest by car from London and Essex, and there are 30 car parks to choose from once you're there. Look out for protected ancient oak trees and Iron Age forts like Ambresbury Banks as you run.
Wimbledon Common
The smooth landscape of grassland in Wimbledon and Putney that is dubbed "the commons" is actually 1,140 acres of open space made from four separate areas: Wimbledon Common, Putney Heath, Putney Lower Common and the Richardson Evans Memorial Playing Fields.
The vast majority of the commons are conservation areas, and are home to a huge variety of birds, wildlife and plant species. But that's not the only reason you're visiting, is it? Run or jog on the commons' well-kept trails and paths, which can take you through woodland, grassland and hilly areas.
Mitcham Common
You'll find Mitcham Common in South London, shared between the boroughs of Croydon, Sutton and Merton. There's lots of varied running trails to enjoy here. Take your road shoes and stick to the well-made paths that cross the whole park past Seven Islands Pond, or enjoy off-road running on some of the common's muddier trails and woodland routes.
This area is a mixture of ancient common land and landscaped parkland, so terrain is varied and there are even a few inclines - Tilbury Hill being one - despite the flattish local area. Getting to the common is easy by public transport - both Mitcham Junction and Beddington Lane tramlink stops take you directly there. Find maps for some of the most popular Mitcham Common running trails here.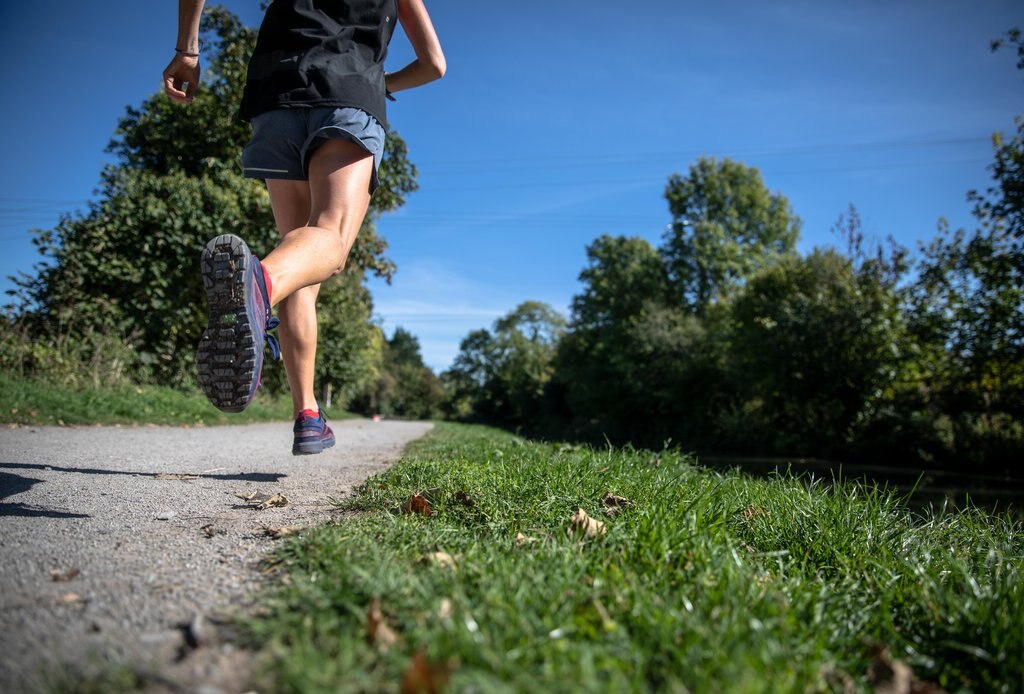 Hampstead Heath and Parliament Hill (the 'Home of Cross Country')
Hampstead Heath is ideal for finding running trails. So ideal, in fact, that it hosts the London Cross Country Championships and often hosts the English National Championships too. Hampstead Heath is packed with paved and off-road trails zig-zagging across 800 acres of woodland and meadow. Despite its size it's still within London Zone 2.
Running in Hampstead Heath can be as leisurely as you want it to be, but if you're looking for a challenge, add a few ascents of Parliament Hill into your route to raise your heart rate. If it's a warm day, make like a local and cool off in one of the open water ponds.
Walthamstow Marshes
Follow the running trails around pretty Walthamstow Marshes and you'll spot plenty of wildlife and wildflowers. This is a nature reserve that takes care of 90 acres of green space, a tiny remaining part of what was once London's widespread river grasslands.
Discover specialist habitats as you run through the parks, head up to the reservoirs to the north of the marshes for stunning open water views and look up for buzzards and peregrine falcons hovering overhead. Get here by following the River Lee from Walthamstow, or take the train to Lee Valley Park station.
Heading to London soon? Take a look at our London hotels and search using any of the locations we've mentioned above so you're close to some great running trails.