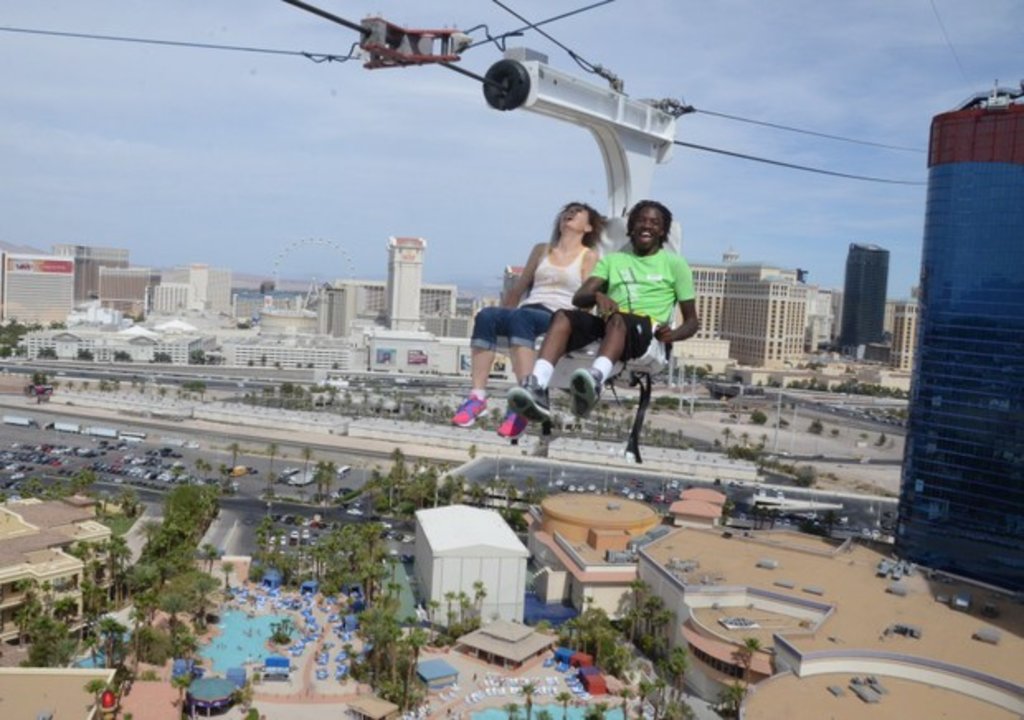 We ride up a glass elevator, climb a flight of stairs and line up two by two.
A friendly attendant signals that it's our turn, and we take our seats on a large, white mechanical chair. The attendant clips a belt across our laps, and before we know it, we are off.
The chair lurches forward, and we feel weightless for a second, zooming 33 mph 490 feet above Las Vegas. Our legs dangle as we fly toward a nearby hotel tower.
More than a year in the making, the Rio's VooDoo Zip Line debuted in late May, the newest in the city's stable of thrill rides.
The attraction isn't a traditional zip line - riders are seated in a ski-lift-type chair rather than strapped in a harness, dangling from a line - but it offers a similar adrenaline rush and feeling of free fall.
The ride propels people from the Rio's Masquerade Tower to its Ipanema Tower. The launching point is the resort's 51st floor, near the VooDoo Steakhouse.
On a recent weekend, riders squealed with delight as they rode the zip line. Couples held hands and waved them in the air; children gripped their parents' arms; people fretted in line realising just how high up they were.
"This is incredible," a Swedish bachelorette said, her costume veil blowing in the wind. Her maids of honour giggled and joked that they were chickening out.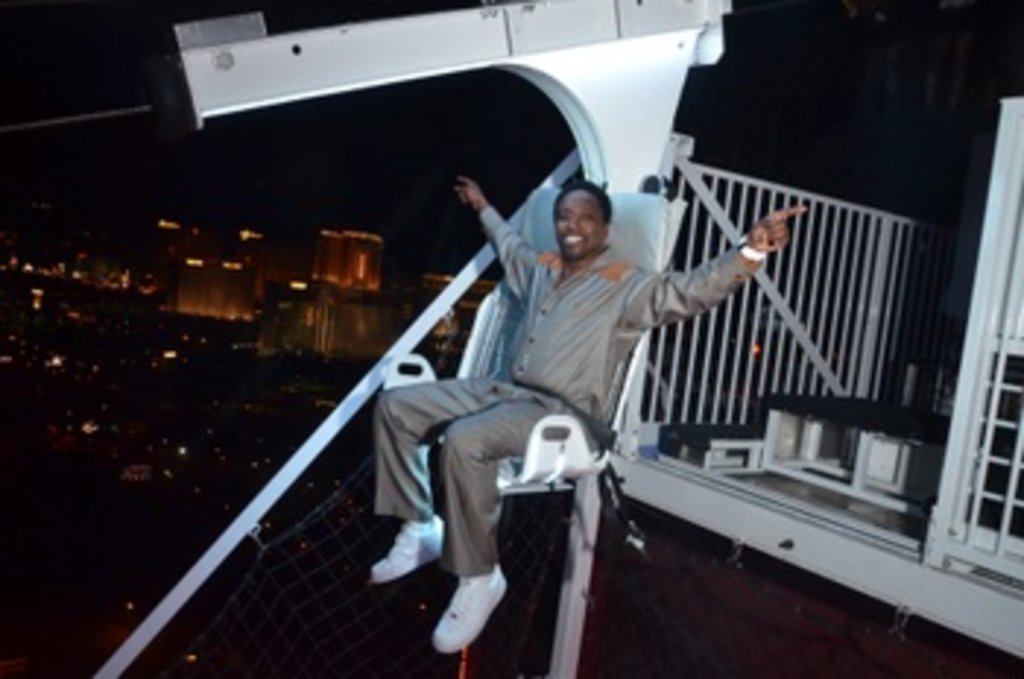 The ride lasts just over a minute and covers almost one third of a mile. After the initial free fall, operators switch the ride into reverse and pull the chair backward from the Ipanema Tower to the starting point on the Masquerade Tower. That ride is slower - 20 mph - and is a perfect opportunity to soak in the sights with less heart-pounding.
Cars below look like Hot Wheels toys, resort pools like small puddles. We get a 360-degree view of the city, which from this vantage point, looks Lilliputian. Pop music pumps through speakers in our chair.
Designers made sure to fashion the ride for a 21st-Century audience. If there's a queue, riders can provide a cell phone number, and staff will send a text when their turn is up.
Guests also can spend as long as they'd like on the roof before or after a zip line ride, taking in the view. This is recommended since the zip line itself doesn't offer a great scene of the Strip. It runs opposite to Las Vegas Boulevard.
But the view from the VooDoo Lounge is stellar. (Be sure to bring a camera, especially at night.) And the Rio isn't the only place where adrenaline junkies can get their fix. Thrill rides aren't new to Las Vegas. They have been a staple of the Strip since themed resorts began to emerge more than 20 years ago.
The MGM Grand debuted its Grand Adventures Theme Park in 1993. It was a smaller version of Disney's Hollywood Studios and Universal Studios in Los Angeles and had a movie studio-backlot theme. The attraction closed in 2000 to make room for condos and a pool expansion.
New York-New York opened its roller coaster in 1997, a slightly-more-relaxed ride where taxicab-themed cars drop 144-feet and whip through a 180-degree spiral. This was followed by the Stratosphere, which brought thrill rides to a whole new level - literally, by placing them atop the hotel tower. There are four of them in fact.
Thrill-seekers can bungee jump 108 stories off the side of the casino-resort (the 829-foot-tall Sky Jump holds the Guinness World Record for highest commercial decelerator descent); spin 64 feet out from the roof's edge on the 3G Insanity ride; teeter-totter off the rooftop on the X-Scream roller coaster; or shoot up 45 mph into the sky on the Big Shot.
There's also the Circus Circus' Adventuredome, which boasts the Canyon Blaster, the world's only indoor double-loop, double-corkscrew roller coaster, and the new El Loco, a twisting, turning mousetrap ride that drops riders into a 1.5 vertical-G free fall.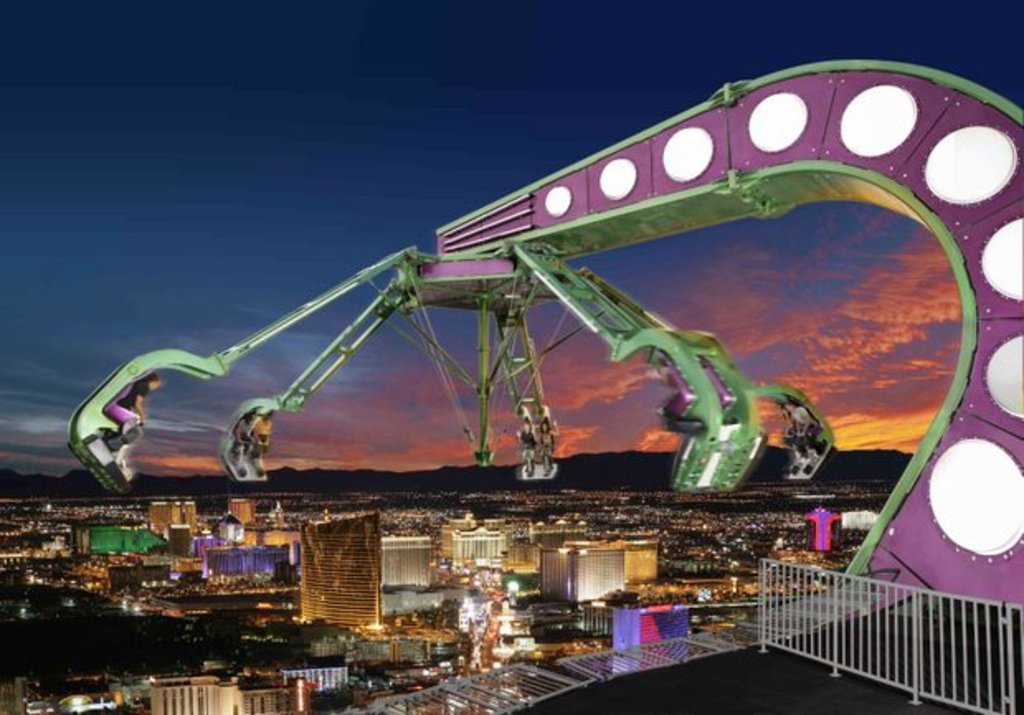 The Stratosphere Hotel and Casino's Insanity ride
Credit: Stratosphere Hotel and Casino
Like this piece? You might also be interested in these ones:
Las Vegas: Resort Operators Move Fun Outdoors