New Year in New York is the ultimate way to celebrate. In the city that never sleeps, there are lots of unforgettable ways to ring in the New Year, and here are some of our favourites.
Watch the Ball Drop in Times Square
More than a million people head to Times Square on New Year's Eve to watch the ball drop. A New York tradition since 1907, the famous ball sits on top of One Times Square and billions of revellers watching from all over the world count it down. The electric atmosphere starts at 6pm as the ball takes its place, and the famous fireworks show powers in at the stroke of midnight.
It can get very cold, so make sure you're wrapped up warm with a waterproof coat in case of rain or snow. Also, this is a busy event, so get there before 3pm (it's shut off after that) and be ready for a wait to get out of the square at the end of the celebrations.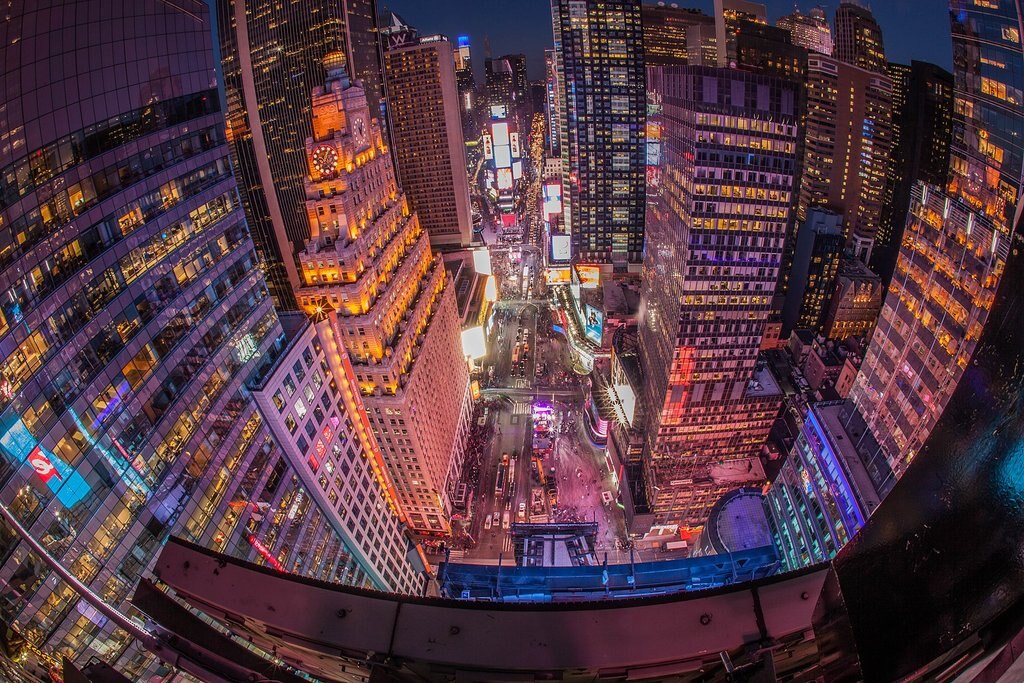 Times Square from the roof of One Times Square - By Anthony Quintano - https://www.flickr.com/photos/quintanomedia/15968397210/, CC BY 2.0, https://commons.wikimedia.org/w/index.php?curid=37798444
Cruise into the New Year
There are party cruises, art cruises and classy, black-tie cruises around the Hudson and New York Harbour throughout New Year's Eve. If you're in the mood for a party, book your tickets for one of the many booze cruises. If you'd like a romantic evening, straighten up your tux and hop aboard a chartered yacht with live music and elegant dinner service. Watch the harbour fireworks display from the water and ring in the New Year with a gorgeous view of the Manhattan skyline.
Party in Brooklyn
Start your evening with the New York tradition of walking the Brooklyn Bridge on New Year's Eve. From this iconic spot, you can watch fireworks light up the Manhattan skyline and see the Empire State Building glowing with its festive lightshow. Once you get to Brooklyn, head to Prospect Park for more fireworks, live music and entertainment, or try one of Brooklyn's many fashionable nightspots.
Not a nightclub fan? Hang out with the locals at a sports bar for food, drink and celebrations. Take the subway to Ocean Parkway and spend a fun-filled New Year's Eve on Coney Island. Here you can watch laser shows at the New York Aquarium, ride the Wonder Wheel for free or take a dip in the sea with the Coney Island Polar Bear Club - it's an annual tradition.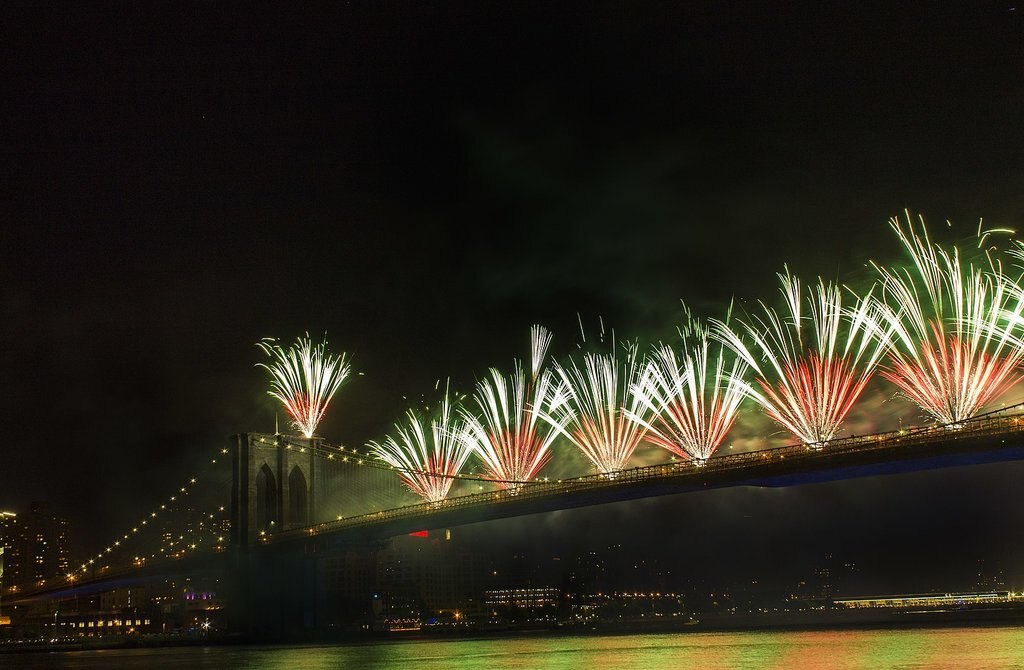 _Brooklyn Bridge Fireworks - By Jason Zhang - Own work, CC BY-SA 3.0, https://commons.wikimedia.org/w/index.php?curid=35424408_Enjoy Live Poetry and Music
Packed with performance spaces and venues, New York is the place for a cool New Year if you want to hang with the hipsters. Head to Williamsburg, Brooklyn's trendiest neighbourhood, for live blues at the Brooklyn Bowl, or enjoy spoken word and live music at Pete's Candy Store where you can sip custom cocktails at a New York institution.
For big names, head to the Barclays Centre in Fort Greene, Brooklyn where a superstar from the world of pop, rock or rap brings in the New Year with a live show. Previous years have seen Elton John, Jay-Z and Coldplay perform.
Eat and Drink at Some of New York's Best Restaurants
New York is a playground for foodies, and at New Year's Eve, eateries across the city pull out all the stops. From prime rib and a DJ dance party at Katch Astoria to a cheese, foie gras and champagne night to remember at the famous Murray's Cheese Shop, there are celebrations of every type and flavour. For most foodie events, you need to book in advance to avoid disappointment.
Be Inspired at New York Arts Venues
Every year, the Metropolitan Opera hosts a glittering New Year's afterparty, complete with fireworks and exclusive premieres of the coming season. Visit the New York Philharmonic for a truly special start to your new year. Every New Year concert has a great mix of operettas and favourite music-hall classics. Independent galleries around New York host their own New Year's Eve parties, too - drop by and see if you can get in. You never know unless you try.
Drink and Dance at a Classic New York Bar
Duelling pianos is a New York bar tradition that really comes into its own on New Year. Visit Bar 9 or Shake, Rattle and Roll, both in Manhattan, for a live-music party experience you'll never forget.
Rooftop bars might be cold in December, but almost all rooftop bars in the city host NYE parties, and they've got the best views of the fireworks and lightshows. We love Bar 54 for its amazing view, and 230 Fifth because of its perfect view of the Empire State Building. Upstairs at The Kimberley is also a fantastic rooftop bar, with panoramic views of Manhattan.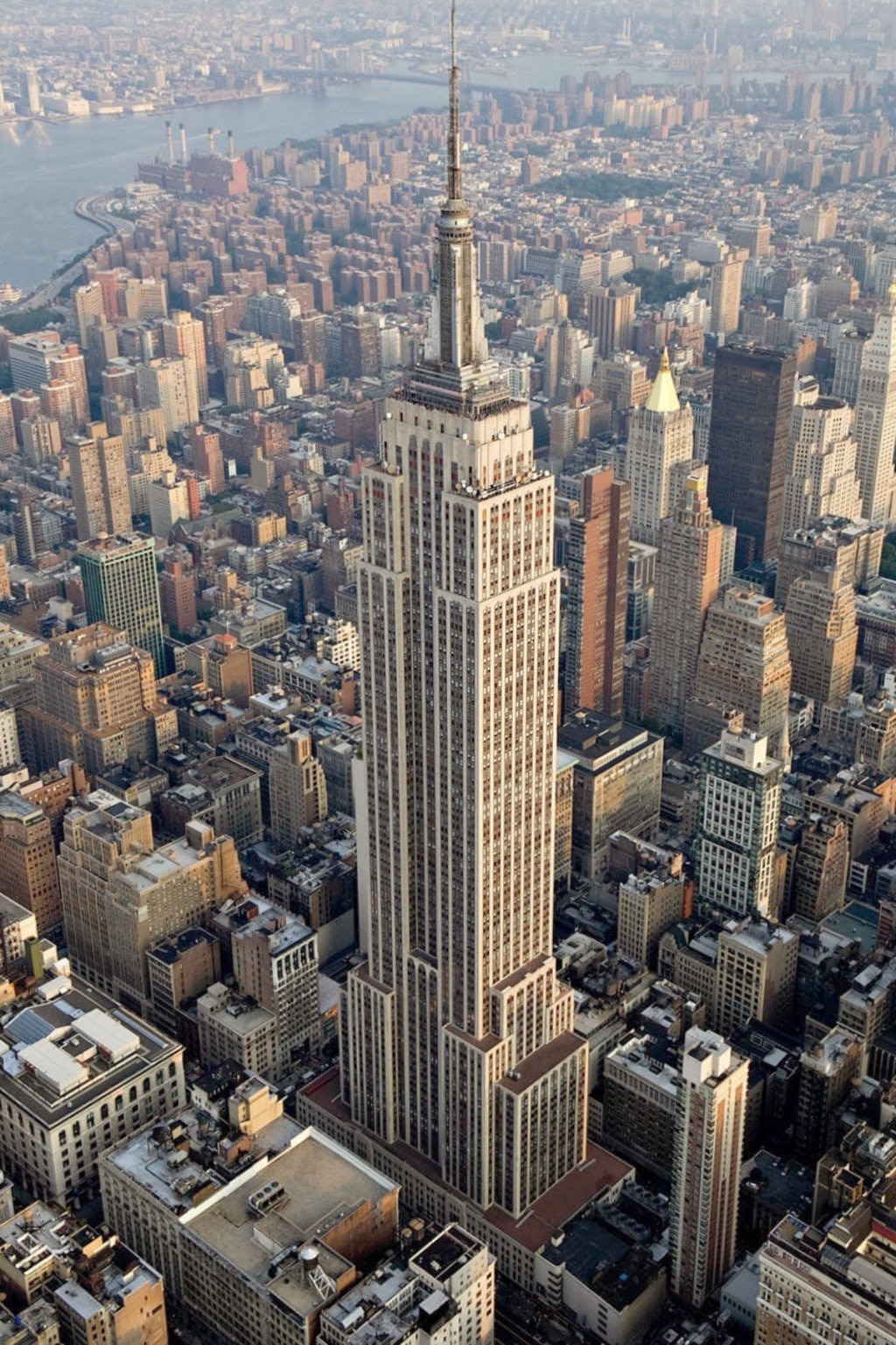 By Sam Valadi - https://www.flickr.com/photos/132084522@N05/17339180506, CC BY 2.0, https://commons.wikimedia.org/w/index.php?curid=62752443#### Photo Credit
Cover pic: By Jorge Láscar - https://www.flickr.com/photos/jlascar/5366535477/in/set-72157625235274706, CC BY-SA 2.0, https://commons.wikimedia.org/w/index.php?curid=22521482