Brighton has been part of my soul ever since I was knee-high to a crab stick. I pride myself on my seasider knowledge and claim to know every nook and every nuance of my beloved home town. But little did I know that Brighton has been hiding some deep, dark secrets from me.
Recently I went on my first walking tour of the city with blue badge guide Ric Morris from Only In Brighton. Morris's 80-minute tour is just one of a number on offer ranging from the Quadrophenia mods and rockers tour to a Piers and Queers version about the city's LGBT history. I opt for Morris's Only in Brighton tour on the promise he gives me that the lowdown on ABBA's legendary Eurovision visit in the Seventies is included.
Thinking I'd be the only resident in the group, I was pleased to see other locals join the tour.
"It usually attracts a mix of locals and visitors, last night we had nearly 20 made up of residents, students and visitors from out of town," says Morris.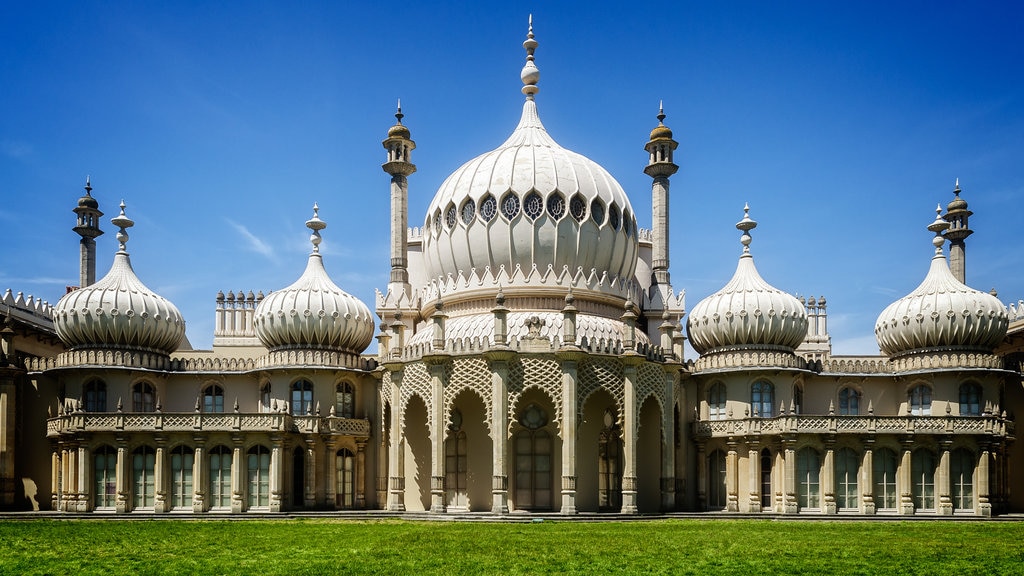 There's only one place to meet and that's outside Brighton's most iconic home, the Royal Pavilion. Built in 1787 as a seaside retreat for the Prince of Wales, this gaudy and rather elaborate palace is like the Taj Mahal of the south east. When I was growing up, the pavilion with its onion-shaped turrets and ornate colonnades, was the epitome of the exotic and the closest I'd got to actually 'being abroad'. Its royal resident, the good (or not-so-good, as it happens) George IV, the Prince Regent, led a strict life of hearty indulgence.
"George was all about decadence," explains Morris as we gaze up at his statue outside the Pavilion Gardens.
"He was the original party boy who loved a drink and fine food, and had a fondness for fancy interiors, all of which are sentiments Brighton still carries today." he says with a grin.
As we wander the busy streets, Morris flip-flops between historic and modern facts, all delivered with a charming and often amusing reverence to the city. We pause outside the Brighton Dome, built in 1805 as the stables for the royal horses, which was transformed into a concert hall in 1870. A century later, it became famous as the venue where Pink Floyd first played the Dark Side of the Moon and ABBA won the Eurovision Song Contest. Morris, a fountain of Eurovision knowledge, slipped us a few gossipy titbits about the contest; did you know that due to a dress malfunction, presenter Katie Boyle allegedly went commando on the night? No, me neither.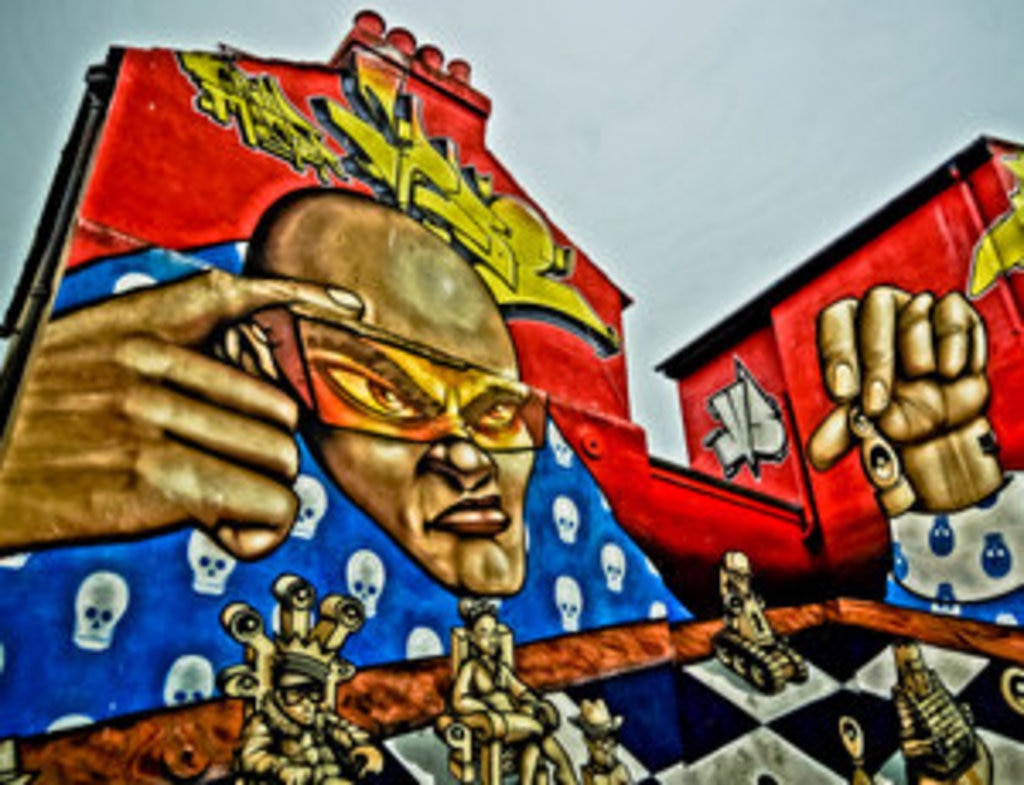 We move on to the North Laines and stop for a moment by the famous Run DMC mural painted by street art legends, Odisy and Aroe. Brighton is renowned for its street art, and you can book the Oh I Do Like To Be Beside the Seaside half-day graffiti tour which tracks the best the city has to offer. We could also boast one of Banksy's most famous murals, the Kissing Coppers, a black-and-white image of two policemen kissing, until recently when it was chipped off and sold to a US buyer for more than half a million dollars.
From the North Laines we wind through the narrow, cobbled Lanes to the Town Hall, which performed one of the very first legal same-sex marriages earlier this year. As the proud gay capital of Europe, Brighton has since held thousands of similar ceremonies, a fact compounded by tonight's scattering of ahem, penis-shaped confetti outside the main doors.
The tour ends rather fittingly on Brighton beach, between the flashing neon lights of Brighton Pier and the crumbling remains of the West Pier. As a send-off Morris reminds us of the great writer and raconteur, Quentin Crisp, who famously remarked in his enunciated drawl that "Brighton was not exactly England, as I have always felt at home here."
And it's true, Brighton is a rather different beast to your standard British city. It has a kitsch, sweet-scented glamour which rides side-by-side with an arty, alternative lifestyle, and of course, just a light sprinkling of saucy.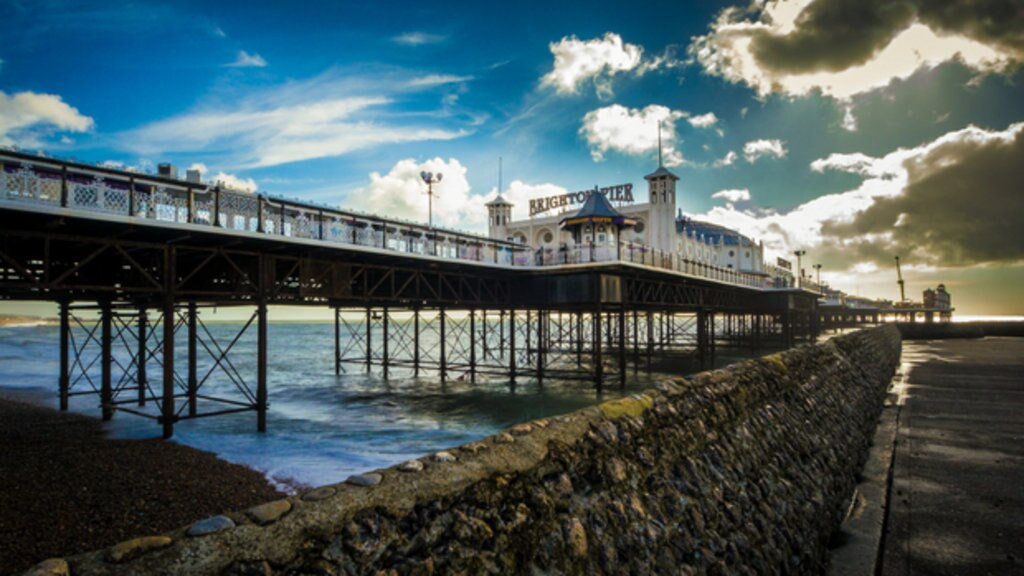 Brighton's iconic pier Credit: [Amipal](https://www.flickr.com/photos/28321983@N02/8644224589/in/photolist-eaRUNZ-aQyo88-9q9Wfh-bFXauK-oLKZy-4DHeQP-egVtKT-4DMvWh-4DHeAV-4DMwNs-dG3y7v-nc13RW-4P8vjx-cHGYF9-oir7PE-4P8uqa-npd8ZE-9y6Yx2-6eX8py-aKVrKe-otjP2-f2H3o6-oxmwW-5pA1Bg-5WXsrh-67e7cf-cXkg1J-6sUNVQ-4DMwDG-cXn1Kh-naowJM-awD9V3-9AR9CX-5Gf9Vm-kbjhV-hpvwxq-n38DWG-dNMj5f-fuxksG-f3mRid-n36T5v-hr6pd8-3dKHfZ-dqvGda-nQ4Xv4-dqvEEg-nvgmGa-n36P4K-dqvQTf-4tZHUu)
Like this piece? You might also be interested in these ones:
Paris: Take The Road Less Travelled To Famous Montmarte