The Indonesian island of Bali has exploded in popularity in the last few years, and it's easy to see why. With an abundance of things to see and do, plus some of the most beautiful landscapes in the world, there are many reasons to take a holiday to Bali. And if you have your new spouse on your arm? Even better. We've rounded up the best things to do on a honeymoon in Bali!
Things to Do on a Honeymoon in Bali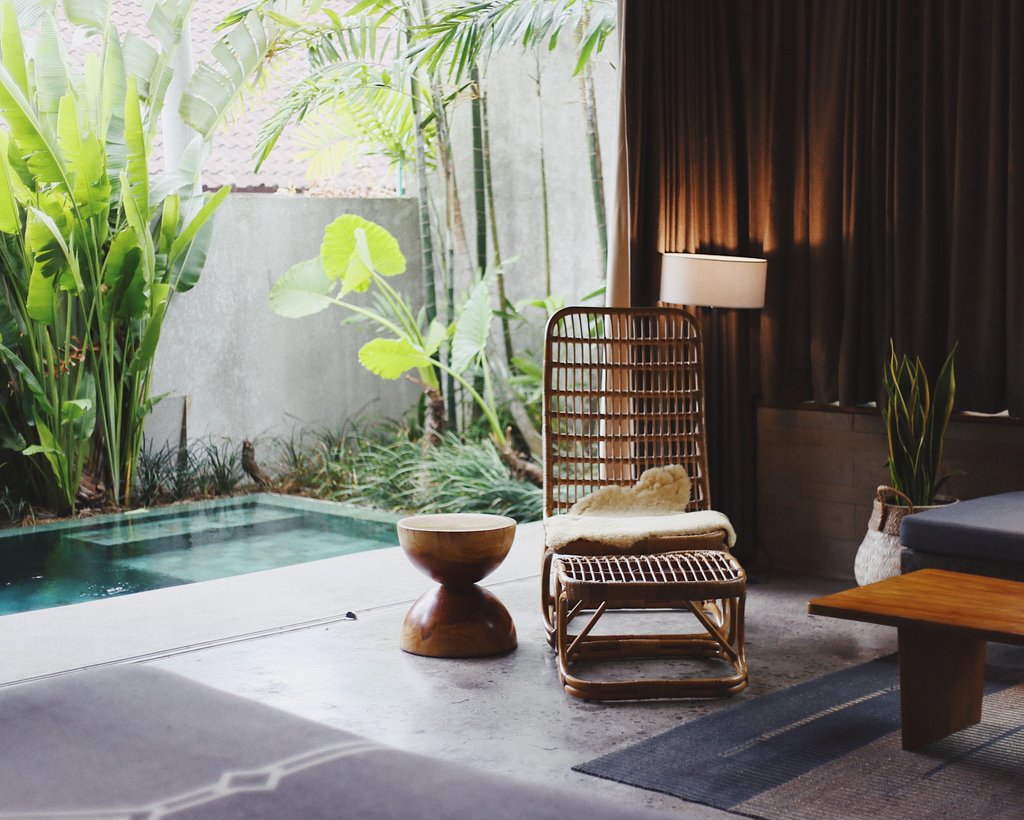 Spend a few days relaxing at a hotel spaOne of the great joys of a honeymoon is simply relaxing with your newly beloved, and what better way to do that than to stay at a hotel spa in Bali? With plenty of amazing options around the island, you can find something in bustling Ubud or further afield. Lounge by the pool, get a couple's massage, and indulge in some of the spa's relaxing treatments (many have body wraps and scrubs, facials, pedicures, and more). After all the stress that a wedding can bring, this is your time to unwind and enjoy each other's company.
2. Hit the beach
Seeing as you're on an island, you're most likely going to spend some time at a beach. And with dozens of beautiful beaches to choose from, you're never far from one, either. No matter what you're after, there's a beach in Bali for you. For great sunrise viewing, head to Sanur Beach. For a quieter vibe - perfect for some sunbathing or a walk with your loved one - try Thomas Beach. For a meal on the sand as you watch the sunset, make your way to Jimbaran Bay. There's nothing quite like a Bali beach, especially with your new spouse beside you on the sand.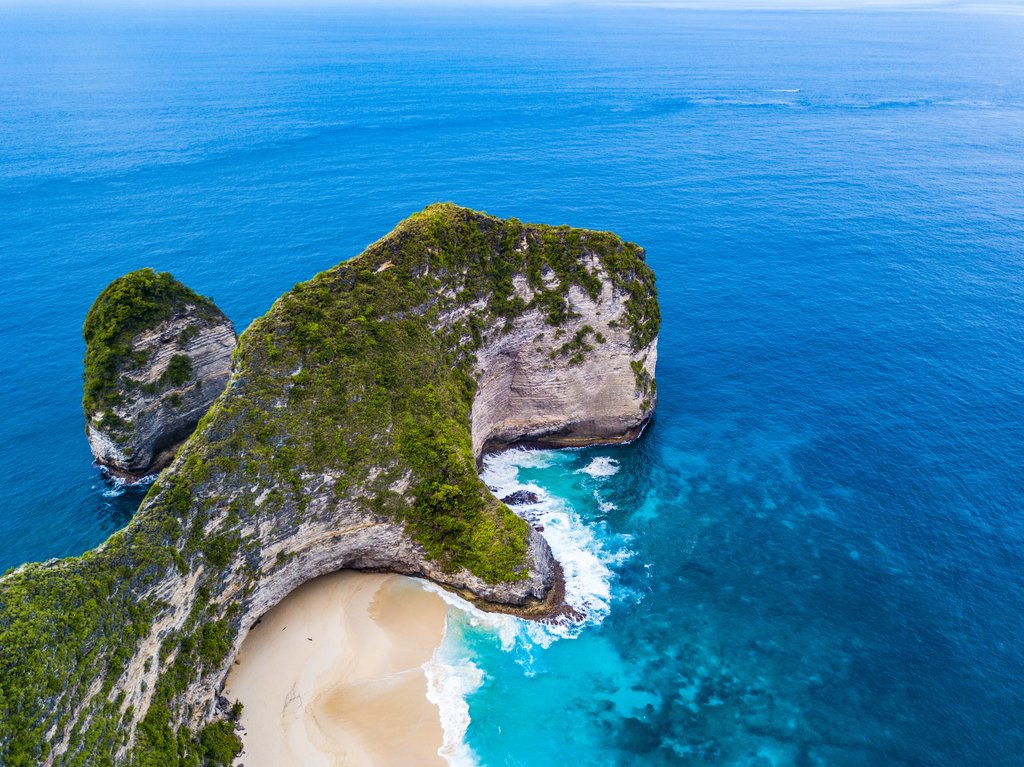 3. Explore Bali's neighbouring islands
If you're craving a bit of adventure on your honeymoon in Bali and you'd like to check out some of the surrounding islands, thankfully there are plenty to choose from! While the famous Gili islands are certainly worth a visit, you need at least a few days to experience them properly. If a day trip is more your thing, the Nusa islands are much more accessible from Bali.
The three Nusa islands - Lembongan, Ceningan, and Penida - are all beautiful and all easily accessible from Bali. Lembongan and Ceningan are quite small, while Penida is the largest of the three (though the farthest from Bali). If you're after one of the classic Instagram shots while on your honeymoon in Bali, make your way to Nusa Penida to the Kelingking viewpoint. It's extremely popular, but for good reason... it's absolutely stunning. Trust us, you'll be framing the honeymoon photo you take at the Kelingking viewpoint!
Of course, you can always spend a few days staying in the Nusa islands, which is also recommended; there are fewer crowds than Bali but still plenty of unbelievable beaches and places to explore.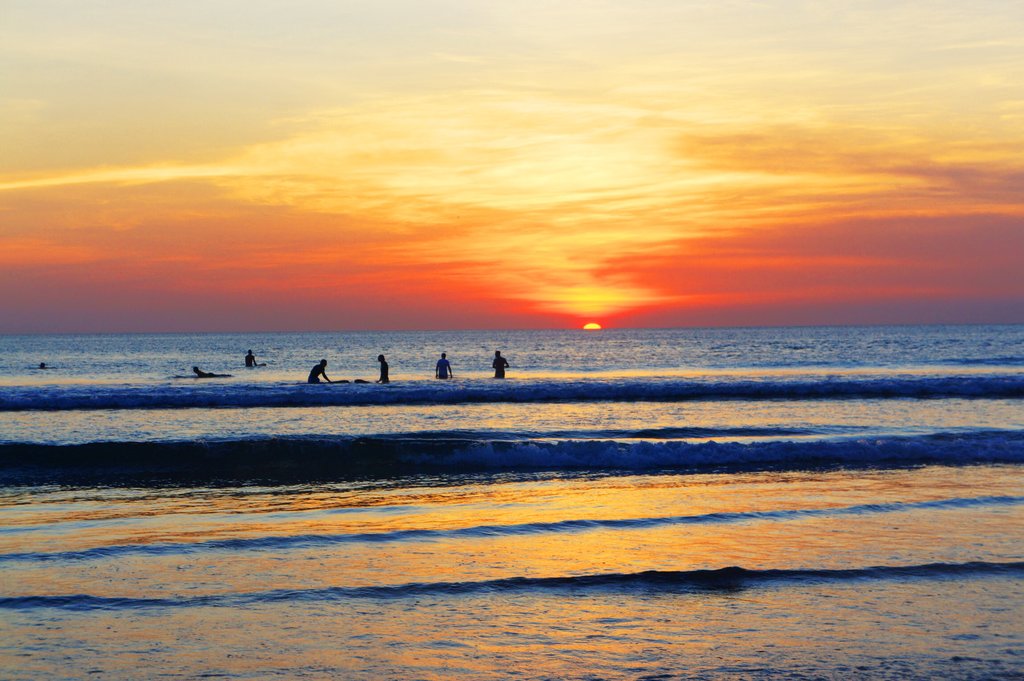 4. Watch the sunset
Is there anything more romantic than watching a sunset with the love of your life? If you're looking for that once-in-a-lifetime sunset, you're in luck: Bali has oodles of amazing sunset spots. For a chilled-out vibe - and even the chance to see dolphins alongside a beautiful sunset - head to the sleepy town of Lovina. For that memorable scenery as you watch the sun dip below the horizon, make you're way to Puru Ulun Danu Bratan, a temple located on Bratan Lake.
5. Take a romantic cruise
One of the best ways to see the island is to see it from the water, and what better time to do that than on a romantic cruise with your loved one? There are plenty of options, whether you want to head out in the day to experience some swimming and snorkelling or if you'd prefer a sunset cruise. Either way, a cruise is a beautiful way to create those lifelong honeymoon memories with your new spouse.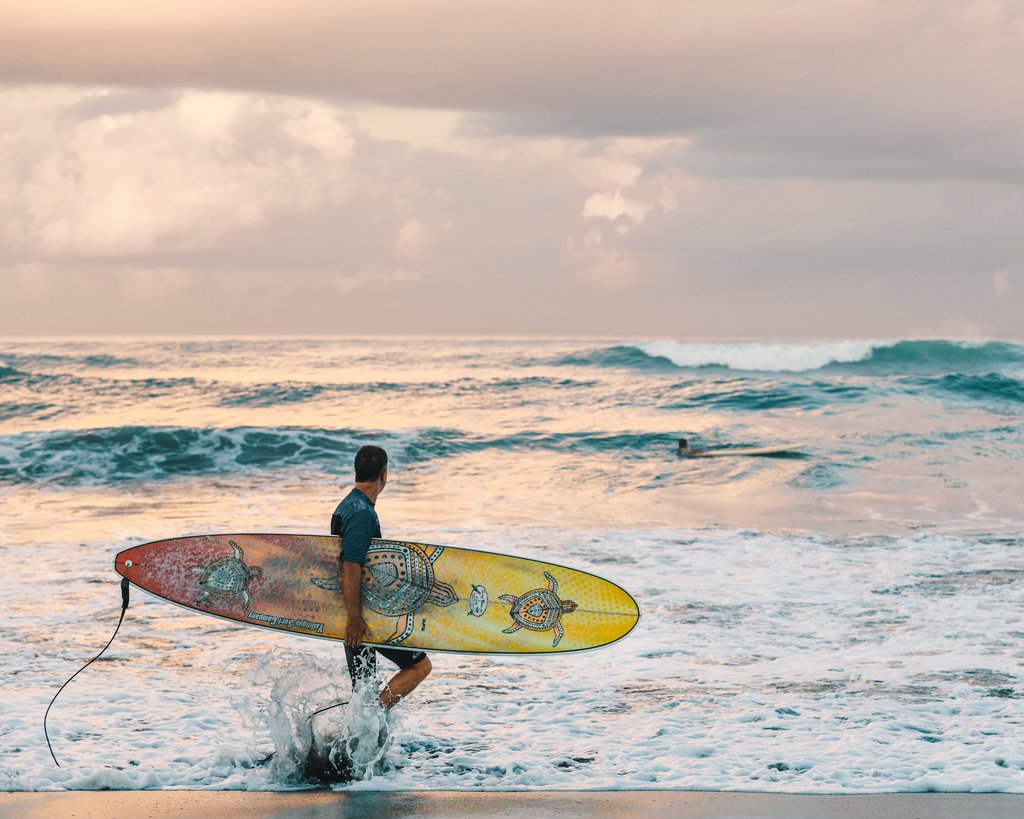 6. Participate in water sports
Being an island, there are tons of fantastic water sports to try out on your honeymoon to Bali. If you're into diving, Amed Beach is known for its colourful coral and even a shipwreck or two. For surfers, head to laidback Balangan Beach. It's also very easy to find jet skiing, waterskiing, and snorkelling all over the island - Nusa Dua Beach has plenty of options, for example - so if adventure is what you're after on your honeymoon in Bali, you're sure to find it.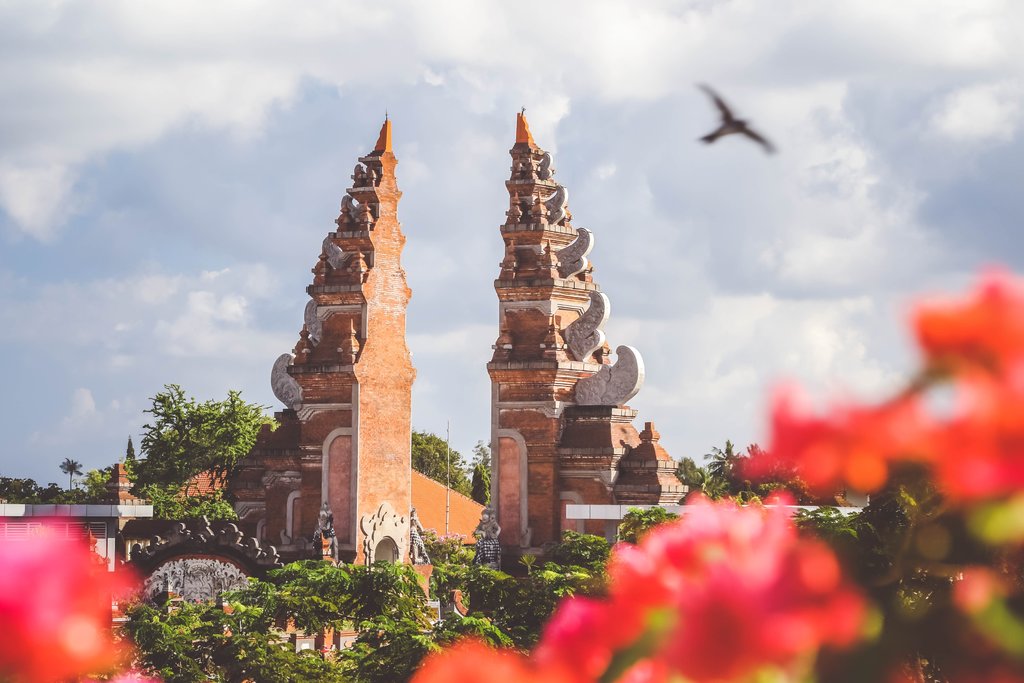 7. Visit the temples
As a deeply spiritual and religious island, Bali has many sacred temples. While some honeymooners might want to spend their entire holiday on the beach - and no judgement for that! - others may want to explore more of the Indonesian culture and find out more about the island. A wonderful way to do that is to visit some of Bali's ancient temples. Though it would be impossible to list all the must-visits here, standouts include Ulun Danu Beratan, Tanah Lot, Lempuyang, Pura Taman Saraswati, and Besakih Temple, which is often referred to as Bali's "Mother Temple".
As always with any religious site, it's important to be respectful and dress appropriately (both men and women should make sure clothing covers the shoulders and goes past the knees). And although you're on your honeymoon, it's best to refrain from open displays of affection when you're visiting a Balinese temple.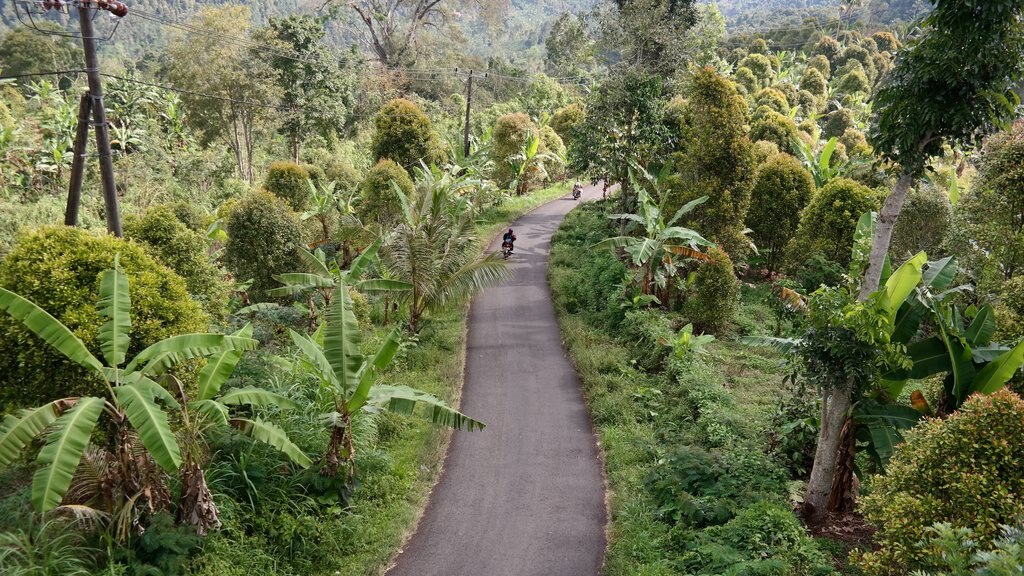 8. Hire a motorbike and explore the island
The island of Bali is very motorbike-friendly... in fact, it's how many locals get around the island, too. One of the best ways to see the island - and to discover areas that might not be as accessible otherwise - is to hire a motorbike and explore! Head to secluded beaches, experience the cooler air in the mountains, and marvel at the lush greenery around the island.
Before you go jumping on a motorbike, however, make sure you feel comfortable on the road, always wear a helmet, and obey all local traffic laws. Never enter any private land or restricted areas, either. You'll also need an international driver's license to drive a motorbike in Bali, so make sure to apply for that well in advance of your holiday in your home country. Ask your hotel in Bali for the best place to hire a motorbike so you can soon be on your way...
9. Go for a hike in the mountains
While Bali is certainly known for its beaches and its relaxed vibe, there's plenty of adventure to be had if you seek it. For active honeymooners, spending a day or two on one of Bali's many hiking routes is a great way to see the island and spend quality time together. Popular trails include hiking to Mount Batur, an active volcano that is absolutely gorgeous at sunrise, and Mount Agung, Bali's tallest mountain (so be prepared for an arduous hike). Either way, if your route falls into the more challenging category, it's best to look into joining a tour or hiring a guide!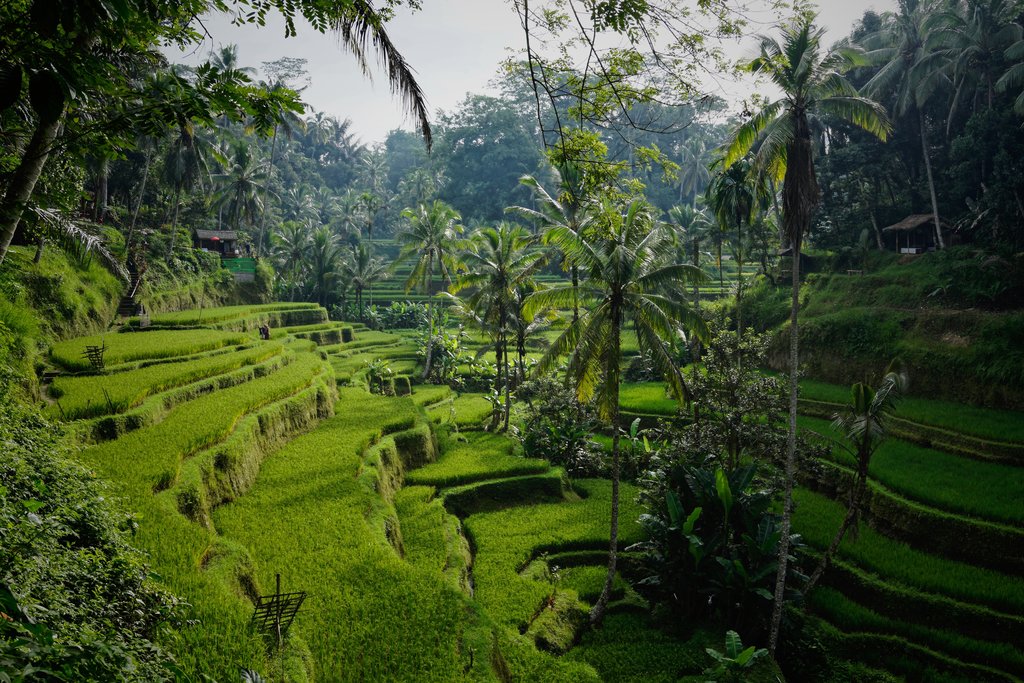 10. Witness the beauty of the rice terraces
You've seen them on the postcards and in the guidebook... now it's time to see Bali's stunning rice terraces for yourselves. Due to succession planting, thankfully you can see Bali's rice terraces in all their glory no matter what time of year you visit. Some of Bali's most beautiful rice terraces are found in Tegallalang, Munduk, Jatiluwih, and Rendang; you're sure to get some stunning photos with you and yours in any of these regions. Always make sure you're not encroaching on any private property and that you stick to any tourist paths available.
11. Shop for the perfect honeymoon souvenir
A fantastic way to cement the memories of your honeymoon in Bali and support local businesses is to do a bit of souvenir shopping. While there are plenty of markets around Bali, especially in Ubud, it's worth it to ask around and do your research so that you can purchase locally-made, high-quality souvenirs. You'll be reminded of your romantic getaway every time you see the souvenir in your house, and you'll give your tourist money back to the community. Win win!
12. Invest in a photoshoot for memories that will last a lifetime
Finally, think about investing in a photoshoot with a professional photographer on the island of Bali. So many people splurge on wedding photographers... so why not a honeymoon photographer? There are plenty of local photographers to choose from, so you can spend the day at some of Bali's most beautiful locations and not have to worry if you'll get any good photos of the two of you. You're on your dream honeymoon in Bali, so you might as well get the photos to remember it forever!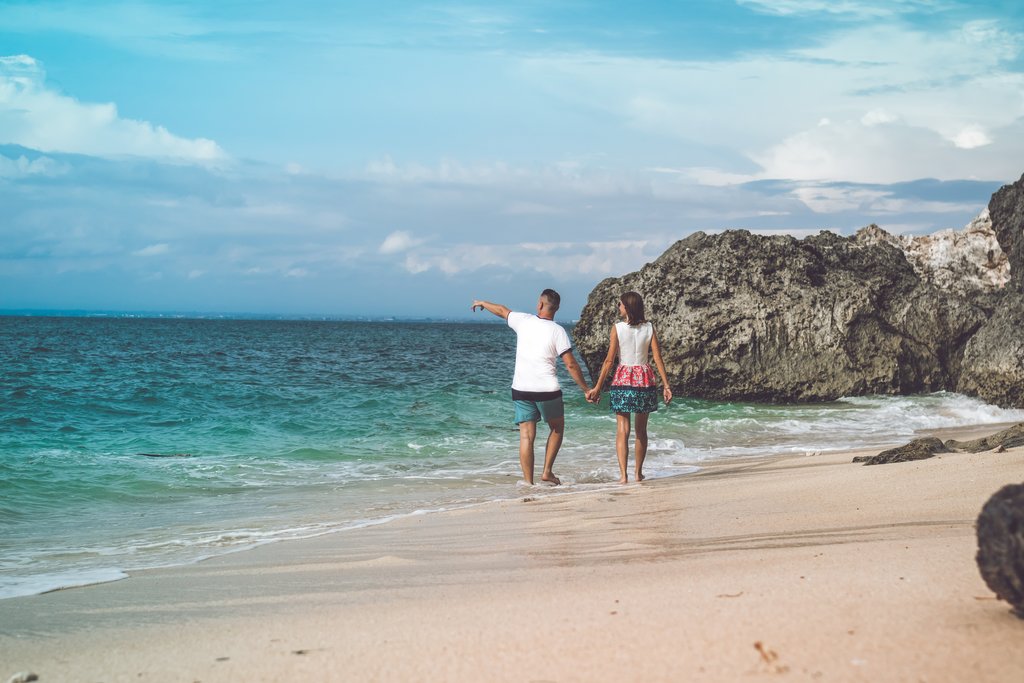 That's it for our list of the best things to do on a honeymoon in Bali. From temple visits to mountain hikes to relaxing days on the beach, we hope you have the most amazing holiday in Bali with your new spouse!