As good as they are to experience - more so perhaps if you're in Ireland's capital for the first time - there's more to Dublin than Guinness tours and classic attractions like Kilmainham Gaol and The National Leprechaun Museum. Look beyond the tourist traps and you'll discover a quirkier, fascinating side to the city. From haunted nightclubs to mummies, get off the beaten track with these nine unusual things to do in Dublin.
1. Take a Cold Plunge at the Forty Foot
Dublin's wildest swimming spot is a rocky outcropping in Sandycove where people plunge into the chilly waters of the Irish Sea. This year-round practice that has become almost cultishly popular, attracting a regular crowd of locals who swim weekly and even daily.
Visitors are, of course, welcome. Do be aware this is a wild swim and currents and tides can affect the conditions considerably, so use caution. There's a few handrails and steps carved into the stone to assist less confident swimmers.
2. See the Cat and the Rat in Christ Church Cathedral
Yes, this beautiful church may be best known as Dublin's oldest building and the seat of the city's Catholic diocese - but take your time inside and you'll find a truly unusual sight: the mummified remains of a cat and a rat.
In the 1850s, the pair were trapped in an organ pipe (presumably one chasing the other) and preserved thanks to the dry conditions. The pair were later referred to by James Joyce in Finnegans Wake, and are on display in a glass case inside the cathedral.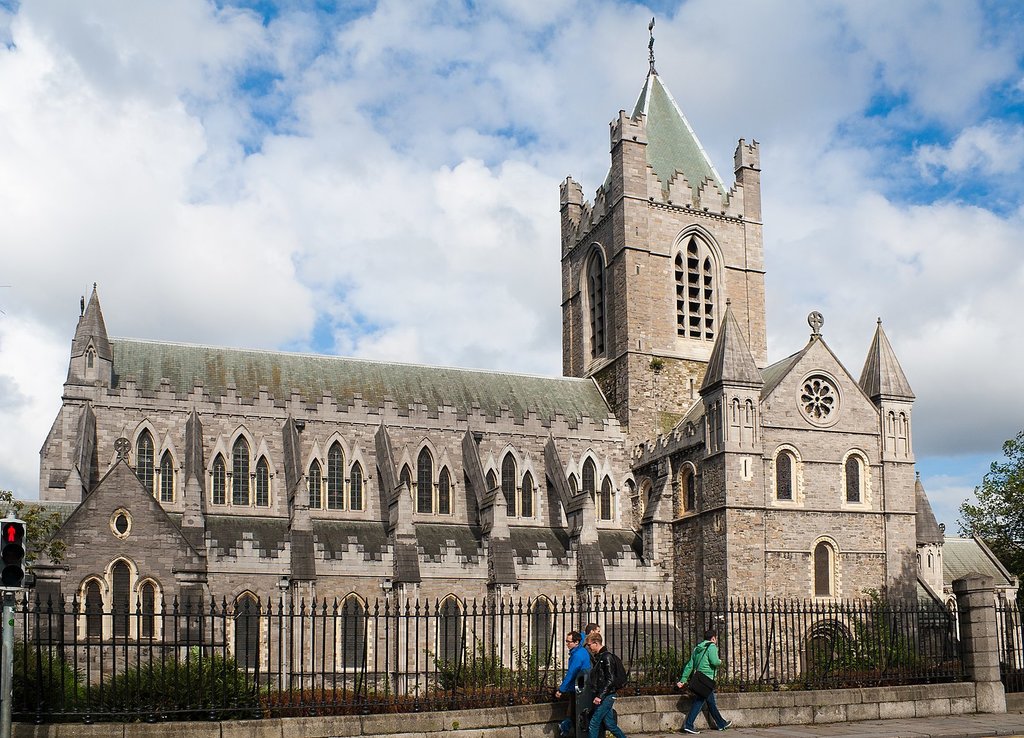 Christ Church Cathedral as seen from High Street, looking north. - By Andreas F. Borchert, CC BY-SA 4.0, https://commons.wikimedia.org/w/index.php?curid=24297694
3. Sit on a Bench That Was Eaten by a Tree
Behind the King's Inns law school on Dublin's north side, a plane tree is slowly swallowing a park bench. Known fondly by locals as the 'Hungry Tree', the London plane is an 80-year-old tree that has been enveloping an adjacent bench for decades.
Images of the pair from the 1980s depict significantly more of the bench, so this is one worth seeing before it disappears altogether.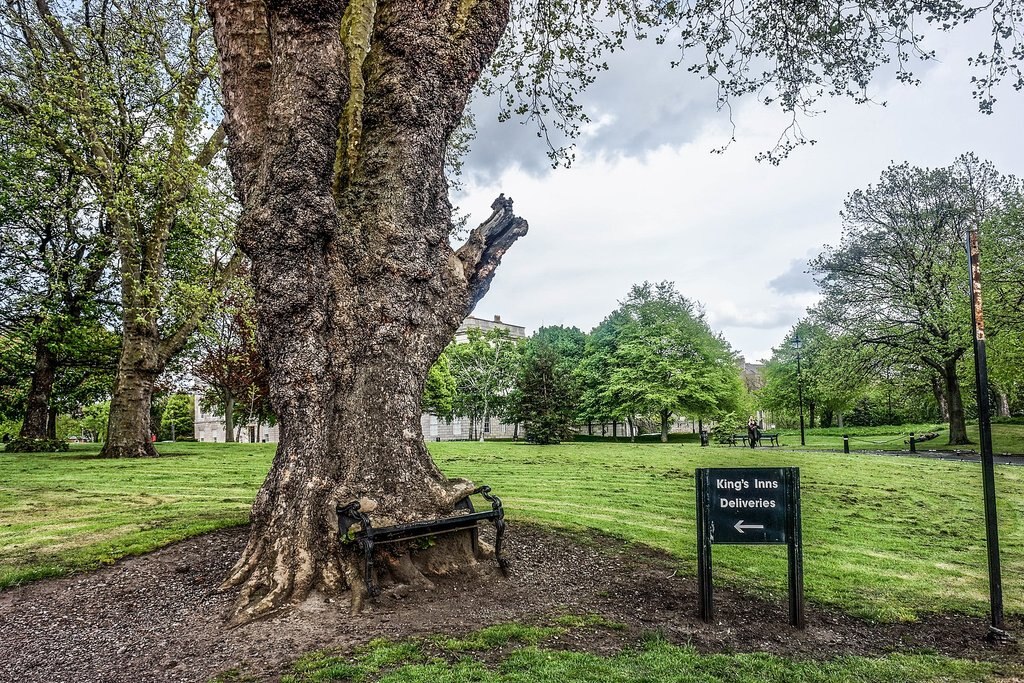 By William Murphy - https://www.flickr.com/photos/infomatique/17565181402, CC BY-SA 2.0, https://commons.wikimedia.org/w/index.php?curid=448071094. Explore the Haunted Remains of an Old Hunting Club
Making a bid for Ireland's scariest attraction is the former hunting club, the Hellfire Club. The site has long been believed to be haunted, starting when its roof mysteriously collapsed during a storm.
Stories of hauntings, visits by the devil himself and ill deeds done by a group of young men inside its premises leave an air of mystery and paranoia around it. The ruins, atop Montpelier Hill in the Dublin Mountains, are open to visitors who dare pay a visit.
5. Have a Pint in Dublin's Smallest Pub
Most visitors are keen to explore Dublin traditional line-up of pubs: think 'the oldest', 'the best for a pint of Guinness', 'the best live music' and so on. But there's another superlative pub to be found hidden in plain sight.
Self-proclaimed as 'Dublin's smallest pub', the Dawson Lounge is a tiny basement bar with a handful of seats, a decent pint and a firmly mid-century aesthetic that marks it out from other Dublin pubs.
6. Admire Napoleon's Silver Toothbrush
How is it that the toothbrush of one of France's most famous leaders is on display on Kildare Street in Dublin? Well, Napoleon's doctor at the end of his life was the Irish physician Barry Edward O'Meara, who developed a friendship with the self-proclaimed 'first emperor of France'.
As a token of his appreciation and affection, Napoleon gifted O'Meara his silver gilt toothbrush and a collection of snuffboxes (Napoleon had less by way of excess on the island of Saint Helena). Today these are on display in the corridor at the Royal College of Physicians of Ireland.
7. Visit the Mummies at St Michan's Church
Another well-preserved oddity are the mummified remains located in the crypt at St Michan's Church - the first and, for many years, only church on Dublin's north side.
While St Michan's, founded in 1095, is an interesting historical sight in its own right, the mummified remains of influential Irish families in the vaults below, as well as the death mask of revolutionary Wolfe Tone, are the real draw.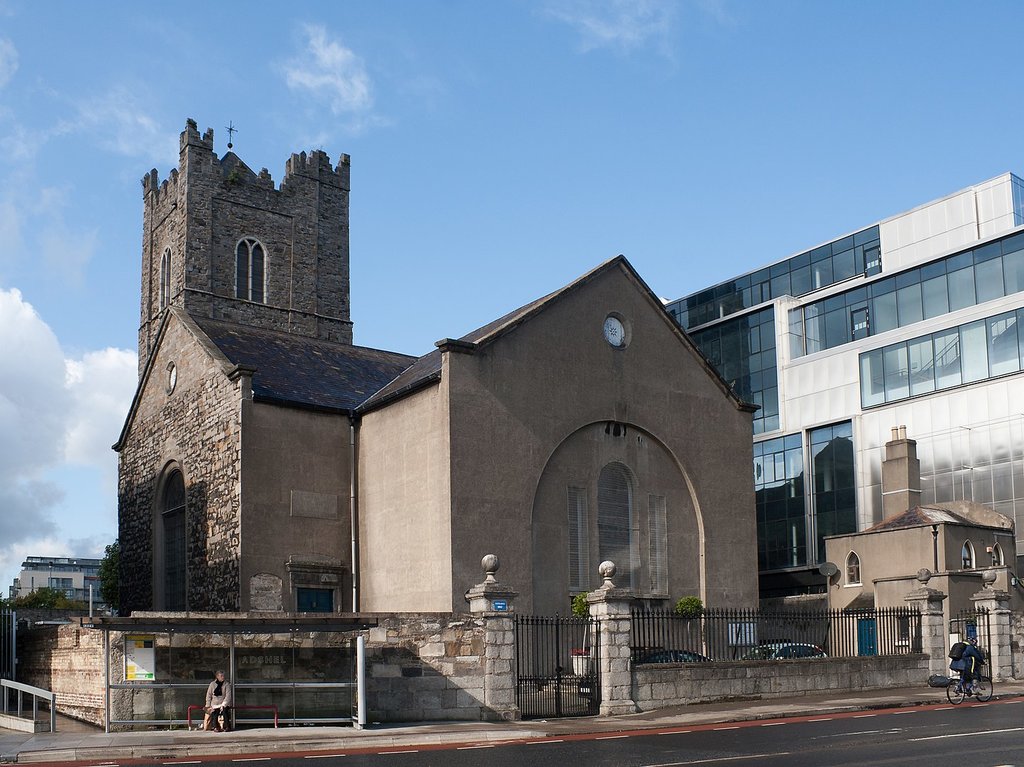 St. Michan's Church as seen from Church Street - By Andreas F. Borchert, CC BY-SA 4.0, https://commons.wikimedia.org/w/index.php?curid=252632038. Head to the Resting Place of St Valentine
Lurking inside the Whitefriar Street Church are the remains of the world's most famous romantic: St Valentine. The remains were brought to Ireland from Rome the Carmelite preacher John Spratt, who received them as a 'gift' from Pope Gregory XVI. The shrine is an understandably popular place for couples, especially on February 14.
9. Catch a Live Gig in a Barbershop
Dublin's quirkiest live music venue is a small barbershop called Abner Browns on Rathgar Road. The barbershop was given a new lease on life a few years ago, when the owner channelled his love of music into hosting live gigs here. And yes, you can still get a haircut at the barbers. It has, somewhat, stayed true to its roots.
Find somewhere to stay by checking out our hotels in Dublin.
Photo Credits
Cover pic: Sunrise in 40 foot - Dublin, Ireland - Seascape photography by Giuseppe Milo - CC BY 2.0 (https://creativecommons.org/licenses/by/2.0/) - https://www.flickr.com/photos/giuseppemilo/39176985975