From its beaches and underwater diving sites to its romantic restaurants and fascinating historic sites, there's something for everyone in Santorini, If you want to get out into nature on your trip and take in the views on foot, here are 6 great walks on Santorini.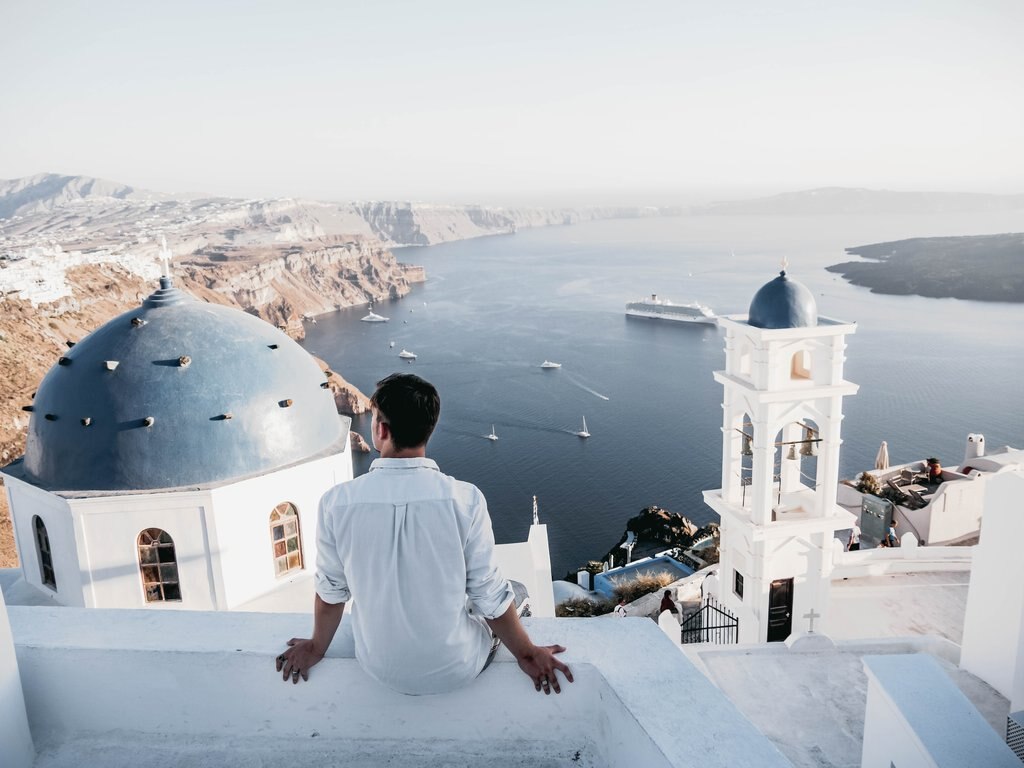 1. Santorini Caldera
The volcanic caldera is one of the highlights of a trip to Santorini. During a walking tour, you can see the views of the edge of the caldera and picturesque white villages perched on the cliffs. The caldera hike takes 5 hours and passes some of the best vista points on the island. The hike is suitable for all skill levels and doesn't require specialized equipment, but it's always good to bring water, hiking boots, sunscreen and a hat to protect yourself. The hike traverses both dirt and cobblestone paths, which can be slippery when wet.
2. Fira to Imerovigli to Oia
The Fira to Imerovigli to Oia path is one of the most popular hikes in Santorini. It begins in the main square in Fira and travels the rim of the caldera cliffs, passing through charming villages. There are options to walk the length of the path both ways or take a bus from Oia to get back to Fira. This hike is just over 11 kilometres in length and travels at both lower and higher elevations and grades, which may be challenging for inexperienced hikers. The trail is moderate, however, and takes nearly 4 hours to complete one way. You can find a detailed itinerary and map here.
3. Pyrgos Village to Prophet Elias Monastery
If you're looking for a relaxing hike that's ideal for all skill levels, the Pyrgos Village to Prophet Elias Monastery is perfect. This trail takes you on a cobblestone pathway to the highest point on the island, the Monastery of Prophet Elias, for panoramic views of the entire island. The monastery is beautiful as well and provides a good spot for a quick break and snacks before hiking back. At just under 2 kilometres, the hike is suitable for leisurely hikers and takes about an hour to complete. It does have a slow increase in elevation over the distance, which may be challenging for some people. Here is a map of the trail.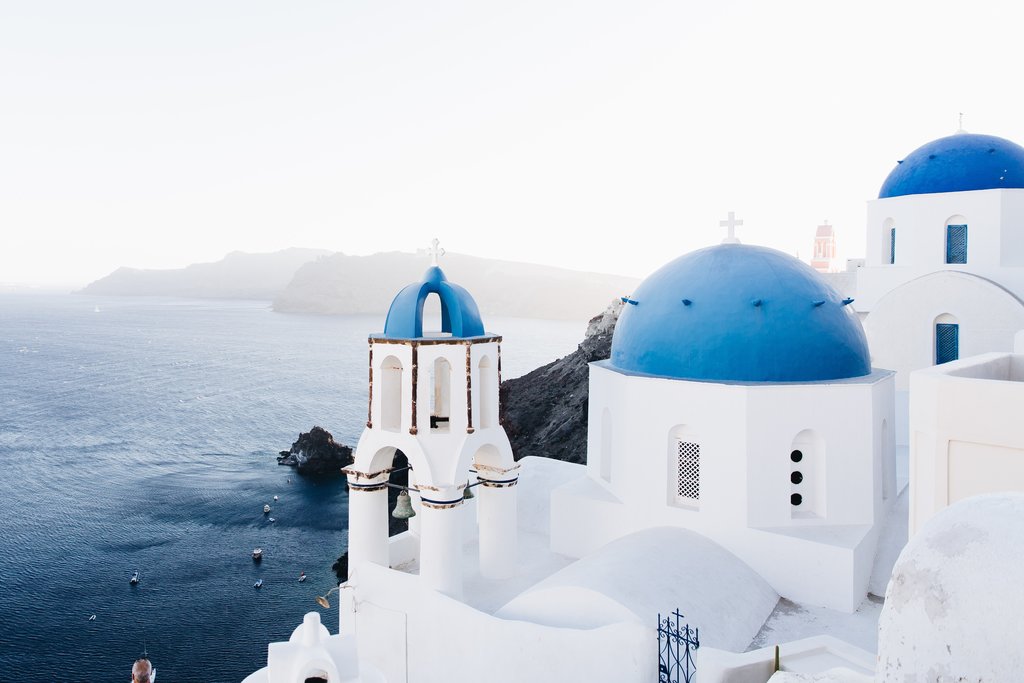 4. Pyrgos Village to Prophet Elias Monastery to Ancient Thira
If you continue on the path from Prophet Elias Monastery, you can reach the mythical ruin site of Ancient Thera. Located 360 metres above sea level, Ancient Thira is believed to have been inhabited from 9th century BC to 726 AD. It's not only beautiful on its own, but it also offers stunning views of the sea. The hike is just over 4 kilometres from the starting point in Pyrgos Village and suitable for most hikers. Over the distance of the travel, the elevation slowly climbs, which can be challenging for some people.
5. Fira to Nea Kameni
The Fira to Nea Kameni hike involves some of the best sights in all of Santorini, such as the dramatic volcano, picturesque coastal views, hot springs and sailboats in the distance. The hike begins at Fira and travels to the Old Port, a charming town near the water. From there, you can take a boat tour across the caldera to the Nea Kameni volcano and hike to its summit. The hike up the volcano is challenging and takes some time, but it's a small trade-off to experience this natural wonder. When you come down from the volcano, you circle around to soak in the thermal hot springs at Palia Kameni before heading back to Fira. This hike is meant for reasonably fit people, but the option to hop on a cable car or donkey for parts of the hike makes it easier for most people. The path can get rocky and uneven, so it's important to wear comfortable, non-slip footwear to stay safe. You can find a map and itinerary here.
6. Thirasia
If you're looking for a quieter experience, you can take a ferry from Oia to Thirasia, a nearly deserted island neighbour to Santorini. Once you arrive on the island, you'll find plenty of places to explore, but there's a regular walking path that you can take to the top of a hill on the island. Once you reach the top, you'll have stunning views of Santorini across the Caldera. The hike on Thirasia is short and appropriate for all skill levels, but be sure to pack adequate water and snacks, since you won't find many shops and restaurants on the island. You can find a map and itinerary here.
Plan your retreat
Whether you want to explore all the walking trails on Santorini or you just want to get out into nature a bit, hiking around the island gives you an unrivalled perspective on its beauty, history and culture. If you're planning a trip, visit Expedia to check out Santorini holidays and get great deals on your travel!