By Expedia Team, on January 31, 2020
All About the Easter Markets in Prague
"To welcome in spring each Easter, Prague celebrates with two huge markets. Huts decorated with colourful ribbons take over the Old Town Square and Wenceslas Square, selling food and handicrafts, while a programme of entertainment keeps locals and tourists entertained. Visit the Czech capital to feast on mazance (delicious sweet bread) and pick up traditional souvenirs like willow whips. Here's our guide to what to taste, see and buy at Prague's famous Easter markets.
Where to Go
———–
The two main Easter markets are held in the Old Town Square and Wenceslas Square. The Old Town Square is located in the city's historic Old Town Quarter and dominated by the church of St Nicholas, Kinský Palace and the Jan Hus monument. While you're snapping shots of the colourful seasonal scenery, be sure to look up and take in the architecture too.
Wenceslas Square is just a five-minute walk away in Prague's New Town. Less of a square, it's more of a long street market surrounded by boutique hotels and eateries. Head down a side street to find a local bar or restaurant that's sure to satisfy.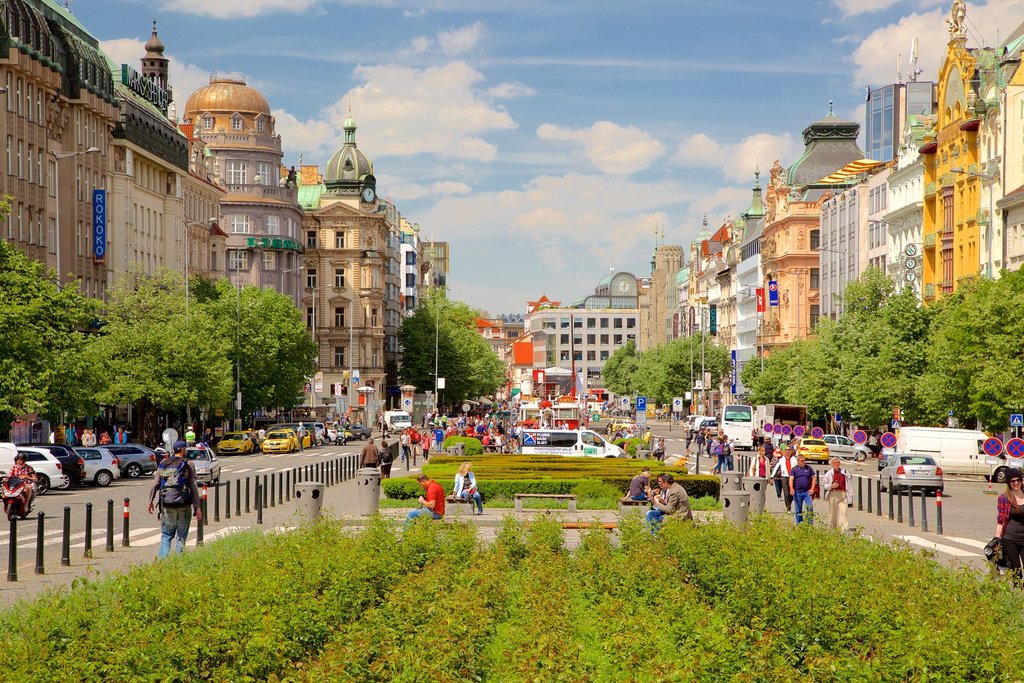 _Wenceslas Square – Credit: Imagebox/TM_What to Buy
———–
The Easter markets are a great place to buy traditional Czech handicrafts, right from the craftsmen and craftswomen themselves. Among the stalls, you'll spot rows of intricately hand-painted eggs (kraslice), which men would traditionally give to women during courting. Look out for women in folk costume painting names and messages on the eggs – they make for a special keepsake.
Another traditional Easter souvenir you're sure to spot is pomlázkas. These braided willow whips were used by men to playfully tap women as a wish of good health. In return, the men would receive brandy or chocolate eggs.
As well as painted eggs and whips, you can find all sorts of other crafts among the stalls. Browse huts selling glassware, jewellery and ceramics, and meet the artists behind the creations. Another must-buy souvenir while in Prague is embroidered lace and fabric. Often seen adorning traditional aprons, Czech embroidery incorporates brightly coloured flowers and folk scenes.
What to Eat
———–
It's impossible to walk away from Prague's Easter markets feeling hungry. There's no better place to try a handful of local delicacies at once. Walk through the stalls and sample seasoned skewered meats, grilled sausage, homemade cheese and sweet gingerbreads. Bucket list bites for the Easter season include beránek, an iced cake in the shape of a lamb; nádivka, a bread stuffing; and trdelník, a chimney style pastry covered in cinnamon sugar. While you're in Prague be sure to try mazanec (sweet milk bread) too.
What to See
———–
It's not all about the food and gifts, there's a full programme of entertainment throughout April at the Old Town Square Market too. A stage is set up for local clubs and schools to perform folk dances and music between 4pm and 7pm each day. Children can pet spring animals in the farm yard petting pen and join in craft workshops to paint eggs and other Easter decorations.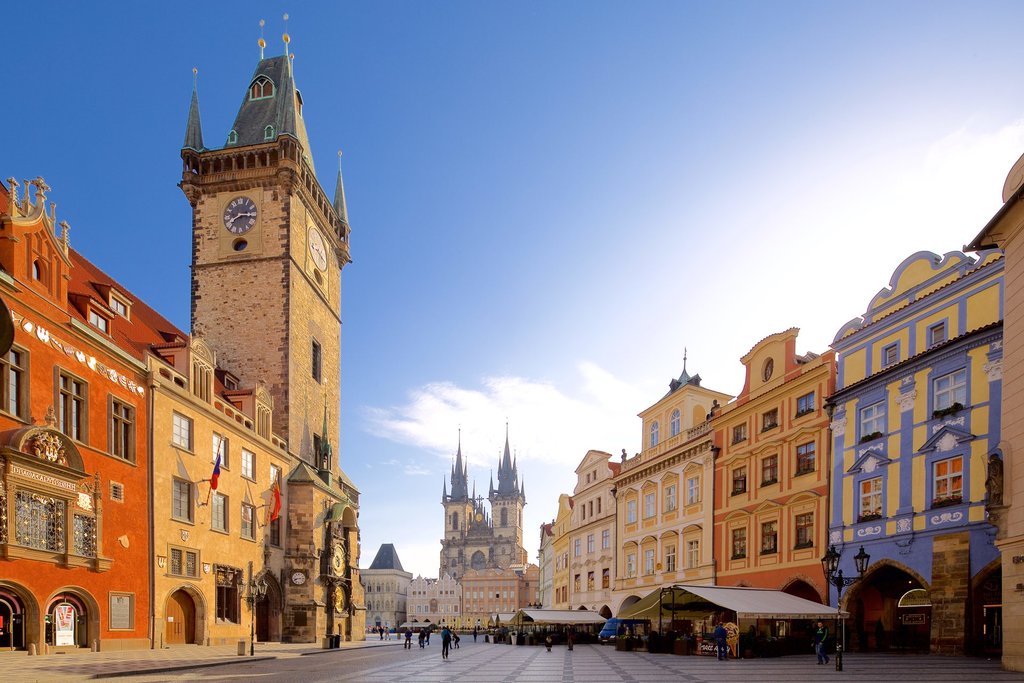 _Old Town Hall Tower – Credit: Imagebox/TM_Getting to the Markets
———————-
### Old Town Square
To get to the Old Town Square market, take the metro to Flora, a 12-minute walk away or tram number 5 to Malostranská.
### Wenceslas Square
To get to Wenceslas Square, take the metro to stop Muzeum or Mustek, or the tram to stop Václavské náměstí.
When to Visit the Markets
————————-
The Old Town Square and Wenceslas Square markets are open from 28 March to 19 April 2020. Stalls selling food and crafts stay open between 10am and midnight, while entertainment stages programme events between 4pm and 7pm each evening. The markets stay open throughout Easter weekend and the holy days.
Other Easter Markets in Prague
——————————
As well as the two official Easter markets in Prague's main squares, you'll find plenty of smaller ones dotted around as the city welcomes in the warmer seasons. Head to St George's Square, right in front of Prague Castle, to see yarn spinning and actors dressed in folk costume performing traditional dances. In Peace Square, another Easter market runs workshops for egg painting and crafting too.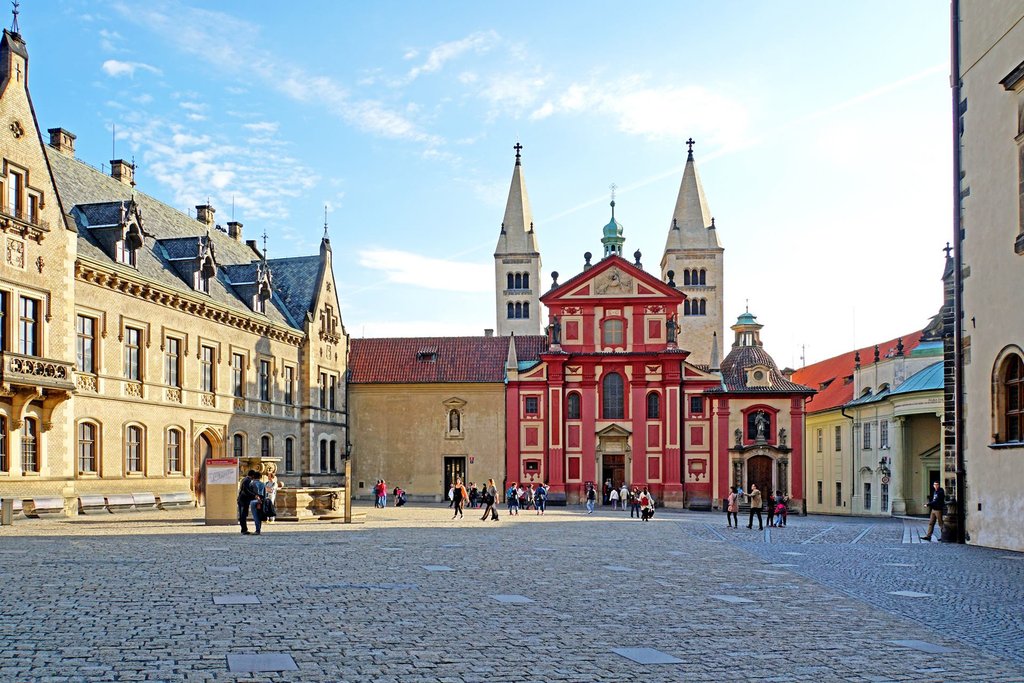 Czech-03808 – St. George's Basilica – By Dennis Jarvis – CC BY-SA 2.0 (https://creativecommons.org/licenses/by-sa/2.0/)- https://www.flickr.com/photos/archer10/33020214885### Plan Your Easter Break
Fill up on sweet treats and traditional entertainment with a stay in the City of a Hundred Spires and find Prague hotels with Expedia.
#### Photo Credits
Cover pic: Old Town Bridge Tower – Credit: Imagebox/TM"
More Articles With City break