Moscow is experiencing a food and restaurant revolution. It is hard to walk around the city and not come across an elegant and reconverted XIX century palace where it´s possible to taste the best delicatessen in town. For those looking for a luxury food experience that lets them travel into the past and feel like a Russian Tzar, here is a top selection of must-visit venues.
1.Yeliseyevsky Gastronom: The Sistine Chapel of foodies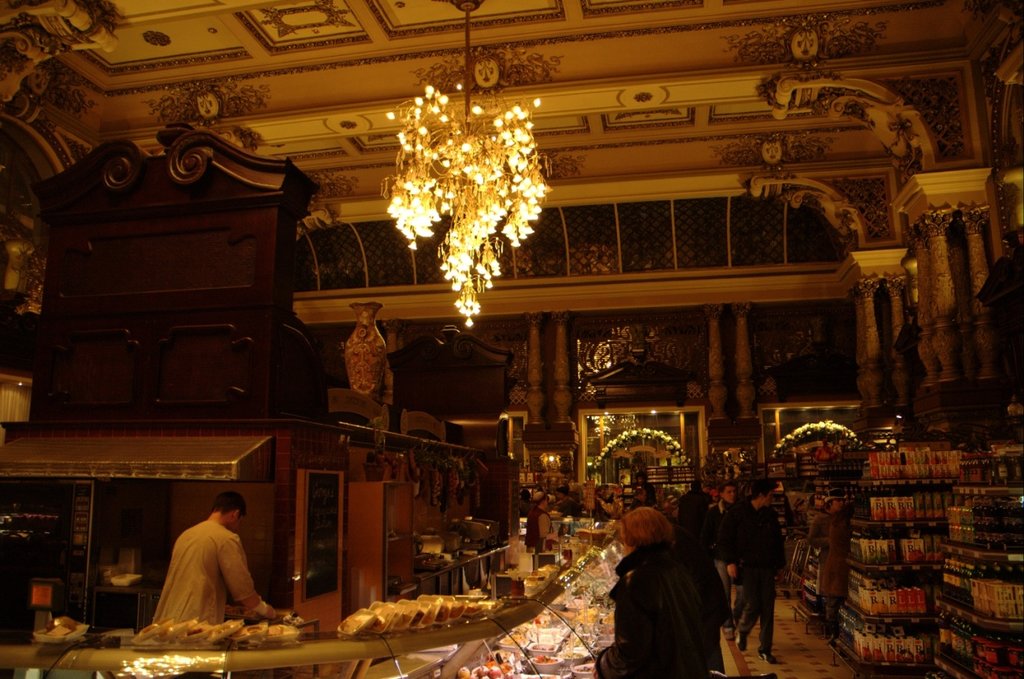 Image: Superstore at Tverskaya ulitsa I by Honza Soukup via Flickr
We could say it's similar to a religious temple, something like The Sistine Chapel for foodies. Its architecture and its enormous decorated roofs make it an artwork more than a food store. It´s almost impossible not to find a specific product at Yeliseyevsky Gastronom, the most exquisite superstore in Russia (only the branch in Saint-Pétersbourg competes with it), as here you can find the best Iberian ham and of course, the best selection of vodka available on Earth. Yeliseyevsky Gastronom opened its doors at the beginning of the XX century and it was during the Revolution when its name changed to Gatronom No 1, however people kept using its previous name which was related to its founder.
Tverskaya Ulitsa 14
2.Turandot: The most luxury restaurant in town
In the heart of Tverskoy boulevard visitors can visit Turandot, another important stop for anyone looking for an exquisite Russian food experience. Turandot has capacity for 500 diners and its baroque décor encourages visitors to travel to the Russia of the Tsars. The care of the detail plays a key factor here: Interior gardens, carpets and paintings accompany the elegant staff who wear period costumes and serve the tables whilst the classical music is playing. At Turandot it is difficult to believe that you are in a restaurant and not in a History museum- However this is put back in perspective with some of the delicious delicatessen on offer such as Chilean sea bass, fried ostrich and roast lamb. Top tip: If you fancy a dinner here, you better forget about the price.
Tverskoy boulevar, 26/5
3.Cafe Pushkin: A museum restaurant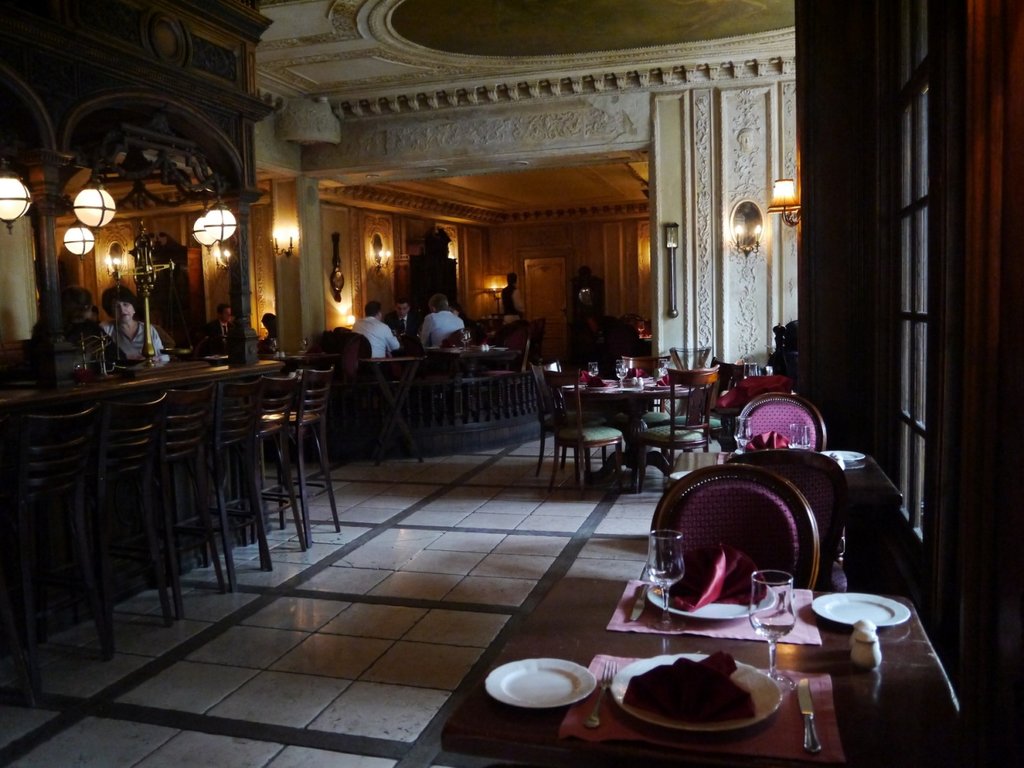 _Image: Cafe Pushkin bye-chayavia Flickr_
It opened its doors fifteen years ago and today we can say that travelers here can live the most esthetic food experience in Moscow. Cafe Pushkin has three sections: the patisserie on the ground floor on the right side, where it´s possible to taste the strong coffee, or even better, a cup of tea as well as the homemade biscuits. The restaurant in itself occupies two floors. The one on the ground floor offers more affordable prices and it´s open 24 hours, whereas the one on the first floor will definitely encourage you to travel into the past. This is possible thanks to its ancient library based in the middle of the floor where visitors can leaf through books from the XIX century as well as listening to the relaxing sounds of the harp.
Tverskoy bulevar, 26a
4.Dorogomilovsky market: Russian chefs´ favourite temple
There are not many touristic attractions on the West side of Moscow; however there is a stop not to miss by food lovers: Dorogomilovsky market. Here visitors will find some of the products used by the most famous chefs in the country- this market is also frequented by people from Russia's high society accompanied by escorts. This place is a real colourful puzzle where it seems that all the products are organised by chromatic code. But if there is an activity here that differentiates this market from any other that you have visited before that´s the art of looking for the best caviar- Here there is a wide variation of types but not many from abroad. Last but not least, remember that they may charge foreign people more than the locals.
ul Mozhaysky val 10
5.Stalobaya 57: Traditional cuisine in the Red Square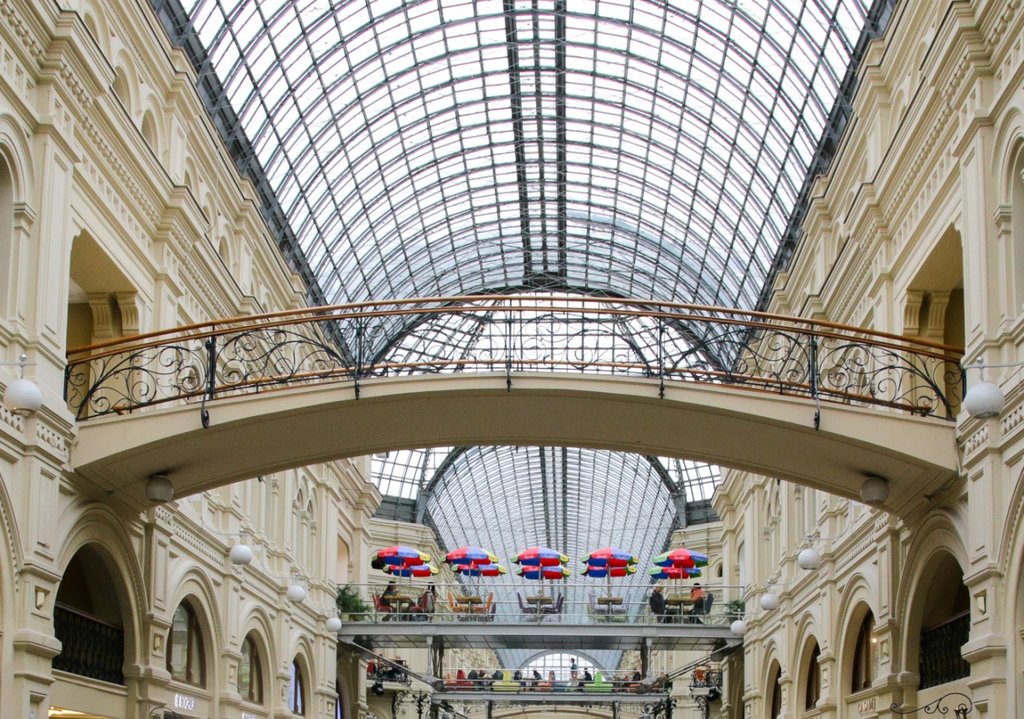 Image: GUM by Martin de Lusenetvia Flickr
All roads lead to GUM, an exclusive shopping centre based in the heart of the Red Square. Here it's possible to visit Stalobaya 57, a restaurant whose best secret is the tradition. This venue has been designed as it if were a post-Stalin Russian café from the 40s and 50s and it offers a menu focused on the traditional Sovietic cuisine (prices are affordable). Stalobaya 57 is definitely a must-visit venue after an exhausting tourism day around the Russian capital.
Red Square, 3
Are you ready to experience the Russian food revolution?