Whether you want to call it autumn or fall, it's one of the best times to visit the Big Apple if you're keen to enjoy cosy seasonal activities or get involved in some of the city's most iconic events. Here's a handful of great things to do in New York in autumn 2019.
See the Leaves Falling in Central Park
There's no better way to welcome the autumn season than wrapping up in a thick woolly jumper and crunching your way through yellow and orange leaves in a pretty park. New York is full of great outdoor spaces, but sprawling Central Park is the obvious pick. Hop off the subway at Columbus Circle and stroll leisurely up the park's tree-lined Mall towards Bethesda Fountain. If you're staying in Brooklyn, consider leafy Prospect Park instead.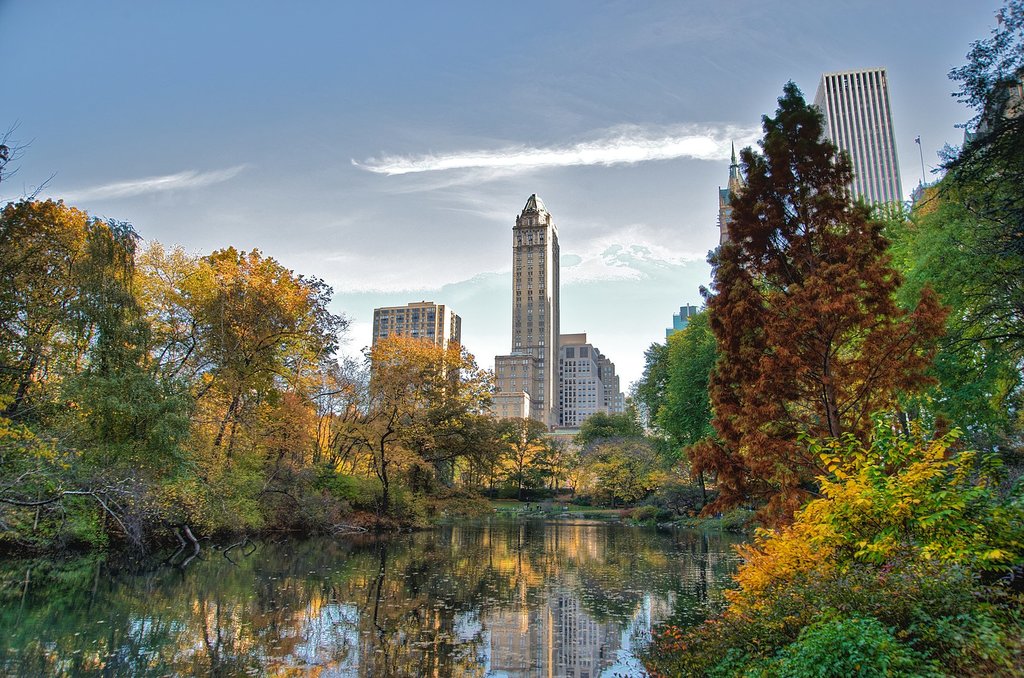 Di Ed Yourdon from New York City, USA - Central Park foliage photo-walk, Nov 2009 - 10Uploaded by Ekabhishek, CC BY-SA 2.0, https://commons.wikimedia.org/w/index.php?curid=9785576
Get a Caffeine Kick at New York Coffee Festival
Get on board with the city's obsession for caffeinated beverages at the New York Coffee Festival. It takes place each year over the second weekend of October, with dozens of artisan roasters from across the city converging on the Metropolitan Pavilion in Chelsea to impress ticketholders with not just coffee but coffee-flavoured and -inspired everything.
Admission: $30 standard ticket, $55 VIP
Dress to Impress for the Village Halloween Parade
If you're a fan of all things ghoulish (or you simply can't resist an excuse to play dress-up), don't miss the Village Halloween Parade. Join over 50,000 people disguised as ghosts, zombies and witches as they descend on the streets of Manhattan or watch the terrifying(?) spectacle from the safety of the pavement.
When: 31 October, 7pm-10:30pm
Try Tasty Seasonal Cuisine at NYC Autumn Wine and Food Festival
The NYC Autumn Wine and Food Festival is easily one of the most anticipated events on the city's culinary calendar. Choose from 100 varieties of wine produced at vineyards from across the country and sample mouth-watering charcuterie, cheeses and sweet treats sourced in New York State. Tickets start at $85.
When: 19 October
Where: Altman Building, Chelsea
Cheer on Competitors in the New York Marathon
Stand on the side lines of this epic marathon, which winds its way through all five of New York City's boroughs. It's typically held on the first Sunday in November, and sees upwards of 90,000 runners speed past some of the city's best-known sites.
When: 3 November, 8:30am onwards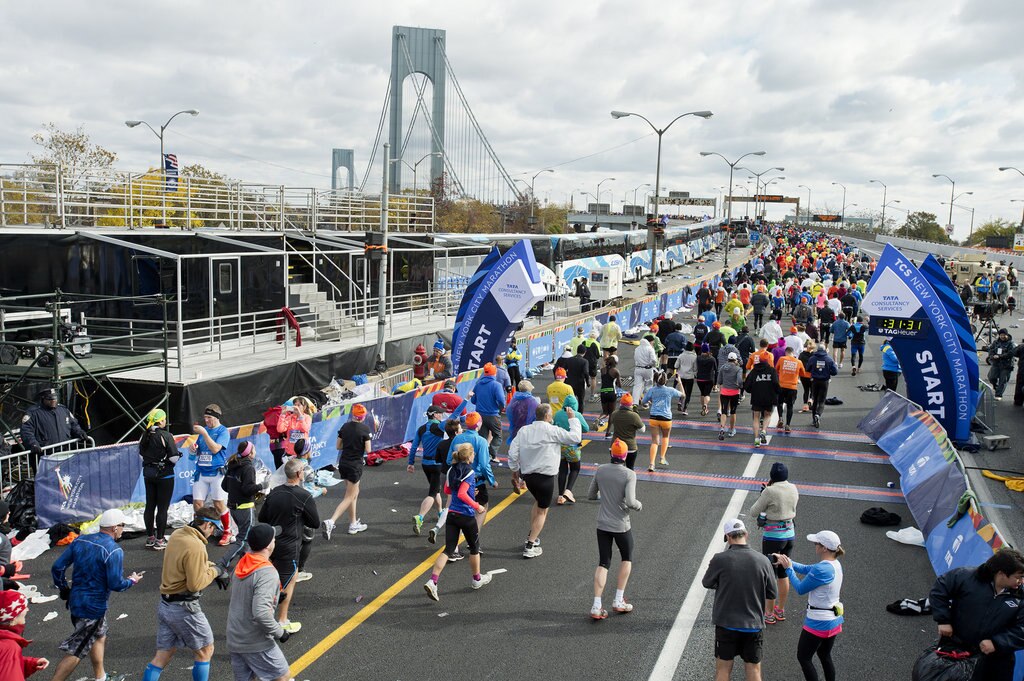 Di Metropolitan Transportation Authority of the State of New York - New York City Marathon 2014, CC BY 2.0, https://commons.wikimedia.org/w/index.php?curid=39511282### Enjoy an autumnal drink during Cider Week
If you've not got time for a day trip to the Hudson Valley for apple picking, the next best thing is New York Cider Week. You'll find the seasonal tipple being served up at participating bars and restaurants across the city, in addition to tastings and tours at trendy spots like the Brooklyn Cider House.
When: 8-17 November
Have a Laugh at the New York Comedy Festival
In addition to some of the funniest folk from the five boroughs, the New York Comedy Festival during the second week of November always features dozens of internationally-renowned comedians on its line-up. Laugh 'til you cry at hilarious performances held at venues all over the city.
Tickets: $30+
Shop for Seasonal Treats at a Local Farmer's Markets
New York is littered with fantastic farmer's markets where you can buy all manner of locally grown goodies. As autumn is both harvest season and Halloween, expect stalls from Union Square to Tribeca to be stocked with giant pumpkins and numerous varieties of apples.
Catch a Basketball Game
Autumn marks the start of basketball season in the USA, making it an ideal time for any sports fanatics to book their trip. Nab tickets to a Giants game or cheer on the Knicks from the bleachers at Madison Square Garden.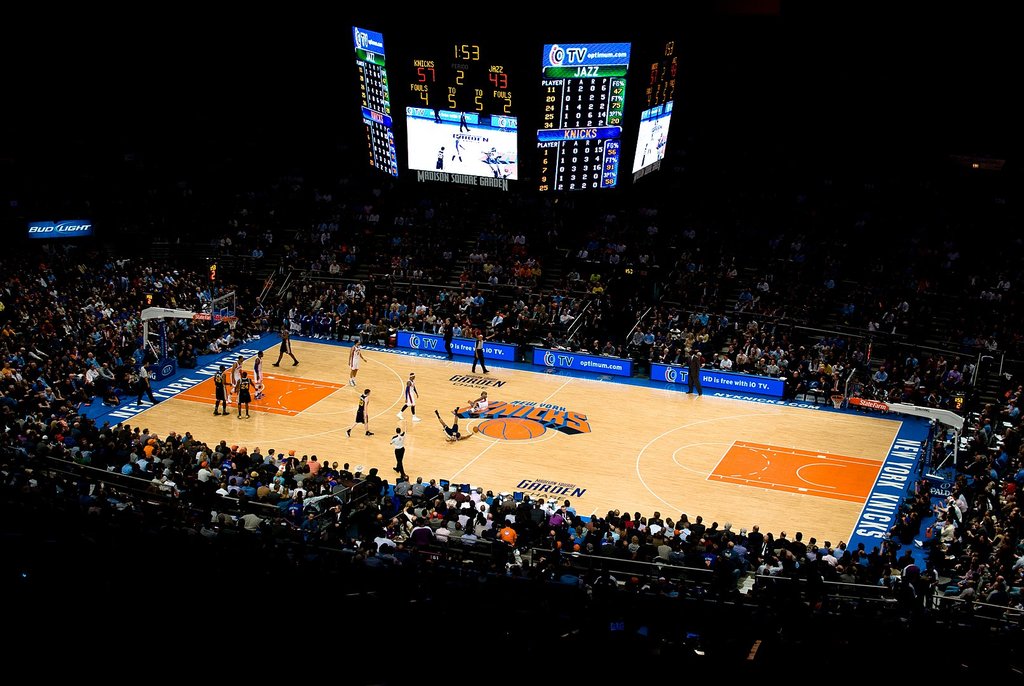 By Jean-Baptiste Bellet from Toulouse, France - New-York Knicks in the Madison Square Garden, CC BY 2.0, https://commons.wikimedia.org/w/index.php?curid=64532062### Nose around during Open House New York
NYC is dotted with cutting-edge structures and unassuming buildings with fascinating pasts, many of which only welcome visitors during Open House weekend. The annual event allows budding historians and admirers of unusual architecture to access over 200 restricted sites for tours and talks hosted by the city's top creative minds.
When: 18-20 October
Get in the Spirit at New York's Thanksgiving Day Parade
The Macy's Thanksgiving Day Parade is a must-see if you happen to be in NYC at the tail end of November. The event first began in 1924 and is now one of the largest parades in the world, with giant balloons, enthusiastic performers and even a celebrity or two marching their way from Central Park to Macy's flagship store on Herald Square.
When: 28 November, 9am-12am