To some, 'pub food' is a term of derision - a label of unrefined, boring cuisine. We couldn't disagree more. Great pub grub is unfussy, yes, but the very best examples are hearty, comforting, and downright delicious in their unpretentious glory. And contrary to what most in the UK might think, pub grub is definitely not a uniquely British institution. There are great pub grub classics around the world, largely due to the English-speaking diaspora. From great British boozers to traditional hotels down under, here's our guide to the world's best pub dishes and where to try them.
The ploughman's
Not traditional? Pah! It's been around for a good 50 years, and that's enough for us. It's well established that the ploughman's isn't the historic tradition it claimed to be, but was, instead, cooked up by the Cheese Bureau. No matter - what's not to love about a big plate of delicious bread, cheese and ham in a proper country pub? The deal-breaker is high-quality, local cheese and these days some kind of artisanal bread doesn't go amiss.
Get stuck in: Thanks to the county's dairy industry, Cornwall is particularly reliable for a great ploughman's, and it's worth seeking one out on a trip there. A stay at the White Hart Hotel in St Austell places you well for a good cluster of pubs, while the Metropole Hotel puts you in food capital Padstow.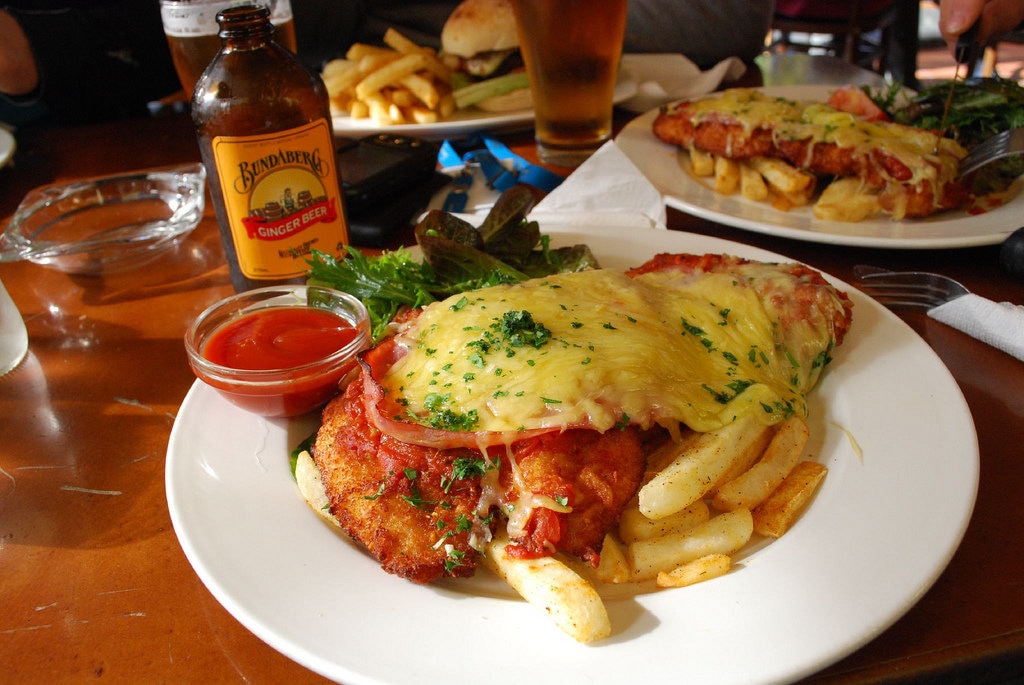 Chicken parma
The perfect example of how Australia took the pub grub paradigm and made it its own. Little-known in the UK (it's not the same as the chicken parmo popular around the Northeast), the chicken parmigiana is a great Aussie institution and the subject of many a blog, debate, and food challenge. Usually called a parma, or sometimes parmi, for short, it starts out as a simple chicken schnitzel, but is taken to new antipodean heights of hearty pub grub deliciousness with a topping of tomato sauce, ham and melted cheese.
Get stuck in: Australia's best parma is a source of debate so fierce we're not even going to touch it. But there's less competition for the title of biggest - Irish Murphy's in Geelong has a 1.2kg parma challenge called the Godfather. As well as giant pub classics, Geelong is a popular jumping-off point for the Great Ocean Road, so the challenge makes a fun (and filling) start to a road trip. Aberdeen Motor Inn is a few doors down if you're staying in town, and theNovotel Geelong has a lovely waterfront location overlooking the city's beach.
Just about any pie
Take your pick: steak and ale, chicken and bacon - we'll even countenance broccoli and stilton. It's all good. It seems like everyone loves a good pie, but the proper pub version is curiously absent from most other cuisines around the world.
Get stuck in: It's hard to be a good old London boozer for a pie. If you're visiting the capital, you can't beat award-winning pies of the Windmill in Mayfair, just up the road from the Westbury. The meat pie floater, on the other hand, is one of Australia's most maligned dishes, but Adelaide's King's Head pub does updated gourmet versions; give them a go if you're planning a trip to South Australia. You can stay in another local pub at the Hotel Metropolitan a short walk away.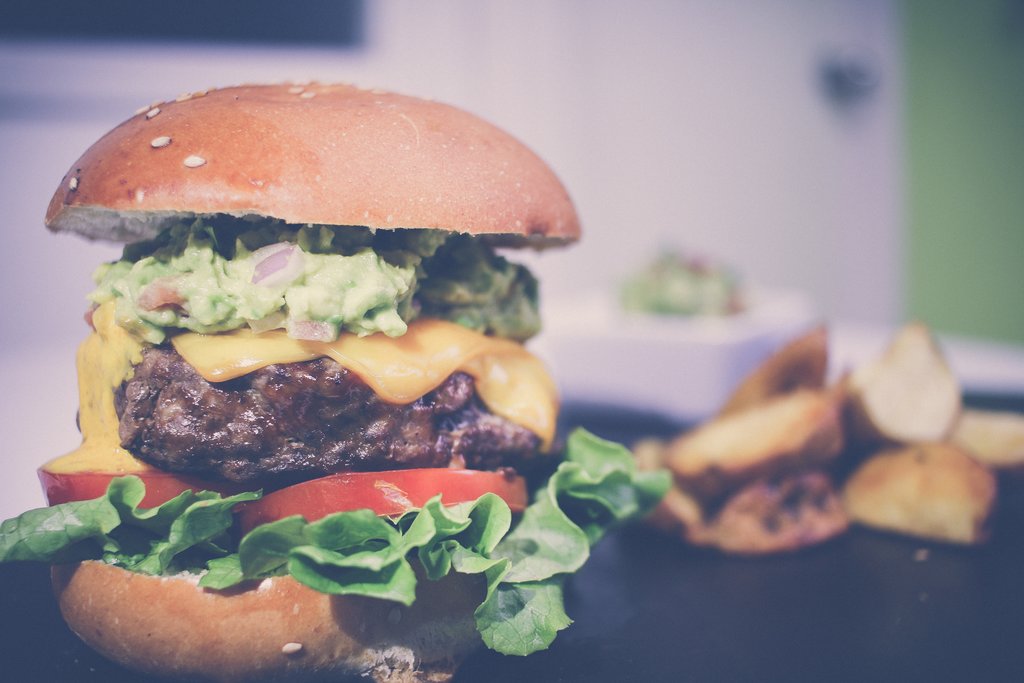 The completely unmanageable burger
There are as many kinds of burger as there are beers to be soaked up, and the pub burger is a distinct animal, as different from its fast-food-chain and upmarket hipster cousins as a fizzy continental lager is from a rich, complex porter. Unlike the quicker-cooking, thin patties of a burger joint, a proper pub burger is a super-sized monster that must be held together by a wooden kebab skewer, with a patty at least 2in thick and a minimum of three totally unnecessary toppings (including an onion ring in the UK; beetroot and egg are essential in Australia). If you can get your jaws around it, it's not a real pub burger.
Get stuck in: The definitive pub burger is the Bogan Burger of the Napier Hotel in Melbourne. The pub is in the too-cool Fitzroy neighbourhood, which is one of the best places to stay in Melbourne for eating and drinking. Melbourne Metropole Central hotel is a couple of blocks away, while Best Western Melbourne's Princes Park Motor Inn also puts you within easy reach of Sydney Road's many excellent pubs.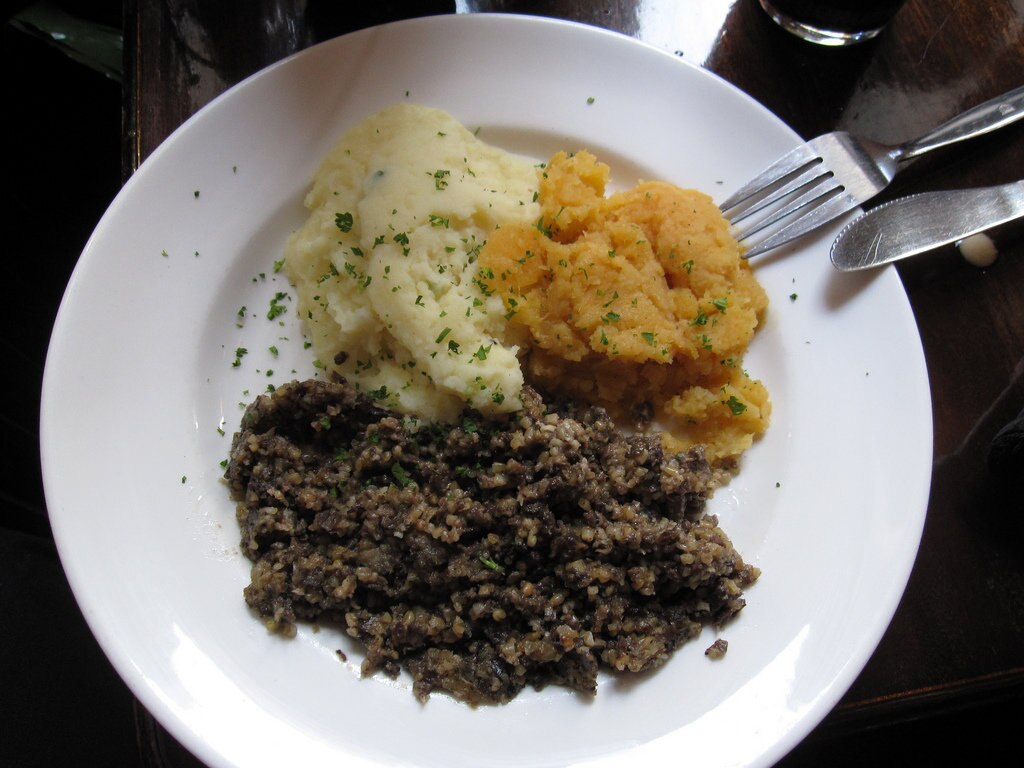 Haggis, neeps and tatties
An exclusively Scottish one, but a true pub classic. You can't help feeling a bit of a tourist when you order it in a pub north of the border, but it sure is worth it. To clear up any confusion: bashed neeps are what most southerners call swede, and the Americans call rutabaga - the big, yellowy-skinned root veg, not the little white ones.
Get stuck in: It's a traditional staple, but visitors lap it up too, so your best bet is Edinburgh. On a trip here, a stay somewhere central like Motel One Edinburgh-Royal or the Scotsman surrounds you with the more traditional pubs of the Old Town.
What's your favourite pub grub?