Home to fantastic attractions and winning entertainment, Prague packs awful lot into its cosmopolitan borders. The same is true when it comes to shopping. From modern malls and festive markets to bohemian boutiques and everything else in-between, the city positively run the gamut. And you can bag yourself everything from avant-garde works of art to communist-era antiques. Figure out where to start with our ultimate guide to Prague shopping.
European Fashion
When it comes to fashion, Prague doesn't disappoint, with a range of malls and high streets catering to a wide range of interests. Central Prague's biggest shopping mall is the Palladium Praha Shopping Centre, a five-storey mall with just about every imaginable international brand.
MyNarodni is a multi-level department store conveniently located on Národní. Inside is a range of Czech and international brands, and stores specialising in homeware, accessories and makeup. There are also dining outlets and a Tesco supermarket.
Na Příkopě is a central street that runs off the south end of Wenceslas Square and is lined with high-street shops and Czech fashion brands. These range from familiar names like Zara, H&M and Mango to Czech footwear brand Baťa, as well as local shops selling souvenirs and Bohemian crystal.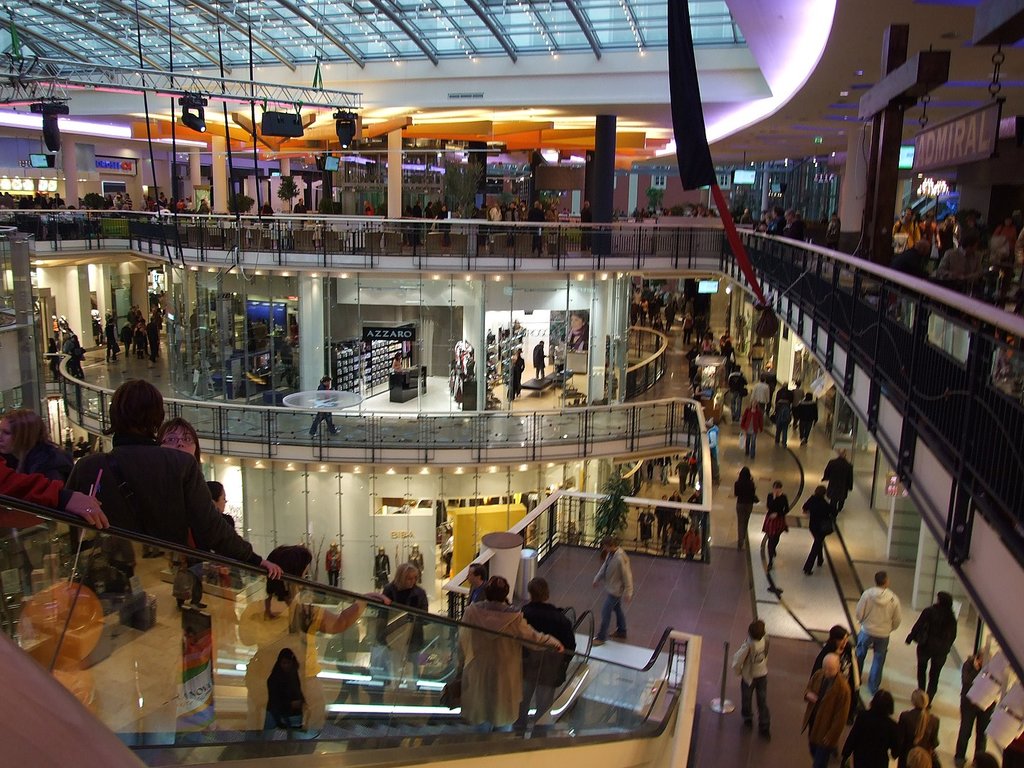 Palladium - CC BY-SA 3.0, https://commons.wikimedia.org/w/index.php?curid=2980215
Markets and Arcades
Prague's many markets and arcades are good places to shop for local items, antiques and produce. There are numerous farmers markets around the city, and almost every neighbourhood has one. Náplavka, Dejvice and Karlín are three big ones, where you can buy everything from homegrown produce and handmade soap to locally produced beer and cider. All are held on Saturday mornings from 8am until mid-afternoon.
At festive times of the year, particularly Christmas and Easter, Prague's main squares are adorned with glittering markets. These are great places to find handmade toys and local gifts, as well as traditional food and drink. The most popular one is held in Old Town Square, but the one at Náměstí Republiky is equally good.
Prague also has a wonderful collection of Art Deco and Art Nouveau arcades. These covered passages are designed in classic 1920-30s architecture, with rows of stores and boutiques inside. Lucerna Passage off Wenceslas Square is among the most famous. Other arcades include Gurmet Pasáž Dlouhá for fine food and wines and Vinohradský Pavilon for contemporary furniture and homeware.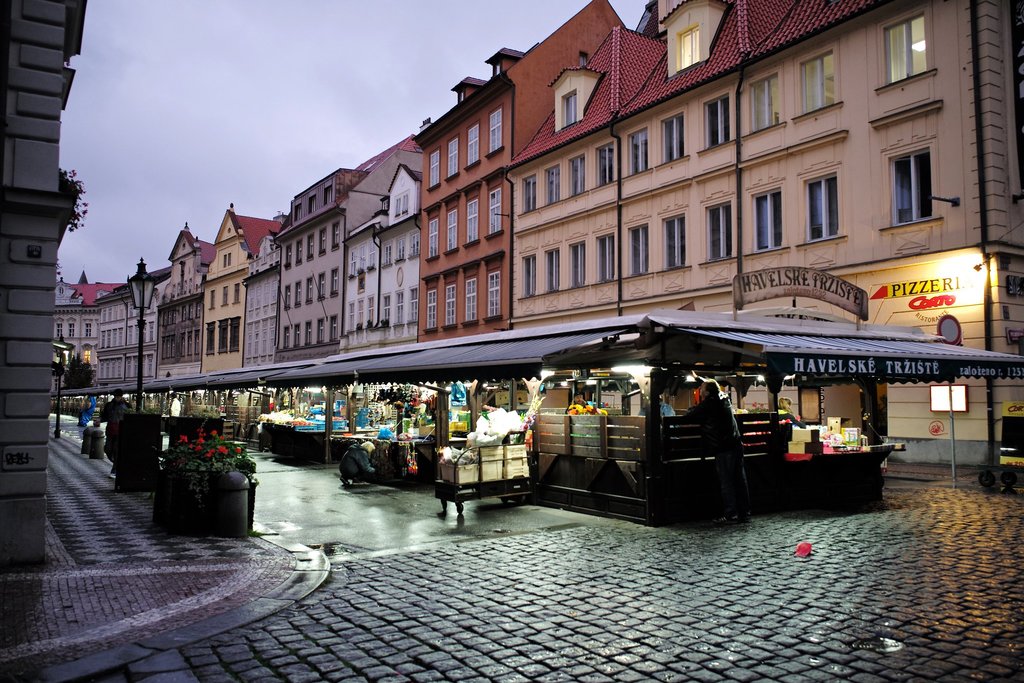 Setting up the Market, Prague: Havelske Trziste - By Roman Boed - CC BY 2.0 (https://creativecommons.org/licenses/by/2.0/) - https://www.flickr.com/photos/romanboed/15592886007Boutiques and Antiques
True bohemian fashion is alive and well in the Czech Republic, and Prague is the best place to find pieces by local designers.
You can check out the rotating collections of two of Prague's most respected fashion designers, Alexandra Pavalová and Ivana Šafránková, in their store TEG1 in Old Town.
Similarly, Leeda is a hip, young brand started by designers Lucie Kutálková and Lucie Trnkov, while Klara Nademlýnská's boutique in Dlouhá 3 has plenty of trendy clothing to choose from.
For accessories, Belda Jewellery, founded in 1922, has high-quality gold and silver jewellery, as well as some Art Nouveau-inspired designs.
There are also lots of antiques shops in Prague. Antikvita and Starožitnosti Robert Pavlů are two to check out.
In addition to typical antique furniture, Prague is a good place to look for communist and Soviet-era homeware and knick-knacks. Bric A Brac in Old Town is a treasure trove where you might need to dig a little, while Antique Ahasver in Malá Strana is great for textiles, folk clothing, jewellery and vases.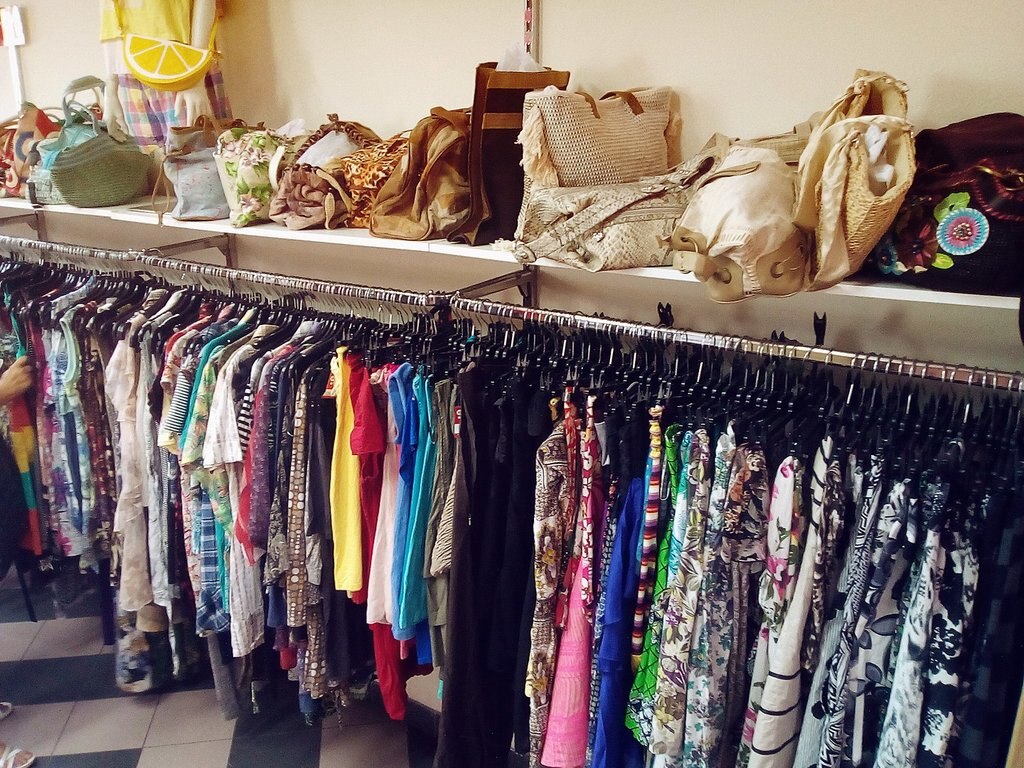 By MAKY.OREL - Own work, CC BY-SA 4.0, https://commons.wikimedia.org/w/index.php?curid=76601145
The Best of the Rest
Czechia has been known for its crystal production for centuries - the classic champagne flute, for example was a Czech design.
There are crystal shops all over Prague selling glassware in varying degrees of quality. For truly top notch bohemian crystal, head to Moser on Na Příkopě, which has been producing crystal in Karlovy Vary since 1857. For a more modern spin on Czech glassware, try Material in Old Town Square, where you can find quirky vases, ornaments and candle holders.
Relive the early 1990s in Prague - a period when the city's literary scene caught it the nickname 'the Left Bank of the 90s' - in two charmingly dusty English-language bookshops: Shakespeare & Sons and the Globe Bookstore & Cafe.
Obchod s Uměním is an art store that specialises in modern art pieces from the first half of the 20th century, particularly Czech surrealism and cubism.
For homeware, Deelive design store stocks a curated selection of minimalist Czech designs, while Modernist has 20th century reproduction homeware ranging from large furnishings to interior design.
And finally, the wooden folk dolls and oddball toys at Houpací Kůň make uniquely Prague gifts or souvenirs.