Lisbon's sights are as diverse and delightful as its famous azulejo tiles, ranging from the historical - think Torre de Belém - to the artistic - think Museu Nacional de Arte Antiga. Keen to experience the best? You're in the right place. Below you'll find our definitive guide. To the Portuguese capital's top attractions.
Castelo de São Jorge
Lisbon's main castle, Castelo de São Jorge, is situated on a hill overlooking the city and the Alfama district. Give yourself an hour or two to visit everything, and don't miss the viewpoints, which are some of the best in Lisbon.
There are also some pretty streets to wander around the outside of the castle walls near Rua de Santa Cruz do Castelo. You can take a guided tour, which is one of the only ways to access the restricted archaeological site. The quietest times to buy tickets are before 10am, over lunchtime and after 3pm.
Admission: €10
Opening hours: 9am-9pm daily (6pm in winter)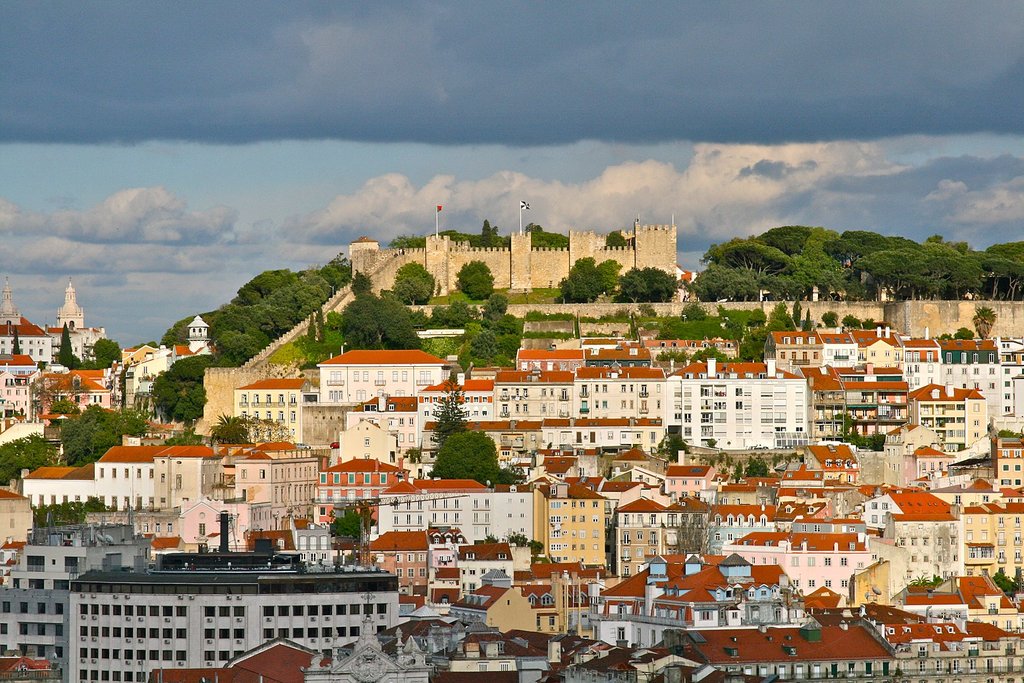 By François Philipp from Darmstadt, Germany - Castelo de São JorgeUploaded by tm, CC BY 2.0, https://commons.wikimedia.org/w/index.php?curid=29124929
Mosteiro dos Jerónimos
One of Lisbon's top attractions, the 16th century, Unesco-listed monastery is an outstanding example of Manueline architecture. You'll want a couple of hours to gaze at the intricate Gothic spires and cloisters inside.
The Jerónimos Monastery is in the west part of Lisbon, not far from the Torre de Belém, which makes for a nice combined half-day outing. The number 15 tram goes here. Combined tickets with the Torre de Belém and onsite Museu Nacional de Arqueologia are €12.
Admission: €10
Opening hours: 10am-5:30pm Tuesday-Sunday (6:30pm in winter)
Torre de Belém
This historical Torre de Belém is one of Lisbon's most iconic attractions and a must-see during your trip to the city. Space is restricted here and it's very popular - meaning it stays extremely busy during the day. The best time to visit is right at opening.
The good news is that you won't need too much time to see the whole thing: 30 minutes to an hour is plenty. Make sure you head all the way to the top, where there is an open-air level with great views. Take the number 15 tram - this works well combined with a visit to nearby Mosteiro dos Jerónimos. Combined tickets to both are €12.
Admission: €6
Opening hours: 10am-6:30pm daily (to 5:30pm in winter)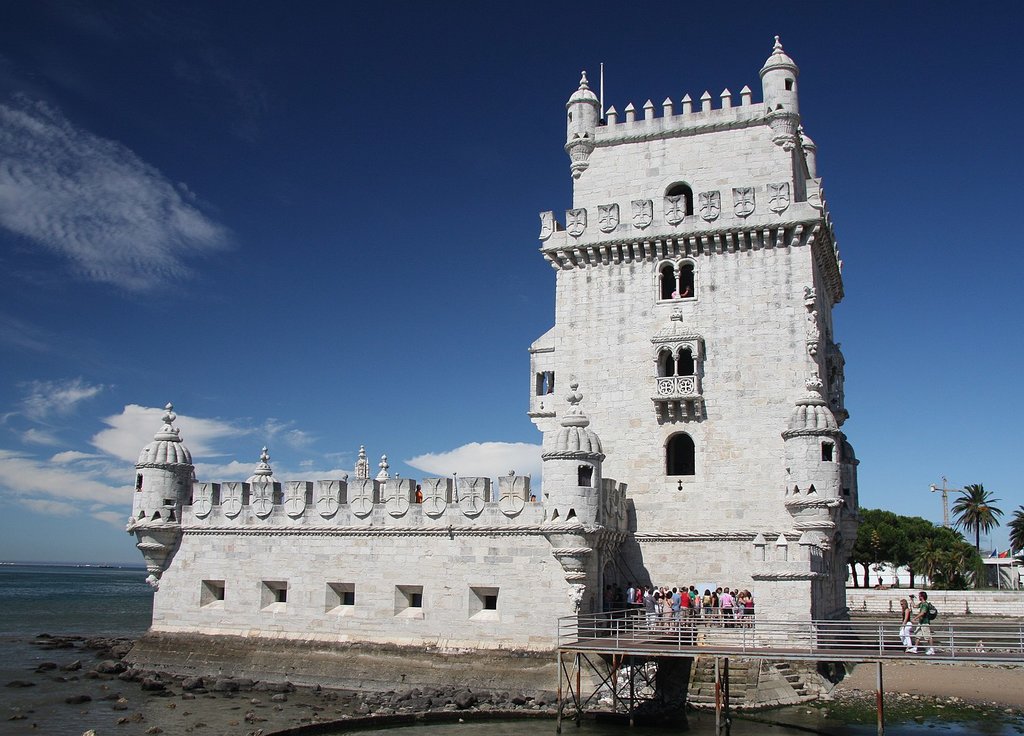 Di Brian Snelson from Hockley, Essex, England - Torre de Belém. Belém Tower.Uploaded by tm, CC BY 2.0, https://commons.wikimedia.org/w/index.php?curid=25805515Elevador de Santa Justa
The great thing about the Elevador de Santa Justa is that the attraction still does what it's supposed to do - get your from one part of the city to the next. You can take it in either direction, i.e. from the Baixa business district up to the lively Barrio Alto and vice-versa, but
but it's probably more practical going up - especially if you're keen on avoiding the uphill walk.
The elevator is included in a 24-hour Carris/metro ticket, which gets you unlimited access on all of Lisbon's public transport. Departures normally go every 10 minutes, and more frequently from 10am to 3pm.
Admission: €5.40 return
Opening hours: 9am-11pm daily (to 9pm in winter)
Praça do Comércio
This is one of Lisbon's grandest squares and an excellent place for photography. The square is a major transport stop, so it's easy to reach by tram and metro. The plaza is huge and open, and it tends not to attract big crowds.
On the east side of the square is the Lisboa Story Centre, a multimedia museum telling the story of the Portuguese capital's history. It's open 10am to 8pm daily.
Museu Nacional de Arte Antiga
This is the best place to gain an understanding of Portuguese art - there's an outstanding collection of paintings and works from the medieval era through to the 17th century.
Highlights include the Panels of St Vincent (Level 3/Room 2), the golden Belém Monstrance (Level 2/Room 29) and the evocative painting, Hell, by an unknown Portuguese artist (Level 3/Room 5).
Admission: €6
Opening hours: 10am-6pm Tuesday-Sunday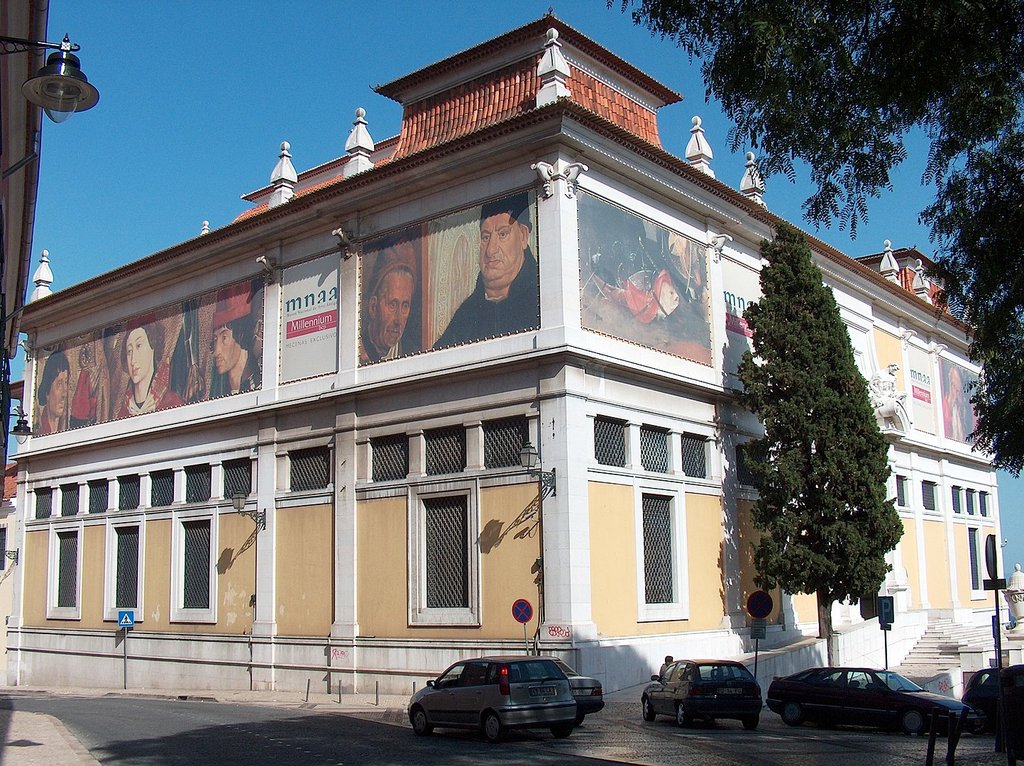 Museu Nacional de Arte Antiga, Museu das Janelas Verdes ou Palácio Alvor - Por João Carvalho - Obra do próprio, CC BY-SA 3.0, https://commons.wikimedia.org/w/index.php?curid=16459733Museu Calouste Gulbenkian
The collections at this vast holding are varied, so you may need to choose what interests you beforehand to make the most of your visit. Highlights include ancient Egyptian objects including a gold mummy mask and a 2,700-year-old alabaster bowl.
There's also a huge collection of Chinese porcelain and numerous Persian tapestries. Buy tickets online in advance or at the ticket office. Admission is free Sundays after 2pm.
Admission: €10 permanent collections; €14 including temporary exhibitions
Opening hours: 10am-6pm Wednesday-Monday
Museu Nacional do Azulejo
This Museu Nacional do Azulejo provides a good introduction to the ubiquitous azulejo tiles, which you'll see plastered over many of Lisbon's buildings. It's set in a beautiful 16th century convent that's worth seeing in its own right.
The museum is some way northeast of the city centre - city buses 718, 742, 794, 28 and 759 stop outside the entrance at the Igreja Madre Deus stop. Don't miss Portugal's longest azulejo, on the top floor in Room G.
Admission: €5
Opening hours: 10am-6pm Tuesday-Sunday
Find somewhere to stay by checking out our hotels in Lisbon.