Drinking beer in Prague, the home of Pilsner, is a unique experience and, for some, a rite of passage. The laidback birthplace of European lager (don't tell Germany we said that) draws thousands of visitors every year with its great value pints of pivo (beer) and fresh Pilsners, straight from the source. Read on to find out what to drink and where to drink it in Prague.
Must-Visit Bars for Beer Fans in Prague
![anthony-delanoix-aDxmYZtYj7g-unsplash.jpg?1577750343](https://a.travel-assets.com/findyours-php/viewfinder/images/res40/189000/189338.jpg)
### **Prague Beer Museum**
The two Prague Beer Museum pubs are a must-visit for any beer fan. They both have 30-plus beers on tap, each brewed by Czech Republic's microbreweries and curated by the passionate owners. Enjoy great beers, traditional Czech food and a warm welcome at PBM either on the east bank of the River Vltava or in Vinohrady, looking out at the neo-Gothic Church of Saint Ludmila.
U Kunštátů
Fancy something a little different? Visit U Kunštátů in the heart of Old Town to drink fresh craft beers and traditional lagers in a 12th-century palace. Book a beer-tasting session to learn more about your favourite drink and how it's made in the Bohemia region. If you're feeling peckish, the bar snacks are particularly traditional: try the marinated cheese and pickled sausages.
Dno pytle "Bottom of the Sack"
Drink beer from wooden barrels like old Praguians would have done. Eat Bavarian sausages and drink Bavarian beers brought over the border by the pub owners on their regular trips to their beer-making neighbours. Enjoy the relaxed atmosphere. That's it!
Pivotéka Illegal Beer
"You won't find Pilsen here", says Illegal Beer, but what you will find is a cool, stylish bar run by people who really love craft beer. Illegal Beer is great if you want to break up a lager-heavy trip. As well as keg taps pouring really good beers, it also has fridges full of rare, delicious and sought-after bottles. And, of course, there are Pilsners here, too - but they might not be like the Pilsners you're used to.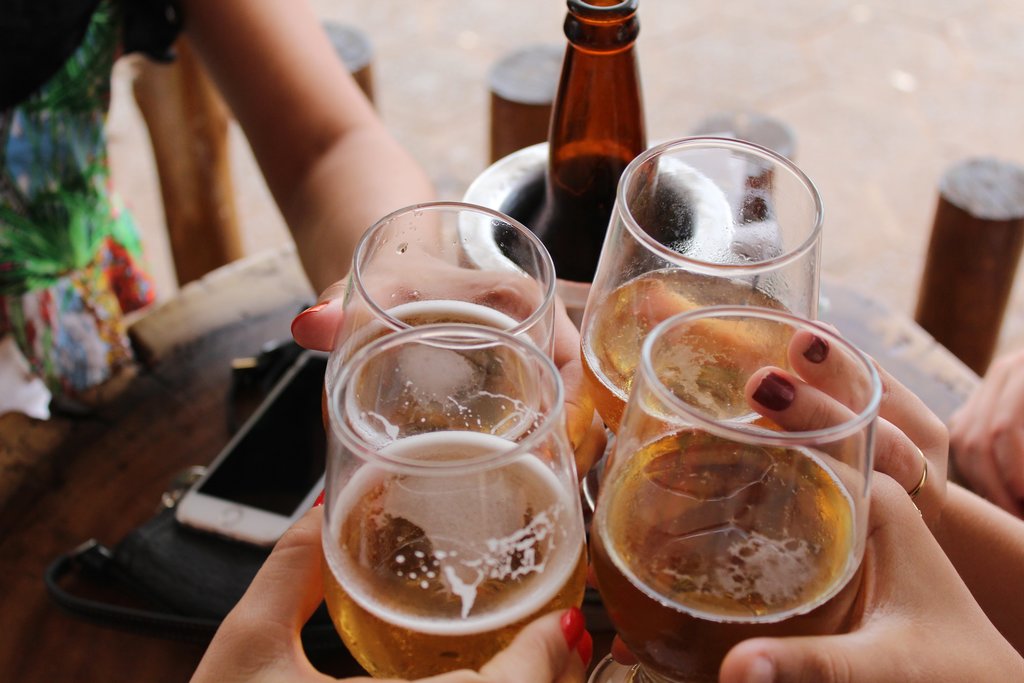 Zlý časy
Known fondly as Beerhouse Bad Times if you translate it literally, this bar is a wonderful vaulted pub stacked with old Prague charm. Its 48 taps pour beers from smaller independent Czech breweries and a worldly bottle selection keeps every drinker happy. Drinking is hungry work, so Zlý časy has a great menu full of burgers, chicken skewers, goulash and cheese platters.
U Černého vola
Translated to The Black Ox Inn, this pub is a rare example of old-style Prague hospitality. Take a short tram ride to the Castle District, and you will find a warm welcome. Grab a fresh pint from the Kozel Brewery and choose something to each from the traditional Czech menu or just enjoy the authentic atmosphere as you sip.
Breweries to Visit in Prague
Pivovarský dům
Take a trip to Pivovarský dům or Brewery House in New Town to try classic styles alongside new and experimental beers. Everything on the food menu also contains beer, from the soup to the dessert pancakes, so it's ideal for beer lovers!
Staropramen Brewery
Home to one of Prague's most well-known beers, Staropramen Brewery will show you how it makes your favourite premium lager. This is the second largest brewery in the Czech Republic, so you'll be as impressed by the scale of the shiny brewery as you will by the quality of the beer.
Břevnov Monastic Brewery
On the site of what was probably the oldest brewery in the Czech Republic is the Břevnov Monastic Brewery. Its tap room is on the grounds of the 993 monastery that stood here for nearly a millennium too, so head in to get a feeling of what went before in its impressive range of beers.
New Town Brewery
Gothic architecture, classic Czech dining and unfiltered lager: what more could you want? This brewery and restaurant follows a tradition of brewing that has taken place on this site since the 1400s. Take a tour to find out all about the brewery and its beers, or take a seat, order a 10-litre beer keg and pour your own pints.
Complete Your Prague Beer Experience
Hospůdka Na Hradbách
This beer garden in Vyšehrad Castle has unique views of New Town and the industrial Nusle Bridge. The best way to experience this spot is to head over on a sunny day, buy your beer from a kiosk-style window and enjoy it on the grass - just like a local.
Bernard Praha Beer Spa
Apparently inspired by healthy beers spas of the Middle Ages, Bernard's Beer Spa brings together the joys of massage and the healing properties of beer. Take a dip in the "beer bath" for two and enjoy unlimited self-pour Bernard beer.
Beer Museum Prague
Not to be confused with the bar of a similar name, this museum holds all the information you'd ever want to know about beer in Prague and around the world. You can also taste local beers in the historic cellars as part of your entrance fee.
Plan Your Trip to Prague
nnnnnnnnnnnnnnExplore the city's beer bars and breweries from these hotels in Prague with Expedia.