If you fancy a trip to Spain, but want to avoid the hordes of tourists pouring into Barcelona and Seville, a holiday to Valencia could be for you. Home to sun, sea, sand and some of the country's very best food and drink - a few days in this gorgeous city is sure to rejuvenate. Here are the best things to do while you're in town.
The City of Arts and Sciences
It may have taken nine years to complete, cost €900 million, and have driven Valencian architect Santiago Calatrava out of his home town but Valencia's City of Arts and Sciences is an architectural triumph and an absolute must-see. Catch a concert at the Palau de les Arts, go stargazing at Hemisfèric, get acquainted with more than 500 marine species at Oceanogràfic, or expand your scientific knowledge at the Museo de las Ciencias Princípe Felipe.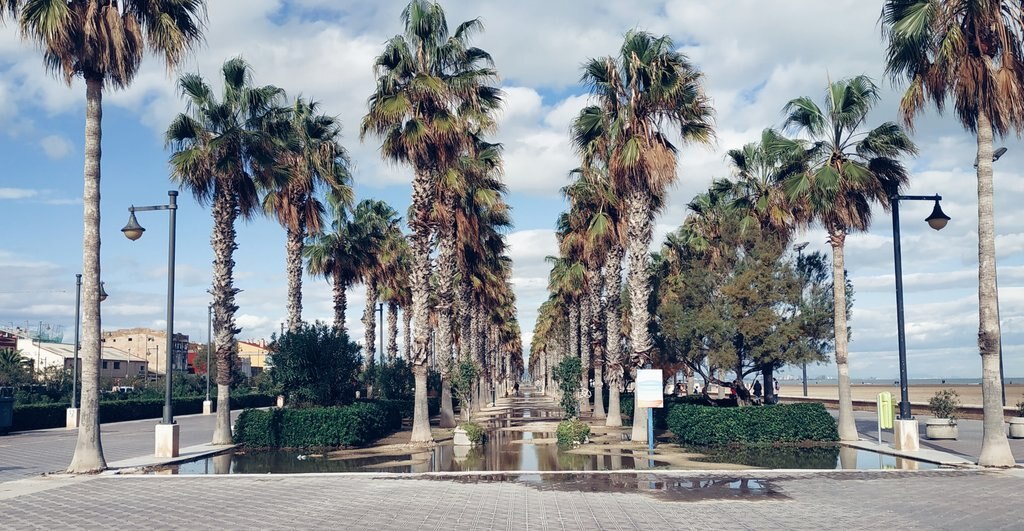 Hit the beach
With 2,660 hours of sunshine per year, soaking up some sunshine and paddling in the Mediterranean is Valencia's favourite pastime. Join the tourists at Malvarrosa beach, or head slightly north to Patacona for a more local experience and some idyllic beachside restaurants, serving up steaming plates of paella, Valencia's signature dish. Wash it down with an Agua de Valencia - fresh orange juice, cava and just a splash of vodka.
Explore Turia Gardens
Hire a bike and explore Turia Gardens - a leafy park in what used to be a riverbed that runs the length of the city. This park is the heart of the city and where much of the action happens - from concerts and sporting events, to outdoor cinemas and wine festivals. Always check what events are on in Valencia - their events calendar is impressive! To one end you'll find BioParc - an impressive, eco-friendly zoo, and at the other lies the City of Arts and Sciences. In between, you'll discover lakes, fountains, many a sunny café, and a series of impressive ancient bridges, including the picture-perfect Pont de Flor, Puente del Mar and Punte del Real.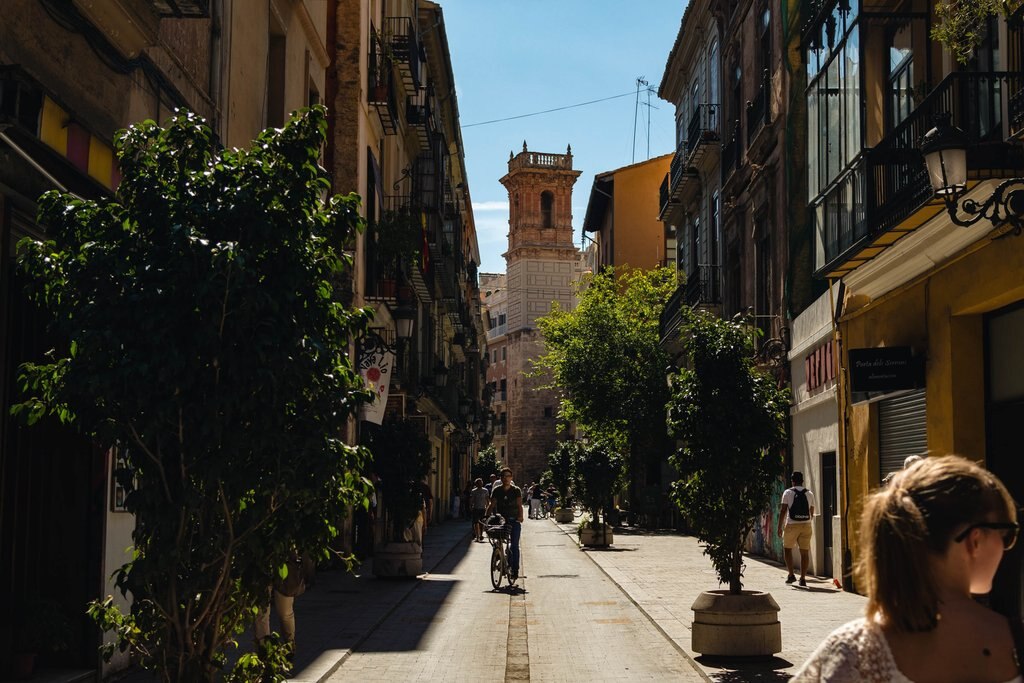 Sightsee in El Carmen
El Carmen (the old town) is a magical place for a stroll, and is home to many of the city's top attractions and a number of the best hotels in Valencia. Stock up on delicious fresh produce at the art-nouveau Central Market, check out the street art and swing by Valencia Cathedral where you can lay your eyes on the Holy Grail. Climb the bell tower or the old city gates, Torres de Serranos and Torres de Quart, for the best views of the city. When your feet grow weary, recharge those batteries with a menu del dia in one of El Carmen's many sunny plazas, favourites include Plaza Redona, Plaza de Lope de Vega, or Plaza de la Virgin. This barrio also comes alive at night time...well, after 10pm! Fill up on tapas and local vermouth, and join the revellers spilling out onto the city's steamy streets from its many bars.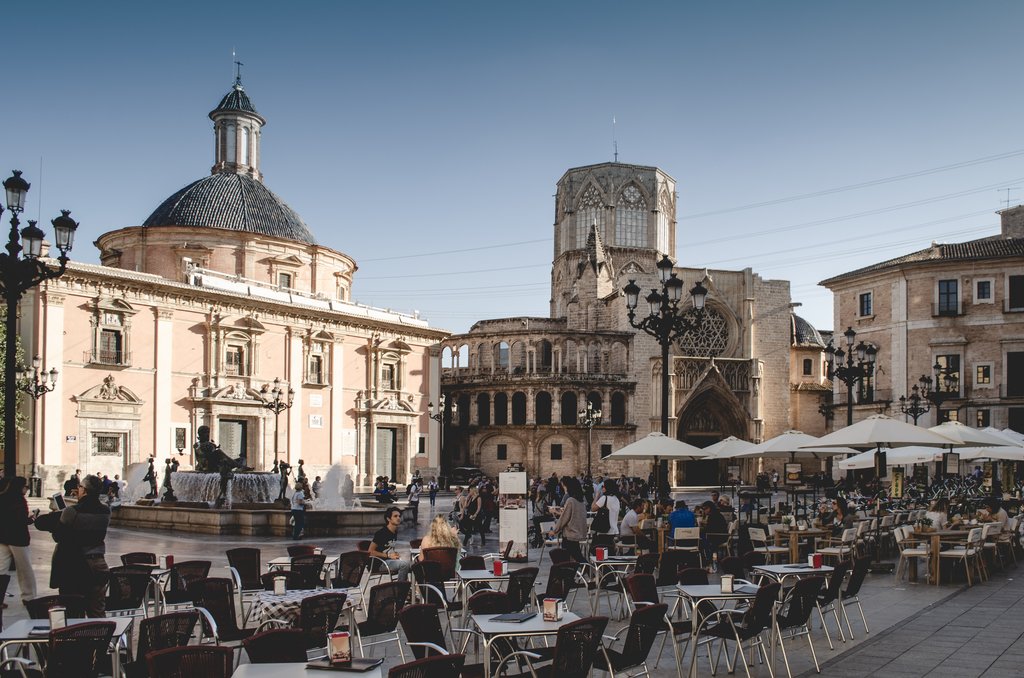 Experience the nightlife
Besides El Carmen, Valencia has a number of super hip neighbourhoods worth checking out. Ruzafa, Valencia's most popular hipster hangout, and nearby Canovas are ideal spots for dinner and drinks. Benimaclet is more popular with the student crowd as it boasts many affordable restaurants and music venues, especially if you fancy watching some flamenco as you dine. Cabanyal is down by the beach, making it a great place to sample seafood, or to enjoy a drink as the sun goes down either in the port or in one of the converted warehouses or reggae clubs where the cool kids hang out. If you're looking for more of an Ibiza vibe, head to Marina Beach Club or l'Umbracle - a nightclub housed in the botanic gardens at the City of Arts and Sciences.
Attend Fallas Festival
To get a real glimpse into Valencian life, you simply must attend Fallas festival, which takes place every March. Did you know that Valencia thinks of itself as the fireworks capital of the world? They just might be right! Throughout the 19-day festival, every day at 2pm in Plaza de Ayuntamiento visitors ear drums receive a serious beating at a mascletá - an impossibly loud day time fireworks display that will genuinely knock your socks off. As well as parades, parties and more fireworks than it's possible to fathom, the highlight of the festival is the elaborate statues, made my dedicated Fallas artists, which stand many metres tall and (in some cases) cost hundreds of thousands of euros to create. You have a weekend to stroll between them all (there are more than 700 placed around town) before all but one are burnt on the final night of the festival, known as la crema.
What are you waiting for? Book a holiday to Valencia today!