Millions of people travel to Munich every year to attend Oktoberfest but this German city is a wonderful destination to visit all year round. There are world-class museums, sprawling palaces and picturesque gardens to discover, so make sure that you're ready for an action-packed Munich holiday. Here are the best things to do in Munich.
Neues Rathaus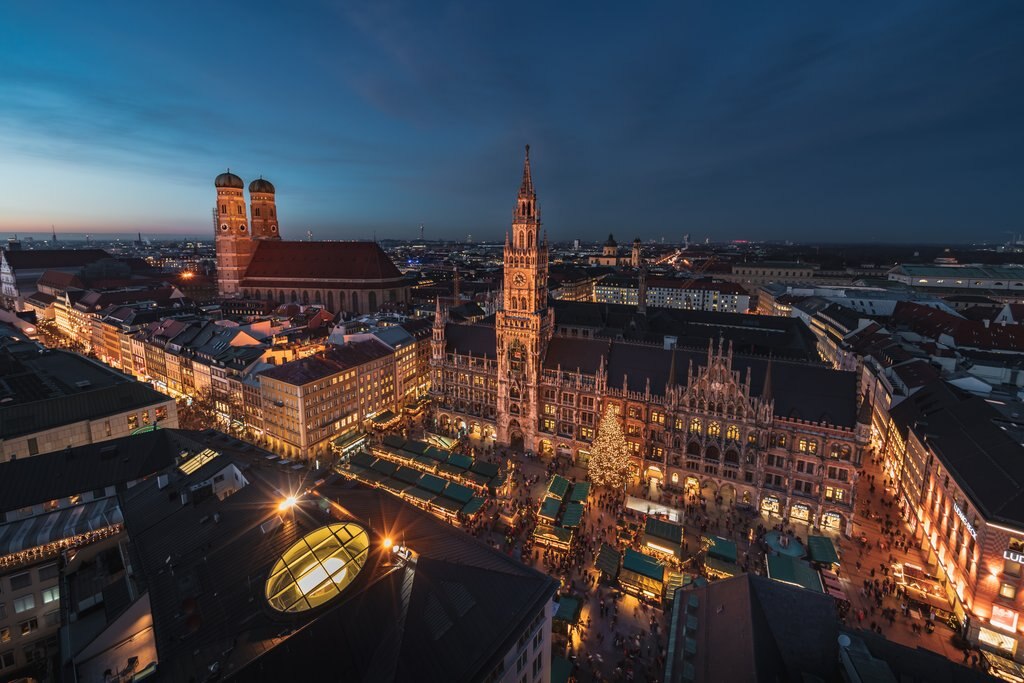 Neues Rathaus is the crowning glory of Marienplatz, Munich's central square. Built in a Gothic Revival style, Neues Rathaus is the town hall and contains a total of 400 rooms. Visitors can climb up the 85-metre tower, where they'll be able to see beautiful views over Munich; on clear days, you can even see as far as the Alps! Neues Rathaus is also the home of Munich's Glockenspiel. The Glockenspiel chimes at 11:00 and at noon every day (and at 17:00 during the summer). This is a popular event so make sure to arrive early to grab a good vantage point. Alte Pinakothek
Located in the Kunstareal area, Alte Pinakothek is one of the oldest art galleries in the world. It was built in 1826 to house the royal family's extensive art collection. Nowadays, these grand rooms display over 800 artworks from the 13th to the 18th centuries. Notable artists include the likes of Albrecht Dürer, Rembrandt, Leonardo da Vinci and many more. If you're after an art-themed city break, there are two additional sister galleries in Munich: the Neue Pinakothek, which focuses on 19th-Century paintings, while the Pinakothek der Moderne is dedicated to contemporary art forms.
Munich Residenz
Looking at Munich Residenz now, it's hard to believe that this vast complex once had humble beginnings as a small moated castle. It expanded over the centuries, slowly becoming a decadent palace fit for royalty. However, since Munich Residenz is composed of numerous museums and exhibitions, you'll need ample time if you want to see it all. The biggest highlights include the Antiquarium, a breathtaking hall that showcases a collection of antiques, as well as the Treasury, which hosts priceless royal jewels. Hofbräuhaus
A trip to Munich wouldn't be complete without a visit to a traditional beer hall - and there are none as famous as Hofbräuhaus. This government-run venue has 16th-Century origins and has been visited by many historical figures, from Mozart to John F Kennedy. With its oompah band, menu of hearty Bavarian delicacies and one-litre beer steins, the lively atmosphere at Hofbräuhaus is similar to what you'd experience in the Oktoberfest beer tents. Just keep in mind that Hofbräuhaus gets extremely busy, so we'd recommend reserving a table in advance.
Englischer Garten
At 370 hectares, Munich's Englischer Garten is one of the largest urban parks in all of Europe. There is a multitude of landmarks to visit here, including a Japanese teahouse, a Chinese tower and a 7,000-capacity beer garden. However, the park also plays host to one of the city's most unexpected activities: surfing. The current of the Eisbach River has created a near-constant wave and surfers travel from afar to take on this challenging stretch of water. However, since the water is shallow, only experienced surfers should attempt to surf on the Eisbach. Viktualienmarkt
For hungry travellers staying in a Munich Old Town hotel, you'll be delighted to know that there is a tasty hotspot right on your doorstep. The Viktualienmarkt, which translates as the 'Victuals Market', has been running in its current spot since the 19th Century. You can find around 150 stalls at the market every day, selling everything from vegetables to dairy products. While locals come here to do their grocery shopping, a number of stalls also sell hot food - perfect for tourists who are looking for a meal on the go. If you'd like to linger, take a seat in Viktualienmarkt's lively beer garden.
Nymphenburg Palace
This photogenic palace was once the summer residence of the royal family and it remains one of the most popular attractions in all of Munich. Step inside to marvel at the opulent royal apartments and the three-storey Stone Hall. Outside, there are 200 hectares of gardens to see. Families will love this part of Nymphenburg Palace, as the gardens contain many different areas, such as a maze, lakes, greenhouses as well as the Amalienburg with its mesmerising Hall of Mirrors. If you have extra time on your hands, Munich Botanical Garden is conveniently located next door.
Asamkirche
There may be more obvious churches you could visit in Munich, such as Peterskirche and Frauenkirche, but Asamkirche is a real hidden gem. This church was built by the Asam brothers during the 1700s, with the intention of using it as a private chapel. And while Asamkirche may be on the small side, the brothers managed to utilise every inch of this minute space. The interior is an explosion of Baroque styling, with marble walls, painted scenes and incredibly detailed pillars. Unsurprisingly, once word got out about the decor inside this church, the brothers were forced to grant access to the public.
Is our list making you want to hop on a flight to Munich? No matter what you end up doing, you're guaranteed to have a memorable stay in Munich.