What is it about Paris that draws so many tourists every year? Is it the amazing architecture, the mouth-watering cuisine, the abundance of museums, or simply the je ne sais quoi that's impossible to describe? Whatever it is, it attracts filmmakers, too.
From romance to action, comedy to thriller, here are the best movies set in Paris. Get ready for some serious inspiration for your next holiday to Paris!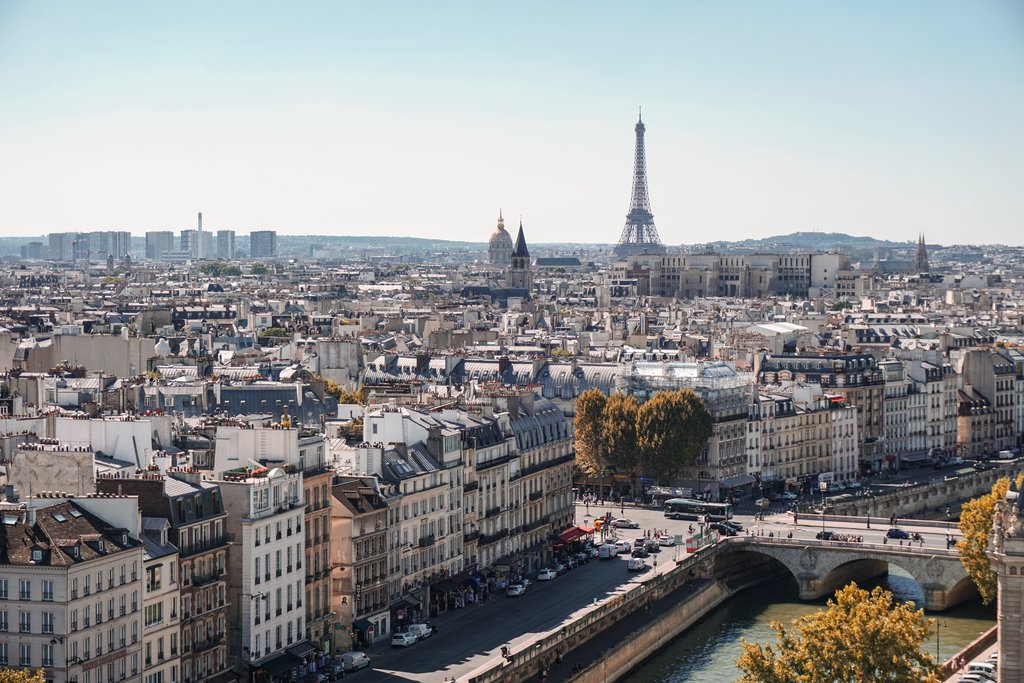 _Photo by Alexander Kagan on Unsplash_
The Best Movies Set in Paris
1. Amélie (Le fabuleux destin d'Amélie Poulain)
We had to start with one of the most iconic movies set in Paris from the last two decades. This movie - nominated for multiple awards - continues to delight audiences and inspire trips to Paris. The title character, Amélie, decides to help those around her in small but meaningful ways, including much-needed acts of justice. There's even an underlying love story that ties the film together (but of course... it's Paris, after all). The film showcases Amélie in many spots around the city while accompanied by a beautifully Parisian soundtrack. If this doesn't get you in the mood to visit Paris, nothing will!
2. The Bourne Identity
The Bourne movies, featuring spy Jason Bourne, have highlighted many international locations, and the first instalment is no exception. Paris features heavily in The Bourne Identity, though you may not want to recreate one of its most famous scenes... a dramatic car chase through the streets of Paris! Bourne, played by Matt Damon, tries to outrun police while driving through the tiny back streets of Paris.
3. Hugo
This film - known for its outstanding cinematography - is set in 1930s Paris. Hugo is a young boy forced to live in the Montparnasse rail station after his father passes away, spending his days maintaining the clocks in the station. Part drama, part mystery, this film might not be the most accurate depiction of modern-day Paris, but its atmospheric cinematography still showcases the city with a certain romanticism.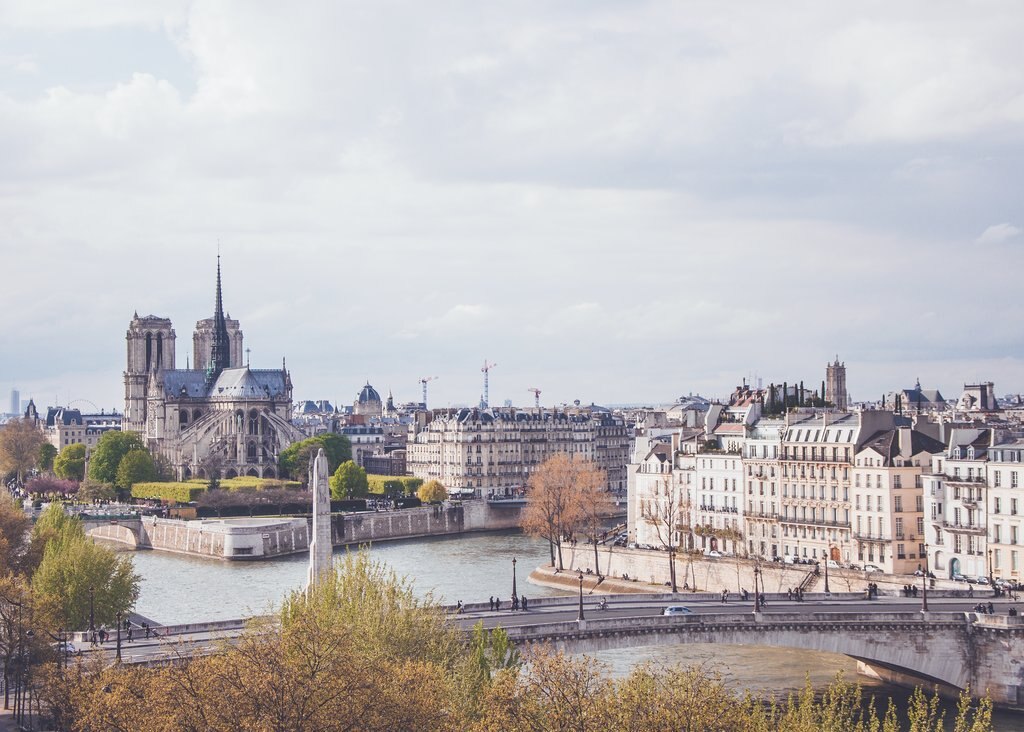 _Photo by Paul Dufour on Unsplash_
4. Charade
Sometimes called "the best Hitchcock film that Hitchcock never made," this film is filled with twists and turns that will leave everyone guessing. Starring the unforgettable duo of Audrey Hepburn and Cary Grant, this 1963 thriller is set first in the French Alps and then in the city of Paris. This is an absolute must-watch for anyone who loves a good mystery... and who can resist the charisma of Hepburn and Grant as they navigate the City of Love?
5. Before Sunset
Featuring some amazing chemistry between Ethan Hawke and Julie Delpy, this film is the sequel to the equally successful Before Sunrise. While the first film featured the city of Vienna, this movie follows the pair as they explore the city of Paris over the course of a day. Poignant and engaging, this film beautifully showcases the duo's relationship against the backdrop of Paris.
6. An American in Paris
Starring the one and only Gene Kelly, this musical was a smash when it was released in 1951. Nearly 70 years later, it still holds its original charm; its ballet sequence featuring Kelly and Leslie Caron is one of the most iconic dance scenes in history. Highlighting famous Parisian spots like Montmartre, this film is definitely a classic.
7. Ratatouille
Don't be fooled - this Pixar animated film is for everyone, not just kids! Telling the story of Remy, a rat with grand dreams of becoming a chef, this movie is an absolute delight. Romping his way around Paris, Remy's story shows off the gorgeous city alongside some delicious French cuisine. (Chef's) hats off to the animators!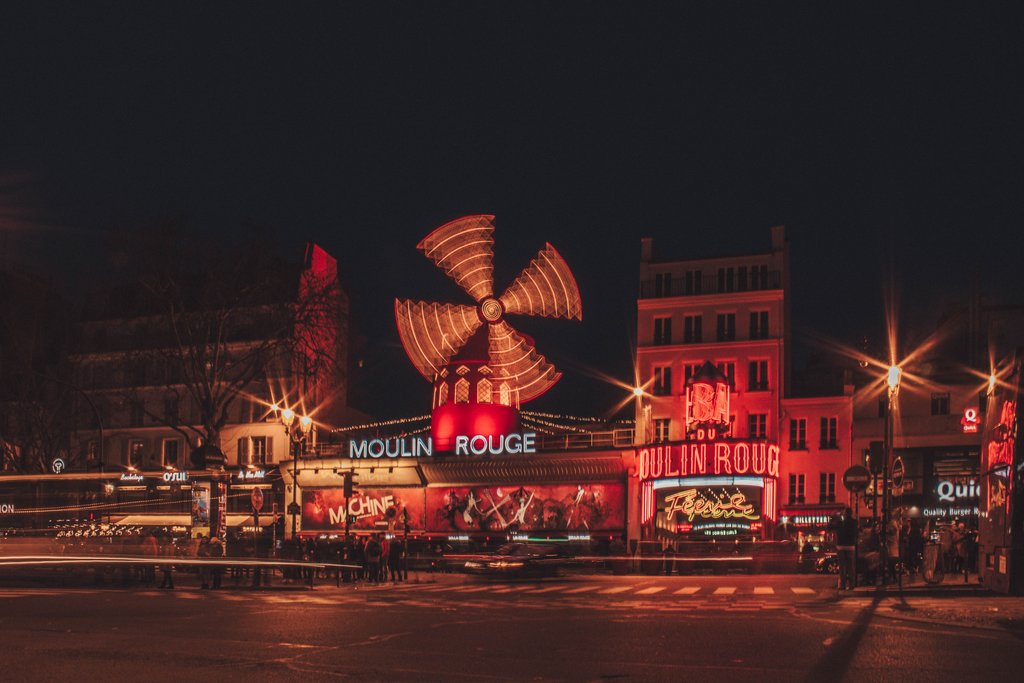 _Photo by Lola Delabays on Unsplash_
8. Moulin Rouge!
Dramatic, romantic, and filled with fantasy and intrigue... this movie is anything but subtle. Set in 1899 in the famous nightclub the Moulin Rouge, this musical drama is sometimes silly, sometimes serious, but always entertaining. Nicole Kidman and Ewan McGregor dazzle as they dance across Parisian rooftops... though we may have to leave that to the trained actors!
9. Gigi
Starring the incredibly talented Leslie Caron as Gigi - who also starred in An American in Paris with Gene Kelly - this film focuses on Parisian playboy Gaston (played by Louis Jourdan) as he grows increasingly bored with his bon vivant lifestyle. Following the relationship between Gaston and Gigi, the movie takes viewers on a journey through turn-of-the-20th century Paris including the Left Bank and the Bois du Boulogne.
10. Taken
Wildly successful, this 2008 film was the start of the Taken franchise. Though the subject matter is very dark, this gripping thriller is an action-filled adventure through the streets of Paris. Liam Neeson as the resourceful hero is the icing on the cake!
11. La Vie en Rose
Following the life of one of France's most famous singers - Édith Piaf - La Vie en Rose is a haunting look at the troubled life of the chanteuse. Starring the unbelievable Marion Cotillard as Piaf, this film exhibits Paris through Piaf's eyes as she gets her start busking as a child all the way to her death in 1963. Sad but beautiful, this film definitely deserves its spot on this list of the best movies set in Paris.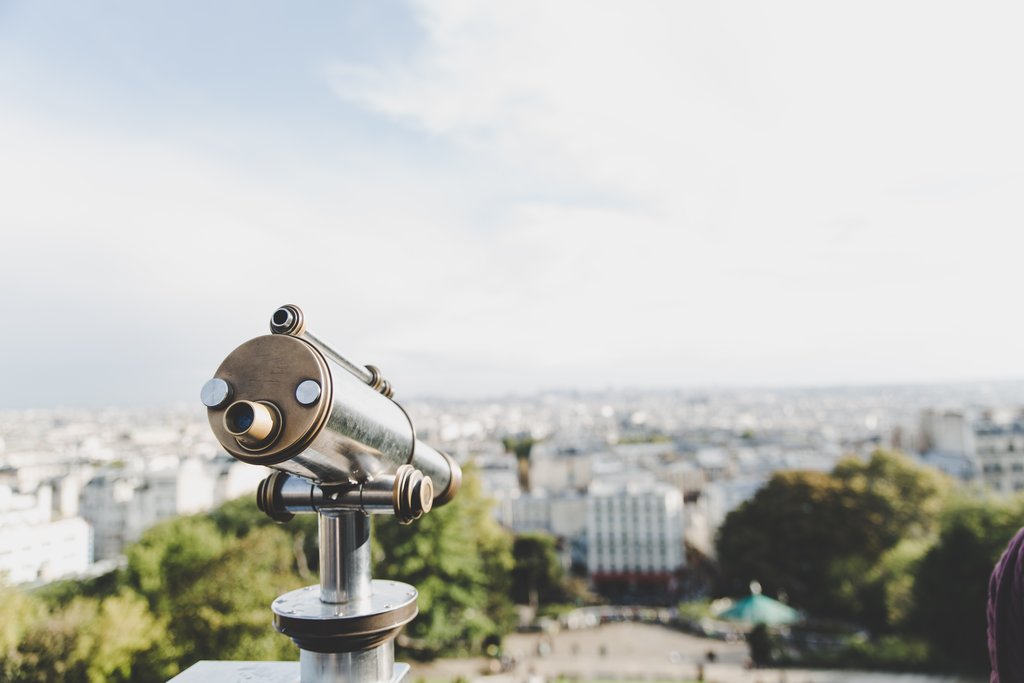 _Photo by Laurenz Kleinheider on Unsplash_
12. Funny Face
Another classic, this 1957 film features Audrey Hepburn and Fred Astaire. Astaire plays Dick Avery, a fashion photographer who convinces stunning but shy Jo Stockton (Hepburn) to go with him to Paris to model. As she poses against the backdrop of famous sights of Paris, romance inevitably ensues. A must-watch for any Paris enthusiast!
13. Jules et Jim
Directed, produced, and written by François Truffaut, Jules et Jim is a cornerstone of French New Wave cinema. Released in 1962 but set before, during, and after WWI, this film follows the friendship of Jules and Jim as they both fall for Catherine (Jeanne Moreau). Not only perfect for viewing before your holiday to Paris, this film is for anyone who loves classic cinema.
14. Midnight in Paris
Featuring a solid cast, including Owen Wilson as writer Gil Pender, this movie is a love letter to Paris come to life on screen. With some fun time travel - the Jazz Age features heavily, including depictions of some of the era's icons such as Ernest Hemingway, Cole Porter, and Scott and Zelda Fitzgerald - this movie is sure to get anyone excited about a holiday to the City of Lights. Just don't expect Hemingway to show up!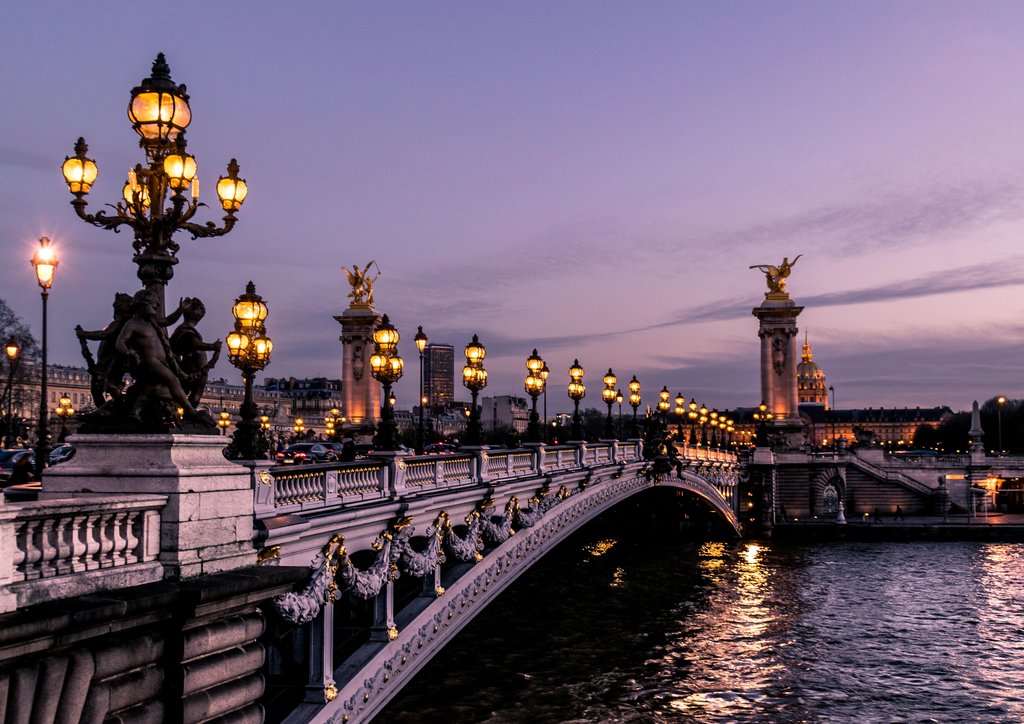 _Photo by Léonard Cotte on Unsplash_### 15. Mission Impossible: Fallout
One of the most recent films to make this list of best movies set in Paris, the always-entertaining Tom Cruise returns as Ethan Hunt in this sixth instalment of the Mission Impossible franchise. As per usual, the film is set in many international locations, but a hair-raising car chase through Paris earns this film its spot on the list. Just leave parachuting onto the top of the Grand Palais to the professionals, OK?
16. The Red Balloon (Le ballon rouge)
Another classic of French cinema, this 1956 film tells the story of a little boy (Pascal Lamorisse, the son of director, producer, and writer Albert Lamorisse). One day, the little boy discovers a red balloon that is more than it first appears... it seems to have a mind of its own, and follows the boy wherever he goes. As the boy and the balloon form a tight bond, viewers are privy to a glimpse of post-war Paris. This 35-minute film is definitely worth a watch before your vacation to the French capital.
17. Julie and Julia
Though it received middling reviews, this film is brought to life by Meryl Streep as Julia Child, and her acting is enough to save an otherwise average movie. Equal parts determined and brash, real-life chef Child joined the infamous cooking school Le Cordon Bleu despite little knowledge of French cooking. The rest, as they say, is history, as Child authored the unbelievably popular cookbook Mastering the Art of French Cooking. If anything, watch this film for the food!
18. The Triplets of Belleville
The second animated film to make this list, this movie is a joy to watch. Charming, silly, and sweet, the film follows the story of Madame Souza and her cyclist grandson Champion. When Champion is kidnapped while racing in the Tour de France, Souza springs into action with the singing Triplets of Belleville, once the talk of the town but now elderly, and her dog Bruno. The rescue mission is outlandish, but the film is an absolute thrill.
19. Band of Outsiders (Band à part)
Much like Jules et Jim, this Jean-Luc Godard film is a classic of French New Wave cinema. Featuring a restless trio who concoct a plan to commit robbery, this movie notably showcases the Louvre and also introduced the world to the infamous Madison dance sequence. Anyone else longing to head to Paris to try to dance like Anna Karina?
20. Paris, je t'aime
We had to end with this film, don't you think? Paris, je t'aime (meaning 'Paris, I love you') is an anthology film starring an ensemble cast of actors from all over the world. Created by 20 acclaimed filmmakers, these 18 short stories, set across the French capital, combine to make a beautiful tribute to the city of Paris. It's the absolute perfect film to get you in the mood for your holiday to Paris. And who knows? You might fall in love with the city, too.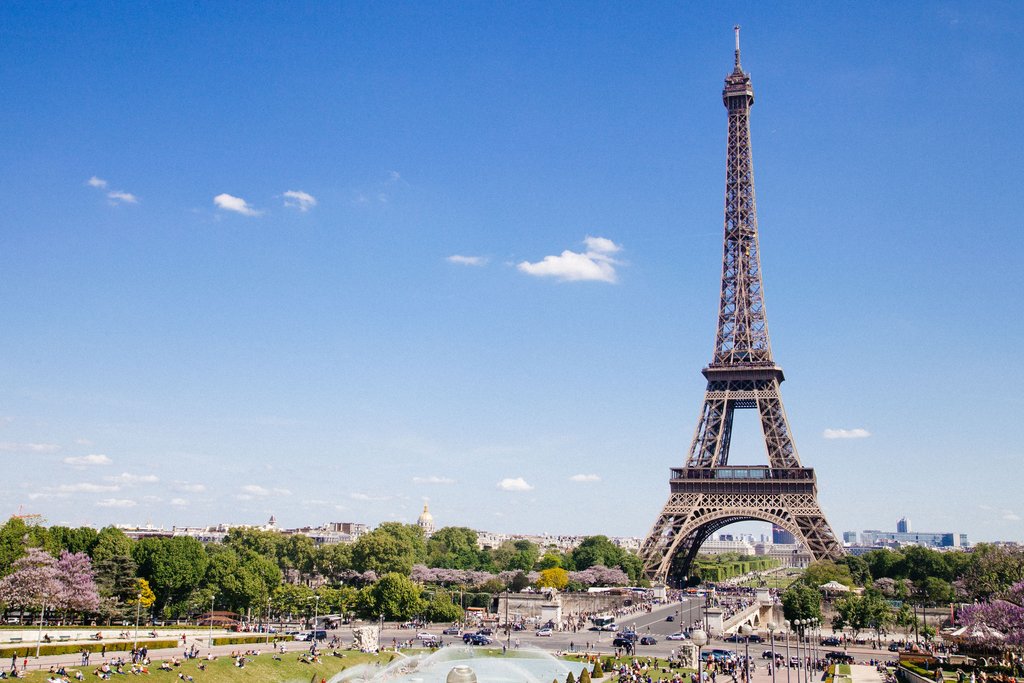 _Photo by Anthony DELANOIX on Unsplash_
What do you think? What's your favourite movie set in Paris?