Home to spectacular museums and other famous attractions, Amsterdam is one of the top destinations for many travellers. One of its top attractions is the Van Gogh Museum, which holds a treasure trove of the famous artist's notable works. If you're planning a trip to Amsterdam, take a look at this visitor's guide to the Van Gogh Museum in Amsterdam to prepare for your visit.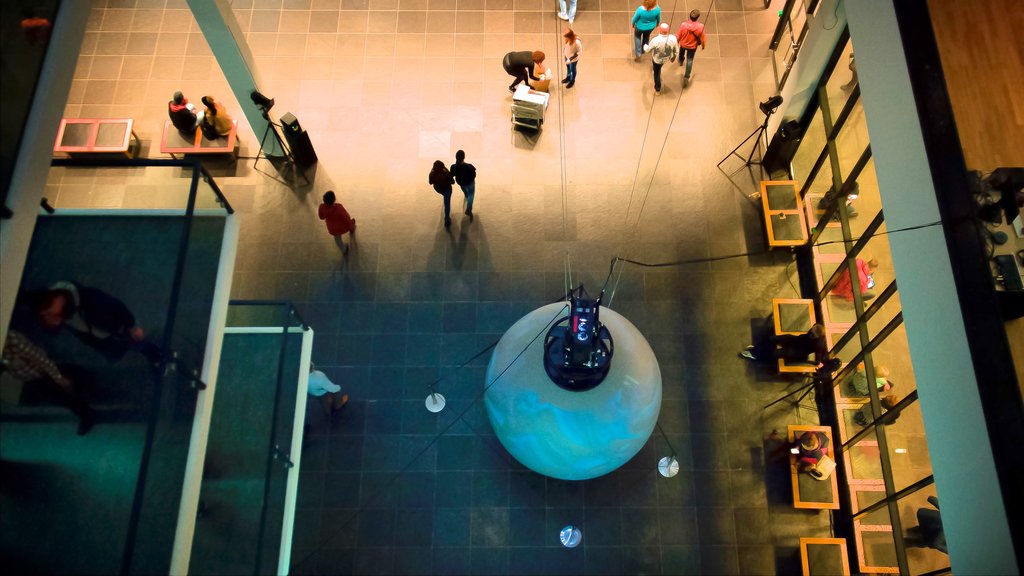 Aerial shot ofninterior of Van Gogh Museum
About the Van Gogh Museum
The Van Gogh Museum is solely dedicated to the works of Vincent Van Gogh, the famous Dutch post-impressionist painter, and his contemporaries. It's home to the largest collection of Van Gogh works, which includes over 200 paintings, 40 drawings and 700 letters, as well as notable contemporary work from the impressionist and post-impressionist movements.
What to see and do at the Van Gogh Museum
The Van Gogh Museum is vast and holds a wealth of important works by Van Gogh and other artists. Here are the highlights of the collections that you should see.
Selected works from Nuenen and Antwerp
The Nuenen phase of Van Gogh's life took place between 1880 and 1885. The collection features 2 of his most popular paintings from this period: Avenue of Poplars in Autumn and The Potato Eaters. Antwerp took place in 1886, and the collection has the Skull of a Skeleton with Burning Cigarette.
Selected works from Paris
Van Gogh's Paris period took place between 1886 and 1888 and features some of his most famous works. The collection features paintings like 'Wheat Field with a Lark', 'View of Paris from Vincent's Room in the Rue Lepic' and 'Agostina Segatori Sitting in the Café du Tambourin'.
Selected works from Arles
Arles is another valuable period of Van Gogh's artistic life. Spanning from 1888 to 1889, the collection features paintings like 'Bedroom in Arles', 'The Yellow House' and the famed 'Sunflowers'.
Works of contemporaries
The works of many contemporaries of Van Gogh are featured at the museum, both in the impressionist and post-impressionist movements. The collection has paintings by Maurice Denis, John Russell, Paul Gauguin, Claude Monet, Georges Seurat and Odilon Redon, as well as sculptures by Auguste Rodin and Julies Dalou. In addition to focusing on the connection to Van Gogh, the contemporary works highlight 19th-century art history.
Meet Vincent Van Gogh Experience
At the museum, you can immerse yourself in the life and experiences of the famous artist with the Meet Vincent Van Gogh Experience. The 3D immersive exhibition uses audio-visual techniques and computer technology to explore the life of Van Gogh through images of his works.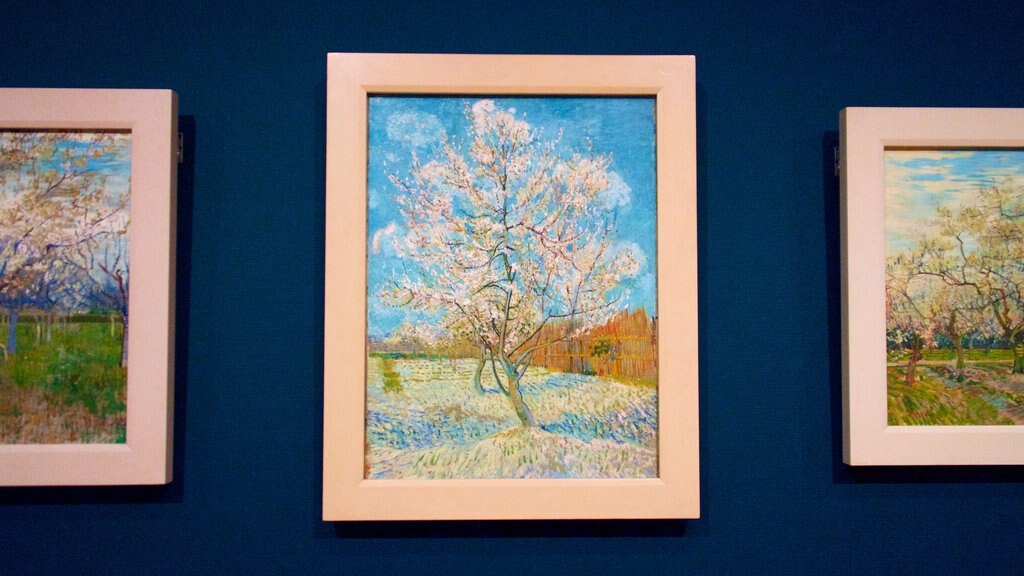 Exhibit at Van GoghnMuseum
Practical information
Find out all the information you need to plan your trip and ensure you have a fun and stress-free experience visiting the museum.
How to get to the Van Gogh Museum
The Van Gogh Museum is located at Museumplein 6, 1071 DJ Amsterdam, Netherlands. The nearest stops are Van Baerlestraat via tram 2, 5 or 12 and Museumplein via tram 3, 5 or 12 and bus 347 and 357. If you drive yourself, you can park in the Q-Park parking garage at the Van Baerlestraat entrance.
Opening times
The Van Gogh Museum's hours vary by day and season, though it's typically open at 9am daily and closes between 5pm and 9pm. The museum has shorter hours on December 25 and 26 in observance of the Christmas holiday, December 31 for New Year's Eve and January 1 for New Year's Day.
Tickets
Tickets for the Van Gogh Museum are € 19 for adults and € 9 for CJP. Children under 18 years of age are free, as well as museum cardholders and BankGiro Lottery VIP cardholders. Visitors with a City Pass will receive an admission ticket upon presenting the pass. Museum tickets include the permanent collection and any special exhibitions.
FAQ
How long does it take to see the museum? A typical tour of the museum takes about an hour and 15 minutes, though many visitors spend 2 hours visiting.
When is the best time to visit? You can avoid the crowds by visiting between 9am and 11am or after 3pm.
How can I get tickets? Tickets are available online and give you direct access to the museum on your selected day and time.
How early can I get tickets? You can purchase tickets up to a year in advance.
Do I have to go at the scheduled time? The date and time on your ticket guarantees you access to the museum. You can't be guaranteed entry if you arrive at a different time than your scheduled time.
Plan your Amsterdam holiday
The Van Gogh Museum is one of Amsterdam's top attractions and a must-visit for any arts and culture enthusiast. If you're planning a holiday, check out options for Amsterdam holidays on Expedia to make the most of the trip!