If you've ever looked into how to get a free upgrade on a flight - or even tried it yourself - then you'll know it's easier said than done. There are any number of myths on ways to get bumped up to first class, but the bottom line: if it sounds too good to be true, it is. If it was easy to get a free upgrade, everyone would manage it. That said, getting a deal on a business class flight could be easier than you think. In our essential guide to flight upgrades, we'll take you through everything from the simplest ways to find business class flights to some long-shot tips on how to get a free upgrade to first class on your flight.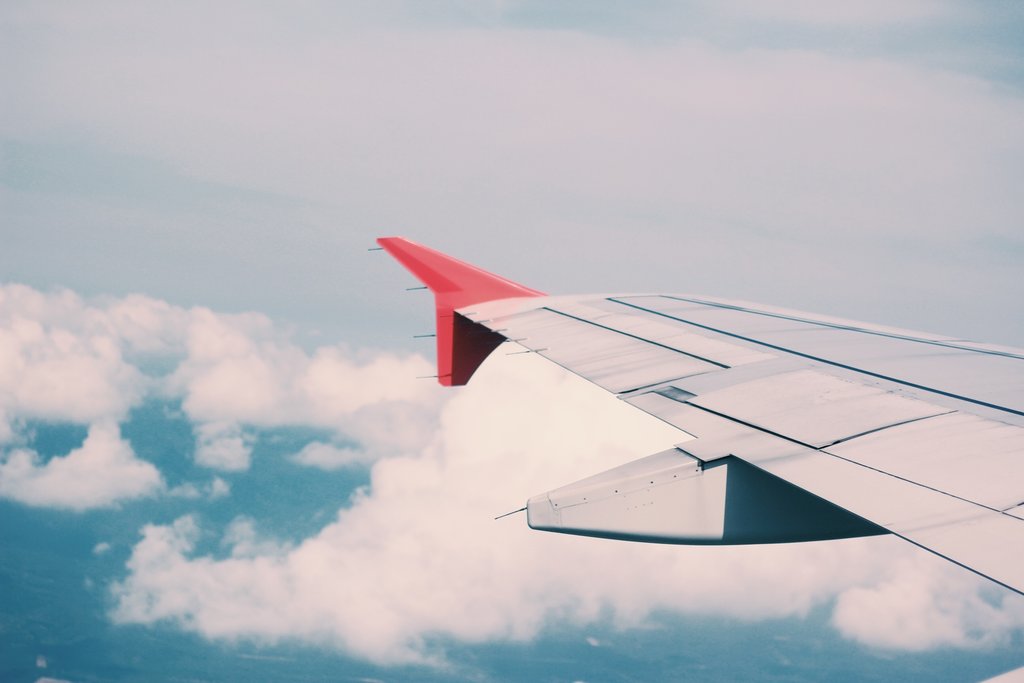 The Best Ways to Get a Flight Upgrade
Let's start with the basics. Effectively, there are two ways to get an upgrade to business class or first class: 1) pay for it or 2) take your chances and try to get a free upgrade. The pros and cons to both options are obvious: pay for an upgrade and it's guaranteed. On the other hand, the free upgrade to first class is the holy grail of air travel - but it's notoriously tricky to manage.
We'll look at buying an upgrade first, including some tips on how to get a deal on business class or first class flights.
Can I Upgrade My Flight?
Broadly, there are two ways to buy an upgrade: book an economy flight and upgrade on the day of check-in, or simply book a first class flight in advance.
If you're thinking about paying for an upgrade to first class on the day, the fare that you've booked could have an impact. Now, you might be thinking that seems an odd statement; there are three fares - economy, business class, first class - right? Well, actually, it's not that simple. Some economy fares are eligible for upgrade later on - meaning you can pay to upgrade when you check in - while others aren't. When you search for flights with Expedia you can get some handy information that tells you whether you're looking at an economy fare that you could upgrade when you get to the airport.
Fare Basis Codes Explained
It might be news to you that there's more to flight fares than just economy, business class and first class. For example, under the class that most of us know as 'economy' there are up to 15 different types of fare, not even including the 'premium economy' class that some airlines offer. Now, if that sounds confusing, don't worry - those different types of fare generally get you exactly the same in-flight experience. They just refer to slightly different pricing - that's why you most people don't pay attention to the different fares available.
Fares vary according to something called fare basis codes. Every fare is assigned a letter code, which tells you exactly kind of fare it is; for example, A, B, J, W, and so on. So why does that matter? Well, for our purposes, it tells you whether or not you'll be able to upgrade when you get to the airport.
Upgradeable Economy Fares to Look out For
B, H, M and Y are usually full economy fares, as opposed to discounted economy fares, which usually aren't eligible for an upgrade. If you're keen to find out more about this stuff, it's a good idea to do your homework on the airline you're looking at, as one code can have different meanings with different airlines.
When you search for flights with Expedia, you can usually find out the fare class by looking under Flight Details in the search results:
In this example, we've got an O fare - that's a discount economy ticket, so it's probably not eligible for a later upgrade.
How to Find Business Class Flights with Expedia
If you want keep things as simple as possible, you can search for cheap business class flights or first class flights with Expedia. When you search for flights, just select Advanced options and choose your preferred class: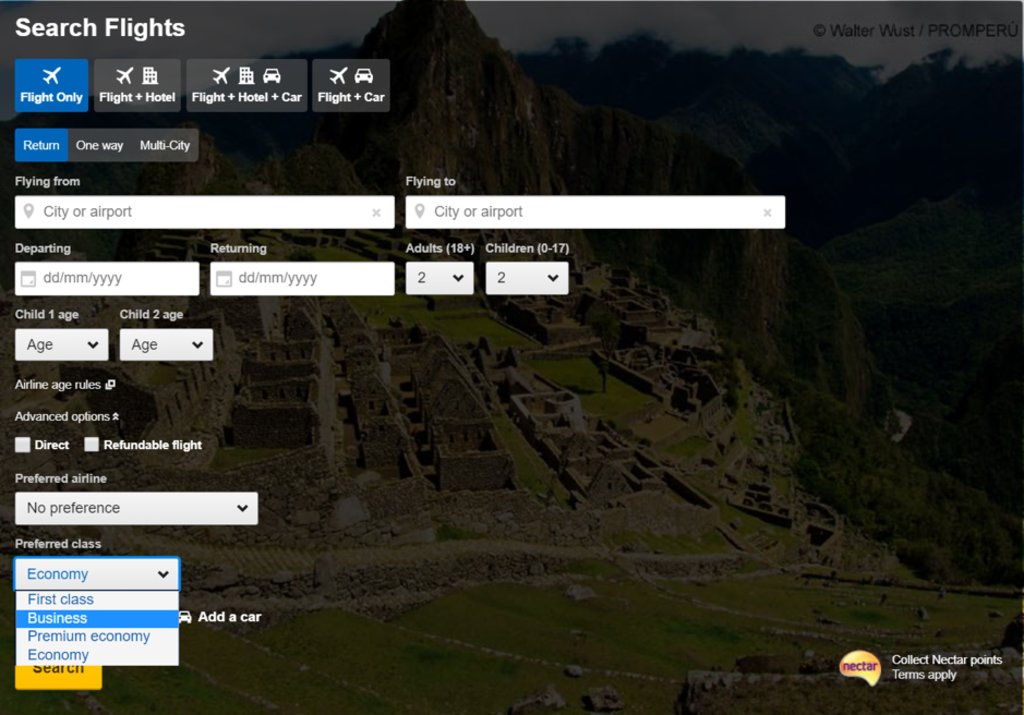 Just decide how much you want to push the boat out and it's easy to find business class flights or first class fares. That's all there is to it. If you're really keen to experience a premium class of flight, this is the simplest way to book your ticket to luxury.
Is Upgrading a Flight Worth It?
It's all a question of personal preference. Whether an upgrade to business class is worth it depends entirely on how much you value the extra perks and added comfort. Business class flights are often quite a bit more expensive than economy seats, but by checking our current deals on business class flights you could get a premium seat more cheaply than you'd think.
First class flights are a step up again in price - but that's because they're also a step up in luxury. To get a better sense of what you can except from premium in-flight experiences, check out our comprehensive guide to business class flights and our accompanying blog post, All About First Class Flights.
Bagging a Free Flight Upgrade
Want to take your chances instead? Every year or so a new 'magic formula' makes headlines, promising a guaranteed way to get a free upgrade. We're not exactly bringing you a newsflash when we tell you once and for all: there's no such thing. Your chances of rocking up and winging a free upgrade are slim - very slim. But here are our top tips that could improve your chances a little:
Pick your flight carefully
You can only get a free upgrade if there are seats in business or first class going spare. So try to book onto a flight where the premium cabins are unlikely to be sold out. Early-morning flights during the week on major business routes - for example, flights from London to Geneva- probably won't have many spare seats in business class. But if you travel on a flight that's likely to have oversold economy class and undersold business class, you could stand a better chance of getting bumped up. Weekend and holiday flights likelier to attract families are a decent bet.
Don't be afraid to ask
If you've established that there might be seats going begging in business class, don't expect to be approached. Frequent flyer status can play a part, among other things, but you'll usually stand a better chance of getting a free upgrade simply if cabin crew know you exist. Of course, be polite and friendly, and don't be presumptuous. Think along the lines of, "I noticed there's a seat in business class that looks available - I don't suppose you're planning to upgrade anyone?"
Look the part
Are you going to magically get an upgrade simply by breezing up to check-in wearing a designer suit and expensive sunglasses? No. Absolutely not. But there's a grain of truth to the 'dress smartly' rule. While there's no way it'll get you an upgrade, you can pretty much guarantee that a scruffy appearance will rule you out.
If you want to get an idea of what's available, check out our deals on business class flights and see if you could get a flight upgrade for less than you think.