Editor's note: Traveller Notes aims to uncover the spots that local residents love, providing you with an insider's guide to cities around the world. Our Traveller Notes guide to Edinburgh is written by Kay Gillespie of The Chaotic Scot. For practical information and a basic Edinburgh itinerary, check out Expedia's 72-hour guide to Edinburgh also written by Kay. We hope you enjoy this Insider Guide to Edinburgh! -Brenna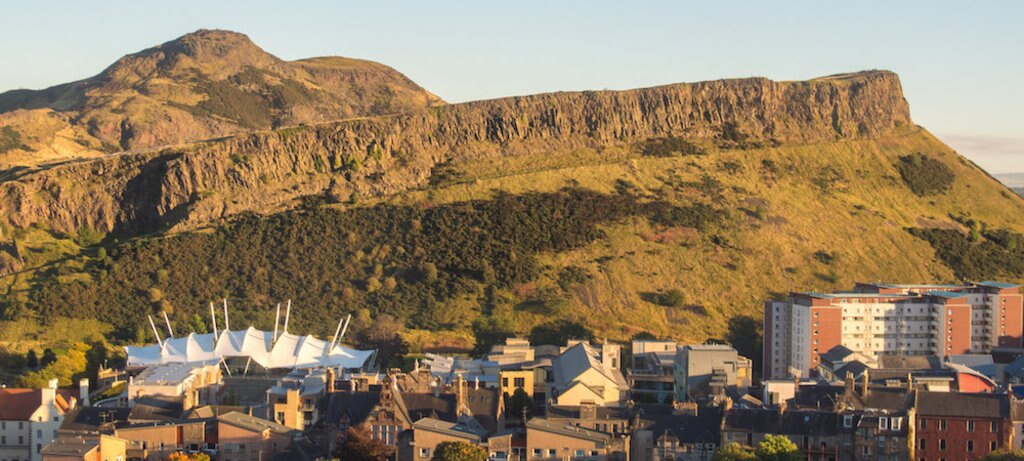 What does Edinburgh mean to you? Perhaps it's where your stilettos struggled against the Old Town cobbles on a Hen Night, or where you proudly posed in a Harry Potter-style robe on Graduation Day. Edinburgh could be your romantic city-break, culture-fix, pub crawl, or your Christmas Market. To many it's the stage of the Edinburgh Festival - the world's largest arts festival - or the home of Hogmanay. To me, it's simply home.
According to age-old clichés, home is sweet; it's where the heart is. It is also all too familiar, posing the threat of complacency and lack of appreciation for your surroundings. Edinburgh wouldn't let you away with that however, it's simply too diverse and beautiful, even for us locals.
When I'm not playing 'tourist' in the enchanting Old Town with my camera round my neck, I can be found seeking a local's sanctuary in areas just beyond the parameters of the city centre, in particular Leith and Stockbridge.
Exploring Edinburgh is like going on a city-sized treasure hunt; there are hidden gems scattered in every nook and cranny. I am constantly discovering new eateries, shops and experiences. Here are some of my favourites, all close enough to your Edinburgh hotel.
RESTAURANTS
10 to 10 in Delhi (67 Nicolson St): Sitting modestly beside a bus stop on a busy street in Edinburgh's Southside, this Indian Cafe is a blissfully unassuming little gem. The cosy and compact interior is a rainbow patchwork of beautiful fabric embellishments, with shapes and drapes which wrap the pillars and hang from the ceiling. You will momentarily forget that you are in Scotland.
The Gambian/Scottish owned eatery serves simple, home-cooked Indian food. Enjoy yours wrapped in a roti, served with rice and/or naan, or as a multi-dish 'Platter Meal for Two'. The Meat Platter for two is amazing value; it also includes a soft drink each and a secret-recipe mango cheesecake to finish, all coming in at under £10 per person.
Bentoya (15 Bread Street): I love sushi, and when I get a craving for sushi, nothing else will suffice. There's something incredibly moreish about this delicious Japanese creation; those perfect seaweed parcels of freshly prepared goodness are like Pringles - once you pop!
Bentoya is one of the city's youngest sushi bars, and has quickly established itself as a favourite amongst locals. Sushi certainly isn't the most economical of eating habits, however Bentoya is surprisingly more affordable than its city centre competitors, and it's my favourite in terms of quality and freshness. I highly recommend the mango-licious Golden Roll, and the Chicken Gyoza as a hot dish.
Set below cobbled-street level in a New Town basement, you could easily walk past The Stockbridge Restaurant (54 St Stephen Street) without noticing it - I did for years. A garland of ivy and fairy lights line the steps, and lead you to the family-run, fine-dining restaurant. Local, seasonal produce is at the heart of a series of meticulously created dishes which are a treat for both the eyes and the taste buds.
The quality of food surpasses that of any I've had elsewhere in the city, with a refreshingly unpretentious ambience and service style. It is perfect for a date-night or special occasion, and the set menu won't break the bank. Any dish you choose will be a winner, just make sure you leave room for the legendary cheese board!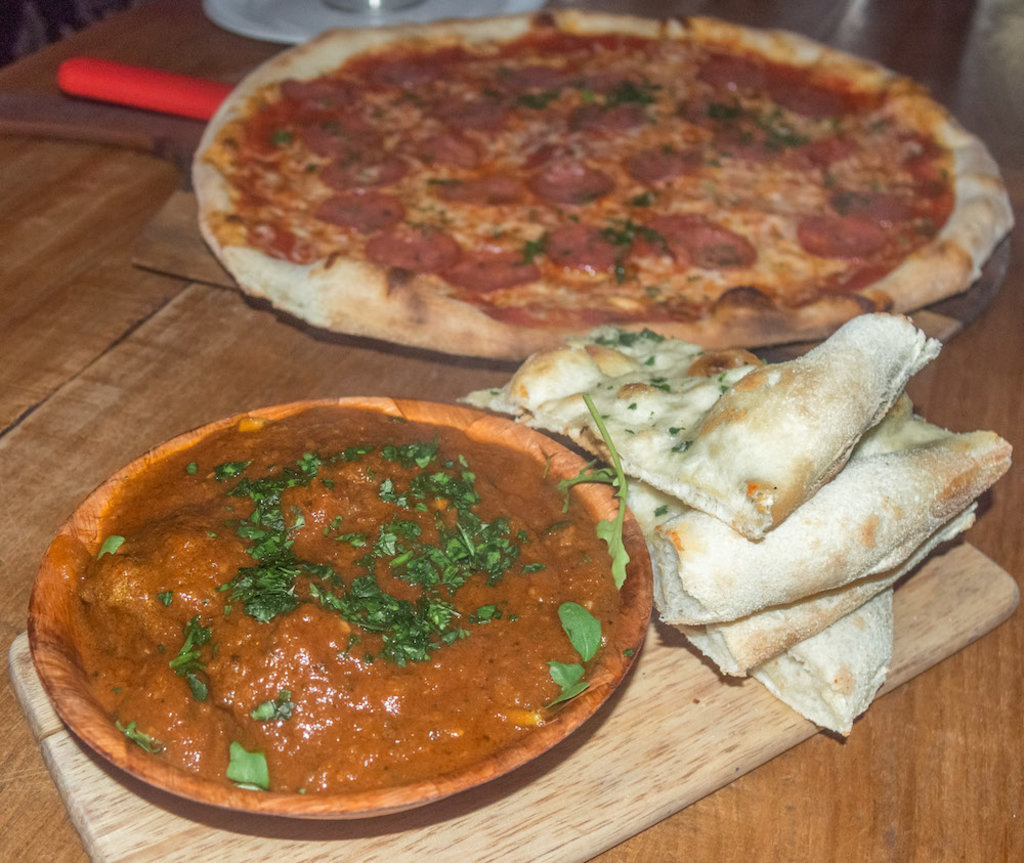 Civerinos (5 Hunter Square): This Italian street food and pizza bar opened just this year, yet has already earned its position as my favourite Italian in Edinburgh. Located just off the Royal Mile it is super-central, with banquet-style seating and exposed brickwork in a cool, relaxed interior which make the trademark paper plates look good.
The Arancini is the best I've ever tasted, and the Meatballs & Porcini are worth ordering just for the pleasure of dipping the garlic bread into the delicious sauce. I'm also a huge supporter of the Polenta & Rosemary Chips. If you're just after freshly prepared pizza, take advantage of the Monday - Wednesday deal featuring a 14" pizza and Pieroni for £10.
BARS AND CAFÉS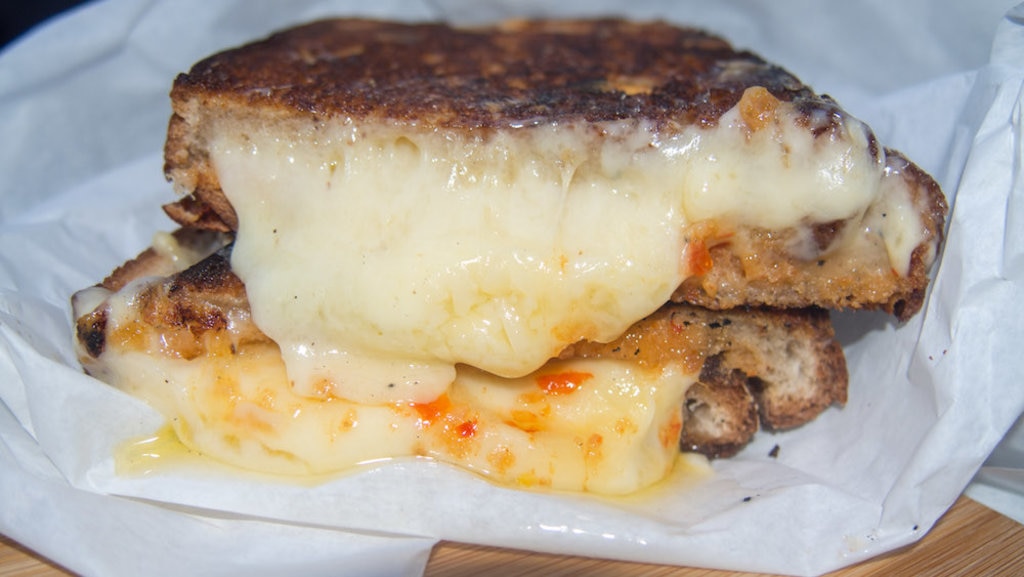 Cairngorm Coffee Co. (41a Frederick Street): Despite being hidden below street level in the city centre, this independent cafe is deceivingly spacious inside and immensely popular with locals thanks to the two key selling points which are spelled out on the wooden crate of flowers outside, "Coffee and Grilled Cheese".
Their quality coffee offerings include a special 'Cairngorm blend', the handiwork of a local coffee expert. The same focus on quality and locally sourced ingredients is applied to their famous Grilled Cheese Sandwich; daily-delivered sourdough bread, a trio of (grilled?) local cheeses and a café-exclusive chilli jam. It's not to be missed!
Love Crumbs (155 West Port): This cute coffee shop sits within a collection of streets which are most commonly known for their high density of strip-bars, making this a real hidden gem. Love Crumbs brings new meaning to a 'window seat'; there's a little cushion clad cubby hole in the window display for you to slouch in and watch the world go by. In the adjacent window you'll find the display of cakes for which the establishment is famed; the salted caramel cake was an easy choice for me.
Owner Holly and her friend opened the shop three years ago, and now have another successful coffee shop/bakery - Twelve Triangles - which specialises in freshly baked bread and doughnuts, plus a team of six bakers. Love Crumbs is airy, with spot-on coffee, old furniture and friendly staff. It's the kind of place you can sit all day.
Nobles Bar (44a Constitution Street): Nobles is my go-to local bar in Leith. With a nautical stained glass window centrepiece, antique-look furniture and multi-coloured wooden chairs, this is a pub with a barrel-load of character and charm. There are plenty of local beers and single malts to enjoy by candlelight in the evening or outside in the sunshine during the day.
I enjoy drinks here as much as I do a full Scottish breakfast to take the edge off the following morning; it's the best breakfast I've found in Edinburgh. Their gastro-pub food is served in large yet high quality portions, the epic Fish & Chips being just one example.
The Carriers Quarters (42 Bernard Street): The Carriers Quarters, said to be the oldest pub in Leith, has remained modestly unchanged over the years. It is simple, traditional and really feels like a locals' pub. I can (often) be found perched in the wee window booth with a friend enjoying pints and £5 haggis nachos. If you're looking for a small and welcoming pub, where a round of drinks is noticeably cheaper than in some of its neighbours, it is worth stopping by.
The Roseleaf (23/24 Sandport Place): Perched on its own cobbled-street corner, the Roseleaf is a quirky, family run pub with plenty of personality. Cute trinkets, kitsch accessories and local art/photography keeps your eyes amused while you wait for your food and drinks. For breakfast try a super-Scottish Eggs Benedict topped with haggis or Stornoway black pudding, and for dinner the 'Mac Attack' macaroni and cheese is made with my favourite cheese - Smoked Applewood Cheddar - leek and smoky bacon.
For something unique, you can book a 'Mad Hatters T-Party' involving cocktails served in kitsch china teapots and a choice of costume hats to get into the spirit of things.
THINGS TO DO
Ride a riverboat on the Union Canal (Fountainbridge): For four years I walked this canal side route to university, through choice rather than necessity. The canal runs all the way from Fountainbridge in the city centre to Falkirk and the famous Falkirk Wheel. It's the ultimate urban waterway in the city, featuring the Leamington Lift Bridge, rows of colourful riverboats and a sporadic splash of graffiti.
The Lochrine Belle riverboat can be hired out for private groups, including Stag and Hen parties, starting at £132 for the hour. Cruising down a canal in the centre of Scotland's capital is not your everyday experience.
Hang out at The Shore (Leith): Leith's waterfront has served as the city's port for centuries, and while it has undergone a stylish transformation in the last decade, the area is accessorised with nautical charms to honour its heritage. The streets are cobbled, the pubs were once frequented by sailors, and two of Edinburgh's Michelin star restaurants can be found here.
Your Instagram account will love the little lighthouse, the old Swing Bridge, the iron anchors and the ship's wheel, and the classic scene of the boats docked at the Water of Leith.
See the city from Calton Hill : Despite being less prominent on the cityscape than the imposing Arthur's Seat, a walk up Calton Hill is not to be missed and is arguably more accessible from the city centre. This viewpoint is blessed with a panorama of both Edinburgh's touristy and residential areas, as well as a view of of the Firth of Forth and the unrivalled spectacle of the sweeping gradient of Salisbury Crags on Arthur's Seat.
The key point of interest on the hill itself is the National Monument of Scotland, an unfinished memorial to commemorate the Scottish soldiers and sailors who fought in the Napoleonic Wars; it was planned to resemble the Parthenon in Athens and has instead become referred to as 'Edinburgh's disgrace' as it was never completed. I think it is beautiful and iconic exactly the way it is, and is a perfect perch on a sunny day.
Dean Village (Stockbridge): This short, flat walk runs alongside the Water of Leith from Stockbridge, depositing you at the west end of the city centre. It could be a pleasant but fairly average woodland trail, were it not for the 18th century Roman-style St Bernard's Well, the towering arches of the Dean Bridge, and the adorable Dean Village. It's a special place, and one of my top 'wee walks' in the city.
The Dean Village retains much of its original charm, with a riverside backdrop lifted straight from the pages of a fairytale storybook. The vehicles parked outside, and other modern-day give-aways notwithstanding, walking through Well Court is like stepping back 200 years, if your imagination will let you.
SHOPPING
Stockbridge Market (1 Saunders Street): Other than in bed, there is no better way to spend a Sunday morning than at Stockbridge Market. Despite being in Edinburgh's central New Town, Stockbridge looks and feels like its own self-contained little village. If there was such a thing as 'cute village criteria', Stockbridge would tick all of the boxes; cobbled streets, local suppliers, a clock tower, a bridge and a river. Oh, and the market of course.
From 10:00 to 17:00 every Sunday almost fifty small traders from Edinburgh and beyond showcase their produce and crafts to non-stop moving crowds. I literally follow my nose to the street food stalls and enter into my ritual dilemma; noodles or gyoza, paella or just a pie. There's also local crafts, clothing, fresh meat and seafood, artisan coffee, sweet treats, fresh bread, cupcakes, condiments and, if you're lucky, a busker for entertainment.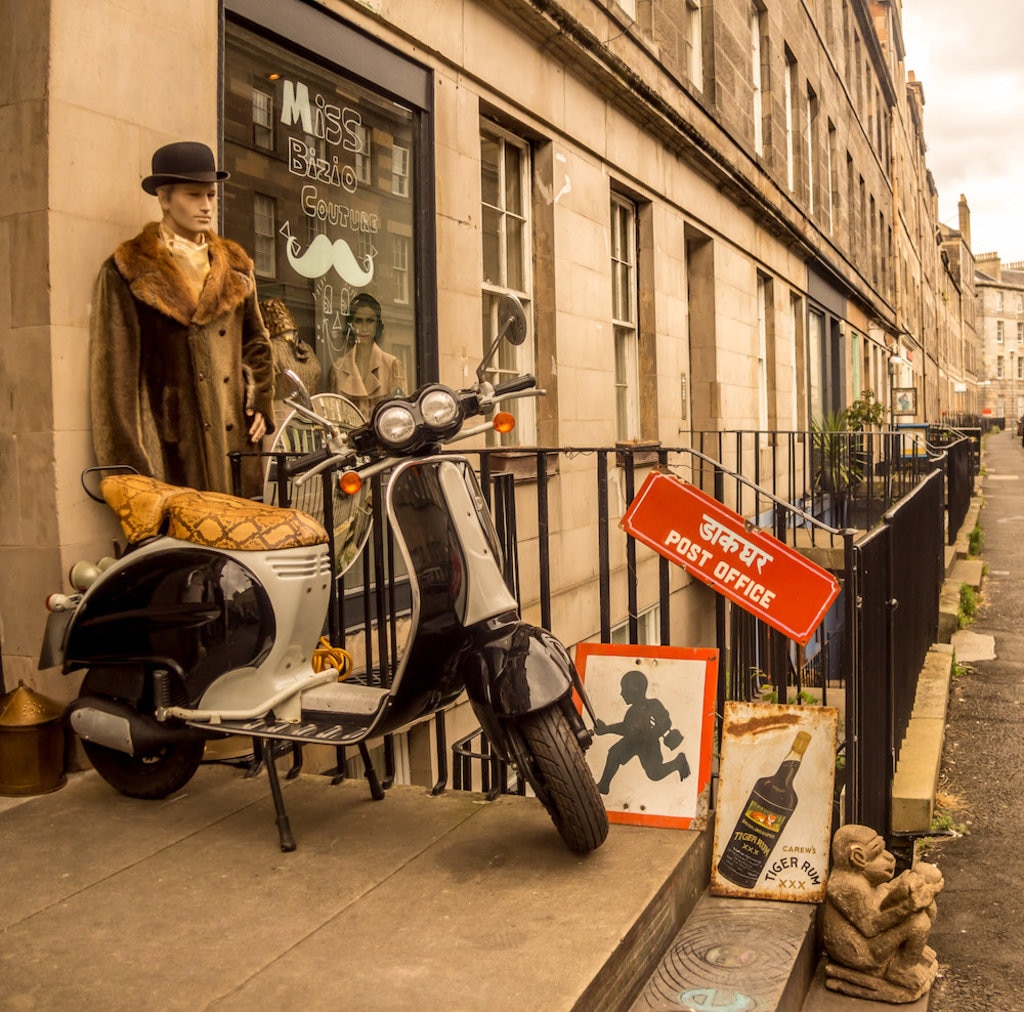 St Stephen's Street, Stockbridge: When it comes to retail therapy in Stockbridge, it's all about the golden oldies. Aligned perfectly with the street's historic past, St Stephen's Street is a hot-spot for vintage clothing shops. Miss Bizio Couture has the best dressed porch on the street, donning a Vespa, retro tin signs and some colourful chalk lettering on the steps. Effervescent owner Joanna Bizio has built a collection of vintage couture over three decades, and displays a mere fraction of this in store. I love her Instagram account and wish I could afford all of the clothes! On the other side of the street is the more affordable Those Were the Days vintage boutique. My favourite find in there was a 1950s polka-dot dress for just £25.
Cockburn Street, City Centre: Celebrate retail independence on this quirky Old Town Street, once a popular hang-out for teenage Goths. When I'm not shopping online, I'm shopping here. Cockburn Street winds downwards from the Royal Mile and is lined with independent eateries and boutiques. Clothing shop Cookie has the cutest dresses - think Alice-in-Wonderland-tea party - and the Frayed Hem specialises in vintage clothing. Pie in Sky offers a mixture of both for very reasonable prices, with some statement jewellery, too.
Old Town Context on the other side of the street is brimming with retro home ware, tasteful souvenirs and exclusive pieces from local designers, and a swathe of cool memorabilia and trinkets.
Deanhaugh Street, Stockbridge: There are even more bargains to be found in the Stockbridge's numerous charity shops, most of which are on Deanhaugh Street and Raeburn Place. Stockbridge is an affluent area, so the quality of the second hand items is usually very good, and you may be lucky enough to find some designer pieces.
GALLERIES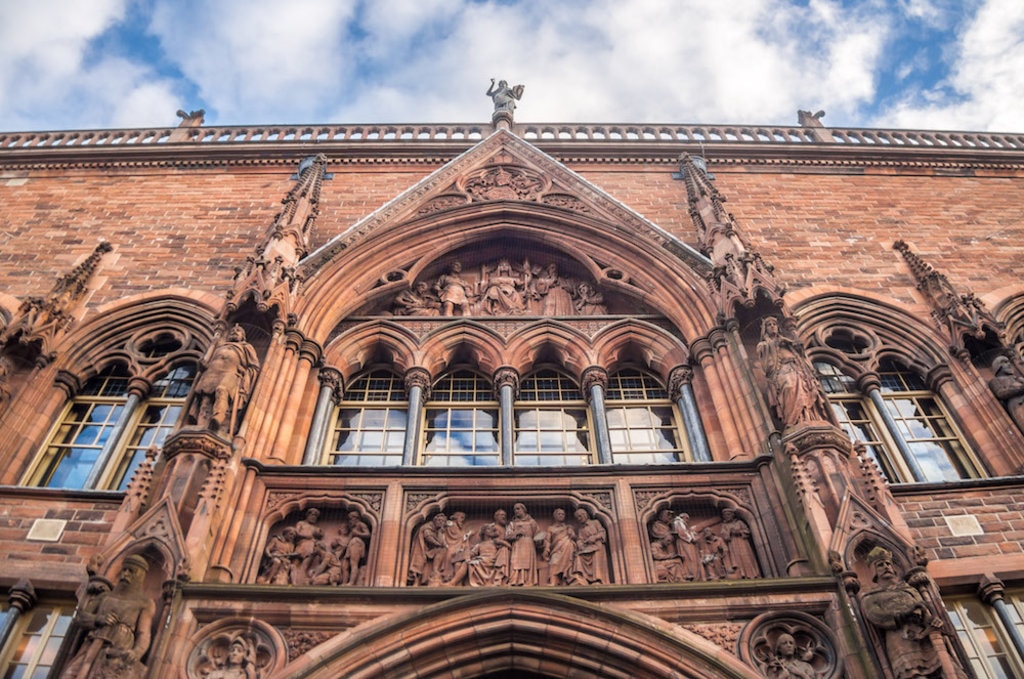 The National Portrait Gallery (1 Queen Street): Not actually on the tourist trail but on a busy main road in the New Town, this gorgeous Neo-Gothic building is aesthetically pleasing both outside and in. When I need a refresher in Scottish history, I enjoy browsing the elaborate galleries with portraits of many great characters from Scotland's past, imagining what was on their minds as they posed for their portrait all those years ago.
If portraits aren't your thing, this free attraction is still worth a look purely to appreciate the Great Hall upon entry, and the stunning Victorian Library.
The Scottish National Gallery of Modern Art (75 Belford Road): While I wouldn't consider myself an 'art lover' by any means, a visit to this gallery is undeniably therapeutic. It starts with a welcoming sign emblazoned above the neo-classical columns at the entrance - 'Everything's Going to be Alright' - which is good start.
Split into Modern One and Modern Two on opposite sides of the street, the gallery has some interesting outside spaces to add to its appeal. The lawn at Modern One, landscaped by Charles Jencks, is a contemporary and somewhat psychedelic alfresco exhibit.
While entry to the gallery is free, I usually succumb to a scone or a savoury treat in the top notch gallery cafe, and a souvenir print in the gift shop.
Stills, Centre for Photography (23 Cockburn Street): The simple, neutral facade camouflages this gallery into Cockburn Street's brickwork, meaning that it may go unnoticed by those passing. This street level gallery showcases the work of various artists as well as that of local communities with the use of multiple visual aids. The displays are engaging, provocative and even political. Entry is free.
The gallery also has creative space in the basement and offers a range of photography and video courses, and equipment hire.
Have you been to Edinburgh? What would you recommend?