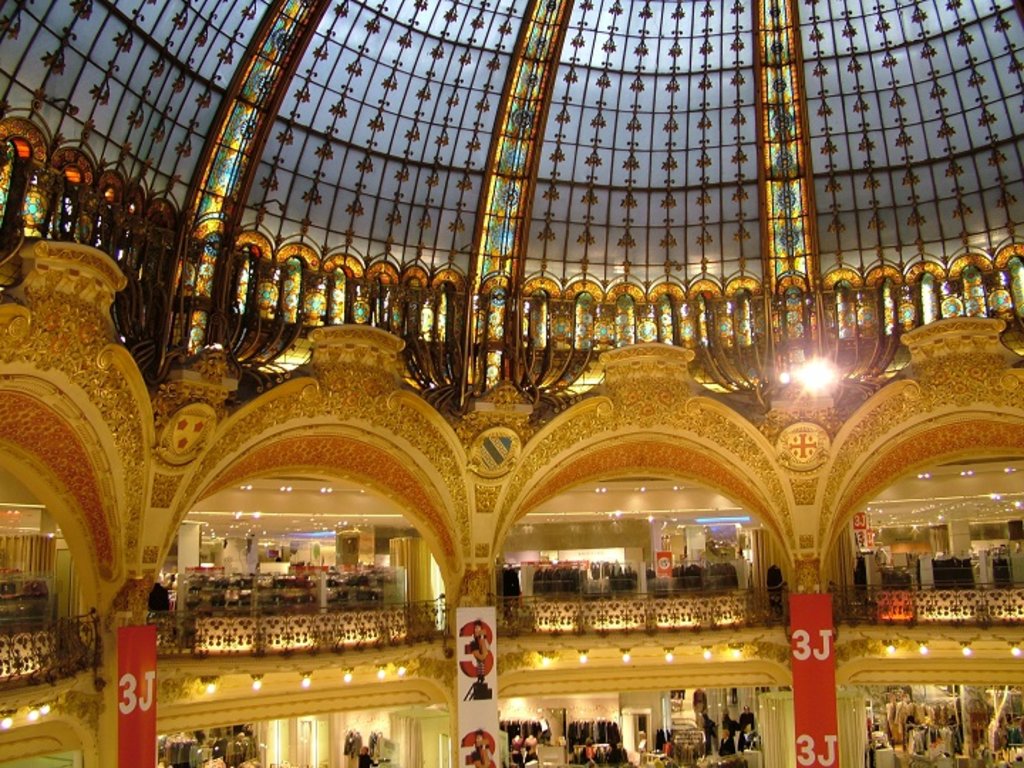 One of Paris' most iconic landmarks, the Galeries Lafayette, will soon undergo a massive facelift. For over 100 years the department store has been a focal point of the bustling Opera district, known for its boutiques, broad boulevards, and of course, its namesake opera house. But there's more to this neighbourhood than just pretty buildings and brand name shopping. Why not spend a day exploring all it has to offer?
The Opera district spans parts of the 2nd and 9th arrondissements, born during the overhaul of Paris in the 19th century. Baron Haussmann's vision of large streets stretching towards over-the-top monuments, and this area is one of the best examples of his vision. Its broad sidewalks lined with boutiques and big name shops is a paradise for anyone looking to heat up their bankcard.
Most major sights like the Louvre and Montmartre are walkable or a short metro ride away, making it a good base in Paris. Hotels here tend to be slightly larger than in the quainter parts of Paris. The W Hotel is a contemporary favourite, while the brand new Hotel Indigo Paris Opera offers something a bit more affordable.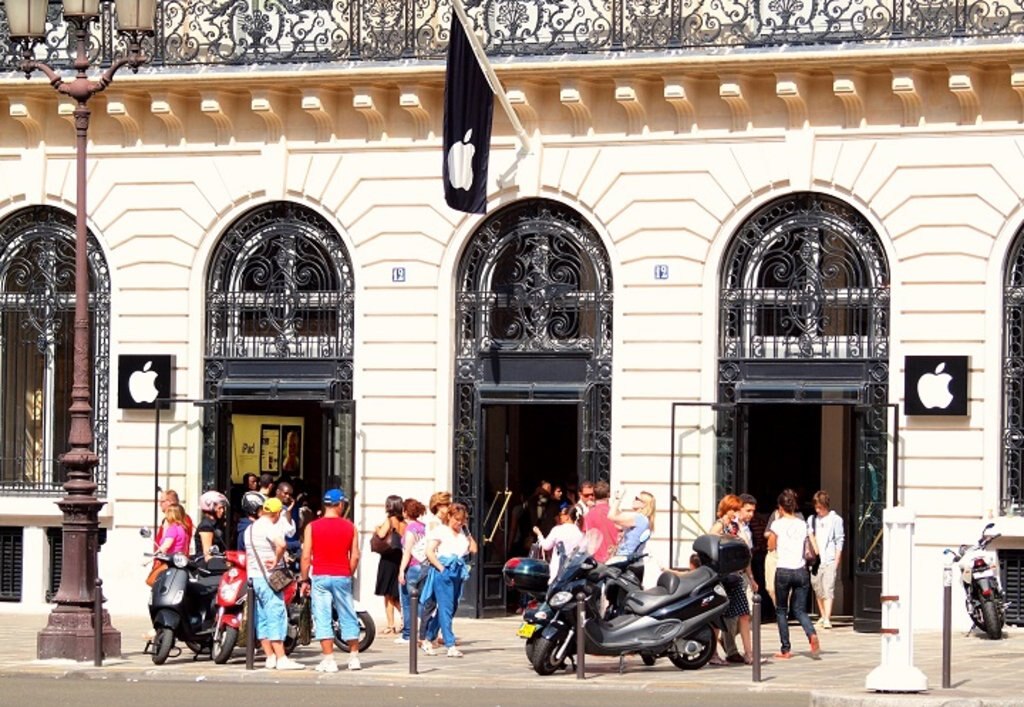 Shopping isn't just about fashion and perfume - think tech too
Credit: zoenet
Once you're out the door in the morning, the energy and possibilities in the Opera district seem endless. The shopping isn't necessarily world-class, but you can find everything you could possibly want. Huge clothing shops like Uniqlo and Zara can be found here along with the Apple store housed in an old bank.
Higher end shops aren't far away on rue Saint-Honoré, otherwise the department stores house all the big names under one roof. Even though Galeries Lafayette will likely be under construction for the next three years, it will still be open to shop or simply explore its beautiful Art Nouveau glass dome.
Just like its rival department store, Printemps, located next door, Lafayette will likely be as busy as ever, as foreign tourists line up for Chanel and Louis Vuitton bags. Take a breath of fresh air on the rooftop terrace of either department store (I prefer Printemps for the views and a coffee!). But then head back to the street - there's plenty more to see and experience.
To keep with the theme of luxury and shopping, the nearby Musée Fragonard offers free guided tours of their small, but fragrant museum. Of course there's a boutique as well. Just down the street on rue Scribe, Belgian chocolate maker Pierre Marcolini's boutique is not to be missed. But it's not all about consumerism in this neighbourhood.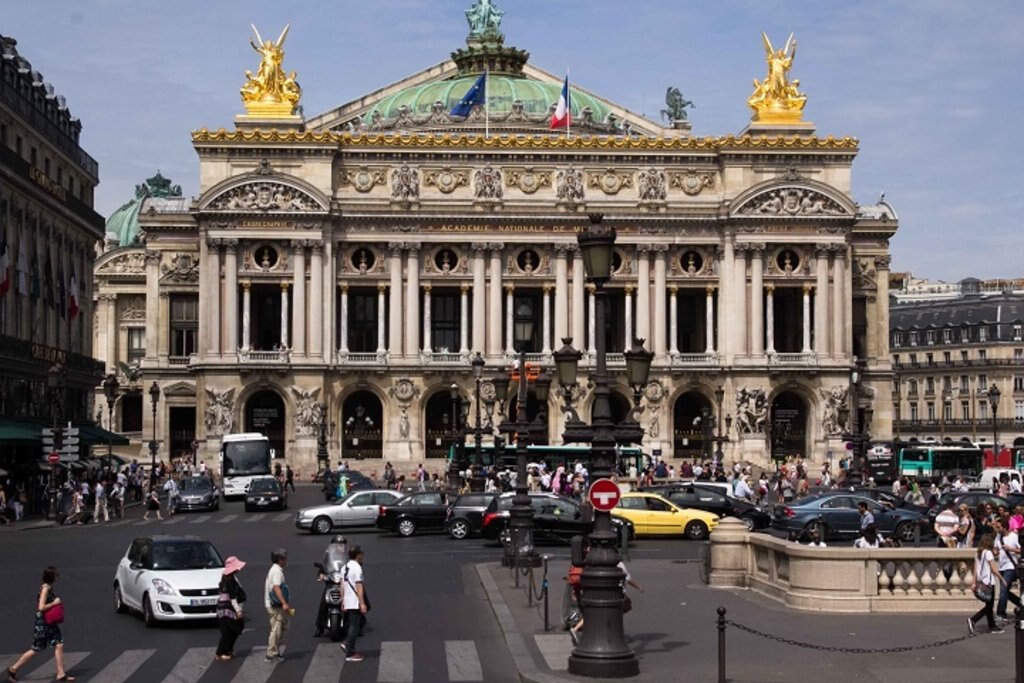 The Opera Garnier, built in the late 19th century, is still an active theatre
Credit: Steven Depolo
Head away from the shoppers and tourists who go there to gawk at handbags and scarves and dip into the most beautiful building in the district - if not in the whole city, in my opinion. The Opera Garnier, built in the late 19th century, is still an active theatre. There's no need to stress over tuxedos and tickets to a show (though it's not a bad idea). During the day, visitors can browse the hall on a self-guided tour. Don't miss the Grand Foyer, gilded and decked out with chandeliers.
After a bit of culture, it'll be time to have a bite. Fortunately, the neighbourhood caters to those who may have spent too much at the department stores. For lunch or dinner, nearby Pascade serves up an original dish of the same name, a sort of crepe-like bowl filled with various ingredients. Savouries go for around 20 euros a dish while a dessert pascade will cost around 12. Reserve in advance or just pop in to find a seat at one of their communal tables.
For something equally unique to the neighbourhood, head just south of the opera house to Rue Sainte-Anne. A sort of 'Little Tokyo', the street is lined with extremely affordable and oftentimes crowded local spots for ramen and soup, with lunch menus hovering around 10-15 euros. Or for something a little more French, I strongly suggest a green tea éclair or green tea millefeuille from Aki Boulangerie for a bit of fusion dessert.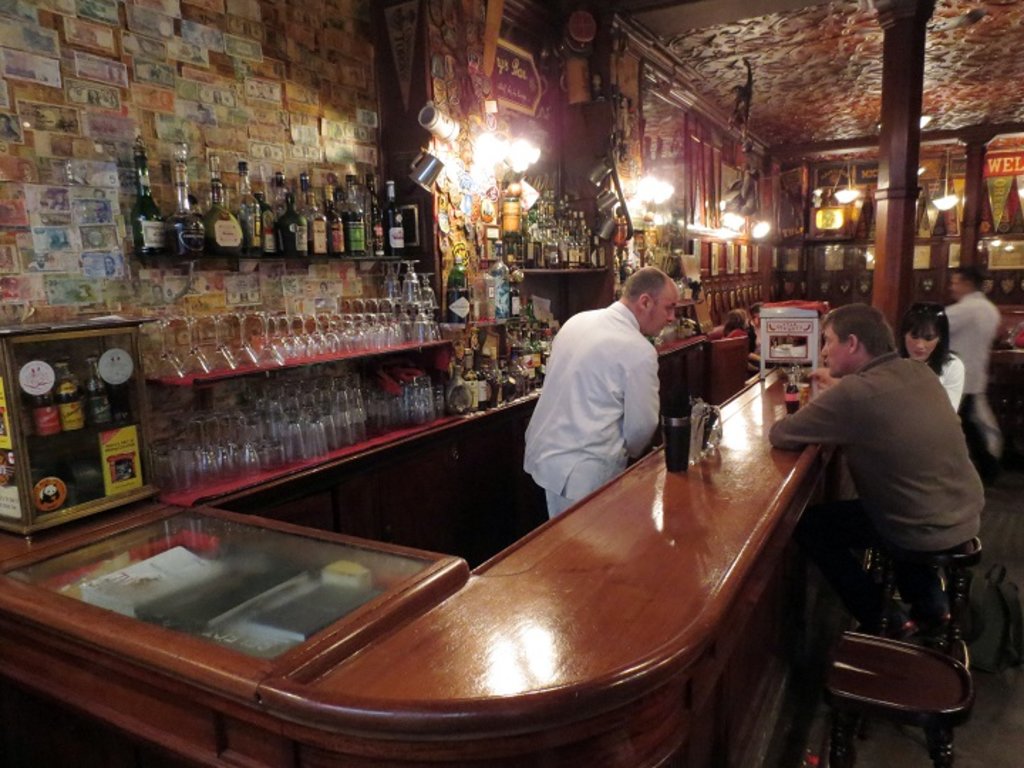 Harry's Bar is the birthplace of cocktails like the Bloody Mary
Credit: Mitch Barrie
Later in the evening, head to the iconic birthplace of drinks like the Bloody Mary and the Sidecar at Harry's Bar. The bar was actually dismantled from its New York location and rebuilt in Paris in the early 1900s. Today, with its walls covered in American university pennants, it's still a pilgrimage site for cocktail lovers.
Even if you don't buy a thing, strolling the Opera district is a must - just be careful during the twice-annual sales when the serious shoppers appear. It can get hectic!
Book one of our hotel deals in Paris and explore the bustling Opera district.
Try these next:
Paris: Discover the Latin Quarter