Barcelona's most famous architect left work all over the city, from modest apartment blocks to sprawling college buildings. To help you hit the real Gaudi trail, we've broken them down by district.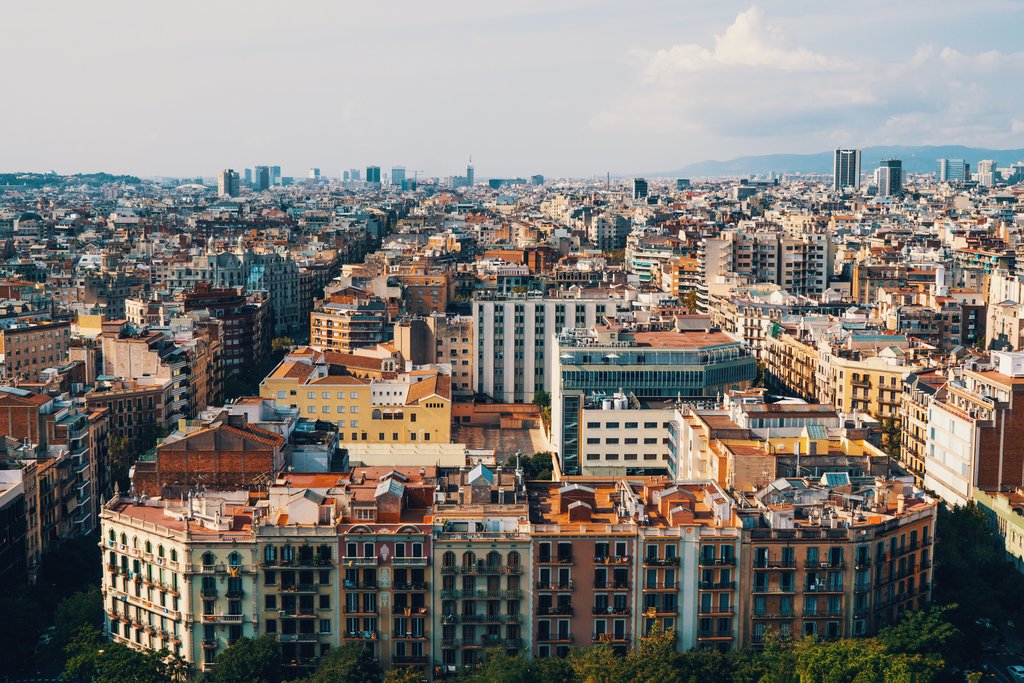 Ciutat Vella: The patron's house
It might surprise newbies to find that only one Gaudi building is in the heart of Barcelona. In some ways it's an accident of history: in his era the city was expanding north to meet its outlying villages, with whole new neighbourhoods being laid out in Eixample (whose name is Catalan for 'expansion'). So that's where you'll find much of the work.
The exception is Palau Güell (Carrer Nou de la Rambla, 3), built for Gaudi's biggest patron Eusebi Güell. Behind its imposing façade and huge wrought-iron gates is Gaudi's take on a Gothic mansion, complete with grand halls, columned galleries and stained glass windows. The colour scheme - bare stone, dark wood, red and gold - may seem a bit sombre, but that stops on the roof terrace, where Gaudi turned 20 simple chimneys into bizarre technicolour sculptures.
Where to stay: Three-star Gaudi is over the road, and has views of those chimneys from its roof terrace. If you're looking for luxury, five-star Hotel DO Plaça Reial is a few minutes' walk away.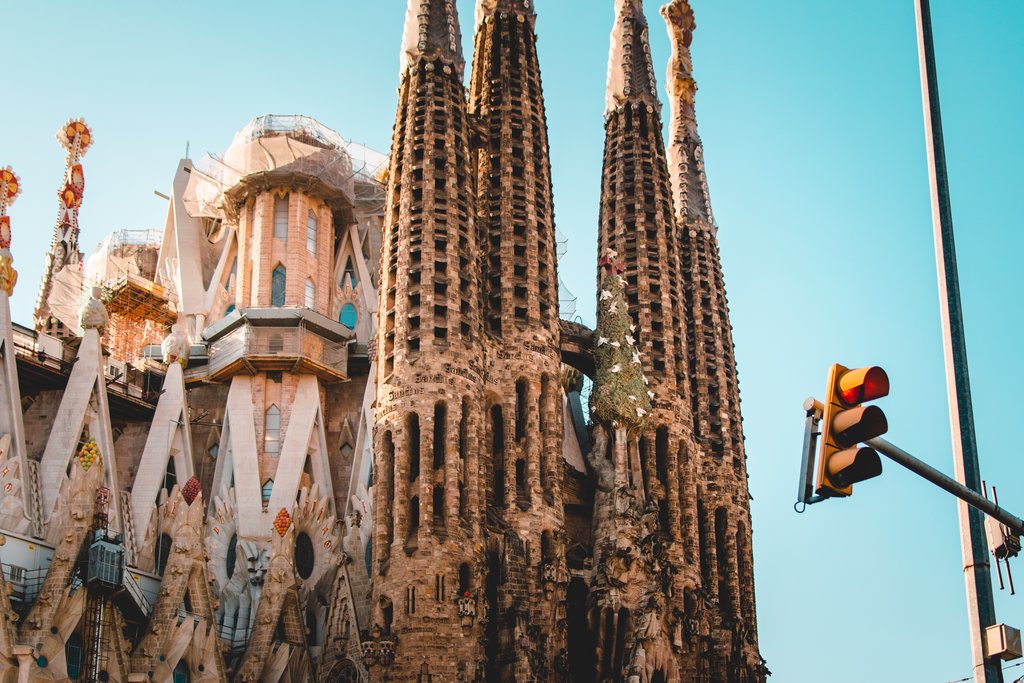 Eixample: Three apartment blocks and one huge cathedral
Start in the south with Casa Calvet (Carrer de Casp, 48), whose relatively conservative façade still comes with ornate wrought iron balconies and bobbin-shaped columns - a nod the textile magnate who commissioned the building. It isn't open to the public, but the ground floor houses a highly regarded restaurant.
Next, go northwest up the huge Passeig de Gracia. You'll soon come to Casa Batllo (Passeig de Gràcia, 43), which unlike Casa Calvet is impossible to miss. Its façade - all twinkling mosaics, fluid lines and stained glass windows - is pure Gaudi. This one is open to the public, and is arguably even more impressive inside, with a series of elaborate rooms and stairwells leading up to a serene vaulted attic room and a gorgeous roof terrace.
Continue up Passeig de Gracia and take a right onto Carrer de Provença to find Casa Milà (Carrer de Provença, 261-265). This is Gaudi's residential work on a grand scale, wrapping around a wide street corner and rising eight stories high. Today much of the building is given over to museum and exhibition space.
Off to the east, and right on the border of Eixample and Gràcia, is the big one: La Sagrada Familia (Carrer de Mallorca, 401). This is Gaudi's masterpiece, and is almost certainly on your list anyway, so we won't go into detail - we'll just urge you to book in advance, because the queues can be enormous.
Where to stay: Go for something near Passeig de Gracia. Try Ciudad Condal as a budget option, or the Mandarin Oriental for a blowout. If you'd rather be near La Sagrada, Ayre Hotel Rosellon is just a block away.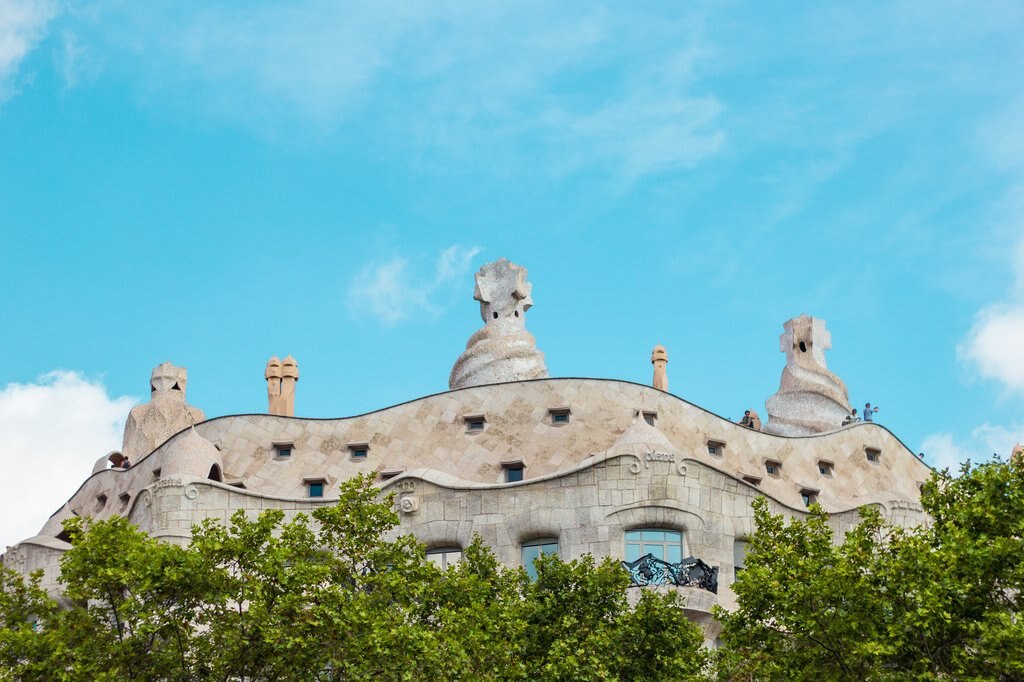 Gràcia: An early house and a late park
Like La Sagrada, Park Güell (main entrance on Carrer d'Olot) is on many visitors' lists already. Originally a failed housing development, it was relaunched as a park in 1926, and is packed with quirky and colourful pavilions and terraces. Take in the panoramic view from the top terrace, and don't miss La Torre Rosa, a former Gaudi residence now preserved as a museum. (There's also the multimedia 'Gaudi Experience' just south of the park, but we're sticking to Gaudi buildings here.)
Down in the Vila de Gràcia neighbourhood you'll find Casa Vicens (Carrer de les Carolines, 18), a Moorish-influenced house that dates right back to the start of Gaudi's career. At time of writing a long-standing project to turn the house into a museum is still underway, expected to finish in late 2017. Based on the elaborate stone-and-tile exterior, the inside should be a treat.
Where to stay: Factory House Hotel has hostel-style dorms and private rooms right by Park Güell. Down by Casa Vicens, try Aparthotel Silver for a budget stay or Gran de Gràcia Apartments for something mid-range.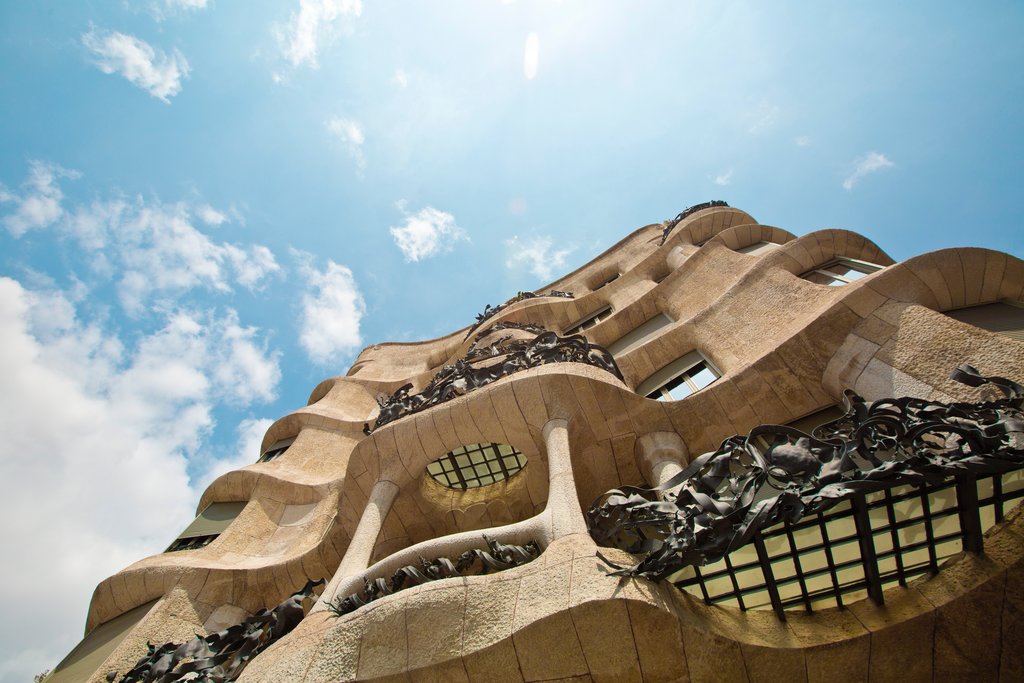 Sarria-Sant Gervasi: A college and a castle
You'll need to use public transport to tick off this district's three sights, as they're very spread out. The closest to the city is the Teresian College (Carrer de Ganduxer), a monumental convent school decorated with countless narrow arches and a grand entrance tower. If the straight, rectangular plan seems unusual for Gaudi, that's because he inherited it from another architect. You'll have to admire this one from a distance, as it doesn't offer public visits - in fact, it is still used as a school today.
Further north, and right on the edge of the city, lies Bellesguard (Carrer Benedetti, 16). Think of it as 'Gaudi does Gothic' - a looming church-castle hybrid covered in elaborate windows and balconies, and capped with an unusual colourful spire. Guided and self-guided tours are available.
Where to stay: There's a little less choice out here, but My Space Barcelona will put you close to Teresian College. Vilana Hotel and My Space Bonanova Center are close to Bellesguard.
Have you been to Barcelona and seen some of Gaudi's work?