Editor's note: Traveller Notes aims to uncover the spots that local residents love, providing you with an insider's guide to cities around the world. Our Traveller Notes guide to Athens is written by Becki Enright of Borders of Adventure. For practical information and a basic Athens itinerary, check out Expedia's 72-hour guide to Athens, also written by Becki. We hope you enjoy this insider guide to Athens! -Brenna
Like any bustling metropolis, Athens presents enough activity and spontaneity to keep me interested. There's a lot of ground to cover, and much of it is hardly spoken about or rarely trodden by first-time visitors. It may be an ancient city, where people meander through the sleepy ruins, but its gritty modern-day offering is constantly changing with a creative force, garnering positive attention away from a crisis-ridden reputation.
In the year I lived there, I learned something new every single day. Every day I tried to walk a new route to find a new street, a new store, or a detail I'd never observed - Athens is a complex and multi-layered city outside of its 'cradle of civilisation' and Acropolis fame. You only realise just how big Athens in when you stand at the aforementioned Acropolis hilltop, marveling the mighty Parthenon, looking over the walls at the old neighbourhoods and the sprawling metropolis that spills around the sporadic mounds that dot the city until it reaches the curves of the mountains.
This perspective makes you want to explore more of the present-day city below. The one thing I tell any visitor to Athens is this: "give it time". Don't pass through and cast an opinion based on a few flashes of gritty streets and crowded tourist hubs or of streets covered more in graffiti than classical golden hues.
Contemporary Athens suffers from an identity crisis of sorts - the birthplace of democracy has seen its fair share of change and charge. First came Roman rule, then Byzantine, and then Ottoman. On top of that you have a wave of seven wars including those in the Balkans, World War II, and a civil war. Overall, the city remains a blend of monuments and cultures that neither makes it predominantly pretty or easily to define. Rather, it's often misunderstood.
So in the hours I spent wandering through these cracks, I managed to find the beauty within. The places where generations old culture thrives and where contemporary life pulsates. Where the political voice of street art sits alongside the spattering of architectural splendor including triangular pediments and classical columns. I like to untangle it so that your visit can be more enjoyable, better rounded, and with the context needed to keep you in the city for more than the 24 hours normally granted to it as a stopover to the many glorious islands.
restaurants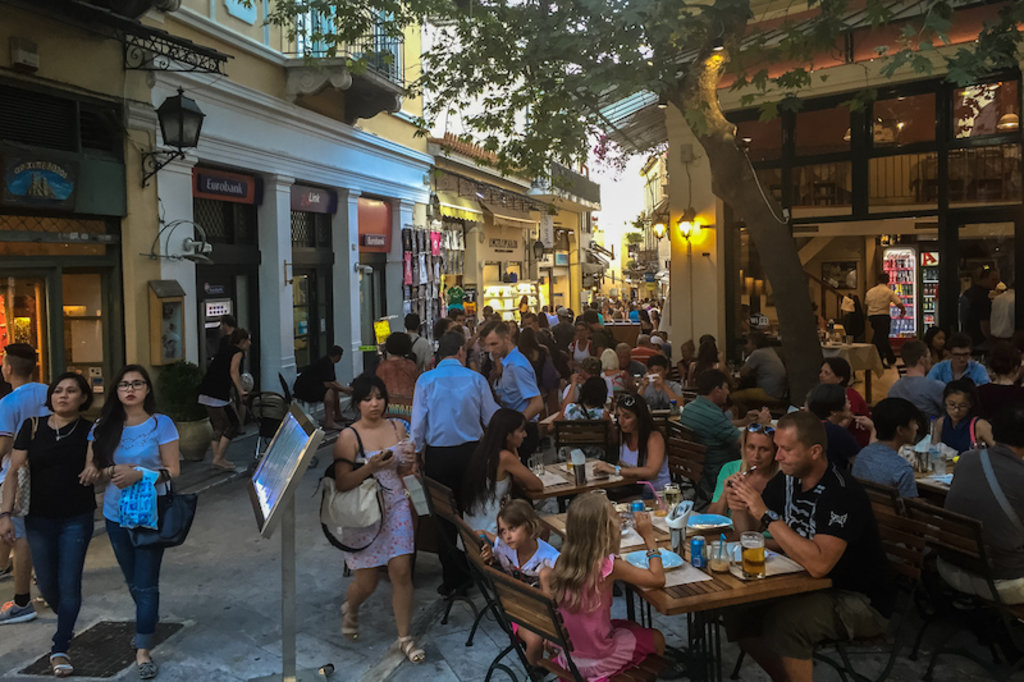 Thanasis (Mitropoleos 69) or Kostas (Pentelis 5)... which is the best souvlaki? Asking where the best souvlaki in Athens is could result in a multitude of answers. Some may argue about it until they are blue in the face. You see, souvlaki is a food institution and everyone has their favourites - and these two establishments are just covering the very centre of town. My advice? Go to both. You can never eat too much souvlaki.
I love brunching and gossiping over the week's events, and while Mama Roux (Aiolou 48) is perfect on any day of the week, it's especially popular on the weekend. The colourful umbrella décor can't be missed on busy Aiolou street, and it's a great place to sit. The wait for a table is testament to its tasty menu, from tasty salads to succulent salmon souvlaki.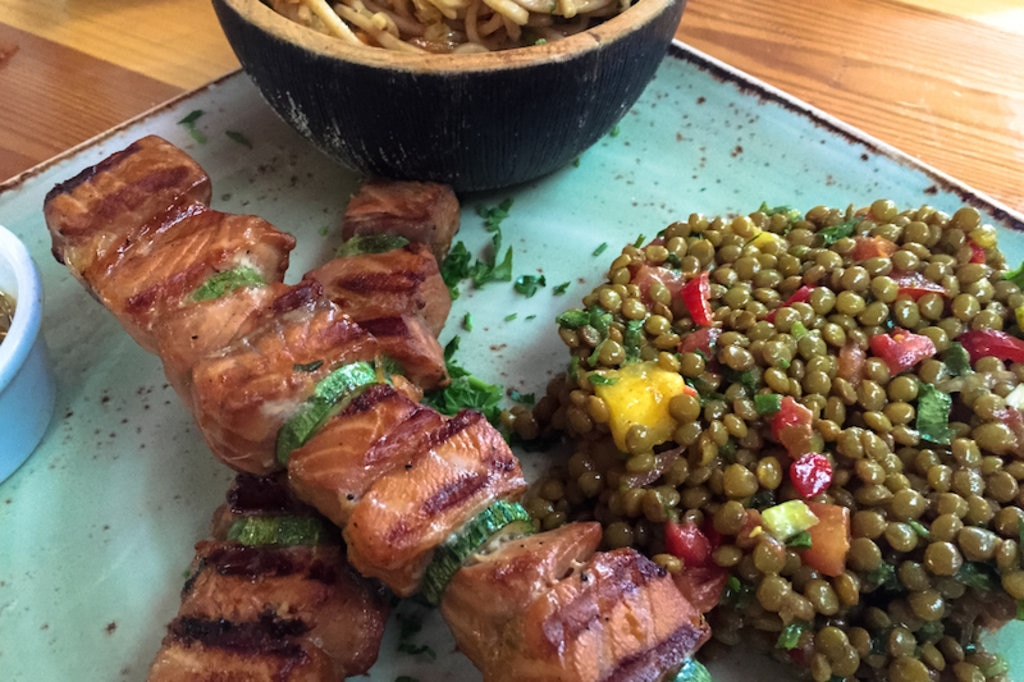 There's nothing more exquisite than being able to dine in a mansion that has been restored and revived, especially in lesser-known Metaxourghio. I believe we all need to support such efforts, especially in a city trying to preserve its beauty. For a touch of class, incredible modern-Greek cuisine with rich flavor, paired with the finest wines in the region, head to Aleria (Meg. Alexandrou 57).
BARS AND CAFÉS
TAF (Normanou 5): I like to feel like I'm hiding within the walls of this old wooden structure tucked away in a side alley off busy Ermou street, and always feel proud to show someone the secret door. The Art Foundation may be a co-working space for artists, but this cosy café and bar space is open to everyone. Absorb the history why perusing modern art. It's a perfect example of the old-new creativity of Athens.
Kimolia Art Café (Iperidou 5): Young, funky and colourful, this café is housed within a restored 1925 house, brought to life by an Athenian artist. Any café based on revival and artistic rejuvenation gets my vote, which sometimes means stumbling upon a small exhibition while sipping your coffee or stopping for a snack.
Couleur Locale (Normanou 3): A couple of doors down from TAF is Couleur Locale - I come here to meet friends for a coffee and a catch up because it's contemporary and bright. To get here, first enter a stoa (arcade) on Normanou street before climbing the stairs to this contemporary rooftop café-bar space for an atmospheric view of the Acropolis.
Black Duck Garden (loannou Paparrigopoulou 5): I've recently become accustomed to spending one day of the weekend perusing a gallery or exhibition of some kind, followed by a thoughtful rest in a café. In this case, you can do it in one place - a quaint setting for a concealed café set within the Museum of the City of Athens. The perfect combinations of culture, art and atmosphere.
360 (Ifestou 2) and A is for Athens (Miaouli 2): I always take visitors to one of these bars so they can marvel at the Acropolis with a cocktail in hand (Aperol Spritz is my sunny drink of choice). Both rooftop bars and restaurants overlook Monastiraki Square and are perfect for an easy accessible ancient view. A is for Athens is higher and attracts those wanting a romantic evening viewing spot, but it's also fun to hang out with a group of friends and have a rooftop gathering.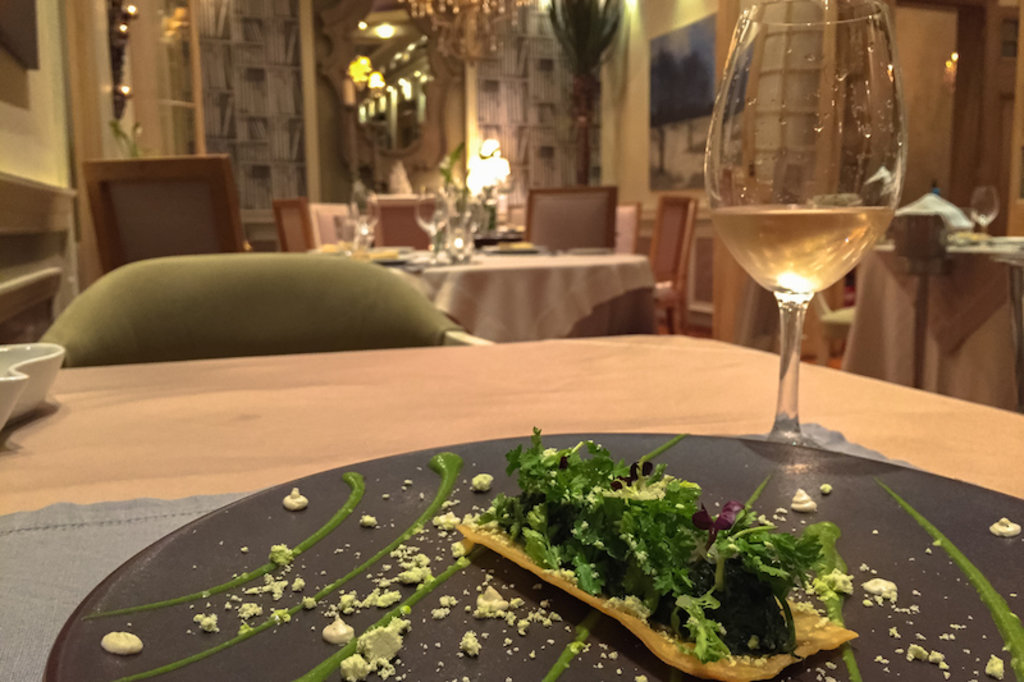 NIGHTLIFE
Athenians party until the early hours, and by early hours I mean until 6 or 7am. It took a while for my body to contemplate that time shift, but this is the way it is done in Athens, so be sure to have your 'disco nap' before your late dinner, in preparation for the early morning. Even then, you may be invited to continue on...
Six Dogs (Avramiotou 6-8): This is always where I take first time visitors. It's concealed on a side alley just off a main road, which makes people really excited. The bright light of the logo invites you to enter a basement that turns into a huge bar and outdoor garden space. It has become one of Athens' most popular and much loved bars and gig spaces.
Drunk Sinatra (Thiseos 16): I normally have a 'bar routine' and this place is usually the second place I visit on a bar hop. Why? 60's style class, with a modern and funky vibe, right in the historical centre of Athens. Dine all day and drink all night, but at night it's especially vibrant.
Old Fashioned (Miaouli 16): It's super local, but everyone is welcome. A small space with welcoming staff and a DJ playing tracks from bygone eras - often a place where I swing by and say hello, although have often found myself in there until closing.
Tranzistor (Protogenous 10): When I want to be in a super-crowded space and meet many, many new faces, I come here. A colourful café bistro by day and a bustling club bar by night, this place draws in the crowds from laid-back socialites to the real party crowd. Brace yourself for its overflowing popularity.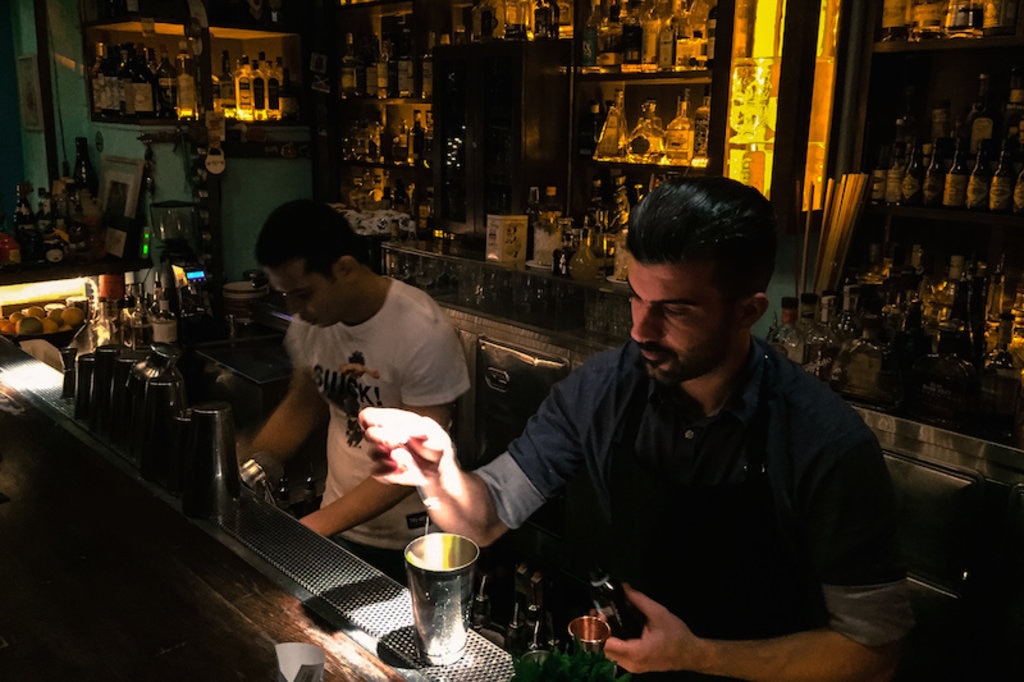 Baba Au Rum (Klitiou 6): I come here because the locals always mention it as one of the city favourites, and for good reason. This bar prides itself on premium spirits (including top-notch rums) alongside the production of some of the finest handcrafted cocktails. This small establishment may be tucked away, but it is never without a loyal gathering.
Noel (Kolokotroni 59): This bar has become one of my new regular hangouts and visitors soon realise how pumping Athens is at night. It hasn't been open long yet it already pulls in a very large crowd. Maybe it's because of the prime positioning just off the popular Agias Irinis Square. Or maybe it's because of its red and gold holiday décor. Or maybe, just maybe, it's because of the exquisite bar layout, whose bar staff are some of the smartly, best-dressed of them all... that's what I think anyway!
WINE BARS
While Greece isn't very well-known for its wine, the wine scene in Athens has grown over the past few years in an attempt to highlight homegrown varieties. I'm happy to try a lot of it at the established wine bars in town, each with their own unique décor, vibe, and offering. Mix the wine-tasting with accompanying savory Greek snacks, and you're definitely doing it properly.
Heteroclito (Petraki 30): Always the first place I take wine lovers. It's on a quiet alley off the busy Ermou shopping street, and I love how it is a tiny place that's big on the exclusive Greek wine selection. Likely the city's most well-known wine bar, the in-depth advice from the two owners and its staff will see you try more than you had originally planned.
By the Glass (Souri 2): The red and black décor give this modern bar a swanky vibe. As by the name, the huge wine selection is available by the glass. They also host wine classes and private parties.
Oinoscent (Voulis 45-47): There's a lot of charm to this place, and I prefer to come here with a group. Named as one of the Guardian's 'Athens Best Bites' in 2012, this new addition to the bar and café hub on Voulis street has a more relaxed atmosphere and attracts the younger crowd. It's known for having some of the best snacks to accompany your wine, especially the rusk-like bread.
neighbourhoods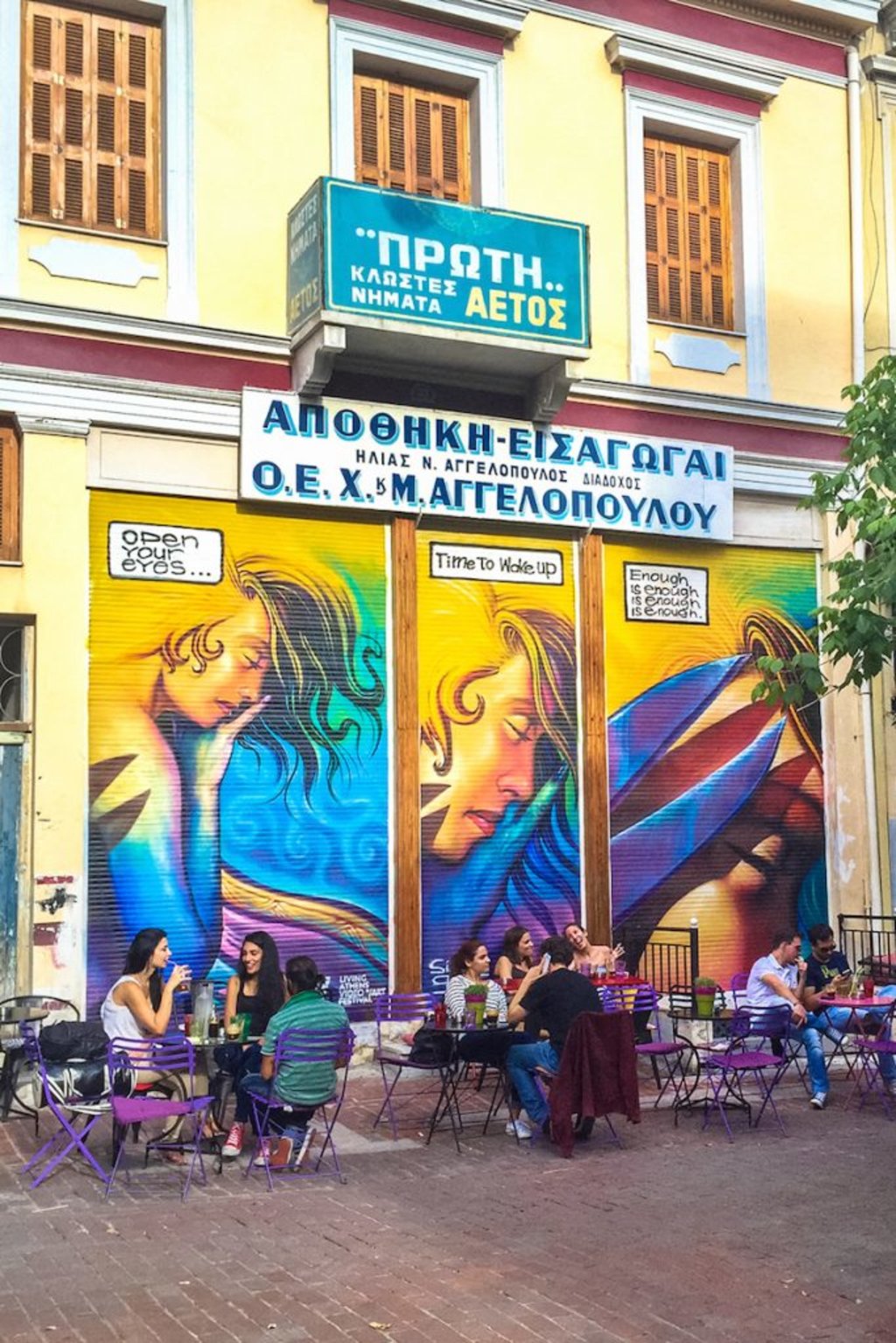 Monastiraki: Monastiraki Square is a great starting point from which to navigate the centre of the city, so I regularly will say: "Meet me outside Monastiraki Metro". The neighbourhood includes the long shopping street, Ermou, which runs to Syntagma Square, and also includes Athinas Street with its spice market streets and central market, which runs to Omonia Square. Monastiraki is also home to Agias Irini Square - where café culture keeps it buzzing all day long.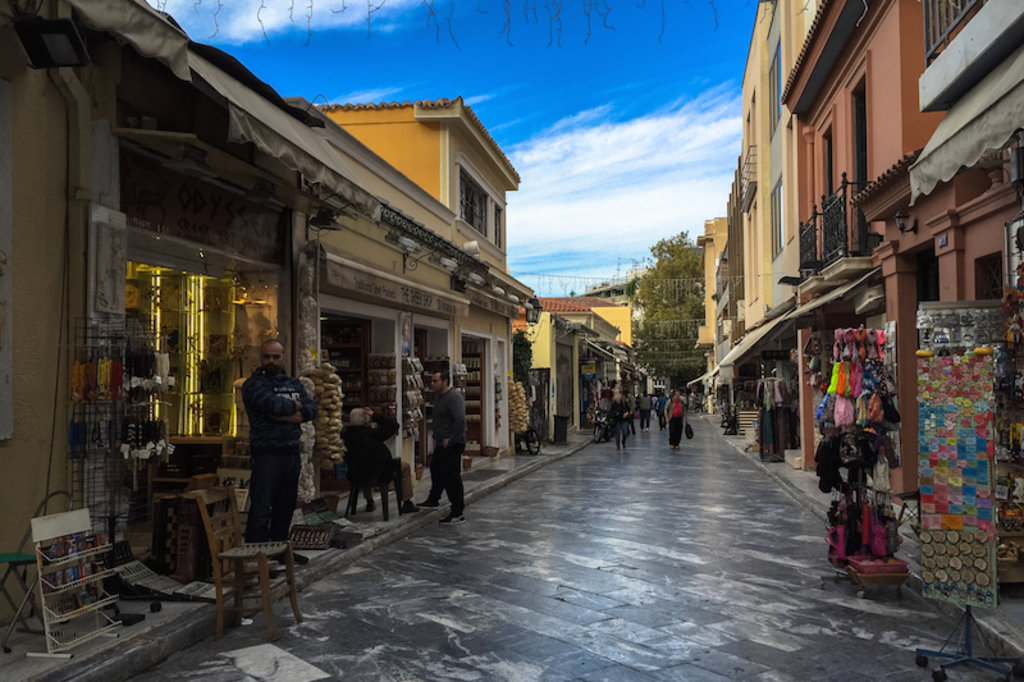 Plaka: Plaka is the oldest neighbourhood in all of Athens and sits next to the Acropolis like a labyrinth that's extremely fun to explore. I normally come here to wander for a few hours, lapping up the atmosphere that comes from its busy tavernas, the Adrianou shopping street, and in the step-back-in-time feel from its quieter side streets.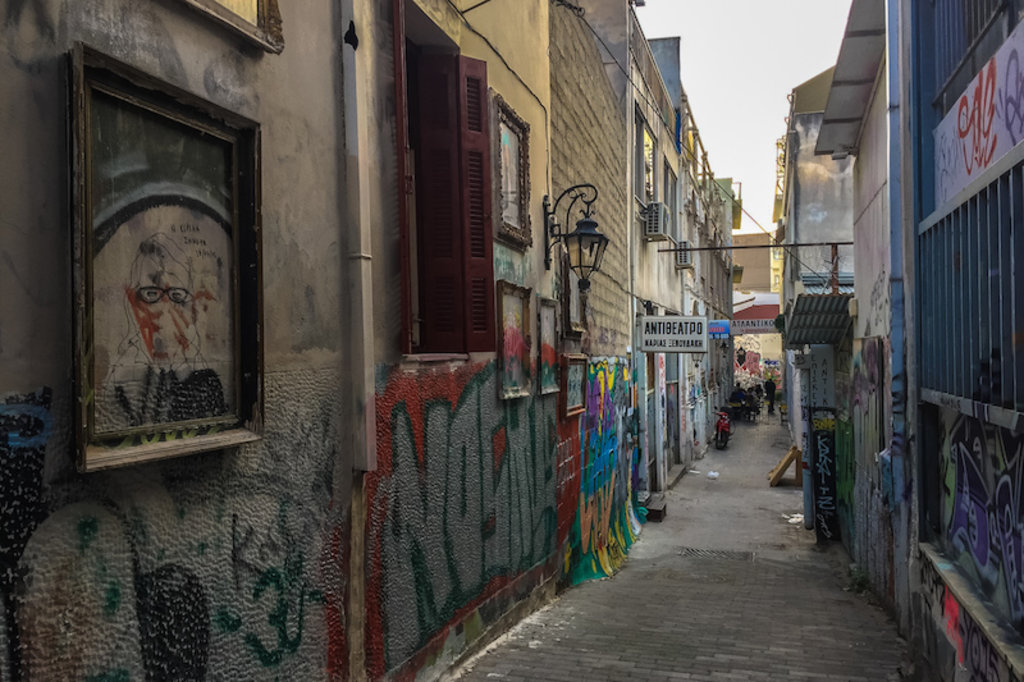 Psirri: The one neighbourhood where I like to completely lose myself. Once a notorious area, it has been cleaned up over the years to become one the central city's most vibrant. Tavernas, hostels, and a lively bar scene have all contributed to the life that now pulsates into the area, which still retains a mysterious, edgy feel.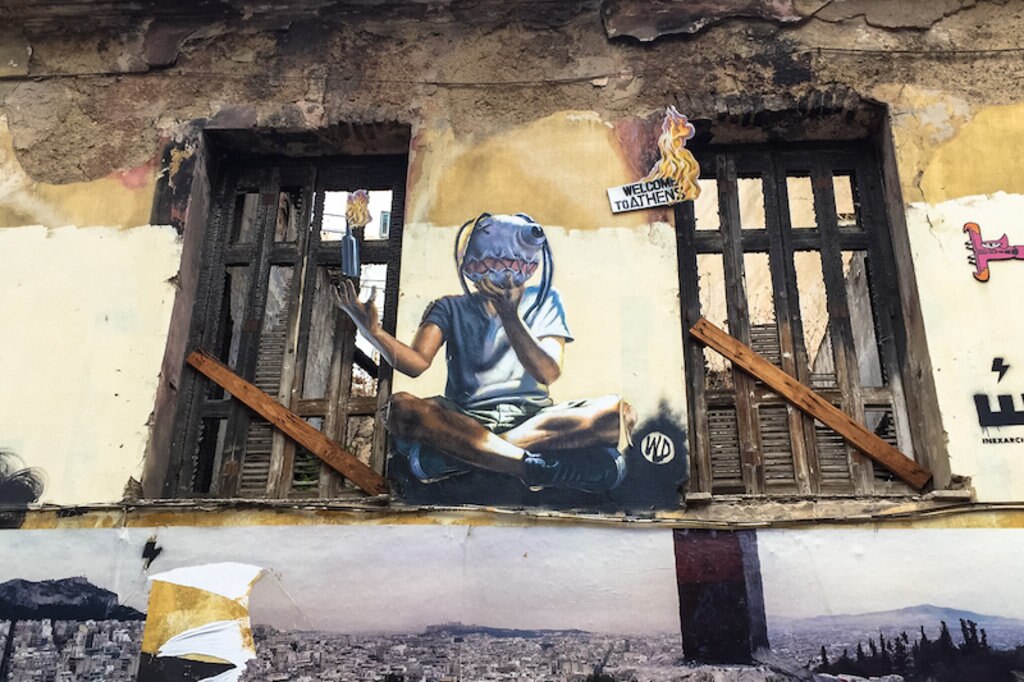 Exarchia: Politically expressive and where people are proud to be outspoken, Excharcia is one of the most gritty and interesting areas that I take people too in order to show one extreme of the city. I think it's important to see the stories on the walls - lined with street art whose messages are more direct in their fervency. Yet, this neighbourhood has a great vibe - known for its arty cafes and student hangouts, mainly within Exarchia Square.
Kolonaki: Strolling within upmarket Kolonaki, with its white buildings and boutique stores, pretty cafés, and old-world coffee shops filled with wealthy Athenians, this is a side to the city you never thought existed.
things to do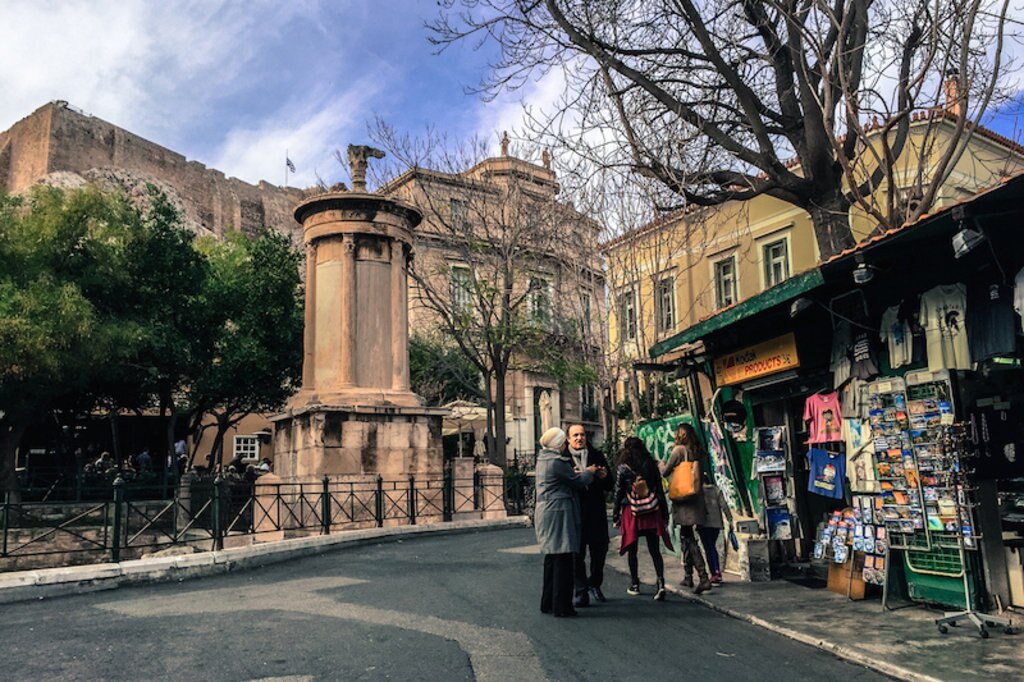 The Riviera: I love pushing people to see more to Athens, and this is a great way to do so. For those who don't have the time to venture out to the famous Greek islands, there is still the chance to live the island life, without boarding a ferry. The 30-mile stretch of scenic coastline along the Saronic Gulf, known as the 'Athens Riviera', is just 25 minutes away from the centre of the city. Hire a skipper and sail the coastline to make the most of your experience here. I count these experiences as some of my happiest hours.
National Gardens: I've wandered through here many times, and always love the expanse of nature. Behind the Hellenic Parliament building that looks out onto Syntagma Square is the city's only large expanse of green space, known as the National Gardens. The signed pathways mean you can never get lost in this manicured oasis, which leads you to architectural treasures including the Zappion building and the Panathenaic (first Olympic) Stadium.
The Hills: I lived right near to the hills, and I absolutely, without fail, always took visitors to at least one. It's not only the Acropolis you can climb to see Athen's from varying heights and angles.
Adjacent to the Acropolis is Areopagus Hill, whose uneven steps (and modern constructed stairway) can be accessed from the pedestrian walkway just outside of the ticket booths. This rocky mound provides a wide panoramic daytime view, but at night it comes alive as people socialise next to the light, which puts the Parthenon in a golden glow. This is a really special atmosphere to experience. Pnyx Hill, just a little further along, is said to be one of the best sunset spots, as well as a lesser-known area to explore.
Filopappou Hill is a short walk along the pedestrian street, whose view of the Acropolis is wider, putting its colossal frame into perspective. It's a tiny trek through greenery and stone walkways, and the vast parkland houses ruins and monuments (such as the Prison of Socrates).
Behind Syntagma is the Kolonaki neighbourhood, which is the stepping-stone to Lycabettus Hill. It starts with a steep climb up the many, often rainbow painted, steps of Kolonaki, but you can reward yourself with the funicular car up to the top of the hill. The more adventurous can attempt the scenic trek of what is highest hill in Athens.
Anaiotica: Built by masons from the island of Anafi who came over to Athens as construction workers back in the 1800's, Anafiotica - the village within the city - is one of Athens' most treasured secrets and I find myself up here often for quiet time. There's one entrance up on Stratonos street, which is just off the Grand Promenade pedestrian street marked by a small white memorial stone. Follow the stairs up and enter the blue and white streets of island life for one of the best panoramic views of the city.
Three Islands in One Day: For those limited on time to spend cruising to the larger islands that are hours away, you can visit the three Saronic Islands of Hydra, Poros and Egina in a one day tour. The islands are a two-three hour ferry ride away from the port of Athens (each way) and while each deserves a day or two of your time, to hop between them is an accessible 'Outer Athens' day excursion.
Also make sure to check out Expedia's package holidays to Athens!