Home to elegant boulevards, vast parklands and fascinating collections of art and architecture, Madrid is a wonderful destination for a holiday. If you want to explore the areas outside the city centre, however, you can find many day trip destinations near Madrid for an exciting day out. Take a look at the top Madrid day trip ideas to plan your holiday.
Chinchon
A bit of a hidden gem outside of the city, Chincon offers a fascinating day trip destination from Madrid. The beautiful and rustic town features charming wooden balconies from the 18th century and a historic square that dates back to 1499. When you visit, you can relax in the sun in the square and learn about local legends like the Archbishop of Toledo and the Count of Chinchon, or you can visit the Church of La Asuncion to see masterpiece paintings by Goya. Throughout the town, you'll see elaborate coats of arms and stunning architectural details that beg to be photographed as a memento of your trip.
Travel time
50 minutes by car and 1 hour and 13 minutes by train
Toledo
Toledo is one of the best day trips from Madrid. The charming, historic city offers a fascinating combination of Jewish, Christian and Muslim influences, all showcased in different attractions throughout the city. You can spend your time exploring the Sephardic Museum, a vibrant museum in a former synagogue, or touring the Alcazar fortress to check out artefacts of the army and the former home of Spanish kings. Toledo also has the dramatic Toledo Cathedral, a 13th-century cathedral with stunning architectural details like towers, chapels and retablos. After seeing some of the sights, you can stroll along the streets to get an image of what life was like in 16th-century Spain.
Travel time
1 hour by car or 30 minutes by train
Aranjuez
Located on the River Tagus in central Spain, Aranjuez offers a range of renaissance-influenced architecture and unique attractions for both indoor and outdoor enjoyment. The Royal Palace of Aranjuez is one of the top attractions, which dates back to the 16th century and boasts an idyllic Island Garden and Parterre Garden with woodland trails and floral displays. You can also tour the inside of the palace to see the lavish interior, porcelain room and opulent architectural touches. For more sightseeing, visit the old quarter of Aranjuez to see baroque town features and explore the shops and restaurants of Infantas and El Principe.
Travel time
45 minutes by car or train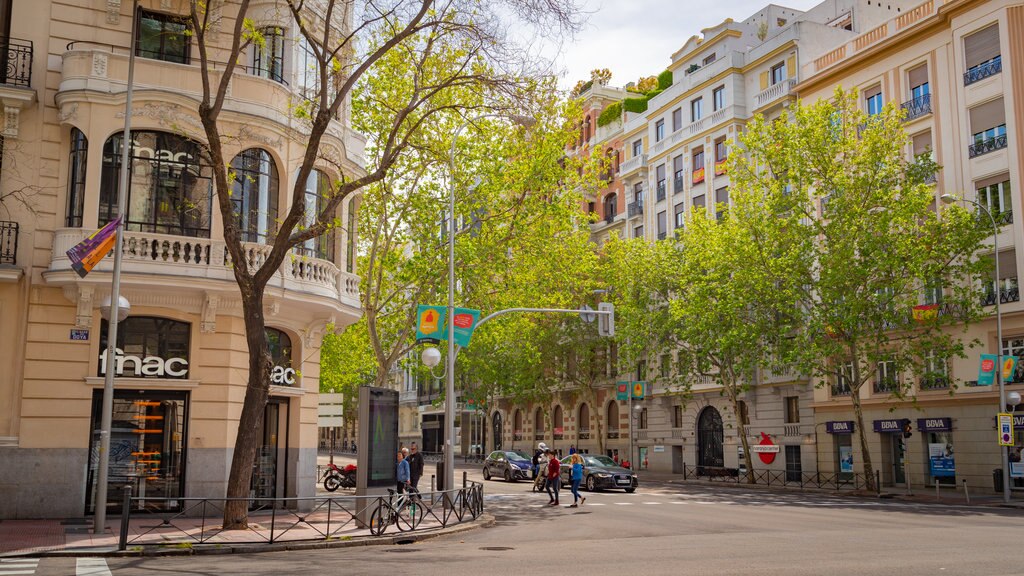 Buildings on a street in Salamanca
Salamanca
Located northwest of Madrid, Salamanca is home to many heritage-listed buildings and attractions. You can tour the historic 11th-century Universidad de Salamanca and climb the tower of Clerecia to take in the views of the cityscape for an enchanting experience. Salamanca has plenty of places to explore, such as the Plaza Mayor and its ornate 18th-century sandstone and shell buildings and elaborate cathedrals, including the Old Cathedral of Salamanca and the Salamanca Cathedral. While you're there, try some local treats like hornazo, a savoury pie, and some locally cured meats for a touch of culinary culture.
Travel time
2 hours and 30 minutes by car and 90 minutes by train
El Escorial
El Escorial is just a short distance from Madrid and offers some of the most attractive and intriguing landmarks in Spanish history. You can see the Monastery of El Escorial complex of renaissance buildings, courtyards and fountains, as well as the Royal Library and its historic manuscripts. El Escorial is also home to a former royal hunting lodge, Infante's House, and a basilica and stone cross on the Valley of the Fallen, which honours those lost in the Spanish Civil War. After visiting the attractions, you can stroll along the streets of the town to enjoy the sunshine and discover tree-lined squares with restaurants and cafes for a quick meal.
Travel time
1 hour by car
Segovia
Segovia is home to spectacular landmarks, fascinating attractions and the famous Roman Aqueduct, making it a top day trip destination from Madrid. Constructed in 50 AD, the Roman Aqueduct is one of the best-preserved monuments in Spain and was a valuable tool for transporting water from the Sierra de Guadarrama in the 19th century. Some of the other highlights of Segovia are Alcazar, a historic building where Isabella found refuge as the Queen of Castile, and the Jewish Quarter, which is home to a variety of Jewish historic attractions. You could also visit the 16th-century Gothic cathedral, which is home to a retablo by Sabattini and Churriguera.
Travel time
1 hour and 10 minutes by car and 27 minutes by train
Cuenca
Perched high on a rocky hillside, the walled town of Cuenca offers a unique experience within a short distance of Madrid. It's known for its 'Casa Colgadas', or hanging houses, which are built into the rockface. You can see the hanging houses by strolling along the streets or walking St Paul's footbridge. Cuenca has a range of other unique architectural attractions, such as the Cuenca Cathedral and its dramatic Gothic features, as well as natural formations like La Ciudad Encantada rock formations. During your trip, be sure to visit the Spanish Abstract Art Museum, a hillside museum with a vast collection of Spanish abstract art exhibits.
Travel time
1 hour and 45 minutes by car and 55 minutes by train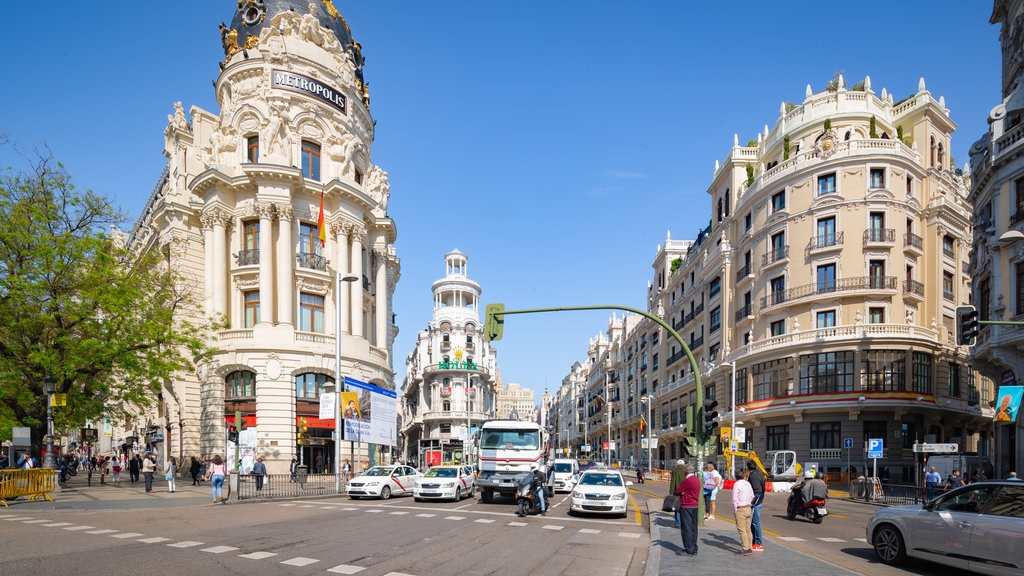 Buildings on a streetnin Madrid
Plan your next holiday
From the charming, quiet streets of medieval towns to the wonders of historic architecture, Madrid day trips open a world of possibilities on your holiday. When it comes time to plan, take a look at things to do in Madrid and Madrid holidays from Expedia and plan your itinerary.