The four nations which form the United Kingdom - England, Northern Ireland, Wales and Scotland- represent a global epicentre of culture and history. Each year, millions of visitors trek to its shores from across the globe to immerse themselves in diverse travel experiences and to marvel at the region's stunning landmarks, picturesque scenery and world-class entertainment options. From the bustling shopping centres across London to the majestic Scottish Highlands, from quaint seaside villages to family-friendly spa holidays in Bath and magnificent panoramic city views from soaring towers, this region hosts activities sure to appeal to each member of your travel party.
We've curated a list of 100 unique ideas to enrich your journey to the United Kingdom and help you to plan your itinerary. Read on for details of hands-on activities suitable for families travelling with young children, exciting nightlife options for global partygoers, world-class historical sites to delight history buffs, heart-pounding outdoor adventures, relaxing beach holidays, journeys through centres of art, culture and fashion, and so much more. Use this list to spark creative travel plans and open your eyes to the exceptional destinations that await you in the United Kingdom.
100 Things to Do in the United Kingdom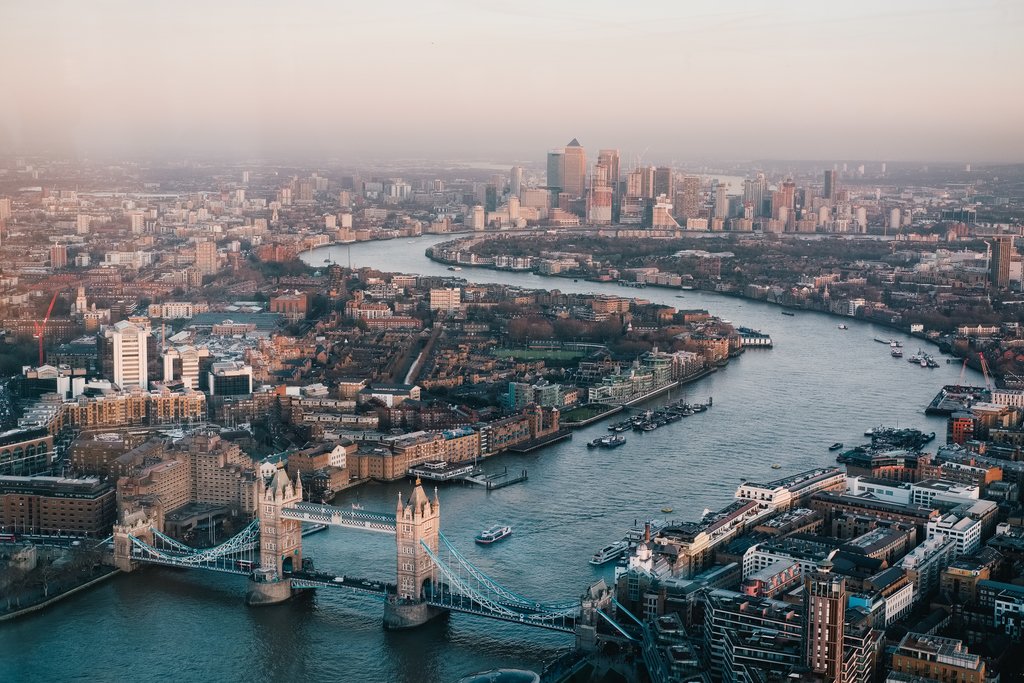 _Photo by Benjamin Davies on Unsplash_
1. Tour the inner workings of the magnificent Tower Bridge
Over a century old, London's defining landmark, Tower Bridge, traverses the River Thames and enthrals visitors of all ages. Get inside the action with a self-guided tour of this Victorian-era engineering marvel and learn about its unique history and the innovative techniques involved in its construction. Those feeling adventurous can test their nerve by walking along the six 11-metre glass panel walkways suspended a staggering 42 metres above the bridge.
2. Treat yourself to a savoury Sunday roast feast
Sunday is the perfect day for travellers to replenish theirenergy by enjoying a memorable comfort meal fit for a monarch. This traditional Sunday meal is the ideal setting to relax with your travelling companions and relive your adventures or plan future itineraries. Enjoy mounds of roasted potatoes and steamed veggies, mouth-watering roasted meats, stuffing, cauliflower cheese, gravy and, of course, Yorkshire pudding. Top off this traditional meal with a pint of ale.
3. Shop for antiques and other treasures at the world-class Portobello Road Market
Antique lovers from the across the world flock to Notting Hill's lively Portobello Market to browse the vendors'unique offerings. The market is bustling nearly every day of the week but is especially packed with bargain-huntingvisitors on Saturdays. In addition to jewellery, artwork, clothing, furniture and more, shoppers can procure a wide variety of delicious, locally grown fruits and vegetables, and sample some tasty sweet treats.
4. Experience the eclectic culinary frenzy of Shoreditch Dinerama
Shoreditch's eclectic foodie hub, Dinerama, showcases a wide range of enticing food and drink options sure to appeal to all palates. Enjoy fresh seafood dishes, grilled meats, sweet treats, and ample vegetarian, gluten-free and vegan-friendly options at this open-air, multi-level street food paradise. Keep the vibe going throughout the night by dancing to live music and enjoying a wide selection of locally brewed craft beers, unique cocktails and local wines.
5. Immerse your senses in the splendour of the ancient Roman city of Bath
Soak in the history of the iconic Roman-era city of Bath and take a trip back in time. Explore the city's splendid collection of local museums, shops and art galleries or stroll the vistas of the breathtaking Bath Skyline Walk. For an unmatched, authentic experience, relax in the warm waters of the Thermae Bath Spa or take an opportunity to taste a sample of the natural mineral-rich spring water which drew Romans to this gorgeous site.
6. Get spellbound on a behind-the-scenes tour of Watford's Harry Potter Studios
Harry Potter fans of all ages will delight in an opportunity to get an up-close and personal view of props, costumes and sets used in crafting the movies. After a short bus ride from the centre of London, visitors can down a tasty butterbeer, glide atop an enchanted broomstick or trek through the magical creature-infested Forbidden Forest with wand in hand. Be sure to snap a photo of you and your mates toasting in the Hogwarts Great Hall.
7. Take a plunge down the UK's tallest sculpture, the ArcelorMittal Orbit in Stratford
Soaring to a height 115 metres above the ground, the twisted, undulating ArcelorMittal Orbit sculpture in Stratford served as an iconic symbol of the London 2012 Olympic Games. This looping sculpture is not just a unique, selfie-worthy work of art, it also hosts a thrilling experience for the whole family. Take a 40-second plunge down its curving tunnel slide and enjoy some remarkable panoramic views of the city.
8. See the Crown Jewels in the Tower of London
The Tower of London, a UNESCO World Heritage Site located within sight of Tower Bridge, is situated on the northern bank of the Thames. Visitors from across the globe can learn about the fascinating history and tradition of this functioning, thousand-year-old medieval fortress. Allocate enough time in your itinerary to ensure you have a chance to view the stunning collection of priceless diamond-studdedandgolden crowns, sceptres and tiaras which comprise the world-famous Crown Jewels.
9. Feast on traditional pie and mash
Tuck into a savoury traditional working-class staple, a meat-filled pie with a side of mash in London's East End. Tuck into a chicken, beef or vegetable pie, and, if you're feeling adventurous, add on a side of jellied eels. Today, contemporary pie and mash shops with attractive Art Deco and late-Victorian stylings can be found across South and East London, Essex and Kent, and offer tourists a chance to embark on a time-honoured culinary adventure.
10. Experience the bewitching medieval Salisbury Cathedral
Constructed in the early 13th century, this soaring medieval masterpiece attracts nearly one million visitors each year to explore its rich, 800-year history. This Anglican cathedral also hosts the world's most well-preserved copy of the 1215 Magna Carta as well as the world's oldest functioning mechanical clock. Take a Tower tour and climb Britain's tallest spire for breathtaking views of the local countryside or relax at the on-site Refectory restaurant and enjoy a cream tea.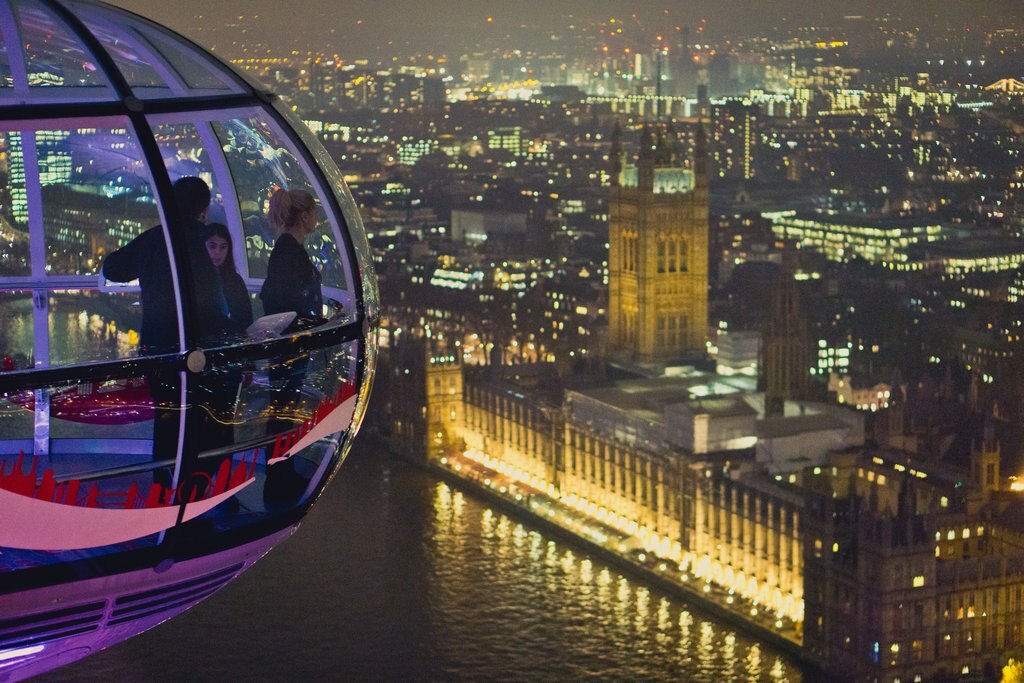 _Photo by Pablo Martinez on Unsplash_
11. Enjoy a bird's-eye view of London's iconic architecture from the London Eye
Climb aboard a glass-enclosed capsule on the iconic observation wheel situated in the heart of the city and soak in the 360-degree panoramic views atop the 135-metre tall London Eye. Gaze upon the city's skyline and gain a unique perspective of the Tower Bridge, Big Ben and Parliament. As the wheel rotates throughout its 30-minute journey, visitors enjoy interactive guides which offer information about the landmarks below. At night, visitors enjoy the lights of the city.
12. Savour a meal of fish and chips along the South Bank of the Thames
Pause your London travels for a late lunch or early dinner and sample the golden-battered, savoury delight contained in a plate of succulent fish accompanied by mushy peas and perfectly fried chips. This regional staple is not only the ultimate comfort food, but when enjoyed at one of the numerous restaurants on the South Bank of London's Thames, delivers an authentic experience sure to energise you for your adventures.
13. View famous figures from British naval history in Trafalgar Square
This bustling pedestrian square and site of several major London crossroads commemorates the 1805 Battle of Trafalgar. Not only does this area offer a glimpse of key players in British Naval History such as First Sea Lord Admiral Cunningham and Admiral Lord Nelson, it also serves as a year-round site for festivals and major outdoor events. It is the perfect jumping-off point for your travels to nearby sites such as the National Gallery and Piccadilly Circus.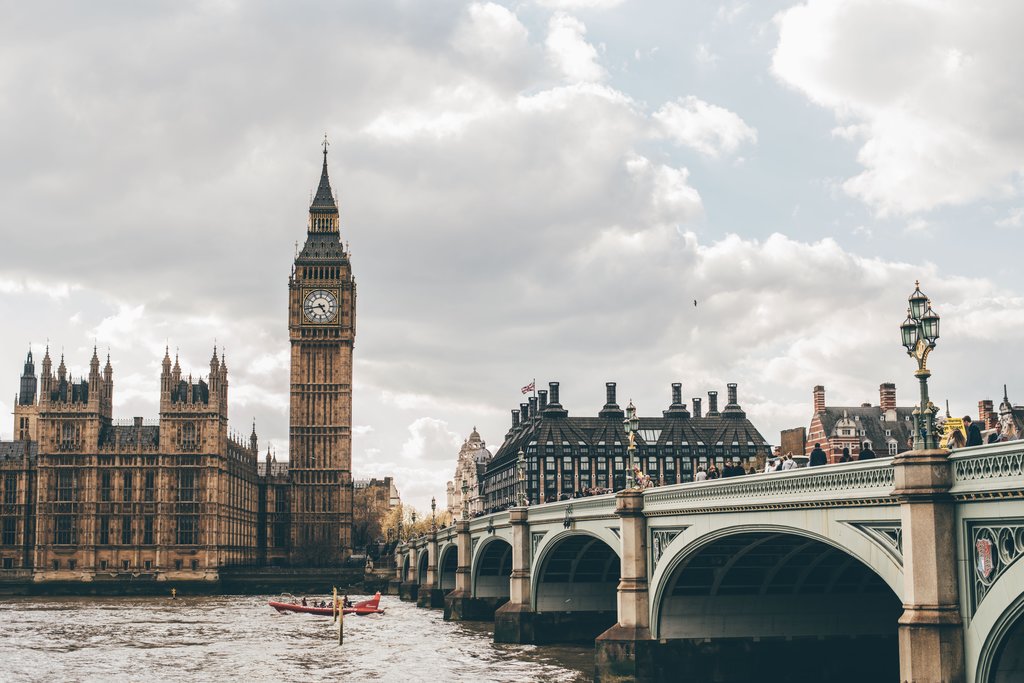 _Photo by Eva Dang on Unsplash_
14. Set your watch to the chimes of Big Ben
The globally recognised, iconic symbol of London, Big Ben, is a must-see attraction for all visitors to the United Kingdom. The Elizabeth Tower, known simply as the Clock Tower until 2012, houses this magnificent 13-ton bell which helps Londoners track the passing hours. For a particularly spectacular view, visit Big Ben in the evening when the four faces of the clock cast a cosy glow over the surrounding area.
15. Take a stroll through Hyde Park's wide open spaces
Take a break from your ambitious sightseeing to explore the serenity of the 350-acre Hyde Park. Opened to the public in 1635, this area was initially a royal hunting park teeming with wildlife. Today's visitors flock here to escape the nearby crowds and to relax with a pleasant picnic. Check out hotels near Hyde Park which serve as a great jumping-off point to explore the nearby Diana, Princess of Wales Memorial Fountain.
16. View the historic grand processional route of St. James Park
Transport yourself to the centre of historic ceremonies and royal events including state visits, coronations, weddings, funerals and more in The Mall of St. James Park. In addition to The Mall, St. James Park offers dazzling, colourful flower beds and serene, picturesque gardens a short distance from Buckingham Palace. Each June, St. James Park is the site of the historic Trooping the Colour horse guard parade to celebrate the Queen's official birthday.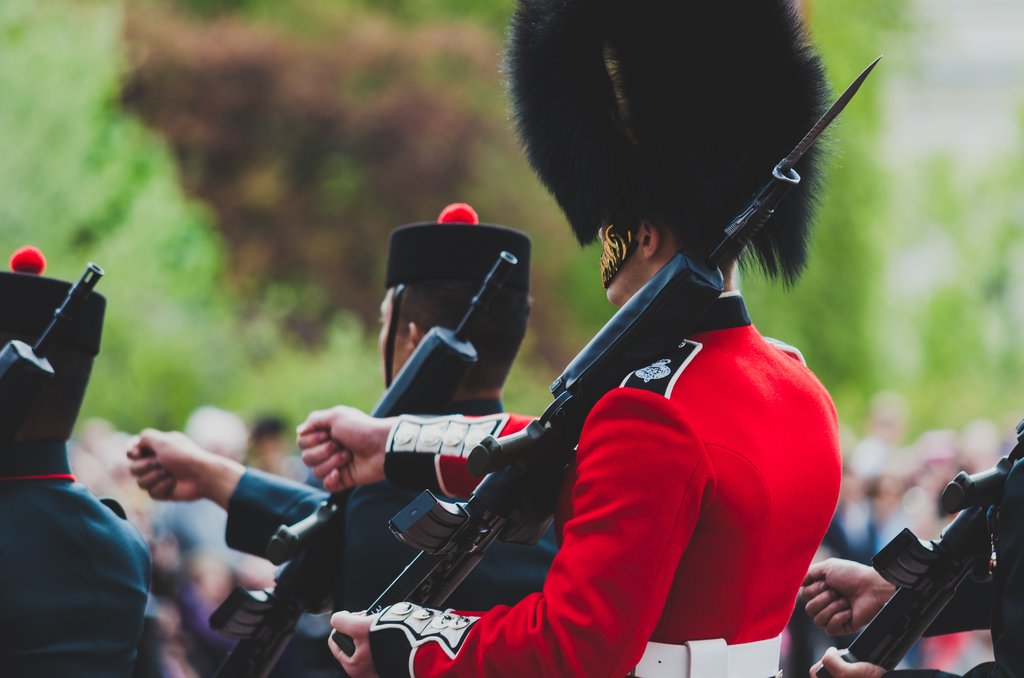 _Photo by Roberto Catarinicchia on Unsplash_
17. Witness the Changing of the Guard at Buckingham Palace
Each day between May and July, and every other day the rest of the year, holiday-goers trek to Buckingham Palace to view the ceremonial Changing of the Guard. Arrive early to get a good viewing spot for the 11 AMstart time. During August and September, when this palace is not conducting official business, visitors can linger for a tour of the majestic State Rooms decorated with priceless works of art by Rembrandt, Rubens, Canaletto, Van Dyck and more.
18. Soar to the apex of the O2 Arena for an unparalleled view of London
London's O2 Arena is not just the site of unforgettable live music concerts, but it offers adventurers and thrill-seekers of all ages a unique opportunity to experience a 360-degree, birds-eye view of the city. This 90-minute excursion takes travellers to the roof of this world-class entertainment venue before providing a heart-pounding descent back to the ground. Afterwards, sit back and relax at one of the many on-site restaurants, cinemas, bowling alleys and bars.
19. Journey to the centre of the Earth at Greenwich Royal Observatory
Explorers of all ages trek to Greenwich to plant their feet firmly on the Meridian Line. This imaginary line, located at zero degrees longitude, serves as the point of reference for Greenwich Mean Time and all destinations across the globe measure distance from this specific point. Not only is this a once-in-a-lifetime photo opportunity, but visitors to the observatory can round out their experience by visiting the Peter Harrison Planetarium for a star show.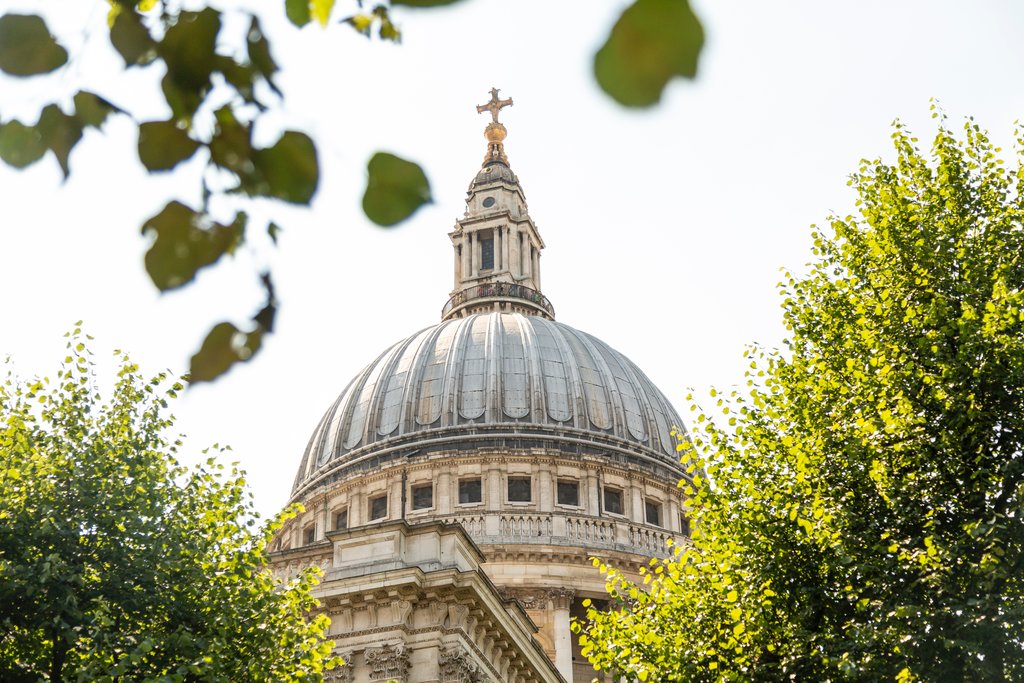 _Photo by Peregrine Communications on Unsplash_
20. Scale the Dome at St. Paul's Cathedral
Combining elements of Neoclassical architecture with Baroque and Gothic stylings, the soaring St. Paul's Cathedral attracts travellers of all faiths from across the globe. Destroyed by London's Great Fire of 1666, and rebuilt under the direction of Sir Christopher Wren in the early 1700s, St. Paul's Cathedral offers daily services and welcomes visitors to explore its expansive and sublime interior. Complete your visit by scaling the Dome and descending into ancient crypts.
21. Trek to the globally renowned archaeological site of Stonehenge
Shrouded in mystery, this prehistoric monument in the city of Wiltshire, England, consists of a ring of stones, each nearly 4 metres tall and weighing nearly 25 tons. The area surrounding Stonehenge is rich in ancient history and contains dense complexes of Bronze Age burial sites and monuments. Visitors staying at a hotel in London can book a half-day trip to visit this magnificent archaeological site or schedule a special-access tour to get an up-close and personal view.
22. Insert some drama in your travel at the Shakespeare Globe Theatre
On the South Bank of the Thames, in the borough of Southwark, sits the renowned Shakespeare Globe Theatre. This faithful reconstruction of the 1599 original is an Elizabethan-style playhouse which seats up to 1,400 spectators eager to view entertaining performances of William Shakespeare's famous works. In addition to its function as a playhouse, the Globe Theatre delivers a range of workshops, tours and even hosts a small cafe and bookstore.
23. Sail past London's iconic sights aboard a Thames river cruise
Enhance your trip to London, and give your legs a rest, by booking a river cruise down the Thames. From this unique vantage point, holiday-goers enjoy unobstructed views of London's top landmarks including Big Ben, the Tower Bridge, the Shard, the London Eye and more. From guided tours led by expert travel guides to upscale dining experiences, a cruise down the Thames can be a relaxing and comfortable way to take in the sights.
24. Pause your UK sightseeing itinerary for some people-watching
With an endless stream of diverse holidaymakers from across the world descending on London each day, people-watching can deliver a restful and enriching experience. Grab a cup of tea or a coffee and sit back as throngs of busy tourists flock to and from bustling areas such as affluent South Kensington, or tourist-dense areas of Trafalgar Square, Piccadilly Circus, Covent Garden, trendy Hoxtonand more.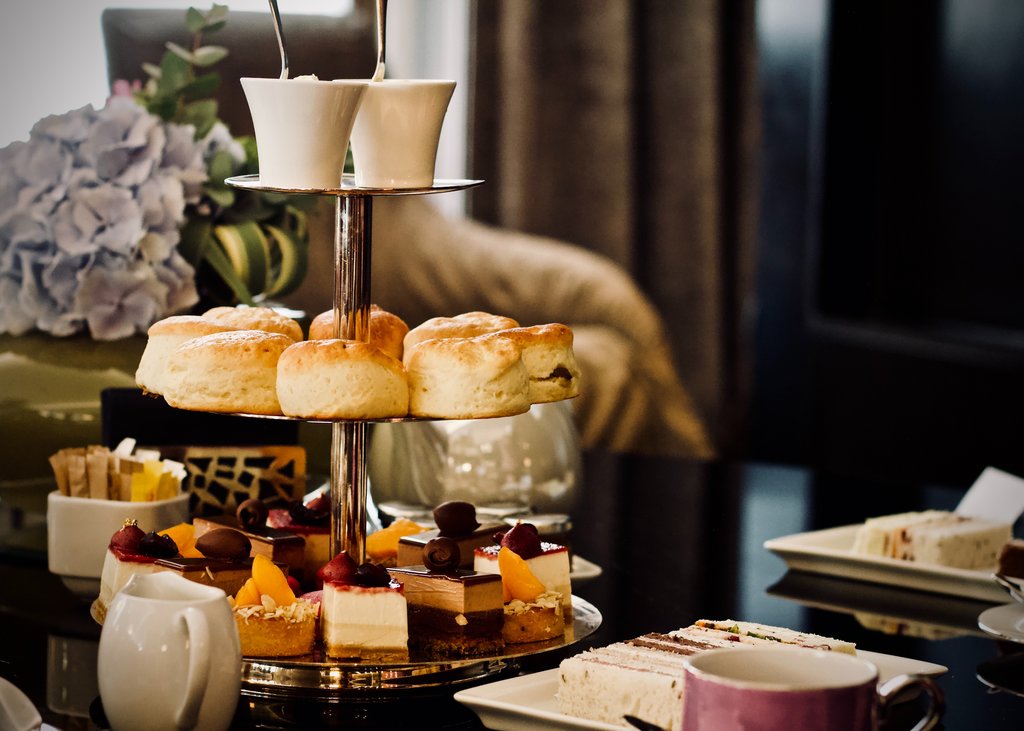 _Photo by Jelleke Vanooteghem on Unsplash_
25. Delight in the sights, smells and tastes of a traditional afternoon English tea
No trip to the United Kingdom is complete without experiencing the all-important culinary tradition of an afternoon tea. Locals and foreign travellers delight in this custom, allegedly dating back to the 1800s, which includes pausing activities in the late afternoon, typically around 2 PM, to partake in some tea (with milk), slices of sweet cakes, small sandwiches, pastries and more. Take this opportunity to chat with friends and fellow travellers, and meet some locals.
26. Tour the inner splendour of Buckingham Palace
When in London, visitors are urged to visit the royal residence at Buckingham Palace. Each summer, the palace opens its doors to host visitors from across the world who come for a glimpse of life as a royal. Marvel at priceless antique furniture, astonishing marble columns and a collection of the finest artworks in the UK. At the end of the tour, guests are treated to a view of the marvellous Grand Staircase representing world-class bronze casting work.
27. Party non-stop to Notting Hill Carnival Caribbean vibes
Each summer, partygoers from across the globe descend on the upscale London suburb of Notting Hill for what has become one of Europe's most celebrated street parties. This annual lively extravaganza has been a staple of the local festival scene since the 1960s and celebrates the heritage and traditions of London's diverse Caribbean communities. Dance the night away to lively salsa or relax to some reggae vibes and treat yourself to a variety of delicious traditional Caribbean dishes.
28. Unlock the curiosities of the London Science Museum
Founded in 1857, the Science Museum is one of London's largest tourist attractions and one of the world's most robust and dynamic museums. From immersive virtual reality experiences to live experiments and interactive shows, the museum has something to delight science enthusiasts of all ages and interests. Visitors with young children can watch them burn off some energy in the numerous large play areas within the facility.
29. Explore the secrets of the Rosetta Stone at the British Museum
The Rosetta Stone, discovered in 1799 by French soldiers during the Napoleonic Wars, is a decree written by Egyptian priests dating back to nearly 200 BC. Written in three scripts (hieroglyphics, everyday Egyptian of the time, and Greek), it helped scholars decipher ancient Egyptian hieroglyphics. In addition to the Rosetta Stone, allocate some time to check out world-class ancient artefacts including the Roman Portland Vase, the Sutton Hoo Ship Burial Helmet and more.
30. Stroll like royalty through London's picturesque Richmond Park
Previously an exclusive royal hunting reserve, Richmond Park now offers today's holidaymakers an opportunity to escape the hustle and bustle of city life to explore its enchanting woodland features. Visitors who travel here in the warmer spring and summer months are treated to extensive collections of colourful and diverse flower beds. Ambitious travellers who wish to cover every square inch of this massive park should consider investing in a daily bike rental.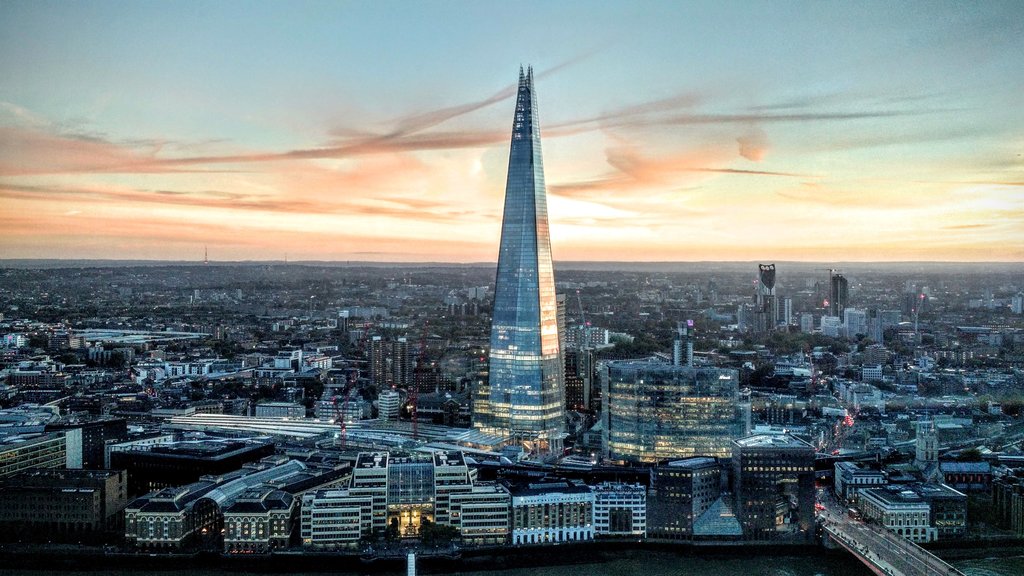 _Photo by Fred Mouniguet on Unsplash_
31. Take in the view from the UK's tallest building, The Shard
Situated in Southwark, London, and standing at a mind-bending 310 metres above the ground, The Shard, also known as the Shard London Bridge, is a 95-storey skyscraper which hosts London's tallest observation deck. Plan your trip early in the day to avoid crowds and check the weather forecast to ensure you and your travelling companions will have clear skies to take in the heady panoramic skyline of the surging city below.
32. Enhance your artistic appreciation with a trip to the Tate Modern
London's most-visited attraction, the Tate Modern art museum, brings millions of professional artists and amateur art enthusiasts together each year for an opportunity to view and admire its extensive modern collection. Walk among the massive exhibition halls which host contemporary British works from 1900 to the present as well as international projects. Don'tmiss the chance to investigate the latest temporary exhibitions at the museum which rotate regularly.
33. Pause to smell the roses of London's splendid Sky Garden
Take a walk through the luscious, modern spaces of the indoor Sky Garden and explore three storeysof diverse, well-maintained public gardens. Complete with floor-to-ceiling glass walls, the Sky Garden even offers a modern, open-air terrace delivering spellbinding views of London. After relaxing among the gardens, guests often drop in to sample the offerings of on-site restaurants and bars serving up a range of seafood, French dining options and thirst-quenching beverages.
34. Shop the flower markets and shops of Columbia Road
Each Sunday, locals head to the vibrant outdoor Columbia Road market to peruse the fresh-cut flowers, local produce a variety of treats. Nearby independent shops offer a wide range of jewellery, antique furniture, original artworks and vintage clothing for shoppers. Pick up some freshly baked goods from local cupcake shops to satisfy your cravings and stop for a bite to eat at one of the many Italian delis, pubs and traditional English restaurants in the area.
35. Experience peaceful contemplation among the Gothic architecture of Highgate Cemetery
The Victorian-era Highgate Cemetery in north London's Dartmouth Park offers an eclectic and contemplative afternoon spent among stirring funerary Gothic architecture and local wildlife. Walk peacefully among this historical landmark which hosts over 50,000 graves and locate the final resting place of political theorist Karl Marx, author Douglas Adams, artist Anna Mahler and many more. For a more intimate experience, arrange a private tour with the cemetery to access areas which are off limits to the general public.
36. Enjoy idyllic views from Primrose Hill
Situated on the northern side of Regent's Park, Primrose Hill rises nearly 70 metres to offer visitors intimate views of central London and Belsize Park. Ambling the local area surrounding the hill, explorers often feel as though they have stepped back in time to a quiet and quaint English village. This neighbourhood also offers a chance to catch a peek of one of many local prominent residents including Kate Moss, Jude Law, Ewan McGregor and more.
37. Marvel at the history of Hampton Court Palace
Just 20 kilometres upstream from London, in Richmond upon the Thames, sits Hampton Court Palace. Once owned by King Henry VIII, this palace is the site of numerous historically significant figures including five of Henry's six wives, as well as Elizabeth I and Charles I. During Queen Victoria's reign, the palace was opened for public viewing as it was no longer used as a public residence. Today, visitors flock to the palace for tours, festivals, overnight stays, bicycling, banquets and much more.
38. Embark on a culinary adventure in the heart of London's Chinatown
London hosts a thriving Chinese community just outside Soho. Travellers can stroll among vibrant red and gold decorative banners, gaze at fierce lion statues and sample authentic Chinese dishes at local restaurants. Expand your culinary horizons by tasting fresh-made Chinese dumplings, mooncakes, smoked eel, egg drop crab, beef with pancakes and much more. Visit during Chinese New Year and enjoy live music and dragon dancing.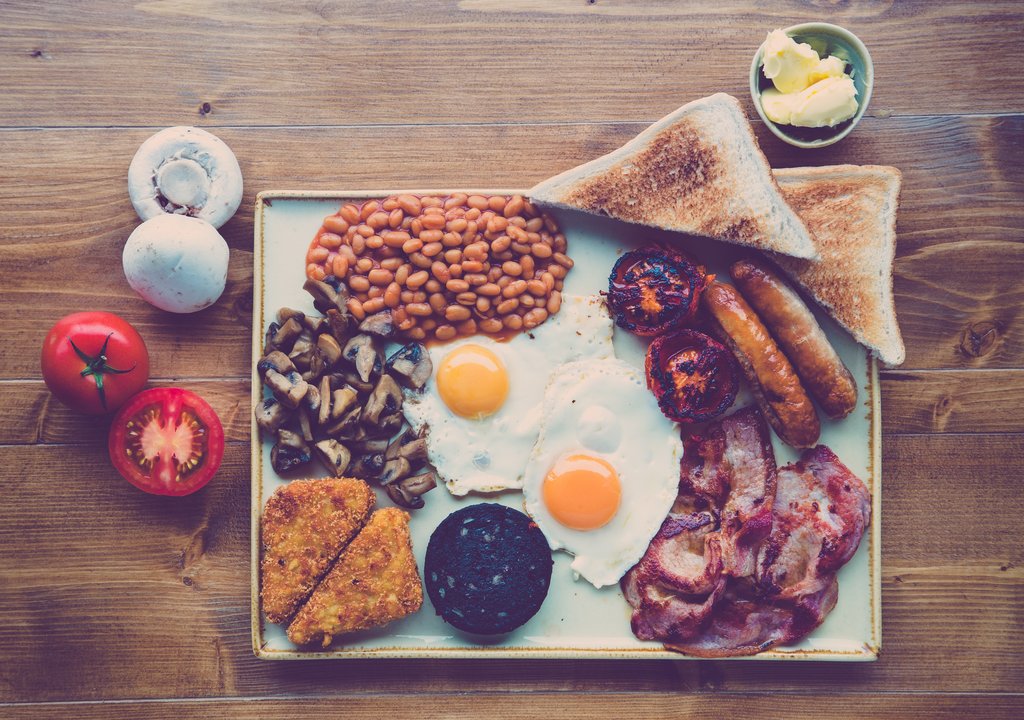 _Photo by Jonathan Farber on Unsplash_
39. Jumpstart your day of sightseeing with a full English breakfast
Across the UK, small pubs, large restaurants and sophisticated bistros serve up substantial, heaping portions of delicious regional breakfast staples. Savour the sights, smells and flavours of this "fry up" which often includes bacon, sausage, eggs, baked beans, fried tomatoes, mushrooms and ample servings of toast with butter. Be sure to wash it down with some strong tea or coffee to fuel your tank for a day of taking in the sights.
40. Visit the British Library and view the historic Magna Carta
While you may not have sufficient time in your travel itinerary to peruse the 150 million items in the British Library's extensive catalogue, make the time to work your way to the room housing a copy of the great 1215 Magna Carta. This document, known as the "Great Charter of the Liberties", paved the way for modern democracy and laid the groundwork for universal liberties enjoyed in many parts of the world.
41. Enjoy a world-class shopping spree across London
London has a well-earned reputation as a worldwide shopping centre with something to offer travellers of all tastes and budgets. From high-end luxury shopping at Harrods to large shopping centres conveniently located near hotels in London, shoppers find the latest fashions, handmade jewellery, artwork, and much more to take home. Be sure to pack an extra suitcase to hold all of the treasures you are likely to take back.
42. Experience the world's largest classical musical festival, the Proms at the Royal Albert Hall
Each year, the Royal Albert Hall and Hyde Park in central London host events related to the eight-week classical music summer extravaganza known as the Proms, or promenade concert series. Founded in 1895, the Proms have become a staple element of the British classical music tradition. Reserve your seat without delay as the concert series tend to book up quickly, and consider a hotel near Royal Albert Hall for maximum convenience.
43. Enjoy a cinematic experience under the stars with Luna Cinema
Late spring to early autumn is prime time for locals and tourists to enjoy one of Luna Cinema's unique open-air cinematic experiences. From romantic comedies in one of London's majestic royal parks to science fiction classics in bustling city squares, there is sure to be an option on the menu to suit moviegoers of all ages and tastes. Grab a blanket, pack some light refreshments and spend a leisurely summer evening relaxing with your companions.
44. Enjoy a leisurely bike ride along London's bustling South Bank
The south side of the River Thames offers ample space for bike riders of all skill levels to take in the sights of the South Bank. In this dynamic cultural centre, locals and tourists frequent historic pubs, enjoy shows from talented street performers, admire London's iconic landmarks and more. Bikers will find sufficient spaces to take a break from their rides to grab a quick lunch or a cocktail before continuing down the path.
45. Fall in love with tennis at Wimbledon
Each July, the sleepy London suburb of Wimbledon welcomes visitors from across the world who make the pilgrimage to this tennis hotspotto witness the world's greatest championship tournament. Top-rated tennis stars from all corners of the globe travel here for a chance to battle on the grass courts and earn top honours. Tourists come for the tournament, but stay to sip Pimm's, enjoy gastro delights and linger for a chance encounter with tennis all-stars.
46. Channel your inner naturalist during a stroll through the London Zoo
Nestled in Regent's Park, the 36-acre gardens of the London Zoo have delighted travellers from all corners of the globe since opening in 1847 under Queen Victoria's rule. Families visiting London with small children cannot miss a chance to explore these extensive grounds. Watch their faces light up as they encounter exotic animals from diverse regions of the world. Escape the crowds and recharge your batteries at one of the many on-site restaurants.
47. See London in a day aboard an iconic open-air double-decker bus
Travellers who are low on time and energy, but have large itinerary appetites can experience a whirlwind tour of London's most famous sites atop an iconic bright red, double-decker bus. From the comfort of your seat, snap quick photos and learn more about world-famous landmarks including Big Ben, the Tower of London, the Tower Bridge, the London Eye and Buckingham Palace. Ready to stretch your legs and grab lunch? Simply hop off and then hop back on as you like.
48. Speed to your destination aboard the historic London Underground
The London Underground, referred to as the Underground, or by locals as the Tube, connects all destinations across London as well as adjacent counties of Essex, Hertfordshire, Buckinghamshire and more. Founded in 1863, this underground railway connects visitors to over 270 stations. Not only is it an effective way to make your way across the expansive city of London, but each tube station is also uniquely decorated and offers an ideal photo opportunity.
49. Encounter the macabre with a thrilling Jack the Ripper walking tour
The mystery of the Victorian-era East End serial killer known as Jack the Ripper continues to fascinate people over a century after the murders occurred. For an up-close and personal, albeit eerily chilling experience, schedule a walking tour with one of the many expert guides in the area. Traverse the alleys and buildings where the actual murders took place and learn more about the unsolved mystery of the killer's identity.
50. Quicken your pulse with a spectacular fireworks show at Alexandra Palace
The majestic Alexandra Palace, known locally as Ally Pally, traces its origins back to the 1870s as a centre for education and entertainment. Today, tourists, especially those with little ones, flock to this site for a full day of diverse entertainment options including ice rinks, boating lakes, golf courses, skate parks, music venues, farmers markets and more. Each November, visitors gaze up toward the sky for a dazzling world-class fireworks show to commemorate Bonfire Night.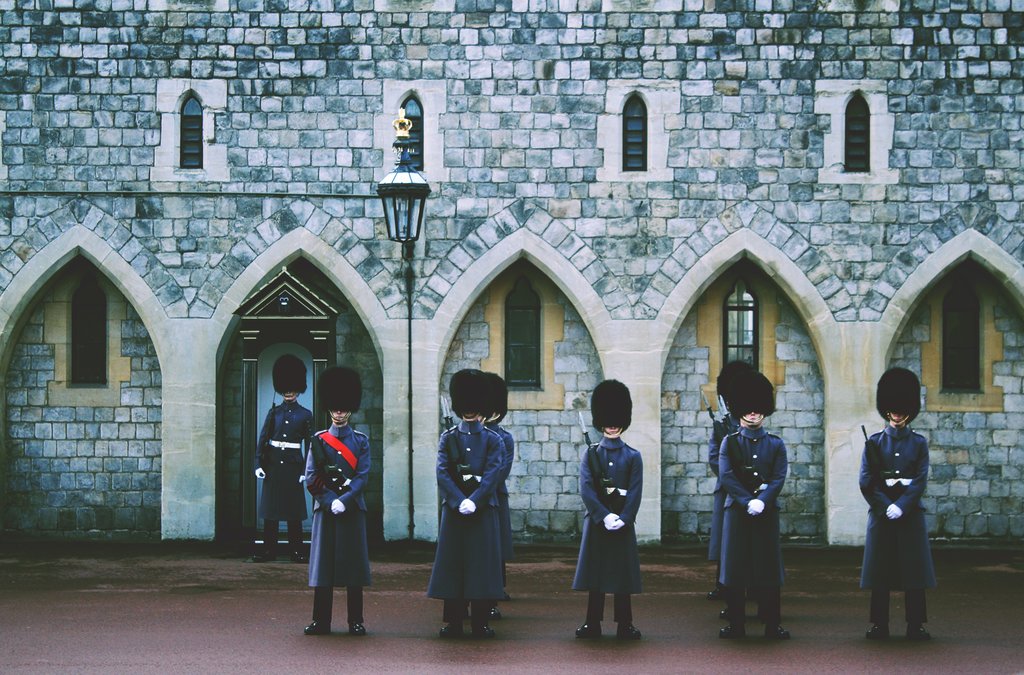 _Photo by Toa Heftiba on Unsplash_
51. Discover over 1000 years of royal history at Windsor Castle
Just outside London's Heathrow airport sits the spectacular Windsor Castle. History buffs and those fascinated by all aspects of the royal family arrive at the castle each day to take a tour of its regal State Apartments and collection of fine porcelain from China and Japan, and learn more about royal weddings via a special exhibition. Take the audio tour narrated by Prince Charles to learn more about this stunning castle.
52. Camp under the stars at Peak District National Park
From quaint country villages to soaring peaks and lush valleys, Peak District National Park delivers world-class outdoor sightseeing opportunities. Visitors to this diverse region of the southern end of the Pennines escape the hustle and bustle of the modern world for a chance to breathe fresh air and enjoy a wide range of outdoor activities. From overnight camping excursions to thrilling rock climbing trips, the Peak District is a choice destination for adventure seekers of all ages.
53. Visit the UK's oldest bookshop in the heart of Piccadilly Circus
Holidaymakers with a penchant for history should pay a visit to Hatchards in Piccadilly Circus. Widely known as the UK's oldest bookshop, this store, opened in 1797, continues to sell books of all genres from the same two-century-old location. Stop by and browse their extensive selection of books while you process the exciting fact that you are standing where famous patrons including Duke of Edinburgh, Queen Charlotte and the Prince of Wales once shopped for books.
54. Window-shop the big-name outlets of Oxford Street
Known as one of the busiest shopping districts in Europe, Oxford Street plays host to 200 million tourists each year who come to browse the offerings from the area's shops. Retail chainsand world-renowned designers attract visitors eager to view the latest fashions. Among these shops, Selfridges stands out with its 10-acre mega shopping complex which occupies over a block of real estate on Oxford Street. Pause in front of its opulent main entrance for a one-of-a-kind photo op.
55. Rub shoulders with famous celebrities at Madame Tussauds
Spend an afternoon walking among the lifelike wax figures of over 250 world-famous celebrities, politicians and more at Madame Tussauds. Visitors of all ages jump at the chance to enter the expansive galleries and snap selfies with members of the Royal Family, pop culture icons, superheroes and sci-fi creatures. Check out the wide range of immersive experiences from mega franchises includes Alien, Star Wars and the Voice UK.
56. Explore the world-class Victoria and Albert Museum's extensive collection
The Victoria and Albert Museum, also known as the V&A, is a world-class, family-friendly museum of applied and decorative arts, design and sculpture founded in 1852. As the largest of its kind in the world, the museum boasts a collection of over two million unique objects exploring over 5000 years of human history. Families on holiday enjoy the breadth of galleries and hands-on exhibits sure to entertain kids of all ages.
57. Soak up the beauty of Windermere, England's largest lake
If your travels take you to the northwest corner of England, be sure to pay a visit to the majestic area surrounding Windermere Lake. Located in Cumbria's Lake District National Park, it is hemmed by soaring mountain peaks and unique villages. Holidaymakers frequent this area for some leisurely boating and water skiing. The region around Windermere Lake also offers a host of activities including golf, horseback riding, fishing and more.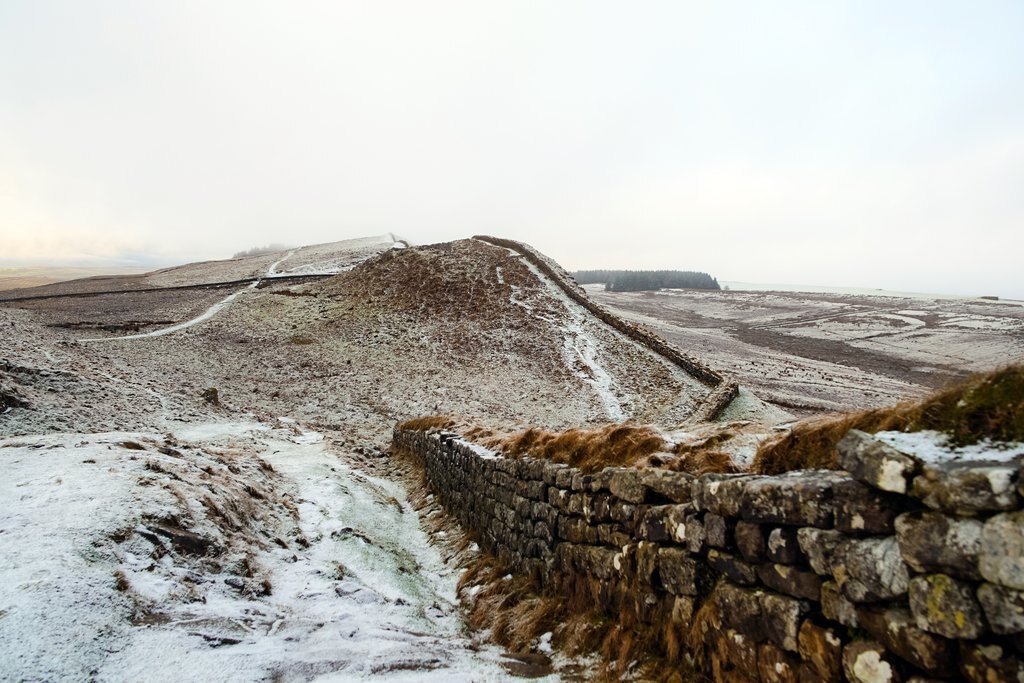 _Photo by Toa Heftiba on Unsplash_
58. Stand on the edge of the Roman Empire at Hadrian's Wall
Constructed on the orders of Roman Emperor Hadrian in 122, Hadrian's Wall marked the northwest boundary of the Roman empire for well over three centuries. Today, travellers trek to this expansive fortification not only for its historical significance, but for its splendid views. Pack your walking shoes and do not forget to take a photo of you and your friends and family in front of this bewitching UNESCO World Heritage site.
59. Spend a day exploring the Eden Project to learn about conservation
Environmentally conscious travellers head to the 10-acre Eden Project in Cornwall not only to stroll among its lush botanical gardens, but to learn about a wide range of groundbreaking sustainable living and social projects. This site is also home to numerous recurring musical festivals and art exhibits. Families are especially drawn to the Eden Project to teach children the importance of sustainable, eco-friendly living.
60. Step back in time at the medieval Warwick Castle
Initially constructed under the direction of William the Conqueror in 1068, Warwick Castle is a well-preserved medieval stronghold in Warwickshire, England. Purchased by the Tussauds Group in 1978, it now boasts an impressive array of educational and entertaining activities including a Horrible Histories Maze, the Time Tower, a period-authentic castle dungeon, a colossal trebuchet catapult and a Princess Tower. This fun and intriguing experience is an ideal day trip for kids of all ages.
61. Expand your cultural horizons at the stately Chatsworth House
Derbyshire, England, is the home of the stately Chatsworth House manor. The estate, open to the public, boasts an impressive collection of over 4000 years' worth of artwork, furniture, tapestries and more spread across 30 stately rooms. View masterpieces from Rembrandt, modern works from artists such as David Nash, and ancient Roman and Egyptian sculptures. Each year between November and January, the Chatsworth House offers fairytale-inspired settings throughout the house in their Christmas at Chatsworth event.
62. Step through three centuries of history in a day at Blenheim Palace
Blenheim Palace, a UNESCO World Heritage site, has earned a reputation among tourists as a must-see destination. Nestled in the English countryside near Woodstock, Blenheim Palace was constructed in the 18th century as a stunning monument to celebrate the splendour of Baroque architecture and vast landscapes spread across 2000 acres. Today, it welcomes travellers from all points on the globe to behold the unparalleled collection of artwork, fine tapestries and antiques.
63. Secure tickets to award-winning performances at Leicester Square
Leicester Square is not only a bustling London district full of talented street performers, it'salso an ideal spot to pick up last-minute tickets for a variety of Broadway-style shows in the area. Performances of Phantom of the Opera, Lion King, Miss Saigon and many more take place in theatres a short distance from Leicester Square. Best of all, last-minute tickets are typically sold at deep discounts.
64. Savour some authentic BBQ in Camden Town
Camden Town, in addition to being a hip night spot, serves up an eclectic assortment of delicious culinary masterpieces at modest local eateries. Locals flock to the area at all hours to get a taste of delicious BBQ meats, grilled veggies, and seafood dishes washed down by craft beers and locally created cocktails. To squeeze the most out of a trip to Camden Town, head down Regent's Canal and take a boat tour to Little Venice.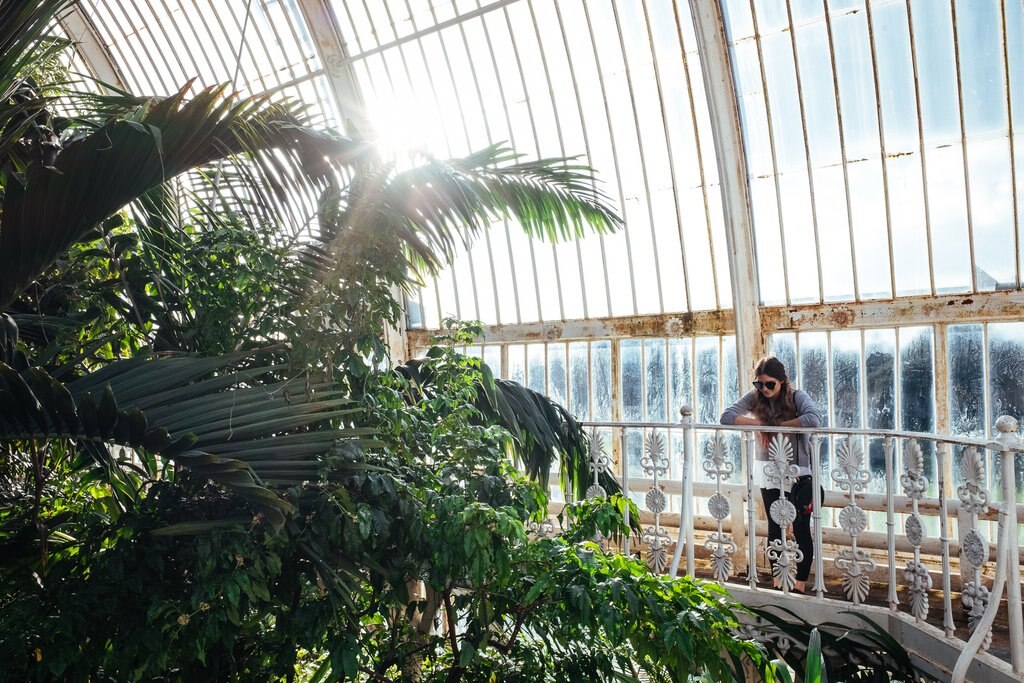 _Photo by Robert Bye on Unsplash_
65. Explore the Royal Botanic Gardens of Kew
A UNESCO World Heritage Site, the Royal Botanic Gardens of Kew offer nearly 1.5 million annual visitors 330 acres of diverse plant species to explore. Nearly 7 million unique specimens thrive in gardens founded nearly 200 years ago. The Royal Botanic Gardens is ideally suited for plant enthusiasts or weary travellers looking for a chance to unwind among some unique green spaces. Visitors to the gardens are tickled to explore glasshouses teeming with diverse plant species.
66. Discover Kensington Palace's haunted past
At the edge of Hyde Park and close to Buckingham Palace sits the official residence of the Duke and Duchess of Cambridge, Kensington Palace. Once a favourite retreat for the royal family, recent stories have emerged painting a grim and dismal picture of life there with some suggesting that evil spirits plague the palace. Find out for yourself by strolling through the gardens or touring the elegant King's State Apartments.
67. View masterpieces of European art at the National Gallery
Located in Trafalgar Square, London's National Gallery boasts one of the most impressive and diverse collections of historical masterpieces on the planet. Get an intimate view of world-famous works of art and contemplate the genius of master artists including Rembrandt, Turner, Renoir, Van Gogh, Botticelli, Leonardo da Vinci and countless others. Take a self-paced audio tour and learn more about the artists' lives, inspirations and techniques which made them famous.
68. Receive an education about the 800-year-old Cambridge University
As the fourth-oldest surviving university on the globe, Cambridge University, founded in 1209, occupies a unique chapter in English history. Its 31 distinct colleges deliver a world-class education to over 18,000 students. Students of history will marvel at the masterful English Baroque architecture here. Spend a day strolling the sprawling grounds, or participate in a guided tour from a local expert or graduate student to learn more about Cambridge's unique history.
69. Drop anchor at the Liverpool Maritime Mercantile City
The UNESCO World Heritage Site, Liverpool Maritime Mercantile City, preserves an important aspect of the UK's status as a global trade superpower. From the Albert Dock, through the Pier Head and onto Stanley Dock, visitors can explore the maritime heritage of Britain and see, first-hand, how workers shuffled cotton, tea, silk, tobacco, ivory and sugar through the docks and loaded the cargo on ships bound for regions across the globe.
_Photo by Andy Falconer on Unsplash_
70. Explore the history and religious significance of York Minster
Constructed in the 14th century, York Minster is more than a cathedral. It is a living piece of history which helps tell the 2,000-year story of the region. From Roman foot soldiers to Viking raiders, York has served as a crossroads for several cultures throughout history. Today, York Minster offers visitors a chance to explore an extensive collection of restored stained glass and staggering medieval era construction.
71. Keep an eye out for monsters on Loch Ness
The UK's most infamous sea serpent, Nessie, also known as the Loch Ness Monster, allegedly calls this remarkably beautiful lake and surrounding shoreline home. Nearby Urquhart Castle serves as the ideal panoramic backdrop for international adventurers who trek to this area to visit the Loch Ness Centre and Exhibition hall and learn more about the local legend. Tourists seeking a peek of the prehistoric beast can easily reach the intoxicating Loch Ness area from hotels near Glasgow or Edinburgh.
72. Get up close and personal with Scottish history at Edinburgh Castle
Known as one of the most frequently besieged castles in the world, the historic Edinburgh Castle has served as a fixture in the Edinburgh skyline since the 12th century. Today, ongoing restoration projects hope to preserve the rich history and significance of this integral element of Scottish history. As the top tourist destination in Scotland, the castle can become crowded, especially during the height of the summer travel season.
73. Explore quaint villages along the bonny banks of Loch Lomond
Each weekend, when the weather is suitable, locals from Glasgow and Edinburgh travel to the gorgeous shore of Loch Lomond for a chance to relax and enjoy the sites. The area is home to a diverse collection of wildlife and includes the largest inland area of water in the UK. Holidaymakers flood the area to explore the collection of small villages, rock climb, mountain bike, or hike the terrain. No matter what activity you choose in this beautiful region, you are in for a truly exhilarating day.
74. Take a guided tour of the Kelvingrove Art Gallery
Since 1901, the Kelvingrove Art Gallery has opened its doors to locals and tourists alike to display the grandeur of unique architecture and works of art. In this uniquely family-friendly environment, art enthusiasts of all ages can explore the diverse collection which ranges from Ancient Egyptian to modern Scottish works and more. Arrange a guided tour to learn about all of the fascinating exhibits Kelvingrove offers.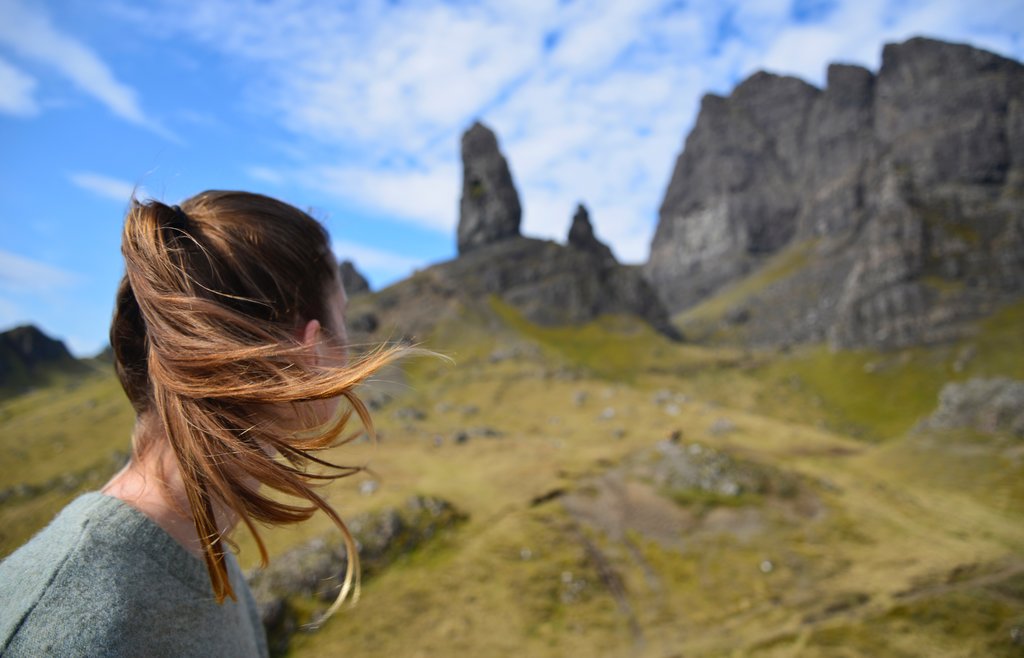 _Photo by Henk Mul on Unsplash_
75. Bask in the sun on the sandy beaches of the Isle of Skye
If your travels take you to Scotland, don'tmiss a chance to explore the Isle of Skye. From pristine sandy beaches to towering mountains, it offers the ideal setting to rest, relax and recharge your batteries. Visitors love the traditional Gaelic spirit of this unique region as well as the historical local villages which trace their roots back to Viking invaders who came to the area a millenniumago.
76. Take in an IMAX show at the Glasgow Science Centre
The five-star rated Glasgow Science Centre opened in 2001 and has since become one of the top attractions for visitors to the region. As a family-friendly centre, it features a wide range of unique exhibits and hands-on activities to occupy kids of all ages for hours on end. Book a seat for one of the engrossing IMAX shows at the theatre upon your arrival as seats fill up quickly during the height of the tourist season.
77. Hike to a majestic waterfall in Glen Coe
Local residents as well as foreign visitors rave about the exquisite views of the snow-capped mountains from the valley of Glen Coe. Cut by a glacier during the last ice age, the narrow Glen Coe valley of the Scottish Highlands features ample opportunities for visitors to enjoy world-class hiking, rock climbing and mountain biking. Don'tmiss a chance to experience one of several pristine waterfalls in the region teeming with diverse wildlife including deer and eagles.
78. Learn about traditional Scottish weaponry at Fort Augustus
The modest village of Fort Augustus, on the southern tip of world-famous Loch Ness, is an ideal jumping off point to enjoy the diverse sights of the region. In addition to several lakeside pubs offering an intoxicating view of Loch Ness, Fort Augustus houses an education centre where visitors can get up close and personal with authentic 17th-century weapons. Experts not only demonstrate the use of these weapons but introduce tourists to a variety of unique Scottish traditions.
79. Ride the world-class Jacobite Train to Hogwarts
Fans of the Harry Potter films undoubtedly remember the famous Hogwarts Express train which shepherds students to and from the wizarding school each year. However, few know that the train in the movies is actually the Jacobite Train. This spectacular rail line traverses a lengthy stretch of terrain and is widely regarded as one of the most impressive rail journeys the world has to offer. Its route covers a significant stretch of diverse terrain including River Morar and Loch Nevis.
80. Sample some fine Scotch at a local distillery
For many, sipping a fine Scotch is a unique travel experience of its own. Those who possess keen enough taste buds to appreciate a well-crafted Scotch will find themselves in familiar territory at one of the countless local distilleries across the country. Ancient recipes come to life and delight the senses of aficionados. Those who have yet to develop a sophisticated appreciation for Scotch will find a wide selection of beers, wines and liquors suited to their taste.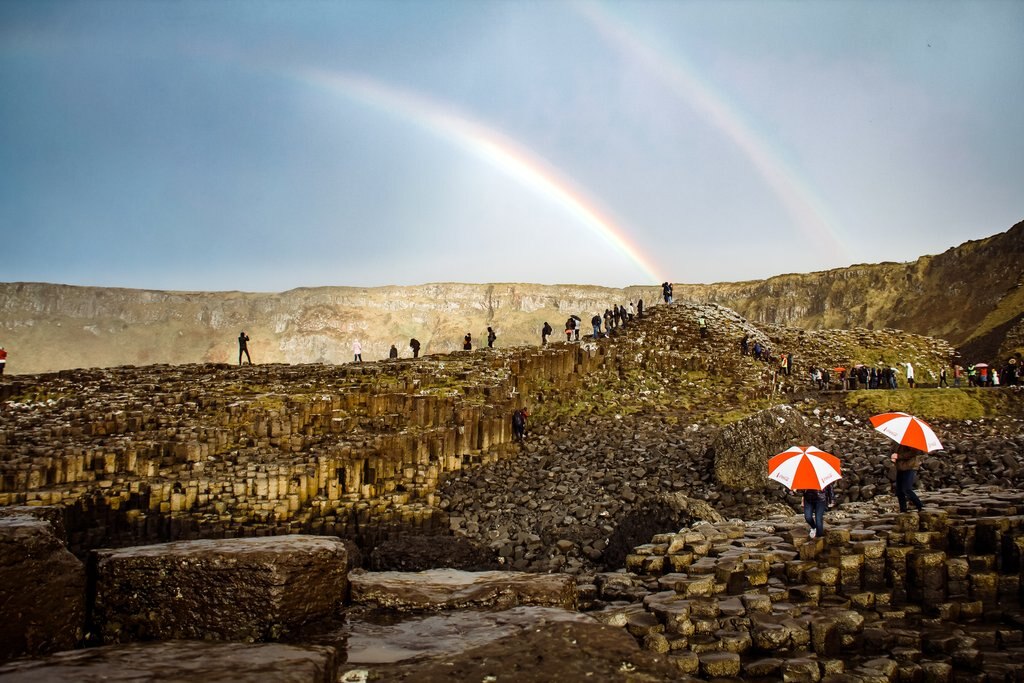 _Photo by Gregory Hayes on Unsplash_
81. Drop your jaw at the volcanic rock formations of Giant's Causeway
The bewildering natural wonder of the Giant's Causeway was formed aeons ago by volcanic eruptions in the region. Today, this UNESCO World Heritage Site, named for its resemblance to giant-sized stepping stones, is widely regarded by locals as one of the top natural wonders located in the United Kingdom. Stop at the visitor's centre to learn more about the creation of this remarkable natural formation and then drive on to experience it first-hand.
82. Explore archaeological findings near the historic Dunluce Castle
Archaeologists digging near the site of the famous Dunluce Castle located a wide range of artefacts which tell a violent tale of the castle's history. Constructed along the plunging North Antrim coast around 1500, Dunluce Castle was overrun by the MacDonnell clan in the mid-1550s and the surrounding area descended into chaotic violence. History buffs can flock to this region to examine artefacts from this period and learn more about the history of clan wars in the area.
83. Relax amid the sublime beauty of the nine Glens of Antrim
A major tourist destination in north Antrim, the Glens consists of nine distinct valleys reaching from the coast to the Antrim Plateau. Visitors travel here from across the globe for a chance to soak in the natural beauty of the region and explore the local villages of Waterfoot, Carnlough, Glenarm, Ballycastle, Cushendun and Cushendall. During the warm summer months, locals descend on the area for fishing, hiking and other outdoor activities.
84. Sample a taste of famous Irish whiskey
No trip to Ireland is complete without sampling the internationally renowned flavours which comprise Irish whiskey. Many local distilleries give tourists an opportunity to enjoy a guided tour to take in the sights and smells of key ingredients used in the manufacturing process. Most also offer a variety of whiskey samplings and tastings tours led by a whiskey expert. After sampling the local offerings, pay a visit to the local gift shops which often house a wide array of distinctive souvenirs.
85. Take a ferry to Rathlin Island
As Northern Ireland's sole inhabited offshore island, Rathlin Island offers tourists a unique opportunity to escape the crowds and experience the serene isolation across the Sea of Moyle. Just a small population consisting of around 70 inhabitants live, work and play on this tiny island. Visitors can hire a guide for the day or "go it alone" to navigate the six-mile-long island and return back to the Ballycastle origin point at the end of a restful day.
86. Trek to the birthplace of the Titanic
Constructed on the site of the former Harland and Wolff shipyard which built the Titanic, the modern attraction, dubbed Titanic Belfast, tells the story of the ill-fated vessel which struck an iceberg and sunk to the bottom of the Atlantic during her maiden 1912 voyage. The Titanic Belfast attraction includes nine separate galleries full of interactive exhibits that walk visitors through all aspects of the vessel's construction, launch and untimely demise.
87. Experience an authentic Irish pub crawl in Belfast
Tourists on holiday looking for a lively night out can enjoy a traditional pub crawl through the watering holes of Belfast. Down a pint of delicious Guinness while tapping along to some live music then it's off to the next pub to browse their motley drink offerings. Before embarking on an extended pub crawl through Belfast, enjoy a hearty meal at one of the many fine restaurants Belfast has to offer.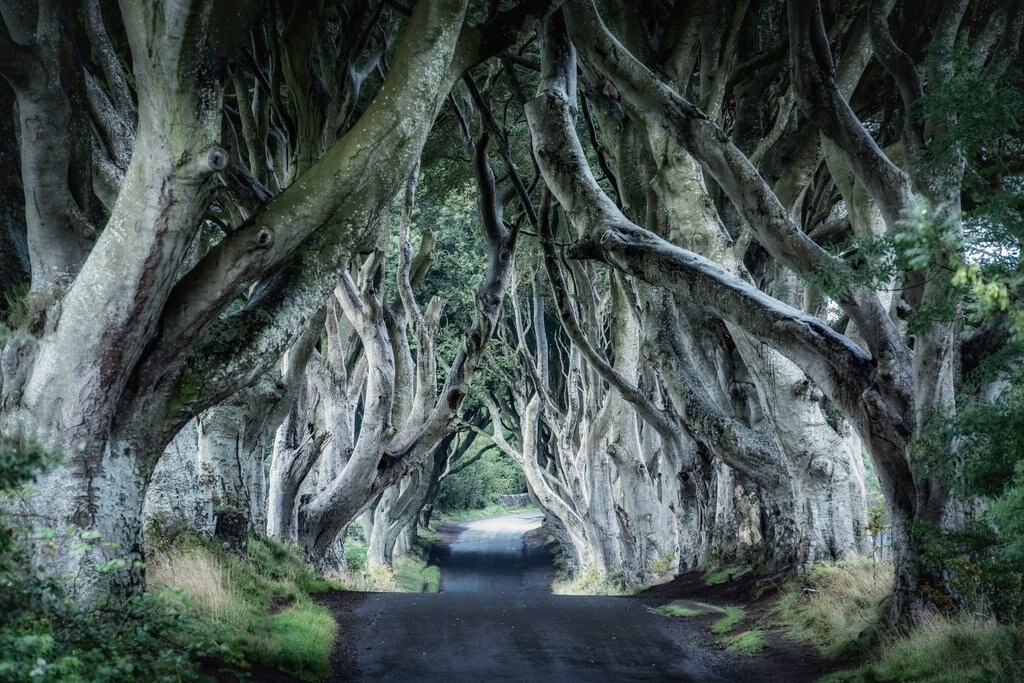 _Photo by Trevor Cole on Unsplash_
88. Snap some haunting images in the famous Dark Hedges
Just off a quiet country road close to the town of Ballymoney in Northern Ireland rests a world-famous row of twisted beech trees. This area, known as the Dark Hedges, inspires photographers, painters, filmmakers and authors from all parts of the world. The arch the trees form over the nearby road is not just impressive, it is eerily tranquil and has even served as the backdrop for movies and television shows including Game of Thrones.
89. Get a taste of Roman-style architecture in Northern Ireland
The Mussenden Temple, modelled after Rome's Temple of Vesta, built in the late 1700s, sits high above the Atlantic Ocean, perched on the edge of the cliffs overlooking Downhill Strand. Lovers of Roman architecture will find a heady photo op in front of this temple which once sat a sufficient distance from the edge of the cliffs to drive a carriage around. Today, due to erosion, it sits precariously close to the steep cliff's edge.
90. Climb to the highest point of the Mourne Mountains
Northern Ireland has no shortage of awe-inspiring terrain, but few spots compare to the sheer beauty, or offer the same volume of challenging hikes, as the Mourne Mountain range. Soaring 850 metres above sea level, the highest of these granite mountains delivers unparalleled views of the surrounding area. If heights are not your thing, opt for a more gentle walk down the slopes of Butter Mountain and view the surrounding crystal-clear lakes.
91. Ride the world's fastest zip line down the astounding mountains of Snowdonia
Wales is a coveted travel destination not only for its unique charm, friendly locals and delicious assortments of food and drinks, it is also home to the world-class Snowdonia mountain range in County Gwynedd. Here, 14 peaks jutting into the sky offer the perfect photo op and also host the world's fastest zip line located at Zip World. Brace yourself for a wild ride down the sheer face of this mountain range.
92. Hike alongside wild ponies in Brecon Beacons National Park
Weekend adventurers and casual tourists find ample opportunities for achingly beautiful views and exhilarating adventures at the Brecon Beacons National Park. Visitors flock to this gorgeous section of Wales to hike, bike, run and horseback ride the neverending collection of gentle paths and challenging trails. Make your way to the eastern portion of the Beacons' Black Mountains for a chance to walk amongst the wild ponies of the park.
93. Stroll across the medieval fortress of Caernarfon Castle
No trip to Wales is complete without a pilgrimage to the impregnable medieval Caernarfon Castle. King Edward I's 13th-century mega fortress houses 13 gigantic towers, two massive gates and a wide array of strong walls which make it one of the most impressive structures in the area. Let your imagination transport you back in time to an era where knights took to the field of battle and invaders fought tooth and nail in siege warfare tactics.
94. Unleash your inner child at the Oakwood theme park in Pembrokeshire
Although Wales is overflowing with medieval castles and lush, sensuous scenery, there is much more to do in this wildly popular region. Take a day trip to Pembrokeshire Oakwood theme park and enjoy a wide array of thrilling roller coaster rides including the heart-pounding Gerstlauer Eurofighter roller coaster with is 97-degree plummet as well as the 26-metre tall wooden coast, Megafobia. Families with smaller children will also find a vast assortment of entertaining rides, games and activities.
95. Enjoy an overnight stay at Portmeirion
Nestled in the magnificent mountains of the Snowdonia National park sits the world-class Portmeirion hotel and resort. Constructed to resemble an old-world Italian fishing village, Portmeirion is overflowing with luscious gardens, fountains and ample hiking paths leading to the sea. Guests who opt to enjoy Portmeirion through an overnight stay enjoy the added benefit of having the entire park to themselves in the evening once the gates close to day tourists.
96. Stoll among the rich ecological history of the Bodnant Garden
Each year, nearly 200,000 tourists descend on Bodnant Garden for a chance to explore its wide open spaces and view the splendour of the world-famous Laburnum arch. Widely known as one of the most picturesque gardens in the UK, the 80-acre site, founded in 1874, is steeped in rich botanical history. Local botanists led expeditions abroad to collect specimens which formed the garden's four distinct national collections.
97. Spot some rare birds at Llanwrtyd Wells
Bird watchers flock to Llanwrtyd Wells by the thousands each year for a chance to relax among the captivating grounds and patiently await their chance to glimpse the local Red Kite and Buzzard populations. Nearby feeding stations offer the opportunity to see these gorgeous birds at close range and snap a photo commemorating your experience. Beyond bird watching, travellers enjoy biking, walking, fishing and golf in the region.
98.Cheer on the Cardiff Half Marathon runners
Running is more than a hobby or idle pastime for the residents of Wales. Locals and international competitors come together each year for the challenging and popular Cardiff Half Marathon. Many tourists in the area taking a breather from the plethora of sightseeing opportunities get in on the party-like atmosphere surrounding this half marathon. Grab a pint or a cup of tea and cheer the runners on as they compete in this gruelling run.
99. Bask in the warm sun at beautiful Barafundle Bay
Wales, in addition to having some of the globe's most entrancing mountainous landscape, also hosts some world-class beaches. First among them is Pembroke's Barafundle Bay. This small bay, framed by sand dunes and pine trees, is only accessible via a short trek from a nearby parking lot. Those who make the effort are treated to one of the most extraordinary beaches in all of Europe which many compare to the best beaches in the Caribbean.
100. Cheer on the Welsh national rugby team at the Principality Stadium
The Welsh national stadium, referred to as the Principality Stadium, was built in 1999 for the Rugby World Cup and serves as the current home of the Wales national rugby team. Check out the team's schedule to see if your travel plans coincide with one of their famously lively matches. In addition to rugby, this world-class stadium hosts a wide range of other sporting events and music concerts.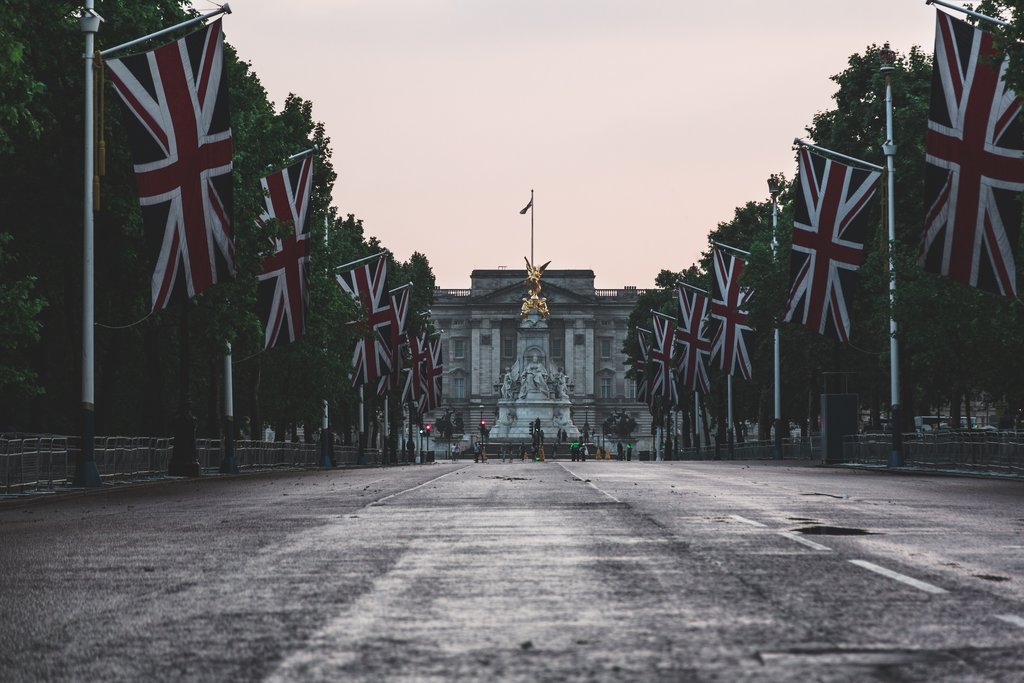 _Photo by Matt Antonioli on Unsplash_
The above list of 100 unique things to do during your future travels to the United Kingdom is by no means exhaustive, but offers a sample of the endless adventures which await you across England, Scotland, Northern Ireland and Wales. The region is as diverse as its population and steeped in millennia of rich history. From discovering exciting international culinary delights in London, to witnessing the set design, costuming and creative elements which led to themaking of Harry Potter, the United Kingdom hosts limitless options to thrill travellers of all ages.
From exploring the iconic landmarks of central London and witnessing the Changing of the Guard, to marvelling at the prehistoric site of Stonehenge, England, the United Kingdom is overflowing with exceptional travel opportunities. When in Scotland, immerse yourself in the splendour of the Scottish Highlands and keep an eye out for the Loch Ness Monster. In Northern Ireland, enjoy a pub crawl through Belfast and visit the sombre construction site of the Titanic. Then, round out your trip with a visit to Wales and gape at the otherworldly beauty of Snowdonia.