Puglia is a beautiful part of the world with a rich complex history thanks to it being occupied by the Greeks, Romans, Goths, Lombards, Byzantines, Sicilians, Turks and Venetians to name a few. Their influence can still be traced to the current day through the region's rich and varied architecture and in the regions rich and amazing gastronomy.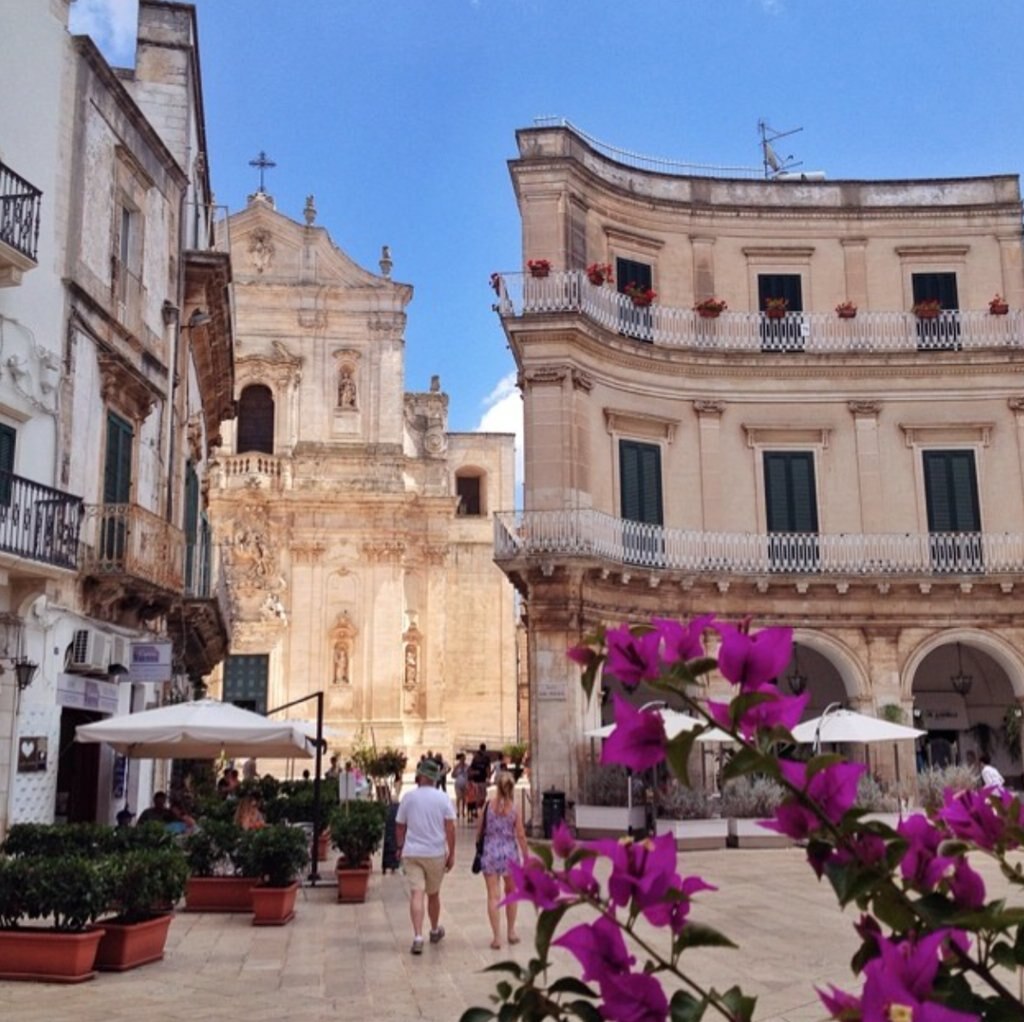 To top that you have 700 km of stunning coastline. So if you are looking for a nice beach , it's pretty easy to find one. Just a short hop from the town of Ostuni for example we found Villanova. Small but lovely beach. Family friendly. The water was warm, clear and great for a swim. Afterwards, I had a nice martini rosso from the beach and some Tarallini: a delicious local snack that are crispy little rings of baked dough, seasoned with aromatic fennel seeds.
Puglia also attracts a more mature crowd, mainly couples and families who are attracted by the mix of pristine beaches, beautiful countryside, value for money accommodation and a rich concentration of historic villages and cities.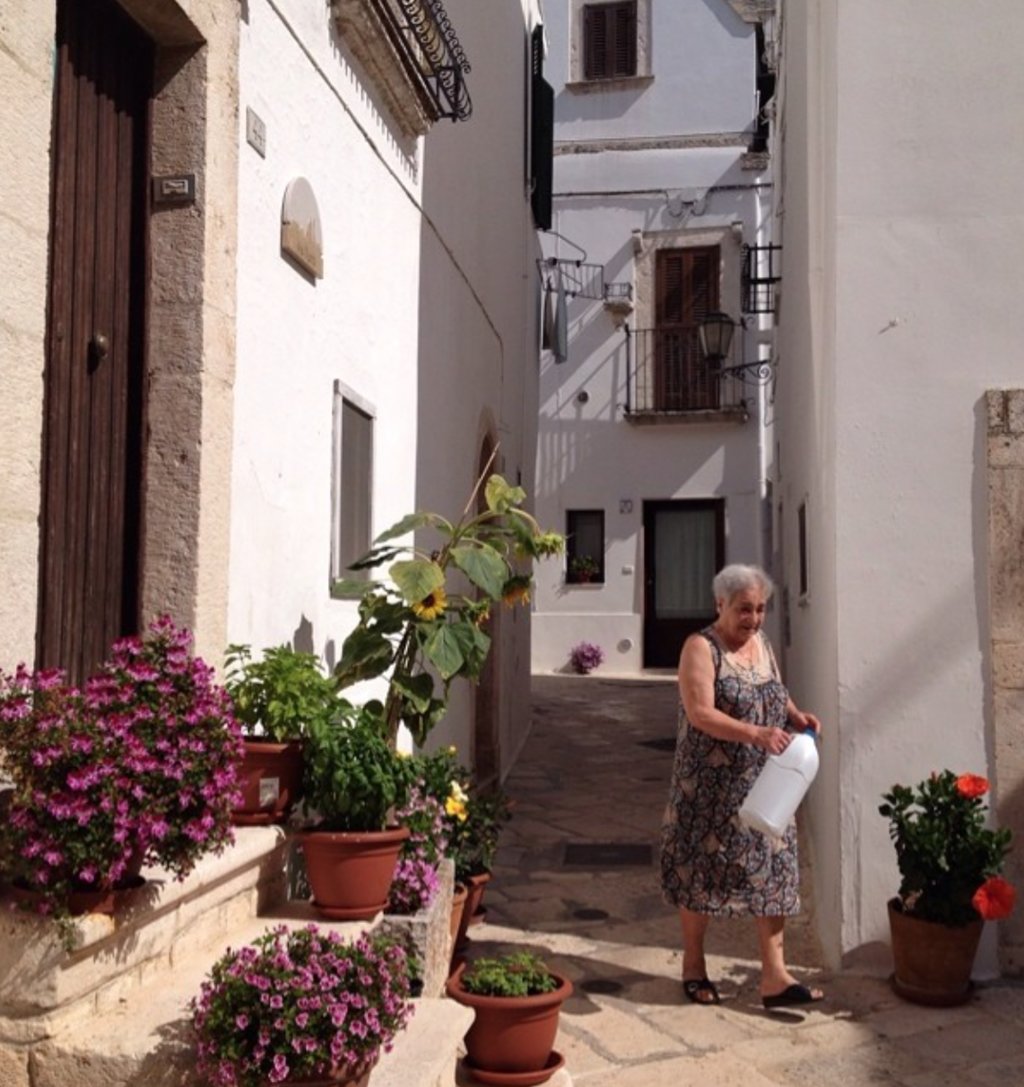 Locorotondo itself is a dreamy place, a sea of whitewashed cottages strung across a small hilltop in the heart of the Puglia countryside. Narrow, intimate streets lined with colourful flowers baskets hanging from balconies lead visitors into the town's central piazza where a throng of locals congregate day and night discussing everything from football to the politics of the day.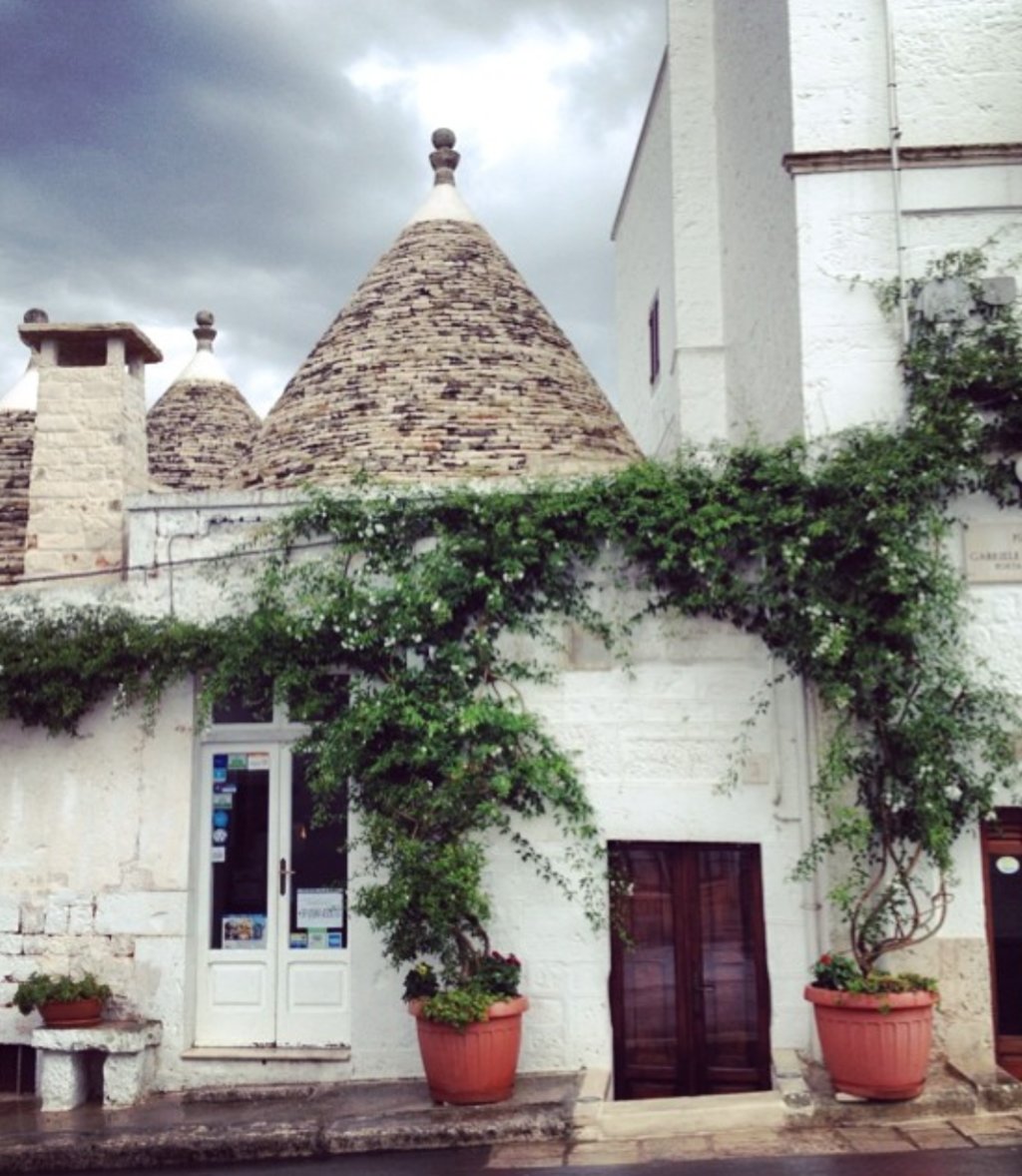 Top Tip for Locorotondo
For a typical Puglian breakfast hop over to Docks 101 where they serve a fine strong espresso along and you can get a delicious crostata marmellata (closest thing in the UK to this is a jam tart) or chocolate torte. Enjoy in the full blaze of morning sunshine on one of their outdoor tables, with a copy of the Corriere della Serra in your hands and a full panoramic view of the Puglia countryside spread at your feet.
Top Tips for Puglia
Hire a car. Don't depend on public transport. It will make a huge difference to the quality of your holiday. Unmissable highlights include a visit to the picture postcard town of Ostuni. Ostuni is another one of those impossibly beautiful Italian towns.
If you are in Ostuni in time for lunch, head to the Pescheria Il Delfino. It looks quite normal from outside but if you look closely, you'll discover that it doubles up a fishmonger inside so your are guaranteed the freshest catch on your plate. Place was packed with locals with not a tourist in sight: always a good sign. Buy your gambas (large prawns), octopus or cuttlefish by the weight and have it grilled for you along with a side order of fries if you wish. I enjoyed a seafood pasta with clams, mussels.
My other top tip is to visit Martina Franca, a beautiful town in Puglia rich in baroque and moorish influence. I loved just walking around this compact town, enjoying the rich contrast of architectural styles of this town. Also not to be truly missed : the village of Alberobello with its unique Trulli whitewashed houses (1500 in total) and grey cylindrical roofs.
Top Tip: Where to Stay
My top tip is the Sotto le Cummerse (Via Vittorio Veneto, 138, 70010 Locorotondo, Italy) Cute , albeit on the small side, 2 bedroom apartment with murals and faux distressed wood furnishings throughout. Exposed stone, comfortable beds, lots of smallish windows (feature of all the houses here in the centre of the village) plus a mini-kitchen cum dining room. Altogether, for the location, this is a pretty decent value for money option with prices in January 2015 starting around the £60 mark for 1 night.