Graz is a city known for it's food, design and history, and you won't find many places that are this full of great contrasts. 21st century buildings stand beneath a 500 year old tower, while Italian renaissance architecture overlooks street art and thriving nightlife - this city is easy to enjoy whatever you are interested in.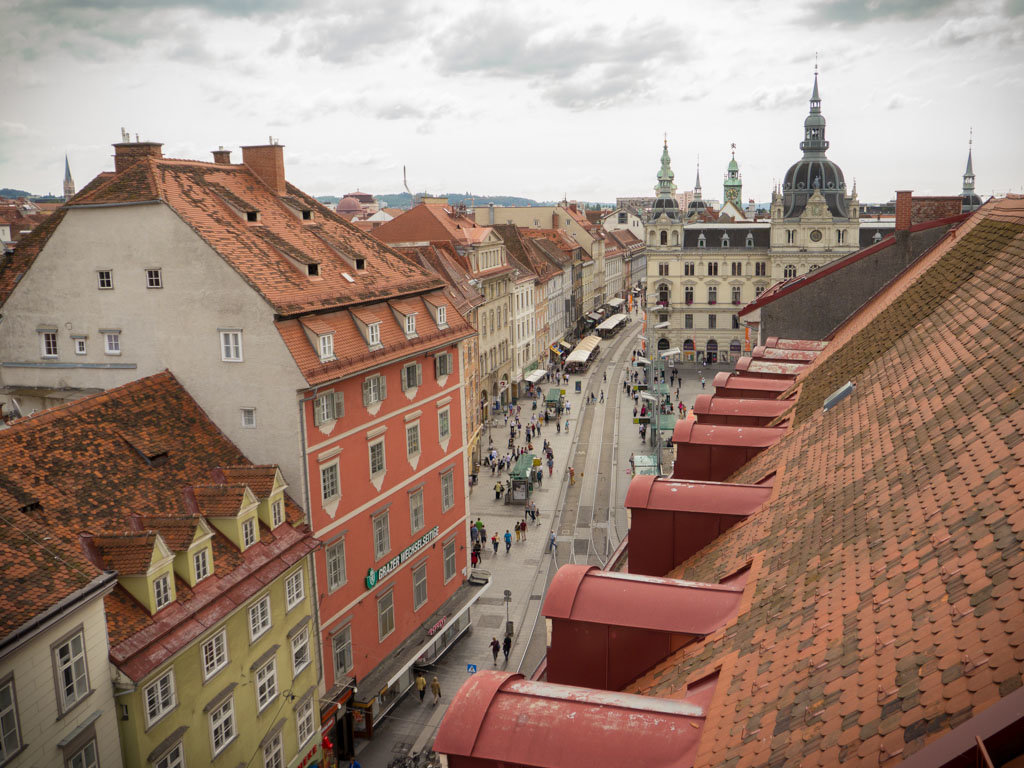 It's proud to have UNESCO status as the biggest medieval historic centre in Europe, and was the European Capital of Culture in 2003. Hopping on and off trams or strolling around (the city is very walkable), you will see a place that has been changing for 850 years and is still reinventing itself now. The 50,000 students in Graz give it plenty of energy, and in the Old Town, buildings with Baroque facades house modern shops on winding cobbled streets.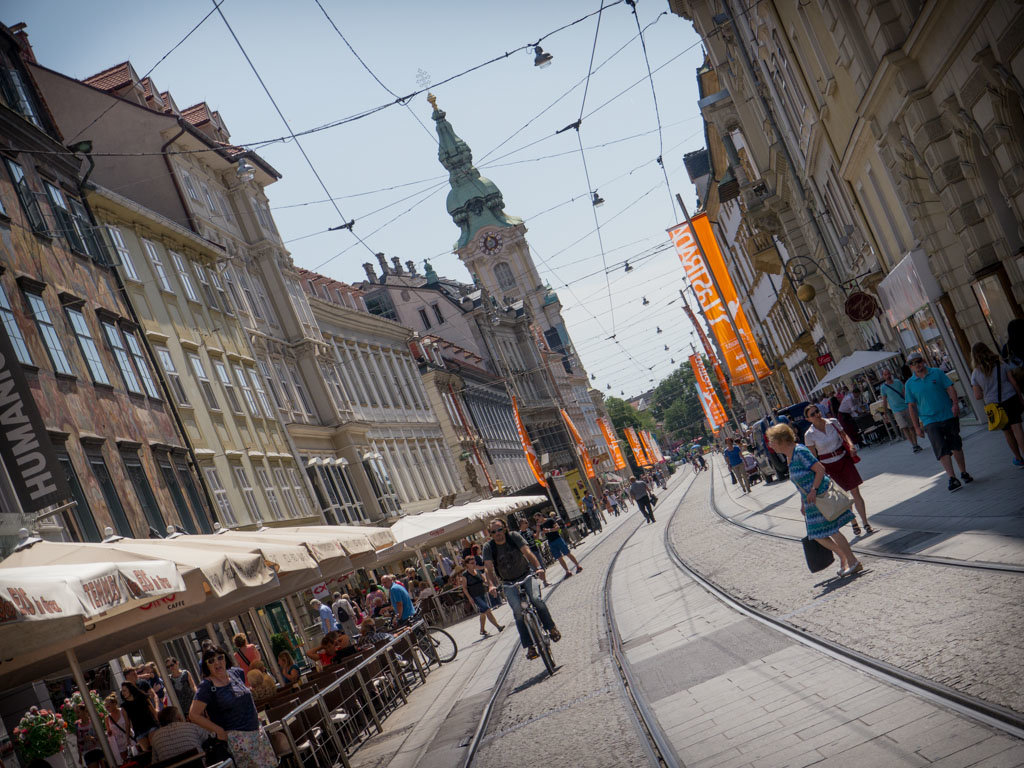 Getting up above the city for a view from the Schlossberg is a must. The steps that take you above the fantastic roofline are not too much of a workout, but there is also a funicular and a glass lift if you prefer. From here you can easily spot some of the newer features of the city, such as the wacky design of the Kunsthaus, which lights up with LED displays at night, and the Island in the Mur. This last creation might look like a man-made island, complete with cafe and music venue, that you can reach from either side of the river - but it is actually an ingenius metal boat that rises and falls with the river flow. Two other cool things on the River Mur to check-out include the river-surfing wave named Terminator 2 and the funky city beach bar next to it, you can often watch river-surfers in action.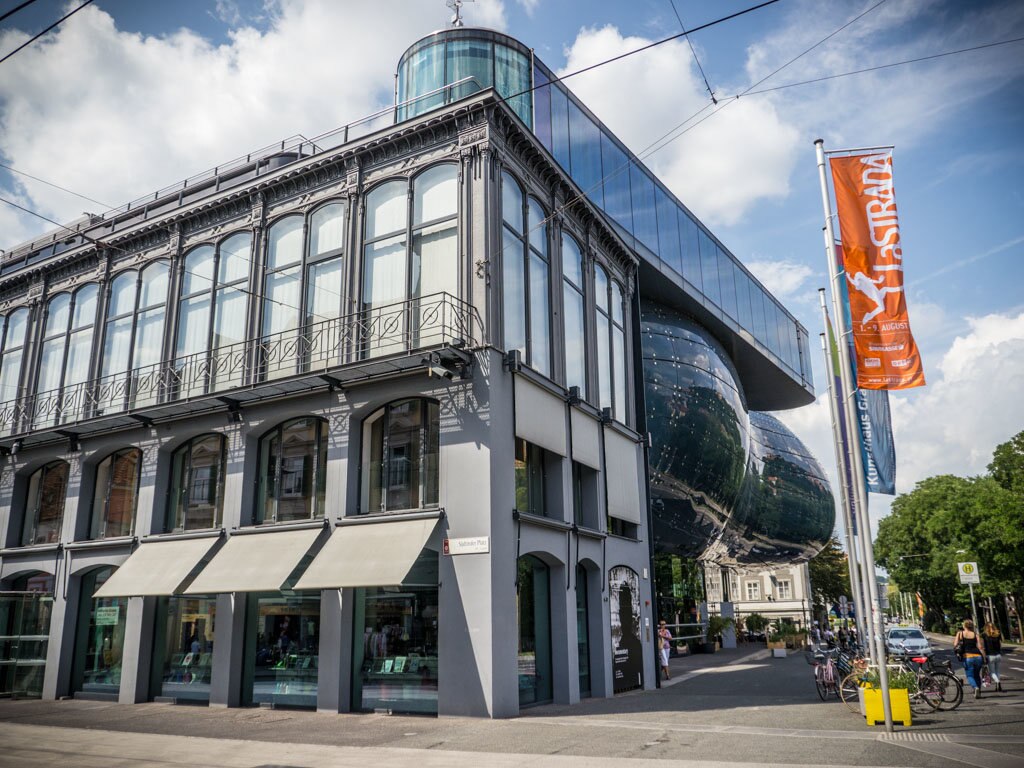 Fans of shopping will want to visit Kastner & Öhler, a famous Austrian department store started in 1873. Graz is their headquarters, and the store here was decadently refurbished in recent times to add a 4th level and a popular rooftop cafe with another wonderful view of the city.
If you love history and culture, the Styrian Armoury has over 30,000 weapons and suits of armour, there are many other museums, and the city is famous for it's beautiful Italian renaissance courtyards. If these are unlocked you are welcome to enter and enjoy them, the courtyards of the Priests Seminary and the Landhaus being great examples.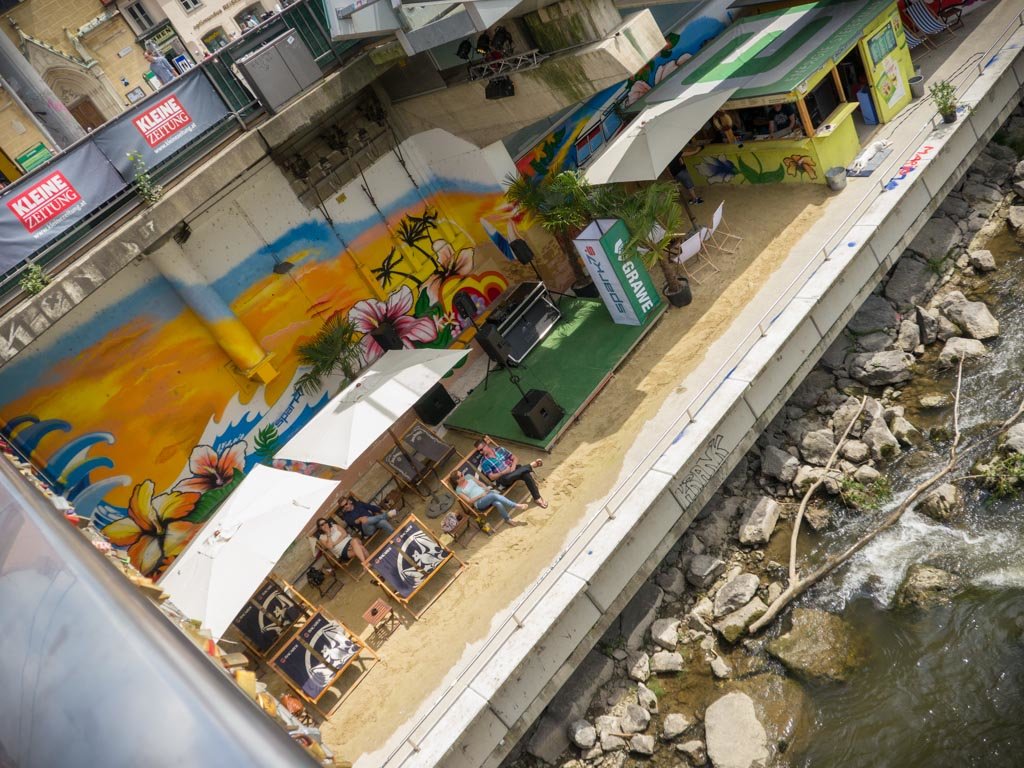 For eating and drinking you will be spoilt for choice. Whether you start by checking out the fresh produce at markets in Lendplatz, or Kaiser-Josef-market near the Opera House, great cafes and restaurants are all over Graz. There is a healthy mix of traditional Austrian, Italian and modern menu's, as well as late night food options for people checking out the buzzing bar scene in Lendplatz or other areas.
Money Saving tips
You can easily discover Graz on foot, but there is a 3-day tourist ticket for less than €12 which allows up to 2 children under 15 to ride at no extra cost.
Did you know facts
The official colour of La Strada is orange, and it is hard to miss during the festival! The city has La Strada flags flying everywhere, shops put their Tshirts and signs in the window, and children carry the orange balloons around the city, which all adds to the spirit.
Arnold Schwarzenegger was born nearby in Thal on the borders of Graz, which is why he was nicknamed 'Styrian Oak' as a bodybuilder, and Archduke Franz Ferdinand of Austria was also born in Graz.
The oddly shaped Kunsthaus has many nicknames, like 'the friendly alien', but it's also interesting that the British architects who designed it decided to use 1,066 panels to complete it - a reference to the Battle of Hastings in 1066?
Your personal highlight
Meeting the performers of Klaxon for a beer after the performance (everyone was invited!) and then wandering down to Open Dance to find a street party in full swing.