By Expedia Team, on January 10, 2020
The Best Water Parks in Dubai
"Filled with fine dining, world-class cultural sites and all types of theme parks, Dubai is a popular destination for travellers. With its year-round warmth and sunshine, Dubai has numerous water parks that are perfect for kids and adults of all ages, giving you a chance to cool off and make some memories. Check out the list of Dubai best water park options to plan your next trip.
Aquaventure Waterpark
—————————-
Aquaventure Waterpark is among the most famous of Dubai's theme parks and offers an array of water activities. Spanning 17 hectares, the park has shark lagoons, zip lining, poolside cabanas and an array of thrill rides such as Aquaconda, the world's longest water slide. Of all the water parks in Dubai, Aquaventure is best for warm-weather thrills. The park is open year-round and offers Aquaventure Beach and the Lost Chambers Aquarium as well, giving you a wide range of activities to choose from. If you're looking for a little more adventure, take to the open water at the beach with kayaking, paddleboarding or boat tours.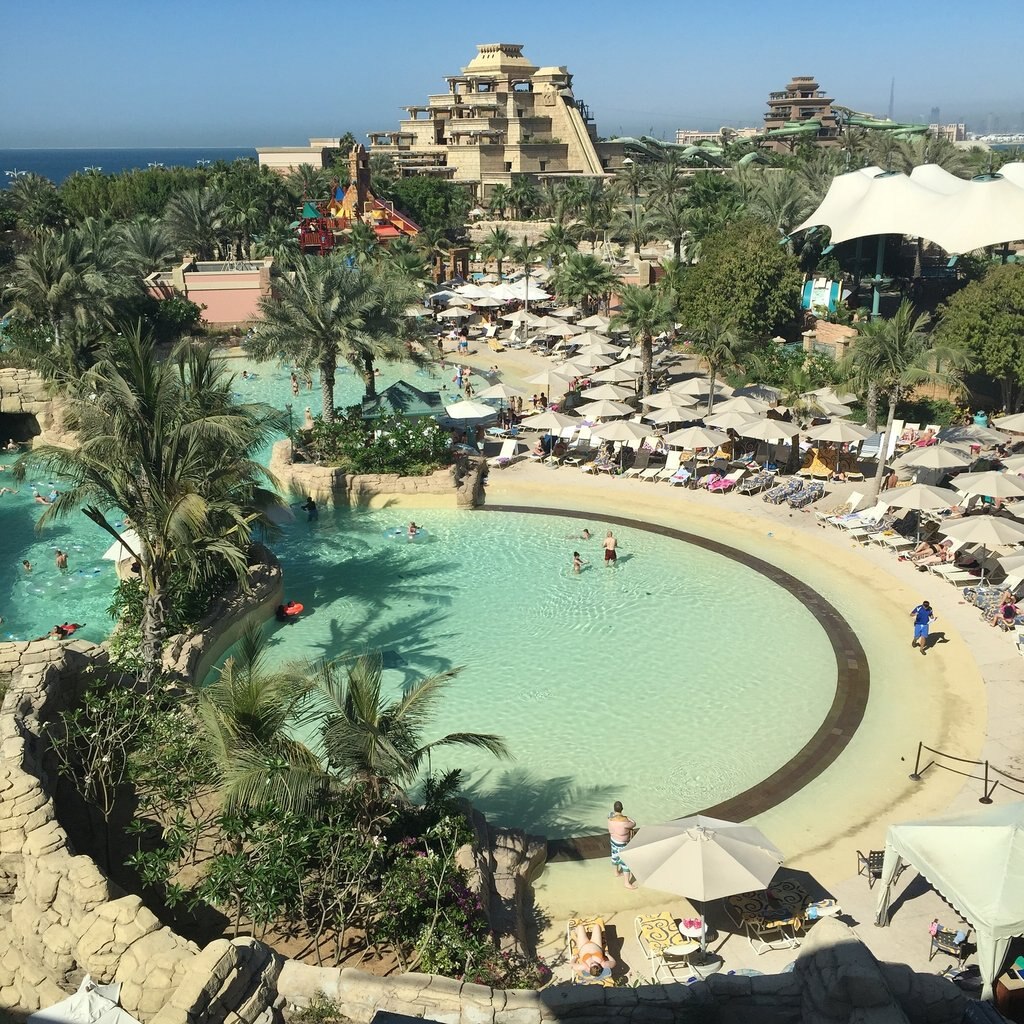 Laguna Waterpark comes with its own private beach and an array of thrilling water rides. One of its best rides is the Manta, which takes you through a lightning-fast series of twists and turns in a tube. There's also a surf machine, a splash pad for small children and the Aqua Play area that's fun for both kids and adults. The Relax Zone is perfect for low-key water fun, such as lounging on a lazy river, swimming in an infinity-edge pool, sipping cocktails under a cabana or sunning on North Beach La Mer.
Wild Wadi Waterpark is one of the oldest and best water parks in Dubai. Located in front of the Burj Al Arab hotel, the park features Jumeirah Sceirah, one of the tallest and fastest free-fall water slides in the world. In addition to thrill rides and a massive wave pool, the water park features interactive baby and toddler play areas with water activities like dumping buckets and water guns.
_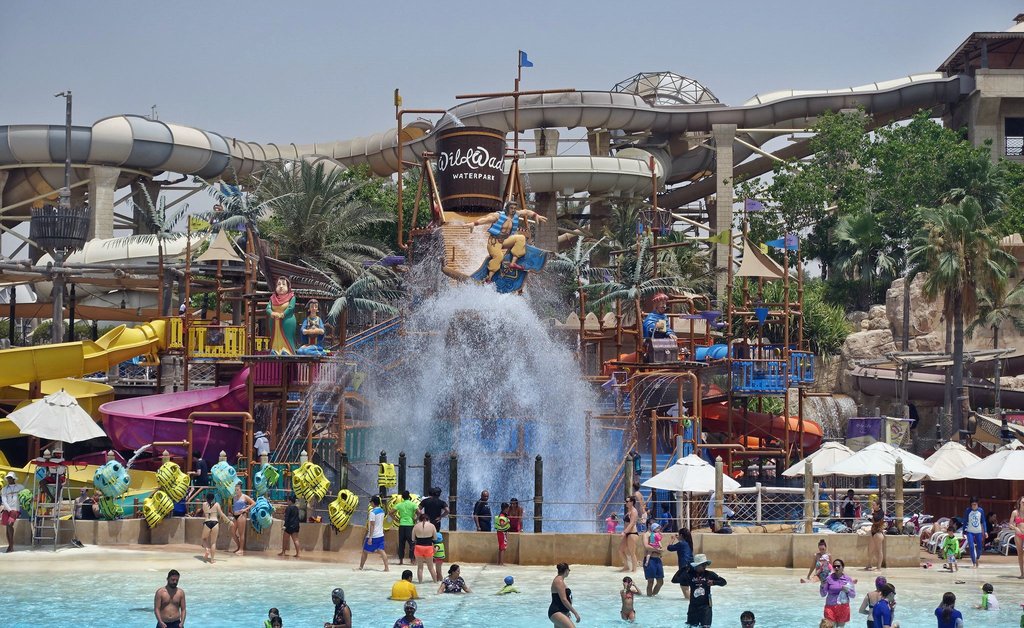 _
Wild Wadi Water Park Dubai by Jeremy Thompson – CC BY 2.0 (https://creativecommons.org/licenses/by/2.0/) – https://www.flickr.com/photos/rollercoasterphilosophy/40691305410
Like other Lego-themed parks, Legoland Water Park is a favourite for families with kids. The park features Lego movies and toys as parts of the rides, such as creating a raft out of blocks to float along the Lego river. There are numerous interactive play areas and family-friendly attractions throughout the park that are ideal for kids of all ages.
Yas Waterworld is a unique water park with many fun rides, including a hydro-magnetic tornado water slide. Many visitors flock to the park for its exciting ride experiences, such as Dawwama, a 6-person water slide, the Bandit Bomber and Liwa Loop. Within the park, you'll find plenty of restaurants boasting multicultural cuisine and gift shops for unique souvenirs.
Dreamland Aqua Park is one of the newest water parks in Dubai. Located along the Umm Al Quawain coastline, the park is filled with lush vegetation and colourful rides for all ages. There are water slides, a wave pool, rides, a lazy river, a campsite and a video zone. Adults can relax in the Dead Sea Jacuzzi for some quiet time and rejuvenation.
For a unique water park experience, include AquaFun on your list. The massive inflatable water park spans 2,700 square metres and offers an array of rides and games on the clear waters of the Gulf Sea. The park is located on a bustling beachfront with numerous restaurants as well, making it easy to enjoy other sightseeing and activities in the city.
If you're travelling with young children, Splash 'n' Party is the perfect choice for a day in the sun. Adults can relax in the sun and enjoy beverages from the on-site juice bar while kids play on splash pads and enjoy water slides. There's also Kite Beach water park, an inflatable water play area with massive inflatable slides, rafts and pools.
Dubai Atlantis Shark Safari
———————————–
Located within Aquaventure Waterpark, the Dubai Atlantis Shark Safari is an unforgettable adventure for animal lovers. During this experience, you can swim among the diverse marine life in the region such as parrotfish, porcupine rays and reef sharks while wearing an oxygen helmet.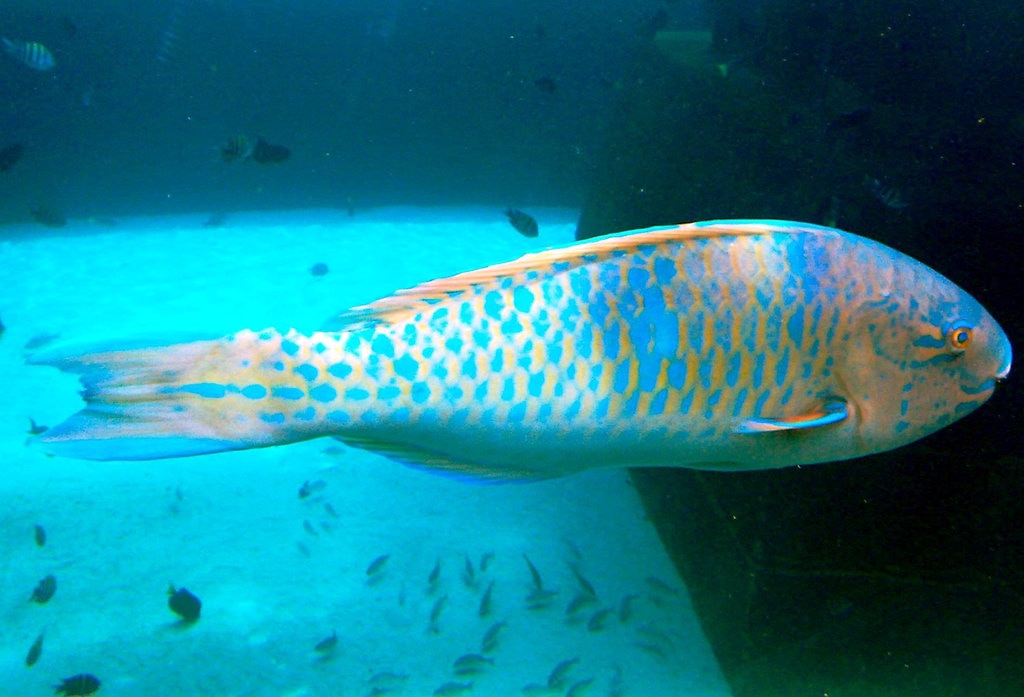 Image from the aquarium of Atlantis, Palm Jumeyrah – By Bjoertvedt – Own work, CC BY-SA 3.0, https://commons.wikimedia.org/w/index.php?curid=23965746Plan your adventure
————————–
Dubai has water parks suited to young children, adult adventurers and everyone in between. If you're planning a trip to Dubai, be sure to visit one of these fantastic water parks for a memorable trip. Expedia offers great deals on Dubai holidays and an itinerary of other fun things to do in Dubai to help you make the most of your trip!
#### Photo Credits
Cover pic: By skhakirov from Donetsk, Ukraine – Aquapark in Atlantis, CC BY-SA 2.0, https://commons.wikimedia.org/w/index.php?curid=36157870"