Being on the islands of Koh Rong and Koh Rong Samloem in Cambodia is the closest I've come to feeling like Robinson Crusoe, castaway on a deserted beach. As our ferry left the shores of Cambodia's rowdy party town, Sihanoukville, I instantly felt more relaxed. With the wind in my hair and the sun on my face, I was ready to find a slice of paradise. It was certainly a fantastic way to spend the best part of winter, when usually I would be huddled around a fire at home.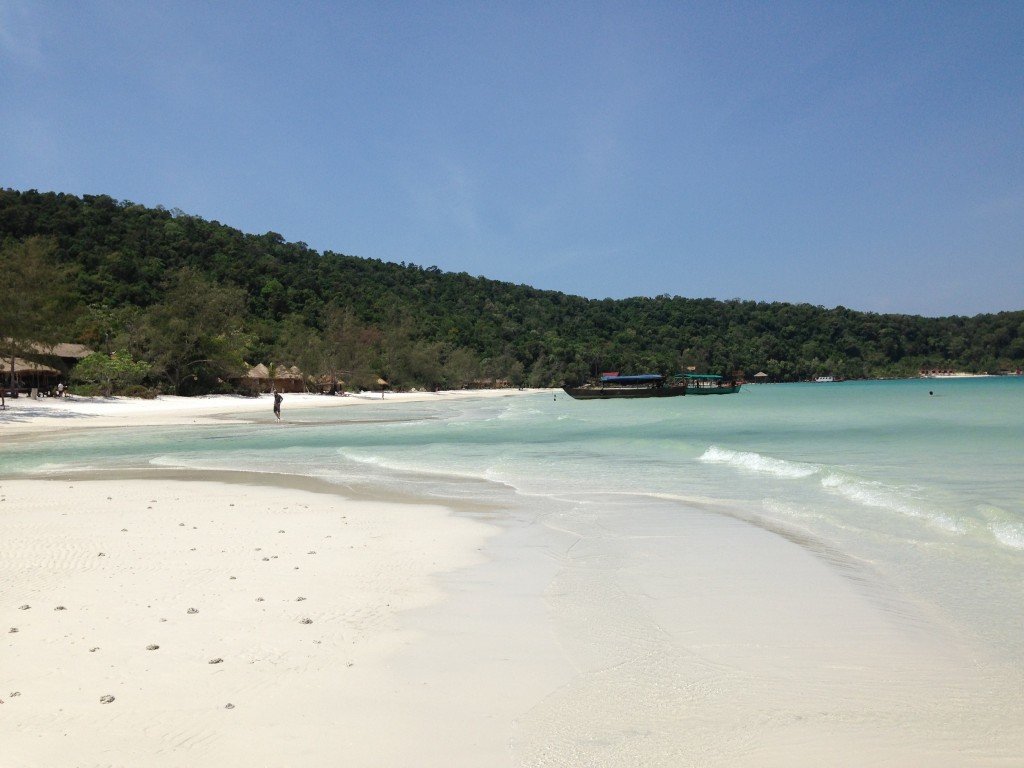 Koh Rong
Koh Rong is Cambodia's second largest island, boasting pristine beaches and turquoise ocean. Life is much simpler here; electricity is only available for the main part of the day, and there are no paved roads or ATMs. If you're looking to completely switch off from the stresses of everyday life, this is the place to visit.
Koh Rong sits 25 km off the coast of Sihanoukville and it takes roughly 2 hours to get there by ferry. With 43 kilometres of pristine beaches and a dense, jungle interior, activities tend to centre around snorkelling, diving, sunbathing, fishing and trekking. At night you can see many twinkling stars and you can even get a glimpse of phosphorescence in the water.
At the moment, Koh Rong is home to more than a dozen guesthouses and bungalows, but there are plans for luxury resorts in the future. The majority of accommodation options are in the southeast of the island, although there are some other one-off resorts dotted around the island in the northeast and southwest. In high season it can be difficult to find a room, so it's advisable to book before you go.
Of an evening, the popular Monkey Island is the place to be, serving a selection of Western, Thai and Khmer meals and sunset cocktails with a view to die for.
Although the island is half-deserted, you will be sharing it with insects and wildlife, so don't be surprised if you see geckos scurrying around your room! There are some sand flies about, so make sure you take some insect repellent with DEET in it to deter them from biting.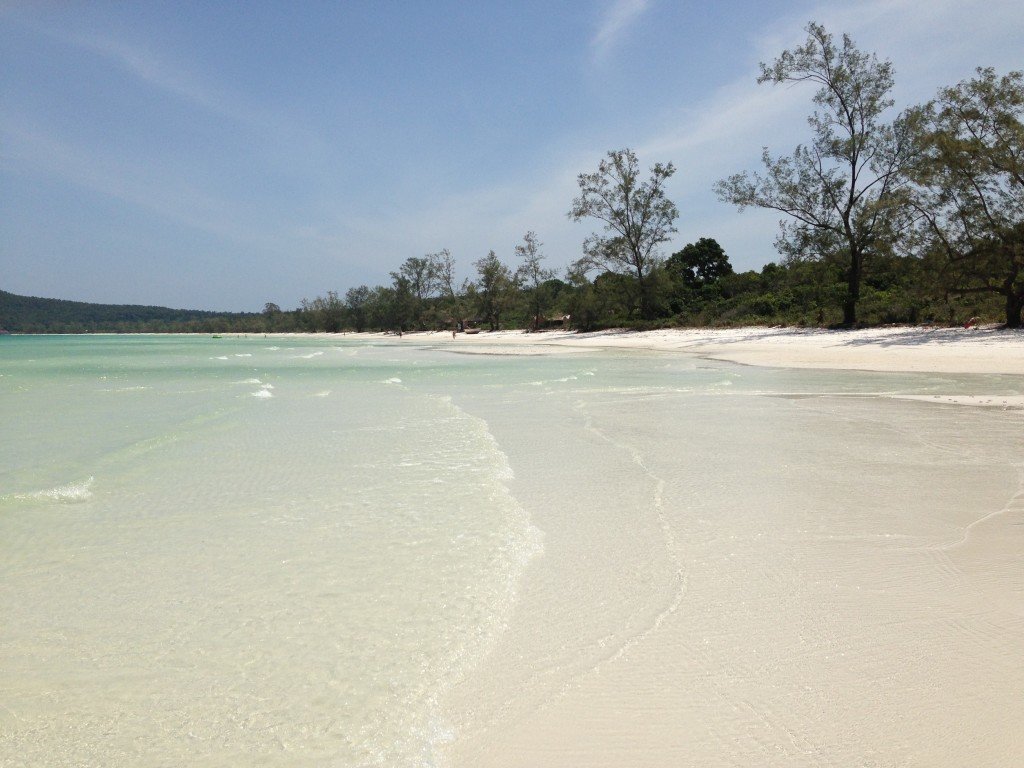 Koh Rong Samloem
The smaller island of Koh Rong Samloem lies 4 kilometres south of it's bigger sister, Koh Rong. My boat landed at Saracen Bay; an idyllic beach with squeaky white sands and heavenly warm waters. Apart from a handful of beach bungalows and a beach bar, there is little development here and you really feel like you're on your own private beach- a far cry from the party scene in Sihanoukville. Electricity comes from generators and solar power, but there is no Wi-Fi at the moment, although I'm sure that will change in the near future.
If you're short on time, you can take a day trip to Koh Rong Samloem on the 'Party Boat' from Sihanoukville Serendipity Pier. The price of $25 USD per person includes return boat, coffee, tea, snacks, lunch buffet and a free drink. Trips depart at 09:30am and return at 5pm.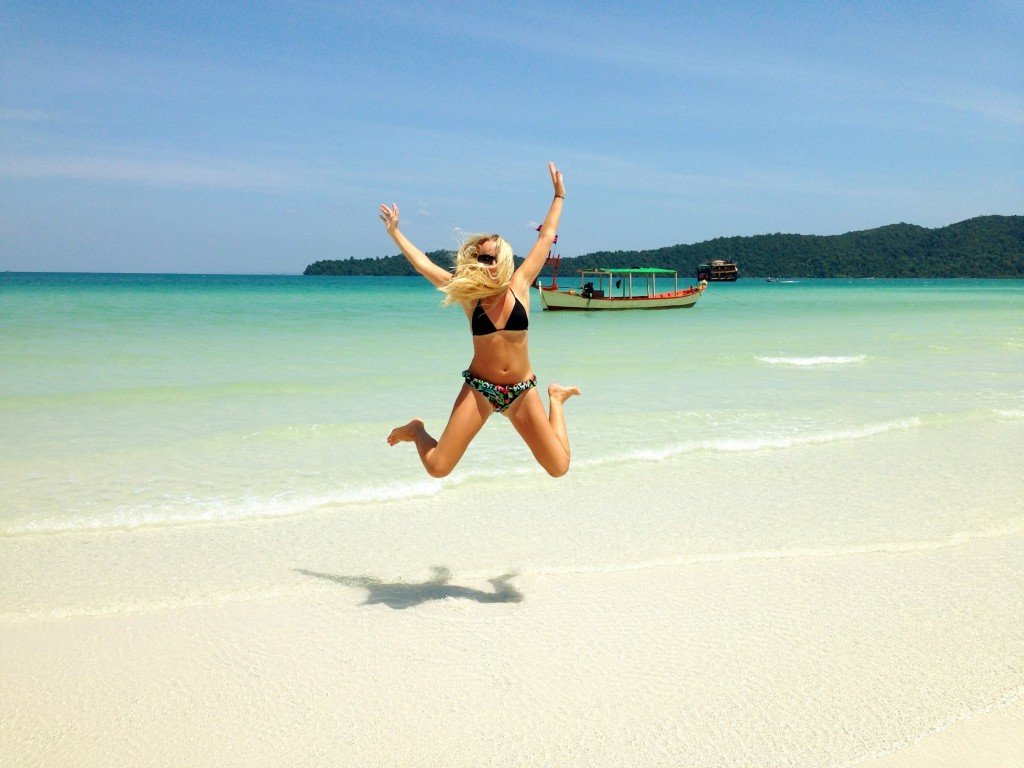 In the next few years Koh Rong will undergo tourism development, so it's advisable to visit these islands while they remain pristine and unspoiled. If you want to get an idea of what Thailand was like before roads, vehicles and tourism, Koh Rong is the place to go. Currently a Cambodian tycoon has signed a 99 year lease on the island from the Cambodian government, and there are plans for an airport and various 5-star resorts.