Prague may be an attractive city for its activities, landmarks, shopping and museums, but it also has some of the best food in the country. If you're travelling to Prague, take a look at this quick guide to food in the Czech capital to learn what and how to eat in Prague to make the most of your visit.
Czech cuisine
Unlike the renowned cuisines of France and Italy, Prague isn't known for its fine dining. The food in the Czech Republic was prepared at home and some of the staple recipes were born of occupation, struggle, communist rule and economic hardship that led to accessible and inexpensive ingredients being used. As a result, Czech food is less about refinement or presentation and more about homemade, delicious and flavourful.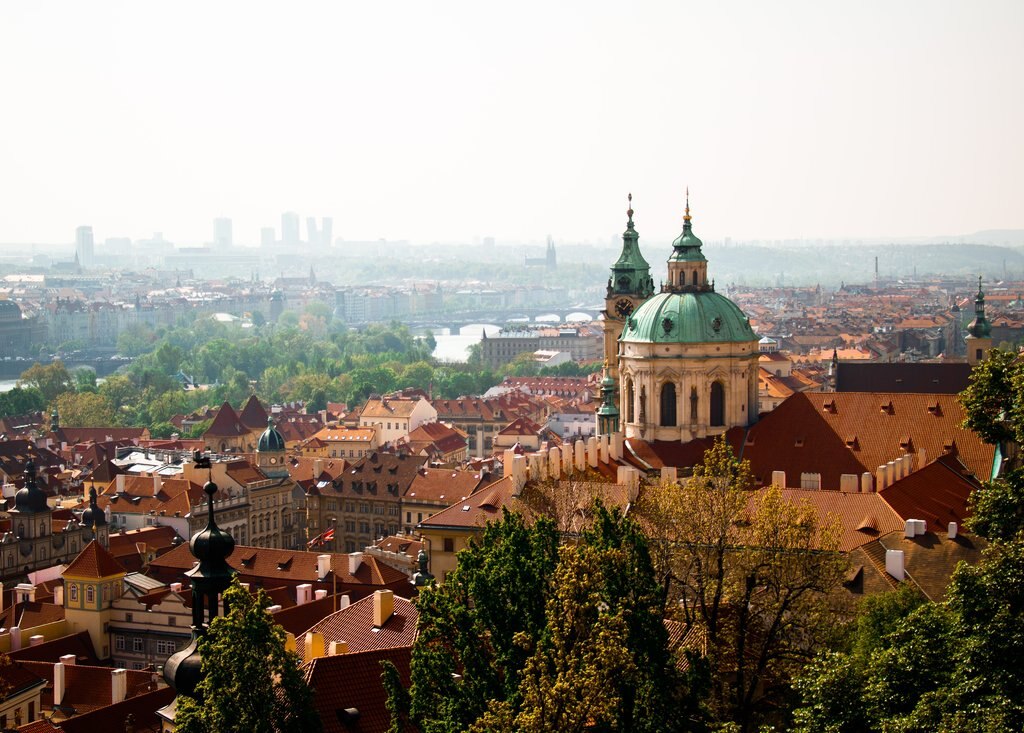 Must-try foods
If you don't know much about Czech cuisine, there are several signature dishes you have to try during a trip to Prague.
Guláš
Guláš is a Hungarian dish that's a mix of ingredients slow-cooked in a pot as a stew, but Czech cuisine has its own version. Guláš in Prague is based around meat, usually beef, with slices of bread dumplings. When you're ordering it on a menu, keep in mind that guláš and beef guláš aren't the same. Guláš by itself is usually served as an appetizer, while beef guláš is a thick, hearty and filling stew served as a main dish.
Trdelník
One of the most famous foods is Trdelník, or chimney cakes. These pastries are often found in Eastern European countries and are made of rolled yeast dough roasted over an open flame. Because of this, the outside of the dough gets crispy and the inside is gooey and tender. After roasting, the dough is covered with butter, cinnamon sugar and nuts. Several places add goodies to the inside as well, such as chocolate or nut butter. Trdelník is sold at stands throughout the city and they're a quick, cheap and delicious snack.
Gingerbread
While gingerbread can be found almost anywhere, Prague has some of the best gingerbread and cookies that use honey, butter, nuts and spices. You can find cookies like walnut biscuits, vanilla crescent and more, all of which have a different mix of flavours and spices than most people are used to. If you enjoy cookies, be sure to bring some home with you.
Koláče
Koláče is a soft Czech pastry served with a dollop of fruit or sweet cheese and even poppy seeds. Though it began as a semisweet wedding dessert, it's often eaten for breakfast or on the go, and you can find different versions of it in Prague bakeries. If you're feeling adventurous, try a few different bakeries and sample as many versions as you can to see what you can find.
Svíčková
Svíčková is a braised beef dish with dumplings that's a traditional Sunday dinner in the Czech Republic. It consists of beef that's been marinated and braised, then covered in a cream sauce and served with dumplings, lemon, cranberry sauce and whipped cream. The delightful dish combines savoury, sweet and salty in an ideal combination. One of the best restaurants for Svíčková is Café Louvre, a historic cafe that's been a haven for writers, students and philosophers.
Chlebíčky
Chlebíčky, or open-faced sandwiches, are a staple in Czech cuisine, so you can find different versions of them throughout the city. They're usually served as a snack or appetizer at parties or as takeaway at delis, but some restaurants are putting creative pairings with chlebíčky, such as smoked fish, potato salad, wasabi and more. One of the best places to go for chlebíčky is Sisters Bistro, where you can try a variety of options each day.
Sauerkraut soup
Sauerkraut soup is a traditional recipe that's common in Prague cuisine. Though it may not sound appetizing at first, sauerkraut soup is a local favourite and many people are turned on to it once they try it. You can find it in many restaurants throughout the city, but Zvonice offers a twist on the classic with ingredients like dumplings, basil oil, sausage and mushrooms.
Take a food tour
If you're not sure how to experience the food of Prague, consider a walking food tour. During a tour, you'll be exposed to traditional staples and modern twists in the some of the best restaurants, bakeries and bars in the city. To top it off, you'll also meet some people and learn about the city's rich history and culture.
Ready to plan your trip?
As you can see, Prague is filled with unique dishes and traditional foods that are a must-try on your trip. When you're ready to plan, visit Expedia to browse Prague holidays and prepare for the time of your life in the Czech capital!