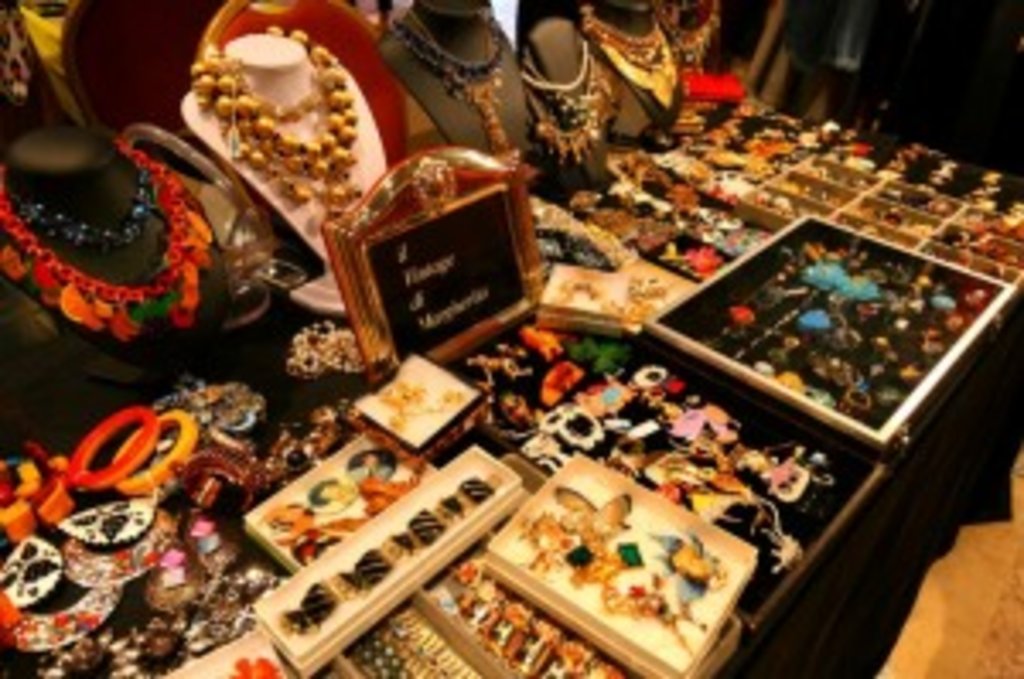 I have always had a passion for vintage clothing, so when I first went to Rome I just had one thing on my mind: Leather jackets & shoes. Italy is one of the main leather goods producers in the world and walking down its bohemian streets is, for us fashion lovers, a real paradise. The Eternal City is one of those few places where a combination of fashion, food and history is enough for finding true happiness. From outdoor and indoor clothing markets to small and bohemian boutiques, this is a city that knows about glamour and retro style. Remember that here, vintage clothes don't necessarily have to be cheap - yes; it's true...but when you buy vintage items in Italy, you are also buying a piece of the lifestyle. Here are some of my favourite retro shops in Rome. Image Source
Cinzia's: Vintage on a budget This boutique is located in Piazza Navona, where all the street artists create the most beautiful pictures of the sunsets in Rome. Run by the owner Cinzia, this place has a huge collection of jackets and dresses at reasonable prices. There's nothing like having a strong espresso on a terrace, before immersing yourself at Cinzia's searching for the best deals. Be careful though, because the mixture of tourists, locals and students will leave you fighting for the best purse!
45, Via del Governo Vecchio, Rome
Mercato Monti: The coolest market in Rome The Monti neighbourhood is full of cool cafes & bars, fashion shops and home-made food restaurants. But this part of Rome is especially loved by young people for its great indoor vintage market, Mercato Monti. While you are here, you can check out a large number of retro shops such as Pulp (Via del Boschetto), Pifebo (Via dei Serpenti) or God Save the Look-Classy&Trendy style- (Via Panisperna) where they sell all kind of bags, jewellery, sunglasses and accessories. The latest place to head? Blue Goose, a vintage paradise opened in autumn 2012 at Via del Boschetto. Its cute accessories and good service will encourage you to stay there for hours! But vintage clothing is not the only thing you can find in this market, because here you're in the right place to discover emerging fashion designers too!
46/48, Hotel Palatino Via Leonina, Rome Every Sunday (except the last of the month) 10am - 8pm
Second Chance: Luxury Vintage Just off Via Benetto, Second Chance sells only the most luxury vintage items from the likes of Chanel, Yves Saint Laurent and Tiffany and Co. - so don't be surprised by the prices. Some of the items will make you swoon, but don't worry if you're not going to buy anything because you won't be the only one! The beauty of Second Chance is its design and the atmosphere behind its doors, so don't hesitate to pop in and let your imagination go back to the fifties...
57, Via Sardegna, Rome
Twice: Retro items for her and him Based in Trastevere - probably the most charming area in Rome - Twice was born from the passion for vintage of two sisters. This boutique offers female and male visitors a lovely collection of unique and rare original textile items and accessories, dating from the 1960s to the 1980s. If you fancy a pair of 60s shoes, you will love this place! Although it's all about vintage culture here, they still accept credit cards!
105/A, Via di San Francesco a Ripa, Rome
Bohemienne: True Vintage Located in Campo dei Fiori, Bohemienne is a really cool little vintage shop with a good taste for colourful accessories. This store looks like a boudoir from a 50s film; the pearl necklaces, gloves and leather handbags will easily make you think of all things retro. Bohemienne features a huge collection of leather jackets, so if you're a fan, this is your place! Without any doubt, this is one of the best vintage shops in Rome.
96, Via dei Capellari, Rome
I've suspected that Italy does vintage well for a long time, Audrey Hepburn's 1953 classic film "Roman Holiday" definitely made me believe so. But it was Rome itself, with its antique streets and colourful vespas that showed me the real face of retro. Honestly, here, all roads lead to vintage...