Filled with an old-world charm untouched by tourism, Naples is a hot destination to experience the Neapolitan lifestyle. The cobbled streets are brimming with a rich history, unique art galleries and world-class bars and restaurants. Whether you're looking for things to do in Naples during your football trip or you want a fun city break, Naples is the best place.
Discover things to do during a football weekend break in Naples, visit the Stadio San Paolo to cheer for Societa Sportiva Calcio Napoli and enjoy the wonders of this great city.
Meet the team: Societa Sportiva Calcio Napoli
Societa Sportiva Calcio Napoli, often referred to as S.S.C. Napoli or simply Napoli, is the professional football club in Naples that plays in Serie A. Formed in 1926, the club has earned such high honours as 2 league titles, 5 Coppa Italias, 2 Supercoppa Italiana titles and a UEFA Cup.
Napoli is one of the most popular Italian football clubs and boasts sky-blue shirts and white shorts to reflect the blue waters of the Gulf of Naples. The mascot is a donkey, which was adopted from an unfavourable nickname of 'the donkeys' following a poor season. The club is sometimes referred to as 'Partenopei', a nickname derived from the Greek mythological siren Parthenope, who tried and failed to enchant Odysseus, leading to her drowning herself.
The rival club of Napoli is Roma. Napoli has many notable players with records, such as the league's top scorer, Diego Maradona, the record for most goals in the league, Attila Sallustro, and the highest scorer in Serie A, Antonio Voljak. The biggest victory for Napoli was in the 1955-1956 season with a final of 8-1.
FUN FACT
Napoli's club anthem is 'O surdato 'nnammurato', a song about a soldier on the frontlines of World War I who pines for his lover.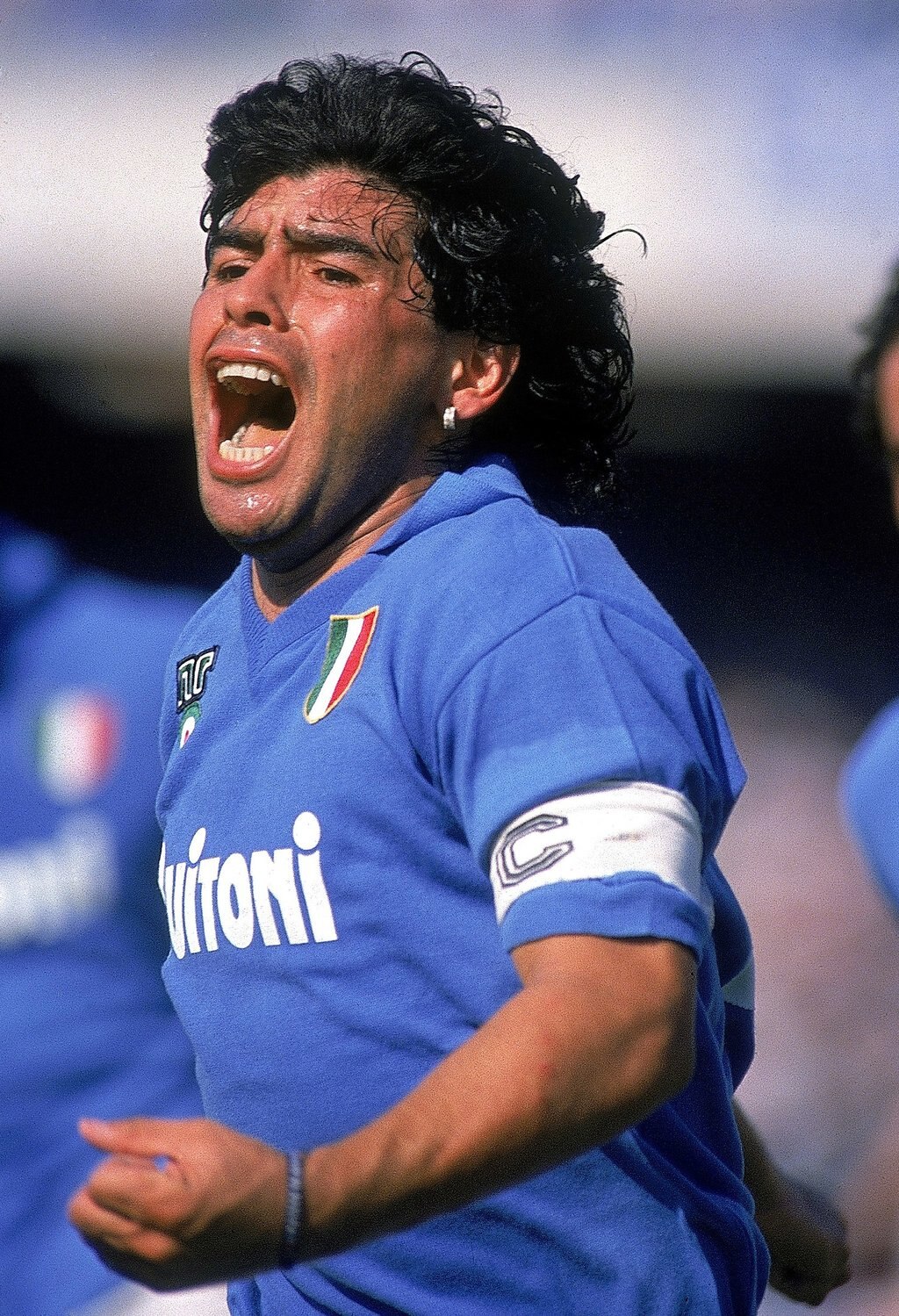 Maradona - Public domain
Visiting Naples's football stadium: Stadio San Paolo
Stadio San Paolo is Naples' stadium and the home of Napoli. It's one of the largest football stadiums in Italy and hosted the 1960 Summer Olympics football preliminaries and the 1990 World Cup semi-final between Italy and Argentina.
With a seating capacity of 55,000, the stadium sees high home attendance for the season. Many tourists travel from all over to see Napoli compete at home, but getting tickets as a tourist requires planning. Tickets are available at authorised box offices throughout the city, as well as online. If you purchase online, you need to own a 'Supporter Card'. You'll also need your identity document, such as a passport, to enter the stadium.
Getting there
Stadio San Paolo is in the western suburb of Fuorigrotta, which is roughly 4 miles from the city centre. The Napoli Campi Flegrei train station is a short walk from the stadium, and you can get service from the Napoli Piazza Garibaldi station that connects to the central station.
Several metro lines travel from the central station to different points in the city centre. The stops are Campi Flegrei and Mostra, which put you within walking distance of the stadium. If you prefer to drive, you can reach the stadium via the Tangenziale di Napoli, the primary motorway of Naples, to exit 10 Fuorigrotta.
Where to eat and what to do around Naples
Throughout history, Naples has been a wealthy and influential city, especially for the Roman Empire and the Byzantine Empire. During the 13th and 15th centuries, the Angevin dynasty built spectacular churches, opulent palaces and imposing fortresses to signify the city's importance.
No matter where you go in the city, you can experience the remnants of the legacies that built and shaped Naples. You can spend hours just wandering the streets to take in the architecture and stop in small shops and restaurants. The best place to start is Piazza del Plebiscito, a grand, open square that holds the Basilica San Francesco da Paola. You could also see the Royal Palace, a stunning 18th-century architectural masterpiece.
For a little shopping and a quick bite, visit Galleria Umberto I in the main shopping district in the downtown area. The historic shopping arcade is filled with shops and cafes, as well as stunning architectural details and a spectacular glass roof. You'll also like Piazza Dante, an opulent square named for Dante Alighieri with small book shops, restaurants and bars for a quick break.
If you're craving some authentic Neapolitan pizza, visit Via dei Tribunali. The area known as 'Pizza Alley' is famous for its delicious pizza restaurants, especially Sorbillo. Some other excellent pizza places include Figlio del Presidente and Di Matteo. Make sure to sample some of the area's world-famous Margherita pizza, which was named after Queen Margherita of Savoy.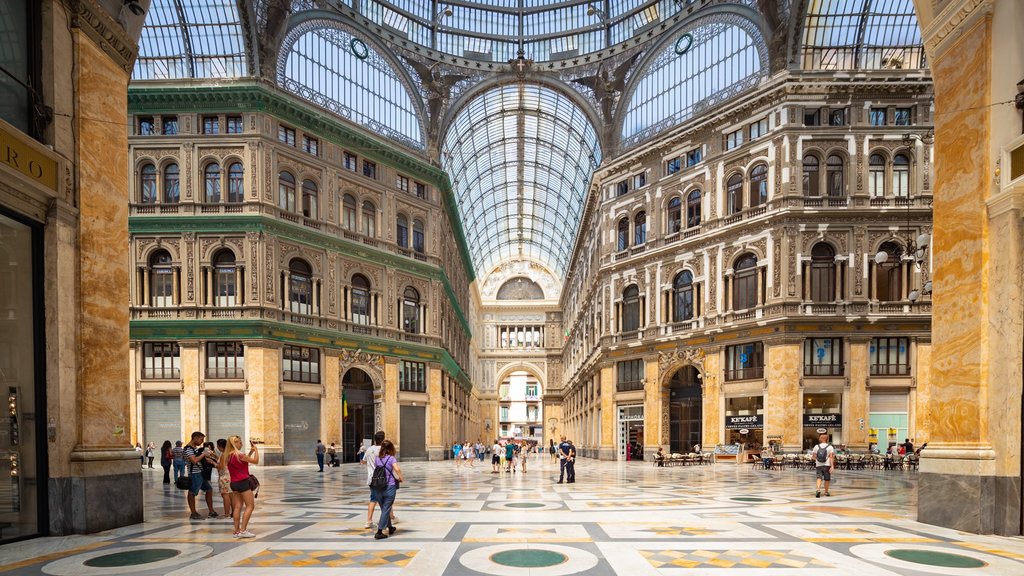 Galleria Umberto - Credit: Imagebox/TM
Partying in Naples after the match
Celebrating after the match
Once the match ends, the fans rush into the streets of the city centre to celebrate at local bars. You'll find some great options in the city centre, including Intra Moenia, a quaint bar with an exciting atmosphere, creative cocktails and a small menu. Archeobar is a lively bar that's popular with locals and tourists looking for relaxation after a day of sightseeing.
If you're looking for a sports atmosphere, the Vomero neighbourhood has a wide selection of bars and pubs that are perfect for celebrating with fans. L'Oca Nera, an Irish bar with hearty food and drink options, is a cosy pub that's a great way to start your night. Herr Daniel is another popular spot and features Bavarian and Belgian beers in a German beer hall atmosphere and an outdoor patio.
Whether before the match or after, Pizzeria Ristorante Leopardi has a welcoming atmosphere with locals and plenty of televisions with football matches. The pizza restaurant is a popular spot for Napoli fans and boasts some of the best pizza around, as well as drinks and live entertainment.
Going out in Naples
Naples nightlife is just as energetic and fast-paced as the city by day. Some of the best places for a fun night out after the match are the Chiaia District and Bagnoli, which are filled with trendy clubs and bars for live music and dancing.
For musical entertainment, the Bourbon Street Jazz Club is a New Orleans-style club with excellent jazz musicians and inexpensive cocktails. You could also try the Moses Club, a small discotheque with live DJs, theme parties and other unique entertainment.
If you're looking for something different, Dejavù is a popular lounge with a terrace garden, sensational cocktails and high-quality music from established and performing musicians. They also offer delicious, high-end menu options to complement the perfect cocktails. If the beach is more your scene, the Turistico Beach Park has happy hours, DJ entertainment and an open-air dance floor right on the shores. In addition to drinks, the beach club also serves delectable seafood dishes with local ingredients.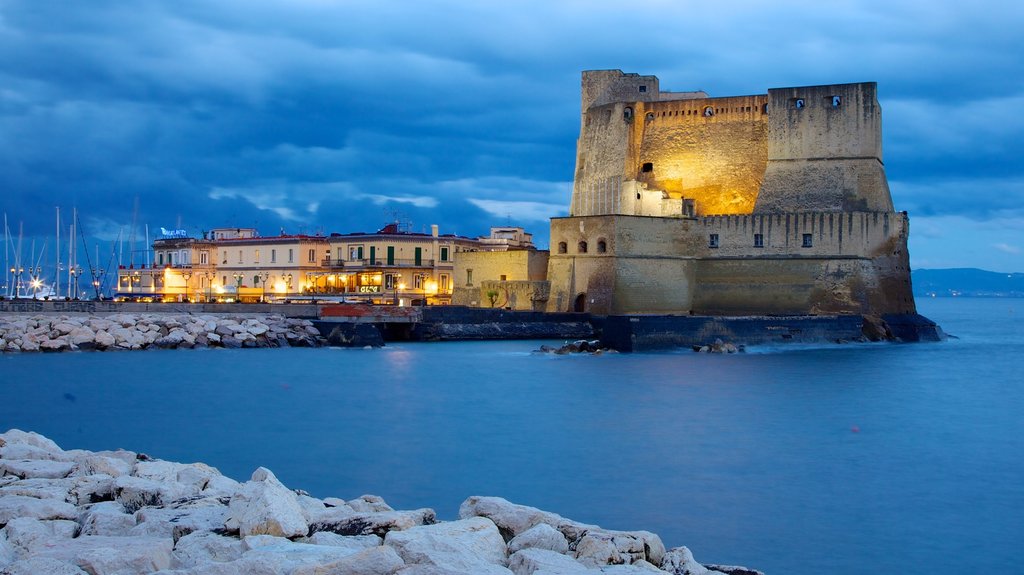 Castel dell'Ovo - Credit: Imagebox/TM
Getting to Naples
Naples is south of Rome and connects to most of Italy and major cities throughout Europe. The airport offers domestic Italian flights and European flights from major cities like Paris, Frankfurt and London. Naples can also be reached by train through national and European lines.
You're surrounded by historic sites and old-world charm, but it doesn't stop you from staying in a modern accommodation if you prefer. We have a wide range of hotels in Naples to put you in the centre of the action for a football weekend break.
Ready to cheer with some of the most passionate football fans around? From the rich history and stunning architecture to the fast-paced nightlife and unique bars, a football break in Naples is the ideal holiday.
If you want to discover more of Naples, take a look at the best things to do in Naples for travel inspiration.
Photo Credits
Cover pic: San Francesco di Paola - Imagebox/TM