Straddling Europe and Asia, Istanbul is an enchanting destination that combines the cultures of the east and west. Known as the 'Gateway to the Orient', the city boasts a vibrant history and culture, delicious food and a fast-paced atmosphere, perfect for a fun football break.
Find inspiration for things to see and do during a football break in Istanbul, visit the Türk Telekom Stadium and enjoy the atmosphere with other football fans on your holiday.
Meet the team: Galatasaray S.K.
Galatasaray Spor Kulübü, known as Galatasaray Sports Club or Galatasaray S.K., is the Turkish football club. Based on the European side of Istanbul in Turkey, the club plays at the Türk Telekom Stadium in Seyrantepe, Istanbul.
Galatasaray S.K. is the most successful football club in Turkey, earning 22 Süper Lig titles, 16 Turkish Super Cups and 18 Turkish Cups, a record for domestic trophies. On the international level, Galatasaray S.K. won the UEFA Super Cup and the UEFA Cup, a first for Turkish teams.
The emblem of Galatasaray S.K. is a Ghayn-Sin crest with red and yellow colours, inspired by the roses that Gül Baba offered to Sultan Bayezid II. When the club scores a goal, the end of the song 'I Will Survive' by Hermes House Band is played. Before matches, the Galatasaray War Chant is played with a 'scarf show' of dedicated fans waving their memorabilia.
FUN FACTGalatasaray S.K. has a long-standing rivalry with other Istanbul teams, including Beşiktaş and Fenerbahçe, that results from the locations of the stadiums on the European and Asian sides of the Bosphorus strait.
Visiting Istanbul's football stadium: Türk Telekom Stadium
The Türk Telekom Stadium is the home stadium of Galatasaray S.K. in the Seyrantepe quarter of the Sariyer district. The all-seater stadium can hold over 52,000 spectators for matches and is the first in Turkey to meet the UEFA Euro 2016 requirements for hosting the European Championship.
Türk Telekom Stadium also hosts concerts and boasts a seating capacity of 70,000. Over the years, the stadium has brought such high-profile entertainers as Bon Jovi and Madonna, who performed for nearly 48,000 fans on the MDNA Tour.
Near the metro station to the east, you can reach the stadium by travelling along Asianli Yol. Along the road, you'll pass ticket sales and 2 delightful restaurants: Simit Sarayi Restaurant and Yuzevler Restaurant. The official Galatasaray S.K. shop is located next to the stadium. It has a lower floor for fan merchandise and an upper floor for the Ülker Fan Zone.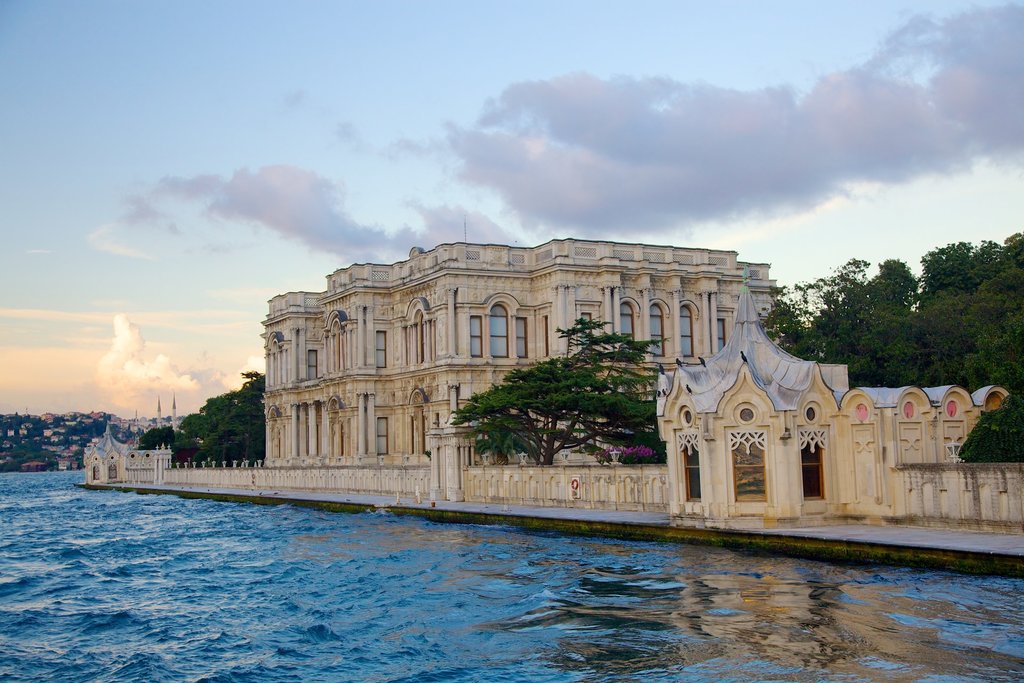 Beylerbeyi Palace - Credit: Imagebox/TM
Getting there
The Türk Telekom Stadium is serviced by several bus routes throughout Istanbul and the shuttle line of the Metro M2, which travels from Sanayi Mahallesi Station to Seyrantepe. If you prefer to travel by car, you can take the Otoyol 2 motorway. You can find plenty of parking near the stadium in parking garages and open parking spaces. You could also take a taxi from your location to the stadium.
Where to eat and what to do around Istanbul
Istanbul is divided between the continents of Europe and Asia by the Bosphorus strait, giving it unique identities in both areas. The strait is not only beautiful in itself, but it also offers ferry rides along the water to see the cityscape in both parts. If you're travelling to see a football match, you could spend most of your time exploring the sights of the European side, but travel is easy between the 2 parts. If you want a change of scenery and a completely different atmosphere, take some time to explore the Asian side and its hidden gems.
You can find a lot of landmarks and attractions in Istanbul. The Eyüp Sultan Mosque is a must-see attraction and important pilgrimage site in Turkey since it's the possible resting place of Prophet Muhammad's companion following the siege of Constantinople. Nearby, you'll find tea gardens and cafes with delicious coffee and tea served by traditional waiters.
With its rich history, Istanbul is filled with ancient buildings and palaces to explore. Some highlights include the Aya Sophia, Topkapi Palace, Dolmabahce Palace and the Sultanahmet Blue Mosque. The mosques are open to the public, but if you plan to visit, be sure to observe Muslim dress code with conservative clothing and headscarves for women.
When it comes to dining, Istanbul has an array of places with unique, local foods. Street vendors in the city offer scrumptions simits - traditional sesame-crusted bread rings popular with the early-morning and late-night crowd - and kebabs, which are a staple food and one of the best things you can eat in the city. The Murver Restaurant is a popular spot for authentic Turkish food, such as seasonal produce prepared on wood grills. The restaurant has a relaxing terrace overlooking the Bosphorus, perfect for a relaxing dining experience. If you prefer something sweet, be sure to try baklava from street vendors to fuel your sightseeing excursions.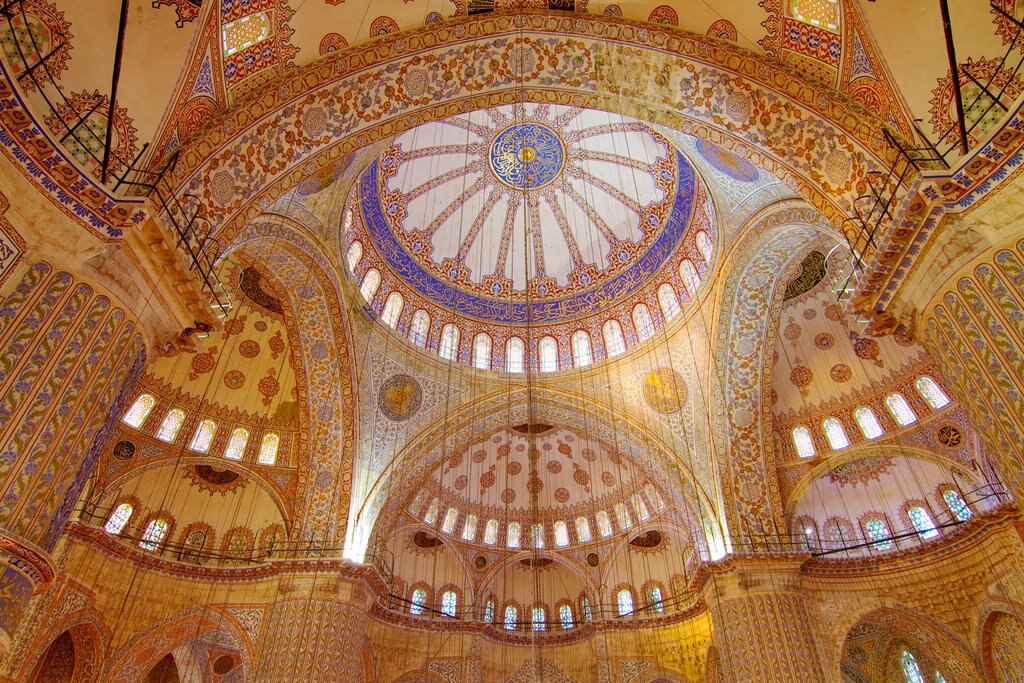 Blue Mosque - Credit: Imagebox/TM
Partying in Istanbul after the match
Celebrating after the match
After a match, football fans in Istanbul flood the streets and local bars to celebrate. Bomontiada, a complex in an old beer factory, is home to many indoor and outdoor bars and restaurants, giving you a chance to experience a range of options. Istanbul is a walkable city as well, so you can just follow the crowds to discover some of the best bars in the city.
Football fans also enjoy the area around central Taksim Square, which is home to many smaller bars. This is a great choice to drink with locals and share a passion for football and competition, but if you want something livelier, head to the Istiklal Caddesi in the main thoroughfare.
Going out in Istanbul
For nightlife, Istanbul has more than just sports pubs. If you're looking for dancing, cocktails and live music, you can find everything from nightclubs and jazz clubs to grunge bars and shisha cafes. The hip, local bars and clubs are found in Arsen Lüpen, in the hottest emerging district Beyoğlu. The Bosphorus Brewing Company is a good spot for relaxing and sampling a wide selection of beers.
If you want to party in a cool environment, Alexandra in Arnavutköy is a trendy spot with creative cocktails, candlelit tables and a rooftop terrace overlooking the Bosphorus. This unique bar features offbeat entertainment like house and Japanese music.
You could also travel to the Asian side to experience a different type of nightlife. The Kadikoy area is popular for locals, especially with bars like Arka Oda, an indie bar with underground DJs and theme parties. If you prefer wine, Viktor Levi Sarap Evi, a restaurant and wine bar in an Ottoman mansion, is a romantic spot with an exquisite wine list.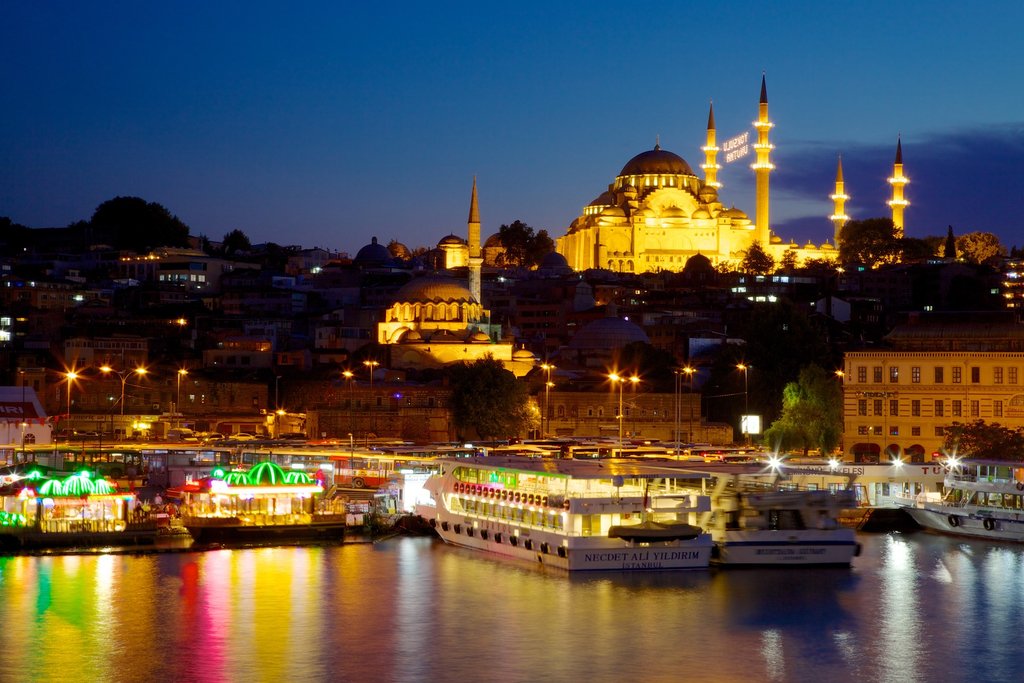 Credit: Imagebox/TM
Getting to Istanbul
Istanbul is well connected to the rest of Europe by a range of airlines that provide service to the Ataturk and Sabiha airports. Turkish Airlines also has connections to most major cities. If you want a different travel experience, you can take a train to Istanbul with the EURAIL PASS from major European cities. Buses and boats are also available to reach Istanbul.
Once you arrive, you can choose from a variety of accommodation options, including some very unique hotels in Istanbul.
Ready to cheer with some of the most passionate football fans around? Istanbul is not only home to the Galatasaray S.K., but it also holds immense appeal for sightseeing, dining, nightlife and unforgettable holiday experiences.
If you want to discover more of Istanbul, take a look at the Istanbul holidays and city breaks for travel inspiration.
Photo Credits
Cover pic: Galata Tower - Imagebox/TM